The TMS Portable Military Camping Wood Stove Tent Heater is a simple, easy to use, and very affordable outdoor stove suitable for tent heating and a bit of cooking.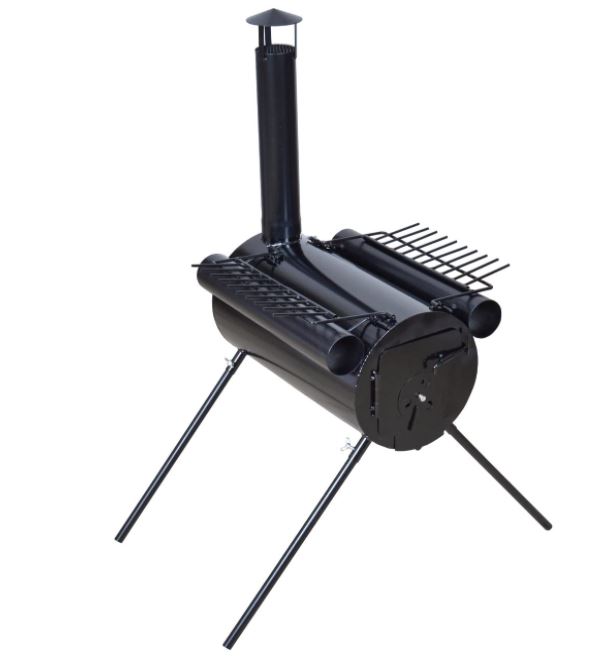 ---
Key features & benefits
Side racks.
Easy to use.
Portable.
Great price.
---
What this TMS Wood Stove is about
This stove has been on the market for more than a decade already, so there is lots of information about it. Only on Amazon, you will see more than one thousand reports by customers.
It is best to start with its name, so this is a simple military-style design, and its elements are shown in the picture below. They all fit inside the stove for easy transport.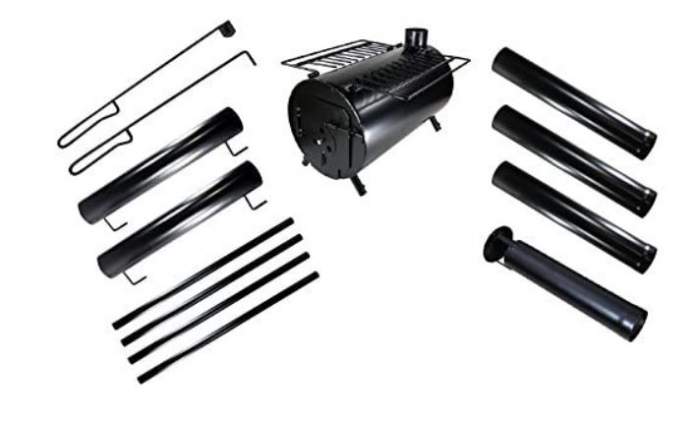 This is a cylinder-type rolled steel construction and in this case, this is literally so, the cross-section is a circle. Namely, the stove is built for wood burning, and its structure is such that it is more suitable for heating than for cooking. You realize this when you see its stovetop below. It is round so if you put a pot on it, the contact is not optimal and cooking efficiency is not so great.
It has two side racks, and the picture below shows how you can fold them to create a flat space above the stove. But even in this case this is not the best design for real cooking simply because there is no full contact with the pot.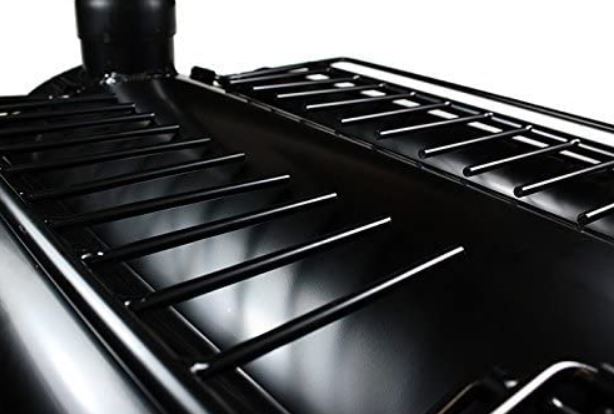 To move the stove from place to place, simply raise the frames that give support to those racks and use them as handles, the picture below shows how this is done: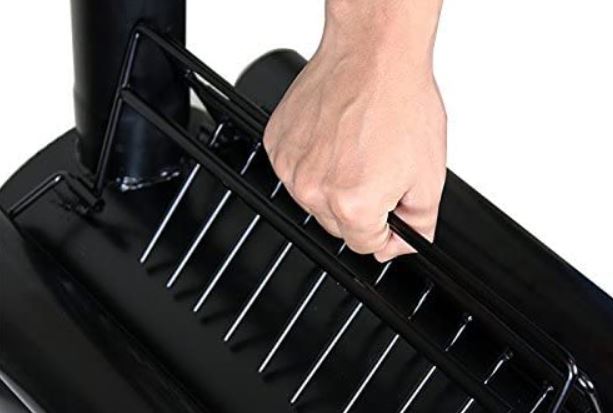 The two peculiar heat tubes on the sides are removable and perhaps they can be used to cook some stuff inside. Note that they are just cylinders open on both ends. However, although this thing is a painted steel, it will rust in time, so I am not sure what you can do with those tubes. They just increase the total hot surface of the stove and this increases the heating capacity.
The same is with those racks, when they become rusty, you would not want to dry your stuff on them. The 4 legs are removable, you have seen them in the picture with elements above, they are 15.5 inches (39 cm) long.
From what I know, in the past, the door used to have a small glass window but it is not there any longer. So you have just an air intake now with three closable holes on the door.
The stove comes with 4 interlocking pipe segments, each 17 inches (43 cm) long. Note that there is no spark arrestor but you have a top cap instead. There is also bottom access to clean ash.
Fuel type: You can burns wood, pellets, charcoal, or anything that is combustible.
---
Who is it for
Regarding heating capacity, it is really hard to say. The stove is very small. You realize this when you compare it with some other similar wood-burning stoves like this Camp Chef Alpine Wood Stove CS14 or Timberline Wood Stove Package.
Even more problematic is this pipe diameter which is only 2.5 inches (6.35 cm). This is around half of the diameter of the mentioned two stoves. But this is the same diameter as in this Winnerwell Woodlander Medium stove. However, the firebox in this TMS stove is twice larger, and it would work better with a wider pipe.
Regarding the weight which is 24.25 lb (11 kg), this may look heavy but it is normal for such a stove. The mentioned Winnerwell stove is much smaller but its weight is close to this number.
Regarding the price, this is the best what you have here, the stove is really affordable and totally worth the money.

Accessories
The stove is very simple, but its functionality can be increased if you buy it together with a water kettle shown in the picture. Its volume is 2.5 liters and it is made of stainless steel, easy to clean, and lightweight. You can order it here.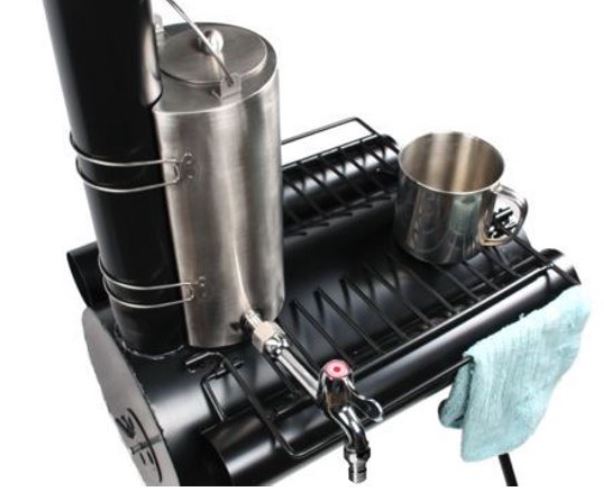 ---
Specifications
Weight: 24.25 lb (11 kg).
Dimensions (L x W x H): 18 x 10.25 x 11 in (46 x 26 x 28 cm)
Height with legs: 26.5 in (67 cm).
Pipe diameter: 2.5 in (6.35 cm).
---
Final thoughts, rating, pros & cons
So this TMS Portable Military Camping Wood Stove Tent Heater is indeed very simple and very affordable, more suitable for tent heating than for cooking. In any case, this is great value for the money.
Please see how I rate this stove against my usual rating criteria:
For more options please check under the category Tent Stoves here in the site, you will find them many. Check this Tryhomy Mini Wood Stove for Tent Camping if you want something smaller and lighter.
Let me know if you have questions or comments, there is a comment box below. Thank you for reading and have a nice day.