Camp Chef Alpine Wood Stove CS14 is a very functional, easy to use, and reliable tent stove with 24 x 14 inches top surface, many useful features, and a very reasonable price.
---
Key features and benefits
Wire racks.
All parts store inside the stove for transportation.
Adjustable legs.
Chimney damper and spark arrestor.
Door damper and fire grate for efficient burning.
Multipurpose.
---
What type of a camping stove is this
As you have realized from the features mentioned above, this is a wood-burning stove with a great top size which is 24 x 14 inches (61 x 36 cm) and welded to the rest of the stove, and this working area is extended with two side racks, each of the size 22 x 7 inches (56 x 18 cm), see the picture below. So the total useful top area is around 61 x 72 cm. If you would rather have a tray instead, check this Cylinder Stoves Outfitter Wood Stove Package.
With the four removable and adjustable legs shown below, you will not have issues in setting this stove on an uneven ground, and this is the usual situation in a camp. So this design is different from what you have in the Winnerwell Nomad Tent Stove.
This Camp Chef Alpine CS14 is really robust, a bit heavy but still portable wood stove. All the elements fit nicely inside for an easy transportation, and there are quite a few of them as you will see below. Note also that it is equipped with brackets for mounting a water tank to the side. So adding such a reservoir will allow you to have warm water all the time.
The door shown below is around 8 inches (20 cm) square, this may look small but it is large enough, and you can use logs up to 22 inches (56 cm) long.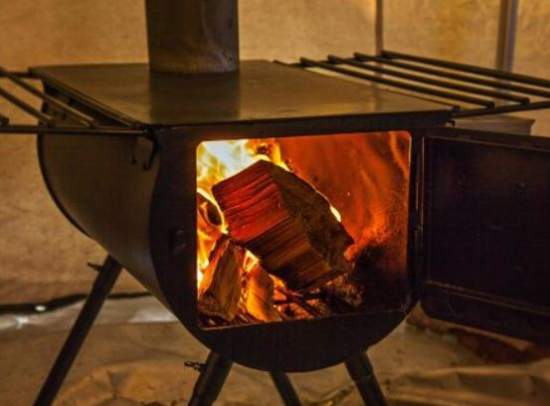 ---
Who is it for
Capacity-wise, they recommend this stove for tents that are minimum 10 x 12 ft (305 x 366 cm) and maximum 14 x 16 ft (427 x 488 cm) dimensions. So in terms of the area, this is 120 – 224 ft² (11 – 21 m²). I have seen people asking about the appropriate tent size, so this should help.
Weight-wise, with its 74 lb (33.6 kg), this is not an item to carry long distances. So this stove is for places with a car access. But such a weight is not necessarily a bad side, this is because of the strong materials. The walls of the stove are around 1/8 inch (3 mm).
Users-wise, I see it as a great tool for hunters, for fishing, and for any other similar activity in a cold environment.
---
What exactly is included
All the elements are visible in this picture: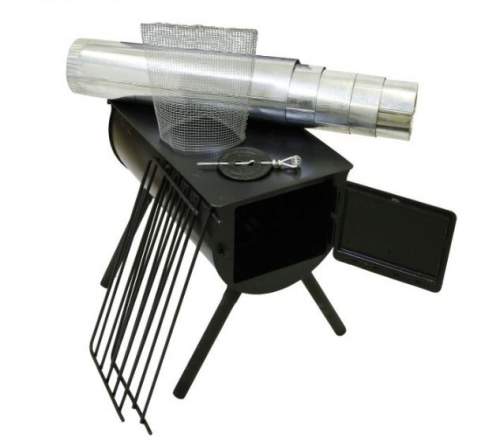 So here is what you have:
A spark arrestor.
5-segment pipe.
A pipe damper.
A wood grate.
2 racks.
4 adjustable and removable legs.
A user manual.

This all fits inside, see how it looks ready for transportation: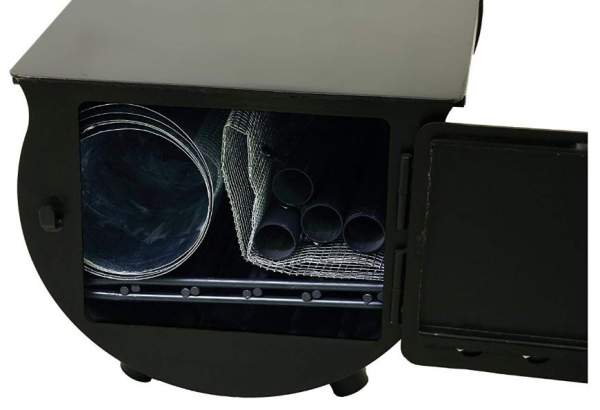 Here you can see it unpacked and prepared for the first time, please have a look:
---
Does it really work?
I guess it is best that you see this video, the same guy as above and in the tent at -33 C outside, have a look:
---
Some precautions from the manufacturer
They write the stove is for tents only, not for home, a cabin, or a workshop.
Use a rubber military style stove jack to protect the roof around the pipe.
They suggest a minimum opening of 20 square inches on the tent body for ventilation.
Do not miss to attach the spark arrestor. Inspect it visually and clean after several days to prevent clogging and the risk of a chimney fire. The arrestor should be minimum of 6 inches (15 cm) above the ridge of the tent to allow sparks to blow away from the tent roof.
Do not use flammable liquids to start the fire.
Avoid overheating the stove, do not let it become red. This is why you have dampers.
Remove ash from the stove after use, to avoid drawing moisture and rust.
Maintain a 3-foot empty area around your stove, this standoff will prevent any flammables from catching fire.
---
Accessory Camp Chef Cylinder Stove Hot Water Tank
This stove is a multipurpose tool for tent heating, for cooking, and for drying your clothes. With the addition of a water tank and an oven (see more here), it provides a home comfort in the camp. The water tank is shown in the picture, and it is available at Walmart, and also at Camp Chef site.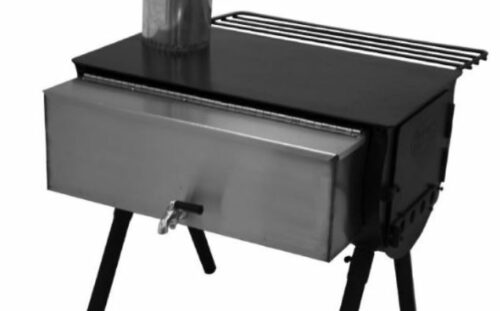 ---
Specifications
Type: wood burning stove.
Total weight: 74 lb (33.6 kg).
Dimensions (W x L x H): 20 x 24 x 22.5 in (51 x 61 x 57 cm).
Rack dimensions: 22 x 7 in (56 x 18 cm).
Pipe:
– Diameter: 5 in (12.7 cm).
– Length: 10 ft (305 cm).
---
Final thoughts, rating, pros & cons
So, in the summary of this Camp Chef Alpine Wood Stove review, I wish to stress again that this is a really functional and reliable stove, with good features and a fair price. It has been on the market for a number of years already, tried and tested, and all is known about this stove. I have included this stove in my list of the best tent stoves for wood burning.
Bear in mind that it is designed to be used with a pipe jack on the roof and not on the side wall. So it would fit White Duck Outdoors Avalon Canvas Bell Tent and also White Duck Outdoors Alpha Wall Tent. I guess adding an elbow section in the pipe would make it useful even for the side wall jack, but this will depend on the side wall height so check your tent if you have such a type.
My rating is as shown below, I use several parameters:
About wood burning camping stoves in general please read a bit more in my separate text. You might want to compare this stove with the Winnerwell Nomad Medium Tent Stove which is all stainless steel and much lighter and also with the Winnerwell Woodlander Medium Tent Stove with the same oval bottom design. Note that it is very similar to this Timberline Wood Stove which includes a water tank in the package.
Note that this is not a sponsored text and I am not paid by the manufacturer. I am only expressing my own unbiased views about this product.
Thank you for reading. Do you have any experience with this stove? If so, please share it here, there is a comment box below. Use it also if you have any comment or question. Have a nice day.