In this Vango Omega 500XL Tent review, you can read about a 3-room tent for 5 people with 151 ft² (14 m²) of the floor area and with an impressive 5000 mm waterproof rating for a full protection from elements.
---
Key features & benefits
Great area per person.
Impressive waterproof rating.
2 entry doors & 2 inner doors.
3 rooms.
PVC windows.
---
What kind of tent is this
The Omega 500XL is a tunnel-type tent designed with 3 separate rooms. So you have a tent within the shell tent with the sleeping space for 5 people. There is a removable divider that creates two separate sleeping units. But you also have a large living room, see the floor plan below.
This also implies that the tent is a hybrid with a single and double-layer structure; the living area is with the shell only.
Tunnel type tents are never freestanding, and the same is here. This tent must be staked to the ground, so make sure you choose an area where stakes can be used.
Note also that this Omega series has received DoeF award back in 2011. The award was to the 3-person tent version but the features are the same.
Please see more about the Omega series in this video by Vango:
---
Who is it for
Capacity-wise, this tent is declared by the manufacturer as a 5-person tent. But it offers a huge area, no less than 151 ft² (14 m²). This means that you have around 30.2 ft² (2.8 m²) per person. Clearly, this is a luxurious design.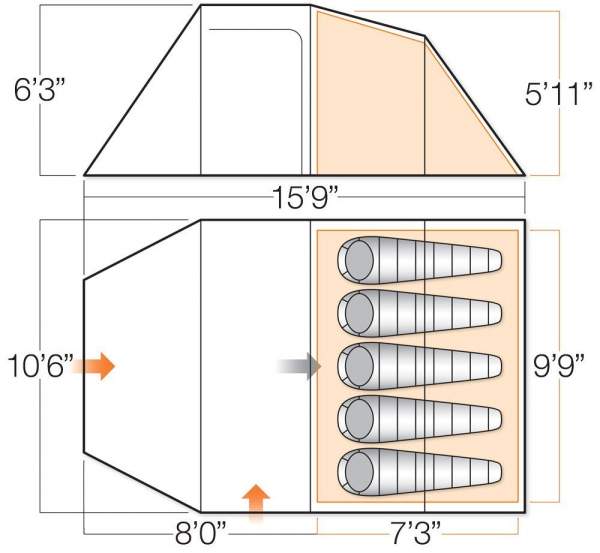 Seasons-wise, with its impressive waterproof rating (see below), this tent will protect you in any weather conditions in a 3-season use. Its structure is such that I see it better suited to a cooler environment, you do not have mesh ceiling typical for summer camping tents and all ventilation depends on its vents and the two doors.
The tent is moderately heavy, so you will use it at places with a motorized access. Its packed size is exceptional and you can transport it on a motorbike as well as on a bicycle.
---
Construction & materials
The poles
You have them 3, all different lengths and with color-coding for an easy pitch. Vango uses its PowerLite 7001-T6 aluminum alloy, so this is a good material, lightweight and durable.
The fabric & waterproof rating
For the shell, they use Vango's Protex 70D polyester, quite durable and exclusive to this brand. The waterproof rating is very impressive, you have 5000 mm. To put this into perspective, an ordinary umbrella is 400 mm. So there are no many tents here in the site with such a rating, but this is quite typical for Vango tents and I have them several reviewed here in the site.
The groundsheet is the same 70D polyester but with a higher rating, so you have 6000 mm. Note however that this groundsheet is not sewn-in, it is attached to the shell tent through clips. So this is good in the sense that you can remove it and clean, but on the other hand it is bad because the living area is not fully enclosed and sealed. But it is designed to create a bathtub shape along the perimeter where you clip it to the tent, so there is no way for water to get in.
The sleeping zone floor is bathtub type and with the same huge rating. The upper part of the inner tent is a breathable polyester so it allows the vapor to pass through. The divider in the sleeping area is with toggles and you have some flexibility for sleeping.
Note that the inner tent is fully removable and you can use the tent as a storage area, the front door is huge so you can bring anything in, bicycles and such stuff.
They claim that the materials are weather tested beyond the European standard EN5912 by a certified test center, and they are fire retardant and exceed the European EN5912 safety standard. Vango is a renown brand and I would take these statements as true.
The doors & windows
The doors' design is different here as compared to the smaller tents in the Omega series. So you have one huge front door and one side door. They are the same waterproof material as the shell, but the front door also has mesh as the second layer. The other door is without mesh, and this is not so great.
There are two PVC windows, and they are with shutters from inside for privacy and to reduce glare.
TBS system
This is a patented system that implies tensioned bands that are fixed to the sides and you can clip them to the highest spots. The purpose is to improve the lateral stability of this elongated tunnel structure. When not in use, you can store them in small pockets on the wall. You have them shown in the video.
Pockets
There are multiple storage pockets on the sides in the sleeping rooms, so this is a nice addition to keep you organized.
Ventilation
You have a back vent and mesh on the upper sections of the inner doors, plus the mesh on the front door. I miss seeing some floor vents which you normally have in some other Vango tents like this Vango Capri 500 XL.
---
Specifications
Type: tunnel tent, non-freestanding.
Capacity: 5 people.
Weight: 19.4 lb (8.8 kg).
Dimensions: 189 x 126 in (480 x 320 cm).
Area: 151 ft² (14 m²).
Area per person: 30.2 ft² (2.8 m²).
Peak height: 75 in (190.5 cm).
Packed size: 23.2 x 11.4 in (59 x 29 cm).
Fast-pack tent bag – oversized opening for easy packing.
Line-Lok guyline runners.
Multiple reflective points & reflective high strength guylines.
Factory taped seams.
---
Vango Omega 500 XL vs Competitors
Here I give the Omega 500XL side by side with two other tents with the same declared capacity and built in a similar style. All of them feature separate sleeping and living rooms. I hope this might help you to choose better what you need. Please follow the links to see more.
---
Final thoughts, rating, pros & cons
In the summary of this Vango Omega 500XL Tent review, I would stress again its incredible waterproofness rating and its functional multi-room design. This is a quality built structure that will protect you in any weather conditions, but it comes at a price. Note, I have included it in my list of the best 5 person camping tents.
Vango Omega 500XL Tent
Pros
Great organization.
PVC windows.
Many pockets.
Great area per person.
Exceptional packed size.
Impressive waterproof rating.
Cons
Expensive.
No mesh on one door.
Not sewn-in floor in the living room.
For EU & UK visitors, to check the price or to order this tent please check here.
If it is too expensive for you, I have already mentioned a few other tents from the same brand. Note that this Omega series includes also Omega 250 for 2 people and Omega 350 for 3 people.
If you need something completely different, just look around, this site is all about large camping tents. Check also in the Categories above, you will surely find something for you. In particular, check this Coleman Rocky Mountain 5 Plus tent which comes with 3 blackout rooms and an impressive waterproof rating.
Please use the comment box below in the case of questions or comments. Have a nice day.