---
Here I give my list with the best 5 person camping tents currently available on the market, very different in style and size, with the inner area in the range 7 – 19 square meters. So you have plenty of options to choose.
Did you notice that there are far fewer tents for an odd number of users than the tents with an even number? When did you see a 13-person tent? But yes there are many 12-person tents (see this Ozark Trail 12 person dark rest tent) and also 14-person tents like this Ozark Trail Base Camp 14. It is hard to find any 7-person tent while there are many for 6 people and for 8 people.
With 5-person tents the situation is a bit better, but here too you have far less than 6-person tents. This is easy to realize if you check my Category of 5 – 6 people tents. But some manufacturers like Vango have them quite a few so it is no surprise that there are several of their tents below in the list.
---
My list of the best 5 person tents for camping
So here are the tents ordered by the inner floor area from smaller to larger.
The list includes the following types:
Tunnel type tents.
Dome tents and some variants. You will see some full-coverage fly tents as well as partial-coverage type.
Air tents.
When you check their size, you will realize that they could be categorized into these two main groups:
5 person tents with the capacity measured by the backpacking principle.
5 person camping tents where the backpacking principle is not used.
You will easily see the difference, the tents from the first group are small, usually single room structures. The second group includes huge and luxurious multi-room tents, and those are mainly tunnel type tents. So have a look.
---
1. ALPS Mountaineering Meramac 5 Person Tent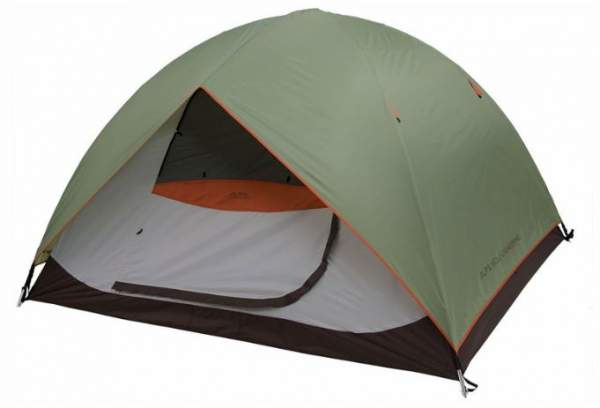 The Meramac 5 is a very popular and affordable tent, a simple freestanding dome style structure which is easy to use and even to carry around. It offers 80 ft² (7.4 m²) of the inner area and this is all you have here as it is without vestibules or awnings.
The dimensions are 10 x 8 ft (3.05 x 2.44 m), so indeed you can put 5 sleeping pads on the floor, they have used the backpacking principle here. This can work if you only plan to spend the night in it. For real camping downgrade this to 2 – 3 people.
The peak height is great indeed, you have 72 inches (183 cm). The weight of 14 lb 10 oz (6.63 kg) and the packed size of 25 x 8 inches (64 x 20 cm) are such that perhaps it can be carried on some shorter hiking tours if the group members share the weight. But it is best used as a car camping tent.
The tent is with 2 doors and with 2 fiberglass 11 mm poles plus a brow pole. The body fabric is 75D 185T polyester, the floor and the partial coverage fly are both with 1500 mm coating. So this is a summer camping tent, or maximum a 2-season tent.

---
2. Eureka Tetragon HD 5 Tent
This tent is a part of a large series which includes the tents for 2, 3, 4, 5 and 8 people. They all are built in the same style and this implies a very simple dome structure. It is best that you see this short video by Eureka where the series is briefly presented:
So here you have a simple square area of 81 ft² (7.5 m²), and from this you realize that they use the backpacking principle to determine the tent's capacity. You do not have any vestibule here, the fly is not full coverage type so it is best to downgrade the capacity to 3 people maximum.
The weight is 12 lb 6 oz (5.6 kg) so the tent is not particularly lightweight but its elements can be shared among the members and the tent is indeed backpack-portable. Note that the packed size is not bad, it is 28 x 6.5 inches (71 x 17 cm) so you can transport it even on a motorbike.
The poles are fiberglass and the structure is freestanding with clips and ring/pin system in the corners. The tent is quite high for such a dome structure, you have 6 ft (183 cm) peak height. The waterproof rating is quite modest 1000 mm for both floor and the fly. So this is a summer camping tent. If you need something for more severe conditions you will see plenty of options in the lits.
But this is also a very affordable tent, so if you need something for occasional use, no need to spend too much.

---
3. Mountainsmith Conifer 5 Plus Tent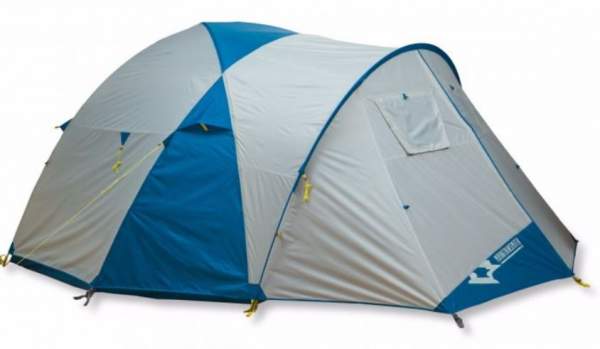 The Conifer 5+ is a 5 person tent but they add the 'plus' to indicate that you have more than enough space for such a number of users. So indeed, you have 84 ft² (7.75 m²), but the tent is also with vestibules which add 33 ft² (3.1 m²).
This is an extended-dome type tent, so you have the main part which is a dome with 3 poles, so the structure is very stable and strong. But you also have one extra pole that creates a large vestibule (or a porch if you wish). There is yet another smaller vestibule on the opposite side.
The tent is lightweight and portable, and this makes it very versatile. This is a true 3-season tent, so you have a very good rating of 2000 mm for the fly and 5000 mm for the floor. The fly is a full-coverage type so you have a full protection from elements. Please read more in my full review.

---
4. NTK Indy GT XL 5/6 person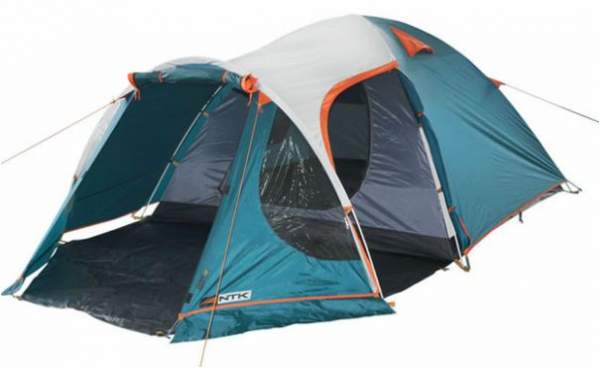 Here you have two options; one is 5 – 6 people tent as indicated in the title and the other is 4 – 5 people tent. Both are very affordable and they look the same and the only difference is in the floor size. However, both are with quite small sleeping area although each of the tents has a large porch. Please see the tent in this video:
So the sleeping part of the tent is a very typical dome structure, just two fiberglass poles creating the usual X-shaped freestanding dome.
But the tent is with a large porch supported by yet another pole. This is the best part of the tent as you have seen in the video. You have two doors and one door flap allows for an awning configuration. However, this part must be staked down properly to be fully functional and this is why the tent is not freestanding as a whole.
The weight is 7.8 kg (17.2 lb) so this is a heavy tent and not suitable to be carried around. It is a full-coverage fly type and the fly is a 190T polyester laminated with polyurethane and it is with 2500 mm waterproof rating. The floor fabric is a high-density polyethylene which is normally fully waterproof. So this is a 3-season tent in the true sense, very reliable and functional.
The dimensions are as follows. The height is 190 cm (74.8 in) and the sleeping area is 2.4 x 2.4 m (94.5 x 94.5 in) so you have only 5.76 m² (62 ft²). It is hard to imagine how 5 to 6 people could fit in such a small place.
Though you also have the mentioned porch which has more than 4.5 m² (49 ft²). Clearly, this is a huge area to store all your gear and to use for cooking. You have a removable floor here as well.
So the total area is more than 10.26 m² (111 ft²) and this becomes 2 m² (22 ft²) per person. From this perspective, the tent looks like a large area, but bear in mind its inner tent dimensions.

---
5. Coleman Rocky Mountain 5 Plus Tunnel Tent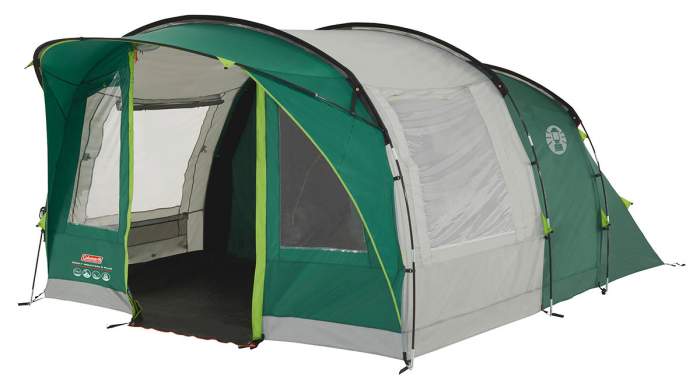 This Rocky Mountain 5 Plus tent is impressive in many ways. Just see its most important features which include the following. This is a 3-room tent and the sleeping area is the so-called blackout design (or dark rest as some call it). Because of this, it also allows for a partial climate control which implies that the temperature is cooler during the day and the tent remains warmer during the night.
You also have 4 PVC windows, an E-cable port, and the tent fabric is with SPF 50 UV protection rating. Above all, you have an impressive 4500 mm waterproof rating. So this is a tent which will protect you in any weather conditions in a 3-season use.
You have 133.5 ft² (12.4 m²) of the inner area which means 26.7 ft² (2.48 m²) per person if used by 5 people as its declared capacity suggests. So this is a luxurious camping tent. Please read more in my detailed review.

---
6. Vango Omega 500 XL Tent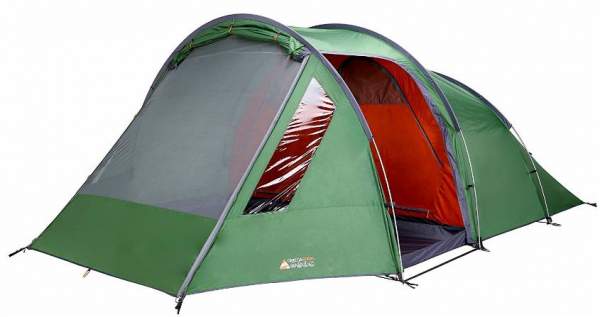 This tent offers 151 ft² (14 m²) of the inner area which makes 30.2 ft² (2.8 m²) per person. The space is divided into 3 separate rooms and those include 2 smaller sleeping units within the inner tent plus a pleasant living room.
This is an awarded series and this is not surprising when you see its organization and features and its 5000 mm waterproof rating. You will not find many tents exceeding this number. This makes it suitable for any weather situation in a 3-season-plus use.
Note that one of the doors is without mesh but you have it on the main door which is a double layer design. Also bear in mind that the floor in the living area is not sewn-in so you can remove it if necessary for cleaning or for any other reason. Please read more in my detailed review.

---
7. Eurohike Rydal 500 Tent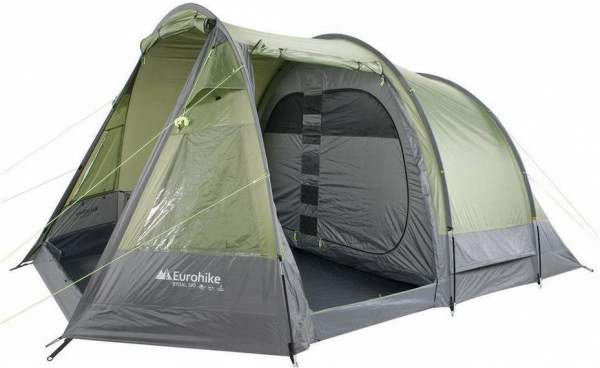 This Rydal 500 is almost identical size as the Vango Omega 500 XL above and the organization of the space is quite similar. So you have 152.4 ft² (14.16 m²) which gives 30.5 ft² (2.8 m²) per person.
The tent includes 3 rooms; two are sleeping units and the front room is a living area. Now, it has some better features and some worse features than the Vango Omega. For example, the floor in the living area is fully sewn-in and sealed. But on the other hand, the external doors are without mesh; but no worry the inner doors are with mesh and you are safe in the sleeping zone.
The waterproof rating is 2000 mm which is still very good for a 3-season use. Note that the inner rooms are what they call lights out design, which is the same as the dark rest design and the blackout which you have in the Coleman Rocky Mountain tent above. Please read more in my full review.

---
8. Vango Odyssey Air 500 Tent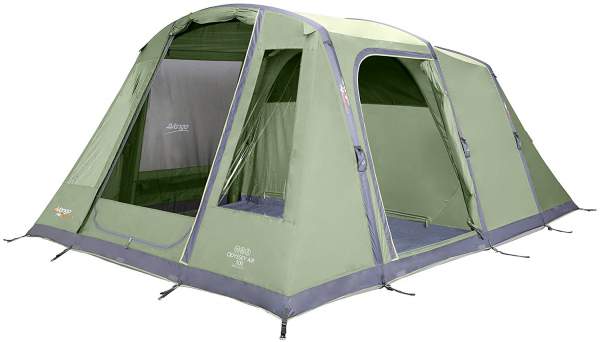 From the name of this Vango Odyssey Air 500 you realize that this is something exceptional, and indeed this is a tent with inflatable beams instead of classic poles. This makes the setup exceptionally easy and fast.
This is a 3-room tent and here too you have the dark rest design; though Vango uses the phrase 'lights out' but the meaning is the same. This feature is only in the sleeping area where you have two separate rooms with a removable divider. The living room is with two large doors and with PVC windows.
The floor area is huge, so you have 160 ft² (14.88 m²) and for 5 people this gives 32 ft² (3 m²) per person.
The waterproof rating for this tent is also very high and you have 4000 mm; this puts it in the group of tents for a 3-season use regardless of the weather situations. This tent comes with Vango's tensioned band system (TBS) which includes bands fixed to the side walls and you can clip them to the apex point on the ceiling for an extra lateral stability against winds. More in my full review, please follow the link.

---
9. Vango Woburn 500 5 Man Family Tent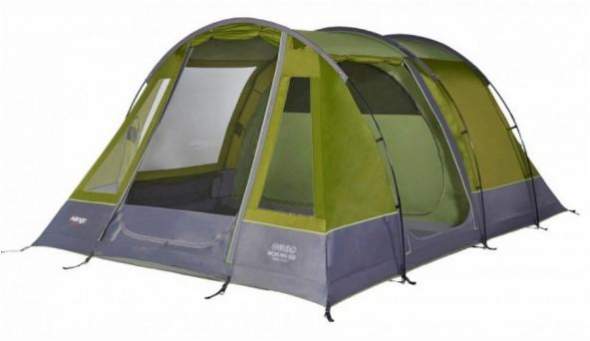 This tent is very similar to the Odyssey model above, but here you have classic poles. In fact, the poles are fiberglass and this is probably the only objection I would have to this great tent. You will notice that it is lighter than the Odyssey, so here you have 13.15 kg (29 lb) which is still a lot.
The waterproof rating is the same so you have 4000 mm, and with its fully waterproof floor and taped seams this is a tent for all weather conditions in a 3-season use.
The packed size is great indeed, only (L x D) 63 x 28 cm (25 x 11 in) so you can transport it even on a motorbike. But see the size as well; you have the dimensions 465 x 320 cm (183 x 126 in) which makes 14.88 m² (160 ft²), the same as in the Odyssey 500 tent.

---
10. Vango Avington 500 Tent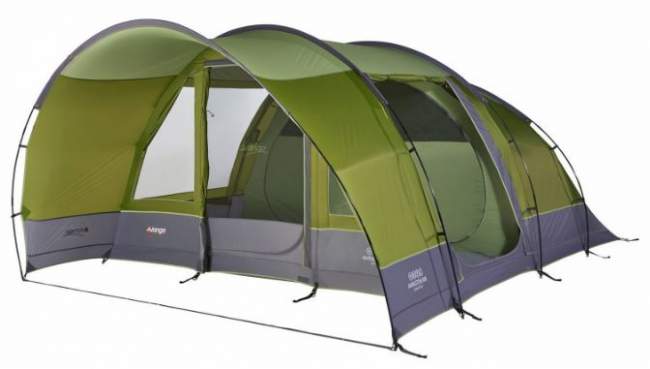 Here you have enormous dimensions, 550 x 320 cm (217 x 126 in). This includes the inner area plus the front porch which takes 80 cm of the total length. So you realize that you have 15 m² (161.5 ft²) of the inner area and this means 3 m² (32.3 ft²) per person.
Perhaps it is best that you see it in this short video:
The tent is heavy, you have 19.85 kg (43.8 lb) so this is built as a family camping tent; note that its packed size is quite good for such a size, the package is 70 x 32 x 30 cm (28 x 13 x 12 cm).
You have a 3-room structure with the living room of 8 square meters and two sleeping dark rest rooms.
The materials are high quality, I would say all except the 4 poles where you have the fiberglass material. But see its fabric which is with 4000 mm hydrostatic head. The tent body is a 70D polyester and the groundsheet is a fully sewn-in and sealed polyethylene, and it is the bathtub type.
The tent is with 2 doors and one of them is fully protected under the deep porch, so you can keep it with the mesh only even when it is raining.
The inner tent is preattached so you have nothing to do here, everything is designed for an easy pitch. The tent is with many great features which include the PVC windows, lantern hanging points, many bedrooms pockets, part mesh inner doors for a better air circulation, high and low vents, cable entry point, and much more.

---
11. Vango Capri 500 XL Tent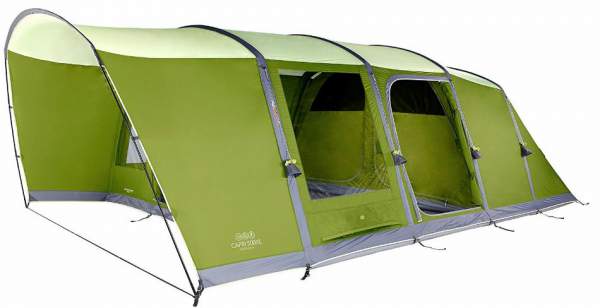 This huge tent is again a 3-room structure but you also have a large porch which you see in the picture. So the total area in the inner tent and under the porch is 19.2 m². The inner area alone offers 3.2 m² per person.
The tent is a hybrid design, so only the front porch pole is fiberglass while the remaining three are air beams. This is also a dark rest tent so the two sleeping rooms are with a considerably reduced glare and this area is the tent within the tent. The living room is a huge area of almost 9 square meters with two large entry doors and PVC windows.
Yet another great aspect of this tent is that they have accessory elements that they sell separately:
Accessory porch door.
Accessory side awning.
With these elements, the tents functionality and comforts (which are already at a high level) are far more improved. Please see more in my review.

---
Final thoughts
So this was my list of the best 5 person camping tents currently available on the market. As you realize, the differences between the two major groups are significant with respect to the size and features. But this does not make those small dome tents useless; they have their purpose. Those are simple and easy to use tools for people who need them for occasional use and who do not want to spend much.
Please note that this list will be regularly updated so bookmark it and visit from time to time to check for the new items. Or even better, subscribe to my email list and stay informed, you have the subscription form below.
Please check also my very long list with the 6-person family camping tents. If you need much bigger tents, just look around and check in the Categories above. Thank you for reading and have a nice day.
---