---
This Eurohike Rydal 500 Tent Review is about a nicely designed tent for 5 people with 3 separate rooms, PVC windows, the dark rest design, and a fair price.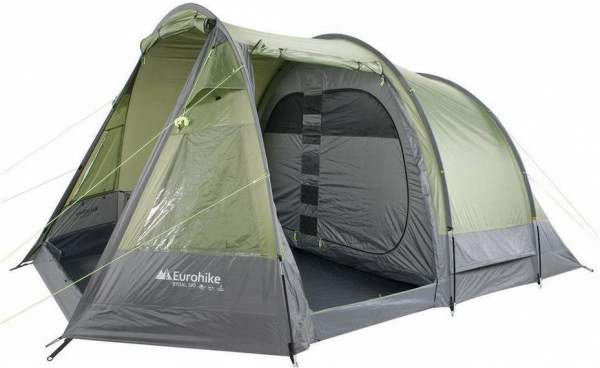 ---
Key features & benefits
3 rooms.
2 entry doors.
2 inner doors.
PVC windows.
Very good price.
Awning configuration.
Dark rest design.
---
What type tent is this
The Eurohike Rydal 500 tent is a tent for five people, a tunnel-type configuration with 3 rooms. So you have a shell tent plus a tent within the shell, with its own divider. This creates a large living room plus two sleeping rooms which you can see in the picture below. As you realize from this, you have a hybrid double-single layer structure.
The tent is not freestanding, it must be staked down to be fully functional. The stakes are included in the package.
---
Who is it for
Sizewise, the tent is with the declared capacity of 5 people. So, check the floor plan and the dimensions below to see if this is realistic. To calculate the floor area you need a bit of maths, so you have one square part plus a trapezoid section on the left in the door area. This all gives 152.4 ft² (14.16 m²), and this means 30.5 ft² (2.8 m²) per person.
Clearly, this is far more than you need and the declared capacity is truly generous. Though, the sleeping area looks too narrow for the 5 people sleeping on pads. It would be far better for 4 people. But as you realize you have a huge living room with more than 6 square meters of the fully protected area where several more people can sleep.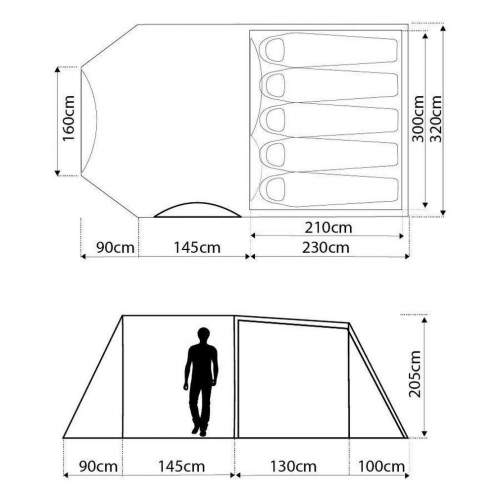 Seasons-wise, in view of its declared waterproof rating, this tent is good enough for any weather conditions in a 3-season use.
Weight-wise, the tent is heavy, you have 32.2 lb (14.6 kg), and you would not carry it anywhere. But this is a camping tool, designed for places with a motorized access. The packed size is such that you can transport it even on a motorbike.
Climate-wise, note that this is a fully enclosed shell so there is no mesh on the ceiling. It may become warm in such a tent if you use it in a very warm and sunny climate. I see it better suited to a cooler environment.
---
Overview of features
The poles
The poles are 12.7 mm fiberglass, so this material is frequent in such tents and this brand uses them in their other tents as well, see this Buckingham 6 and Buckingham 8, and also the Buckingham Elite 6. The tent would be much better with aluminum poles. In any case, you have them 3, and two of them are black 5.98 m and one is yellow 5.7 m, so you have a color coding for an easy pitch.
The fabric
The shell fabric is polyester with 2000 mm waterproof rating. So this is a great number and this should be enough for any rain in a 3-season use. They do not provide info about the groundsheet rating, it is probably the same rating, and it is fully sewn-in and all seams are taped.
The inner tent is a breathable polyester plus a waterproof bathtub floor. So you effectively have two fully waterproof floors in the sleeping zone.
Note that the tent fabric is fire retardant and tested to the BS EN 5912 standard.
The inner tent is a dark rest design. This means it is a darker material on purpose to reduce glare and to let you sleep longer in the morning. This is a new trend in the tent building industry, please see more about it in my separate text. You can see a long list of such dark rest tents here.
The doors
You have two very large doors with flaps. Note that there is no mesh on these entry doors, pity. The front door allows for an awning configuration with the help of your trekking poles, see the picture below
Inside you have two inner doors for the two sleeping rooms, they are indeed with panels and with mesh for ventilation and protection against insects.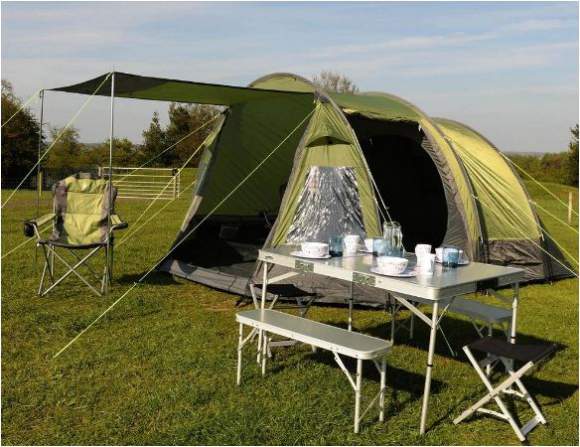 The windows
There are two of them, solid PVC material, and from inside you have shutters for privacy and to reduce glare. See one of them in the picture above.
Ventilation
There are 5 vents in total, so this looks quite good. Two of them are high vents on the front, and you also have two floor vents on the sides in the sleeping zone. Yet another very large high vent is on the narrow side behind the sleeping zone.
Other features
• The tent is with numerous storage pockets. You have a series of them close to the floor, then you have a hanging storage area between the two inner doors, plus you have storage pockets in the two sleeping zones.
• You have a zippered electric cable port.
• There are hanging loops for lanterns, and you also have Velcro tabs to pass and fix a cable at the apex point on the ceiling.
• This is an all-in-one pitch design. This means that the inner tent is preattached so when you raise the shell all inside is ready. Note that the inner tent is also removable and this is easily done if you need it without it.
Please see more in this video:
---
Good and less good features
Here is my short summary:

Great features and organization.
Very functional.
Very comfortable.
Solid windows.
Many vents.
Dark rest design.
E-port.
Many storage pockets.

No mesh on entry doors.
Fiberglass poles.
Heavy.
This is a camping tent so the weight should not be an issue, you will transport it by car. But the absence of mesh on the external doors is not so great really. The good news is that the sleeping area is fully enclosed and you have mesh on the inner doors.
The price & rating
The price at the moment of writing this text is more than fair, it is $221. This tent is totally worth the money. The tent is new on the US market and you do not see many reviews, but it has been on the EU market for some time and the reviews are generally very positive, but there are also complaints as usual. Please see how I rate it.
My rating breakdown of the Eurohike Rydal 500 5 man tent
Area per person -

9.2/10

Area/Weight ratio -

8.2/10

Packed size -

8.2/10

Reliability & protection -

8.6/10

Ease of use -

8.5/10

Comfort & features -

9.2/10

Price -

9/10
---
Specifications
Weight: 32.2 lb (14.6 kg).
Dimensions: 15.26 x 10.5 ft (183 x 126 in; 465 x 320 cm).
Area: 152.4 ft² (14.16 m²).
Area per person: 30.5 ft² (2.8 m²).
Peak height: 80.7 in (205 cm).
Packed size: 26.4 x 12.2 x 11 in (67 x 31 x 28 cm).
Pitching time: 15 minutes.
---
Eurohike Rydal 500 Tent vs Competitors
In the table below I give this Rydal 500 side by side with two other tents from the same size range and built in a similar style, you realize this from the number of rooms. So this can help you to choose better and to make the best choice. Please follow the links to see more details about the other two tents, they are presented in my separate reviews.
---
Final thoughts
In the summary of this Eurohike Rydal 500 Tent review I must say I love the concept of this tent. They know the importance of a large living area in the camp. The weather is not always great and you may be forced to stay inside, so you have to have a place for cooking and sitting, and it is high enough that you can walk inside.
The sleeping area is a bit small for the declared number of users, but this is typical also for many other tents that use the backpacking principle. But you realize that you have the bonus living room with 6 m² which compensates for the narrow sleeping zone. In my view the price is fair for the value. Please check also the larger 6-person tent from this series.

For UK & EU visitors, to check the price or to order this tent, please check here.
I already mentioned above a few other tents from the same brand, so have a look, and check also the Hampton 6 tent from the same brand. If you still need something different, please look around in the site, it is all about tents so you will find something for you. You might want to check this Vango Omega 500XL Tent with its impressive 5000 mm waterproof rating. Also check this Coleman Rocky Mountain 5 Plus tent with 3 blackout rooms and 99% blocked daylight. The Vango Woburn 500 is also for 5 people and built in the same style.
In the case of questions or comments, please use the comment box below. Have a nice day.

---