---
This Vaude Family Tent Badawi 4 Person is an impressive and unique 3-room structure with DAC aluminum poles and huge waterproof rating, suitable for 3-season use.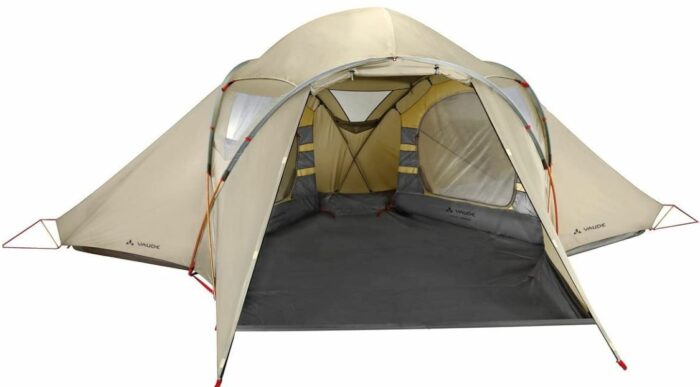 ---
Key features & benefits
3 Rooms.
Very tall tent.
Huge space.
Great waterproof rating.
DAC aluminum poles.
---
What this is about
Here you have a unique construction in many ways. The tent is at Amazon-UK under the name Vaude Waterproof Badawi Unisex Outdoor Dome Tent, but this is quite a complex structure. It would be correct to describe it as an extended dome tent where you have the central dome and extensions on three sides. The floor is more or less Y-shaped as you see in the picture below.
On the other hand, I have no idea what they mean by the word Unisex in the name, and this is not the first brand with such a strange word in the name of a tent. If somebody knows it would be great to hear, there is a comment box below. The word Outdoor in the name is completely redundant.
The tent is a 3-room structure. You have two inner tents under the shell, plus a large living room and porch. I have included it in my list of tents with 3 rooms. The picture below shows the back side with the extensions, as you see it is fully protected with the fly going all the way to the ground: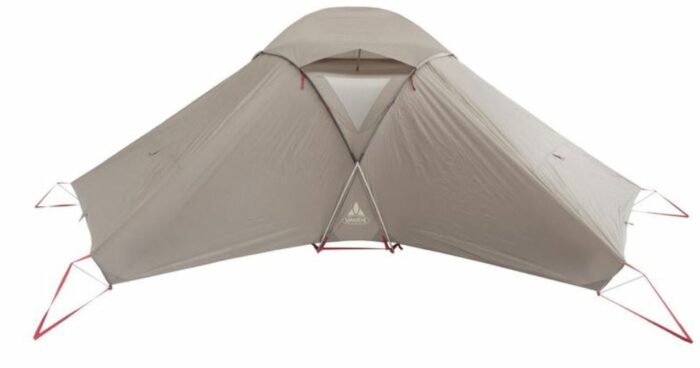 The tent is very tall with its 84.6 inches (215 cm) peak height under the dome. This entitles it to be included in my list of very tall family camping tents.
The windows & the doors
There are 3 triangular windows visible in the pictures above. They are quite small, and they are equipped with shutters from inside. The tent has only one entry point, but it is huge and this looks enough. Each of the inner tents has its own huge door and they are double-layer with mesh and panels.

Ventilation
The central dome is with mesh and it is protected by a small fly that you attach before raising the tent from the ground. There are also three triangular mesh windows, and the inner tents are with mesh on the doors. There is a wide gap between the inner tents and the shell for air circulation.
But there are no floor vents in those two extensions, this may be necessary when the tent is closed during rain periods. The picture below shows how it looks with the closed door and closed windows. Though the floor is not sewn in, so you still have air circulation close to the ground and under the fly.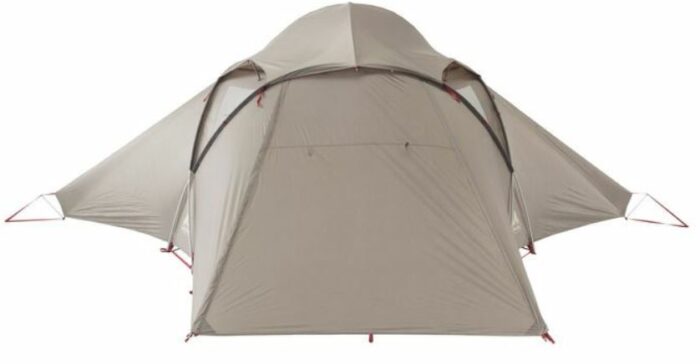 ---
Materials
The poles
This is a unique hubbed design. This implies a 3-way top hub piece that attaches to the tent in three places, plus three long loops that support the whole tent. They are attached to the tent through sleeves and through a particular pin and ring system at the base. You will see in the video below how this is done. One person can do all the job in just a few minutes.
Note that the poles are DAC and this is aluminum 7001 series with the diameters 14,5/9/8 mm. So although the tent looks so complex, the poles system is quite simple.
The fabric
You have huge waterproof rating here. The shell is 100% polyester 70D 185T with a polyurethane coating that gives it a 3000 mm rating. The inner tents are also durable and breathable 100% polyester 68D. The floor is a 100% polyamide, 70D 190T laminated with a 10000 mm waterproof rating. All seams are taped.
Note that the floor in the living room is linked-in and not sewn in. This has both good and bad sides. The good is that you can remove it and use the area with camping chairs, and you can also cook there protected from the elements and without thinking about the floor.
The bad is that the living room is not fully protected from the crawling insects and snakes. In addition to this, the door is without a mesh, pity.
Other features
There are 12 wall pockets for small items.
8 Tension lines.
Please see a bit more in this video, you will see how one person can set this tent up:
Vaude Company
Vaude is a German brand. On their site they write that their products are developed in Germany and manufactured in Asia, and they meet the highest quality standards. Based on this, they offer a five-year warranty on all of their "Made in Germany" products as well as tents of the categories Trekking Adventure Pro and Ultralight.
---
Who is it for
Regarding the capacity, the tent is officially for 4 people. For this you have two inner tents and each of them offers 32.3 ft² (3 m²). Note that each of the sleeping rooms is 150 cm wide, so this is enough to place two very wide sleeping pads on the floor.
The total inner area is 137 ft² (12.7 m²). This means 34.25 ft² (3.18 m²), and you realize how generous this is. No doubt the tent can accommodate more than 4 people, and this is why it is included here in the site.
Regarding seasons & climate, this is a tent with top quality materials and the waterproof rating is impressive. So it will protect you in a 3-season use.
Note that it is very tall, and there is the small piece of fly that covers the central dome. So although it looks very aerodynamic, I would not use it in very windy places.
Regarding the weight, the tent is moderate. It looks heavy with its 26.8 lb (12.15 kg) of weight, but the area is big and the tent is very tall, so there is lots of material here. On the other hand, the material is quite durable, so the weight is fully justified.
The packed size (L x D) 23.6 x 13.8 inches (60 x 35 cm) is such that you need a car with such a tent. Perhaps it can be transported also on a motorbike.
---
Specifications
Official capacity: 4 people.
Weight: 26.8 lb (12.15 kg).
Dimensions: 13.8 x 11.8 ft (420 x 360 cm).
Each inner tent area: 32.3 ft² (3 m²).
Total inner area: 137 ft² (12.7 m²).
Peak height: 84.6 in (215 cm).
Packed size (L x D): 23.6 x 13.8 in (60 x 35 cm).
Poles: DAC aluminum.
---
Final thoughts, rating, pros & cons
In the summary of this Vaude Family Tent Badawi review, I am quite impressed with the unique design and the quality of the materials used in the construction of this tent. But I do have a few objections, bear them in mind when you decide, you will know if they are essential for you or not. I have included it in my list of best 4-person family camping tents.
Please see how I rate this tent against several of criteria used for all the tents here in the site, it scores great:
If you need more options please check under the category Tents for 4 people, all of them are huge structures. Otherwise, just look around, this site is all about family camping tents and you will find them in hundreds.
Bookmark this site and visit again. This will keep you informed about the situation on the tents' market, I add texts here on a regular basis. Thank you for reading and have a nice day.