---
In this VidaLibre Camping Stove review you can read about a portable outdoor wood burning folding camp stove for outdoor cooking and baking, suitable for a variety of outdoor activities.
---
Key features & benefits
Wood-burning stove.
Full cooking system.
Not for heating.
Reasonable price.
Baking options.
Carry bag.
---
Where to buy
This VidaLibre Camping Stove is available on Amazon. They operate globally so please follow the link and check shipping conditions for your location.
---
What type of camping stove is this
Actually you have more than a stove here, this is a complete set for cooking as you will see below. This is why they use the term VidaLibre Multifunctional Portable Camping Stove. So you can cook, boil, fry, simmer, bake bread, make BBQ and kebabs. This is an item which allows you to prepare any meal when camping.
This is a wood-burning stove, but you can use almost anything and this means branches, biomass, charcoal, and also dry alcohol.
What is included in this cooking set
This portable folding camping VidaLibre stove includes the following 17 elements, they all fit inside the stove:
Stove body.
Stove cover.
Coal grid (not shown in the picture below, I asked the manufacturer and they said they will change the picture and add the grid).
Chimney.
One pot, 6 quarts.
One pan.
Lid/tray.
Grid for BBQ.
Spatula/grip. The grip is here to lift a hot pan out of the body, there is a picture below showing this.
Large spoon/grip. The grip is used in tandem with that on the spatula.
Skewers, 6 pieces.
Carrying bag.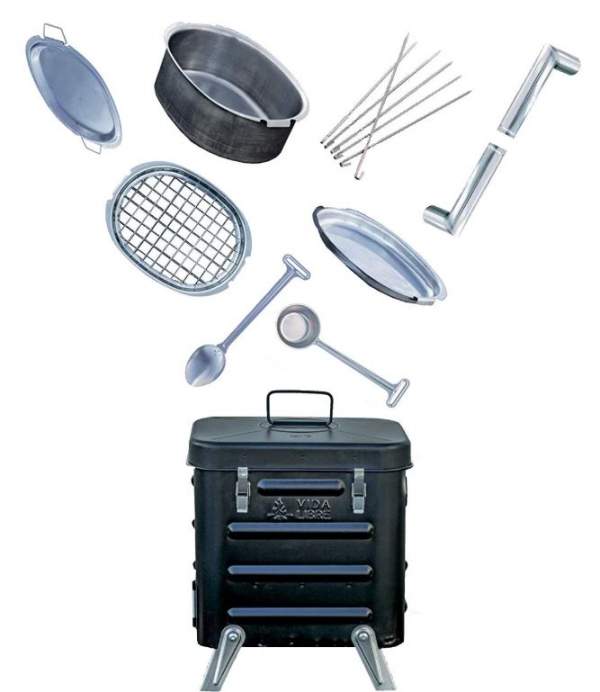 In the picture below you see how to remove the hot item from the stove with the help of grips on the spatula and spoon: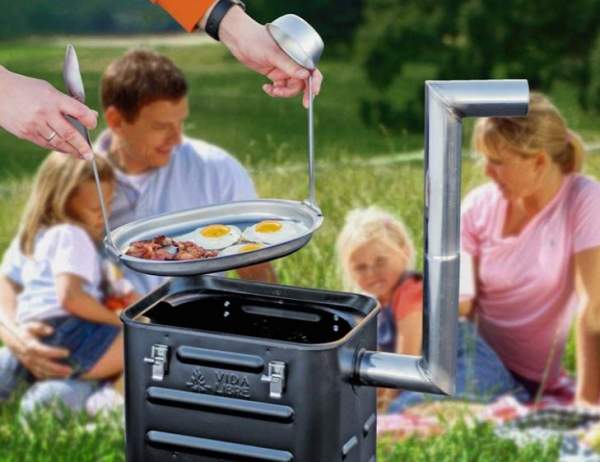 Materials & construction
All the cooking elements which you see above are made of 304 stainless steel. The stove body and its lid are painted with heat-resistant paint.
Note that the stove's wall is only 1 mm, so it is not designed to be used as a heat source, this is for cooking and baking only. So check this improved version of the Guide Gear Outdoor Wood Stove if you need a stove for tent heating and cooking. The carry bag (shown below) is from a durable synthetic and with straps: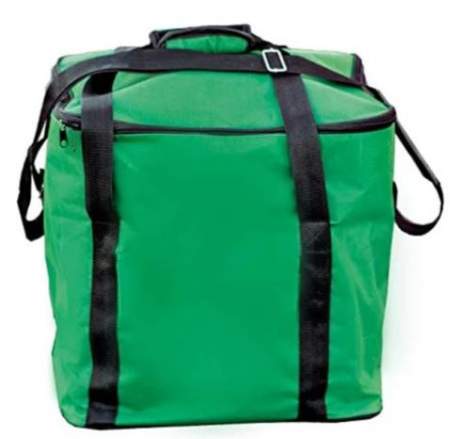 How to make it ready
You can make this stove ready in under one minute. Here are the steps:
Take the stove out of the carry bag.
Remove the lid and then take out all the elements shown in the pictures above.
Add the chimney.
Now it is ready and you can make a fire.
How to bake bread in this VidaLibre Camping Stove
This is where you use both the lid and the pan. So after you prepare the dough, smear the pan with oil and place the dough as you normally do at home.
Place the pan into the top space and then cover it with the lid. You might need to turn the bread to have it properly done from both sides.
Please see more in this short video:
---
Who is it for
Weight-wise, with its 26.2 lb (11.9 kg) of weight, this is not a particularly light system. You will see in the comparison table below how it compares with some of its competitors.
Also, the packed size with folded legs is (H x W x D) 14 x 13 x 11 inches (36 x 33 x 28 cm). So it is a bit bulky, but in any case this is a car camping stove. As you realize from the pictures, all the stuff fits in the stove, and you also have a handle on the top, so you can carry it around shorter distances.
Capacity-wise, they claim you can prepare meals for up to 10 people, but this sounds a bit too optimistic to me. This will depend on what you are cooking and what time you need for it.
---
Good and less good features
Here is my short summary:

Easy to use.
Portable.
Plenty of bonus elements.
Carry bag.
Very reasonable price.

The price & rating
The daily updated price on Amazon is shown in the link. The same price is on the manufacturer's site. Observe also that this is an Amazon Prime product and you can have it shipped for free. They claim that they give 100% 30-days money-back guarantee.
The rating by Amazon customers is exceptionally high, average 4.6/5. Please see how I rate it against my set of criteria:
My rating of the VidaLibre Camping Stove:
Features & design -

8.8/10

Ease of use -

9.5/10

Portability -

8.5/10

Craftsmanhsip -

9.4/10

Price -

8.8/10
---
Specifications
Weight: 26.2 lb (11.9 kg).
Dimensions with folded legs (H x W x D): 14 x 13 x 11 in (36 x 33 x 28 cm).
Materials: steel.
---
VidaLibre Camping Stove vs Winnerwell Woodlander & Winnerwell Nomad Stoves
I thought it could be a good idea to show these stoves side by side although the design and functionality are very different. The VidaLibre Stove has some features which you do not have in the Winnerwell Woodlander and Nomad stoves, like baking. But those two stoves are built for both cooking and heating so it makes sense checking what they offer.
Winnerwell
Woodlander Stove

---
Final thoughts
In summary of this VidaLibre Camping Stove review I wish to stress that this is a really mobile and versatile system that you can use to cook anywhere. It is useful for camping, fishing, hunting, expeditions, emergency situations, and survival.
As you realize, you can cook, fry, simmer, bake bread, make barbeque, but the stove is not built to be used for tent heating. If this is what you need, I gave a few options in the comparison table above.
The included carry bag is great to have to keep it clean from dust when stored at home and also to carry shorter distances in the camp. Fully recommended. I have included it in my list of best wood burning camping stoves.

If you need more options, please check in the category Tent Stoves and Heaters here in the site.
Note that this is not a sponsored text, and I am not paid by the brand. Please use the comment box below in the case of questions or comments. Have a nice day.
---