Guide Gear Outdoor Wood Stove is a robust steel construction that has been improved recently, and it comes with a great price tag that is hard to match.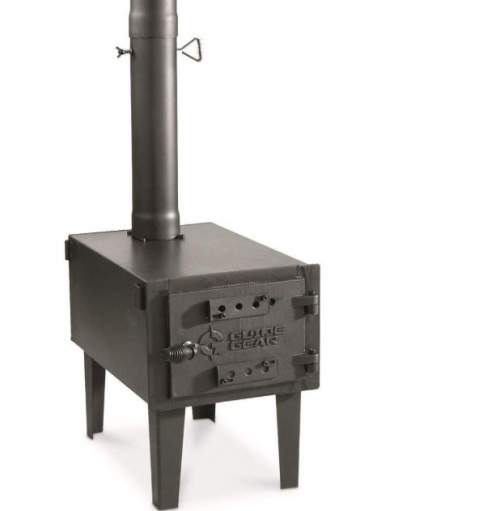 ---
Key features & benefits
Improved door design.
Removable legs.
Door vents.
Great price.
---
What this is about
This Guide Gear Outdoor Wood Stove has been around for many years already. But the version which you can see on Amazon now is with an improved door design where you have what they describe as a cool-touch coiled handle shown in the picture: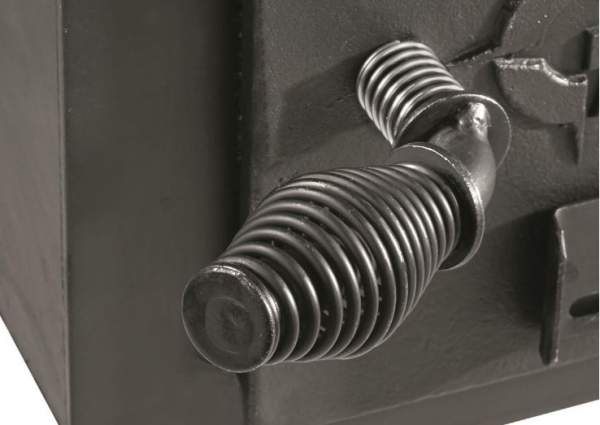 The door is a cast iron construction with two adjustable vents. The picture below shows how it looks from inside where they have added the seal along the perimeter. The door opening is with the dimensions 9 x 6.5 inches (22.9 x 16.5 cm).
The pipe
The stove comes with a set of 5 segments for its pipe and this gives the total length of around 77.5 inches (197 cm). The first segment of the pipe is with an adjustable damper shown in the picture above, and the top is with spark arresting holes shown below.
The pipe is very thick, you have 1.8 mm its wall thickness, and the diameter is 3.375 inches (8.6 cm). Note that they sell pipe extensions which you might need if you have a particularly tall tent. In case you need a suitable tent for such a wood-burning stove, we have a list of tents with an integrated pipe jack.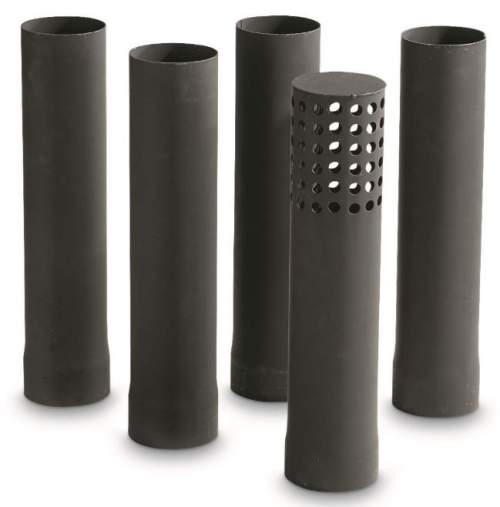 The firebox
The firebox is built from 2 mm thick galvanized steel with a high-temp finish, so this is twice thicker than in the Shasta Vent stove which is shown in the comparison table below. Its dimensions are (W x L x H) 11 x 17 x 8 inches (28 x 43 x 20 cm), so you can put quite long and thick pieces of wood inside.
Note that there are no racks here, but there are attachment points on one side, so apparently it is possible to order something to extend the top work area, but I have not seen anything from this brand on the market. The top dimensions are 12.5 x 19 inches (32 x 48 cm) so this is a bigger surface than in the Shasta Vent stove.
The stove is quite heavy with its 43 lb (19.5 kg), so if you would rather have something smaller and lighter, check this Fltom Camp Tent Stove Wood Burning.
The legs & other features
The stove is with four removable legs.
All the elements, pipe tubes included, fit inside the stove for easy storage and transport.

Please see more in this video:
---
Specifications
Weight: 43 lb (19.5 kg).
Dimensions (W x L): 12.5 x 19 in (32 x 48 cm).
Height with the pipe: 7.75 ft (236 cm).
Firebox thickness: 2 mm.
Pipe thickness: 1.8 mm.
Pipe diameter: 3.375 in (8.6 cm).
Pipe length: 77.5 in (197 cm).
Firebox size (W x L x H): 11 x 17 x 8 in (28 x 43 x 20 cm).
Door opening dimensions: 9 x 6.5 in (22.9 x 16.5 cm).
Legs height: 7.5 in (19 cm).
---
Guide Gear Outdoor Wood Stove vs Camp Chef Alpine Stove & Shasta Vent Stove
Regarding the weight, the Guide Gear Stove is right in between the Camp Chef Alpine Stove and Shasta Vent Stove. So I thought it would be interesting to show them side by side and to compare. This may help in making an informed choice. The weight difference is because of the wall thickness.
The Camp Chef Stove comes with useful side racks which you do not have in the other two stoves. Note also that the Shasta Vent stove is the only tripod here. Please follow the links for more.
---
Final thoughts, rating, pros & cons
In conclusion, this Guide Gear Outdoor Wood Stove is indeed improved but it lacks some features which are necessary, like the side racks and the fire grate inside. But see how incredibly affordable it is, and it is indeed a robust construction. This is a great value for the money.
Note also that they have a Large Stove version on the market, with the same features. You can use it in their excellent Guide Gear Base Camp Tent that comes with an integrated pipe jack.
Please see below how I rate this stove against my standard set of criteria used for the stoves here in the site. This allows for easy comparison among them:
Please check under the category Tent Stoves and Heaters here in the site if you need more options, you will find some top-notch items in this industry. Check this Cylinder Stoves Outfitter Wood Stove Package that comes with a water tank included. If you want something US-made check this England's Stove Works Survivor 12-CSL "Grizzly" Stove.
Note that this is not a sponsored text, and I am not paid by the brand. Please use the comment box below in case of questions or comments. Do share this text with others, thanks in advance.