---
This Winnerwell Nomad Medium Tent Stove review is about a precision-crafted 304 stainless steel portable easy to use wood stove for winter tent camping. It comes with a clever folding design for legs and racks, and all other elements fitting into the stove for transportation.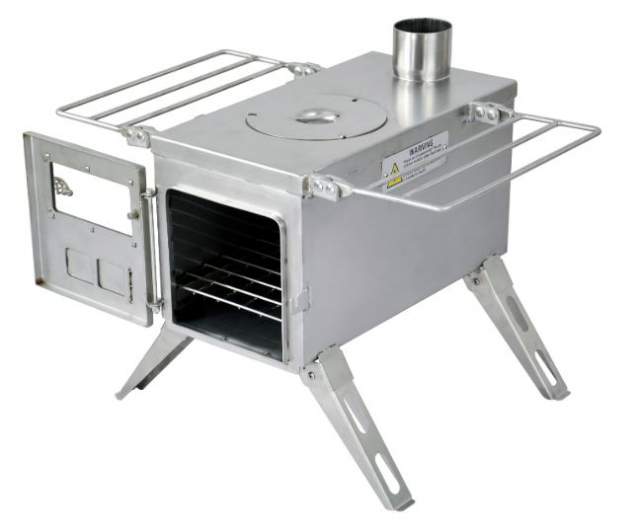 ---
Key features & benefits
Stainless steel structure.
Viewing window.
Huge space for fire.
Folding legs and side shelves/racks.
Removable hot plate for open-fire cooking.
Two positions for the accessory water tank.
---
Where to buy
Check on Amazon, they have a network of stores on several continents, with best prices and shipping conditions.
---
What type of the stove is this
This Winnerwell Nomad is a rectangular steel stove for wood burning, and you can use it for heating and for cooking. Its folding racks add to its versatility as you can use them for hot pots but also to dry your wet stuff, and they double as handles to carry the stove around. They also have the Nomad View Large with a side window.
The stove is designed to accommodate a water reservoir and an oven from the same brand, more below, but those can be ordered separately. The picture below shows what you get in the package, as you realize these are all elements you need for such a stove: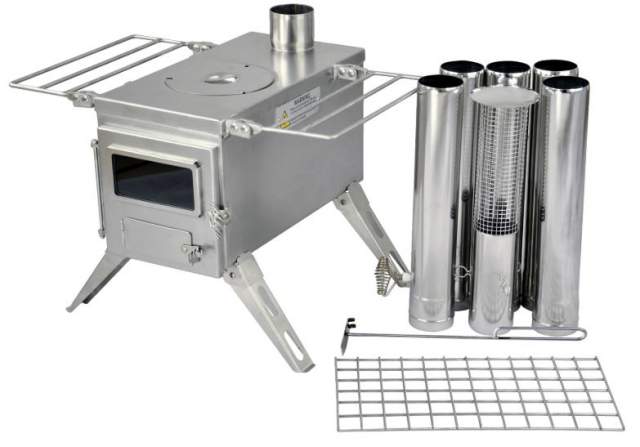 The picture shows the following elements:
The stove with folding legs and racks.
5 pipe sections.
A spark arrestor.
A wire grate.
An integrated pipe damper.
An ash scraper.
---
Who is it for
Regarding the capacity, they do not provide the dimensions of the tents which could be heated by such a stove. But its inner firebox is officially only 800 cubic inches.
So you can compare this with the Camp Chef Alpine stove where you have around 1400 cubic inches and it is designed for tents in the range 120 – 224 ft² (11 – 21 m²). By a simple calculation, this might mean that the Nomad should be able to heat the area which is around 60% of that value. This is around 72 – 134 ft² (7 – 13 m²).
But note that the pipe here is 2.5 inches as compared to 5 inches in the Camp Chef stove, and the cross-section area is 4 times smaller. So this is a very rough guide and nothing more than that.
Regarding the weight, this is a really lightweight item, with its 20.7 lb (9.4 kg) it is three times lighter than the Camp Chef Alpine. So it makes sense to use the term portable when you describe this stove. After all, this is all steel. But this is certainly not something to carry long distances. In any case, the weight is very close to the Fltom Camp Tent Stove Wood Burning.
Regarding the users, this is a stove perfect for heating and cooking in large family camping tents, in tents for hunters, and for general outdoor use. They write it is not intended for residential use.
---
Materials & construction
As mentioned already, this is all a durable 304 stainless steel with excellent corrosion resistance. The cooktop is 1/8 inches (3.2 mm) thick and the rest of the body is 1/16 inches (1.6 mm). So this is a construction that can functionally withstand higher temperatures than mild steel. After the first fire, the stove will get a nice patina so do not be worried about that, this is normal.
The shelves and lots of useful space to deal with pots, see them in the picture below. They write that the stove is "suitable for 2-4 people" but the meaning of this is unclear to me. This is more the matter of the tent size.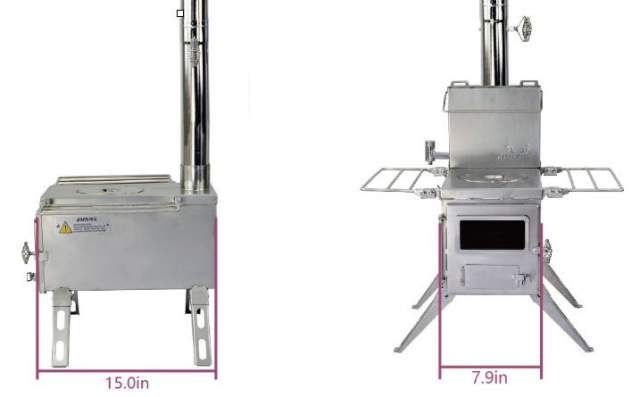 Legs
The legs are folding type, so this is different from the Camp Chef stove design. You open them and you will see a popup locking button that fixes them in place. This is very easy to use but the downside is that there is no legs adjustability for an uneven ground. Nevertheless, I really like it as it is, see the picture above.
When you transport the stove, you fold the legs under the stove, this is visible in the picture below. All other elements fit into the stove.
Side shelves
The two racks/shelves simply fold and you can use them as a handle when carrying the stove shorter distances. They add lots of useful space to put your warm pots.
The door & glass window
You have a glass window here and this really sets this stove apart from its competitors. So you can enjoy watching the fire and check the situation inside without opening the door. This adds to a cozy atmosphere and the overall feeling of warmth.
There is yet another lower door (air vent) attached to the main door, for ventilation and damping. Note that here you have 4 different positions to close and lock this air vent door, see the picture.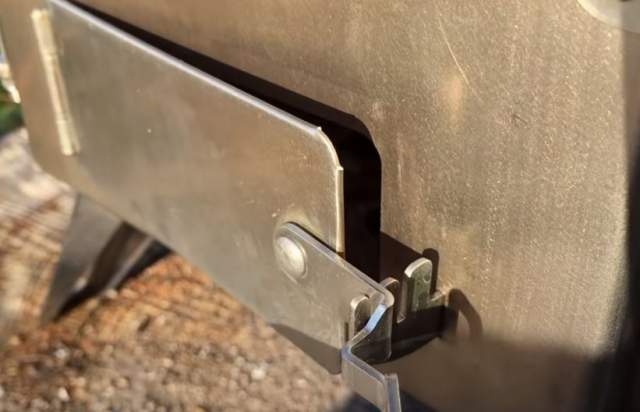 The spark arrestor
This is again a nice design, the arrestor is just like yet another pipe segment, but it is with a mesh as you see in the picture below. Observe that you have several rings welded on it, a great attention to details, you can use them to secure the pipe against winds.

---
What type of tent is it for
I mentioned the tent size above, but here this is about the pipe jack. So the package included the pipes that go through the roof. There are several tents here in the site with such a stove pipe jack design. See for example this White Duck Outdoors Avalon Canvas Bell Tent and also White Duck Outdoors Alpha Wall Tent.
But there are tents with a pipe jack on the side wall or both. One example is this DANCHEL Cotton Bell Tent with Two Stove Jacket. In this case, you can order the Winnerwell 90 Degree Pipe Section and combine it with the existing pipes, see it in the picture: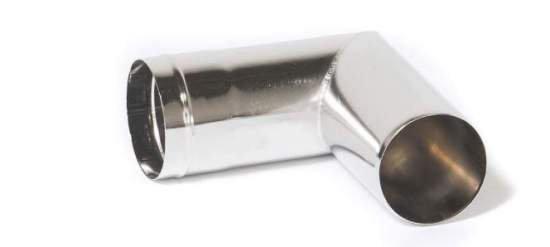 But they also have Winnerwell 45 Degree Pipe Section 2.5 Inch which you might need in your tent, see it below: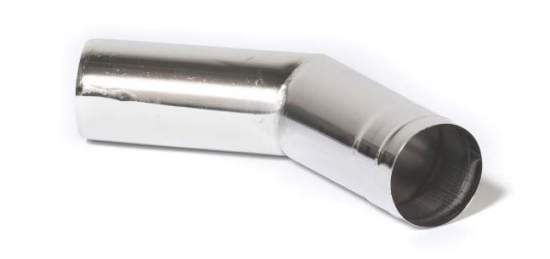 IIn this video you can see some of the features of this Winnerwell Nomad Medium Tent Stove, please have a look:
---
Specifications
Weight: 20.7 lb (9.4 kg).
Firebox size (L x W x H): 15 x 7.9 x 8.3 in (38 x 20 x 21 cm).
Assembly size with pipes (L x W x H): 16.9 x 20.9 x 90.2 in (43 x 53 x 229 cm).
Pipes diameter: 2.5 in (6.3 cm).
Pipes length: 14.4 in (36.5 cm).
Footprint dimensions: 16 x 13.5 in (41 x 34 cm).
Packed size: 15 x 8 x 8 in (38 x 20 cm).
---
Warnings by the manufacturer
The stove should not be left in the tent burning unattended.
The surface is extremely hot during use, so make sure children and pets are kept at a distance.
Only burn clean and dry seasoned wood. Green wood can result in carbon monoxide which is hazardous.
They suggest cleaning the stove every 20 hours of burn time, to avoid the risk of a chimney fire.
Installation tips
Maintain adequate clearances in a tent, they recommend at least 18 inches (46 cm) between the stove and any combustible material. In the case of using a non-combustible heat shield, the clearance can be reduced by half.
They recommend using the Double Wall Pipe Section to protect the tent roof. Make sure you have a fireproof stove jack.
When possible, secure the legs of the stove using tent stakes or anything similar to avoid any chances the stove from tipping over.
---
Accessories
Winnerwell Water Tank Medium
They have a nicely designed reservoir that you can attach on the top back section, and it has bars that secure it in place. Note that you can still cook when the reservoir is in this position, see the picture below. But you can also hang it on the side, there are hooks welded on the stove for this purpose under the side rack. This water tank you can order it here.
Stainless Steel Stove Accessory
This is yet another type of water tank that you can use with several stoves of this brand, including this Nomad Medium Stove. It occupies less space and it can only be used on the top, see the pictures below. You can order it here.
Winnerwell Fastfold Oven
This is yet another great addition that you can use with this stove. It is designed to be placed on the cooktop. More about the price and shipping conditions you can see here.
Note that with this oven you cannot cook at the same time, it occupies the whole top area of the stove. But they have yet another type, the Winnerwell Pipe Oven 2.5 Inch which you attach on the pipe and have the cooktop free for cooking. It is compatible with the other stoves of this brand. See it in the picture: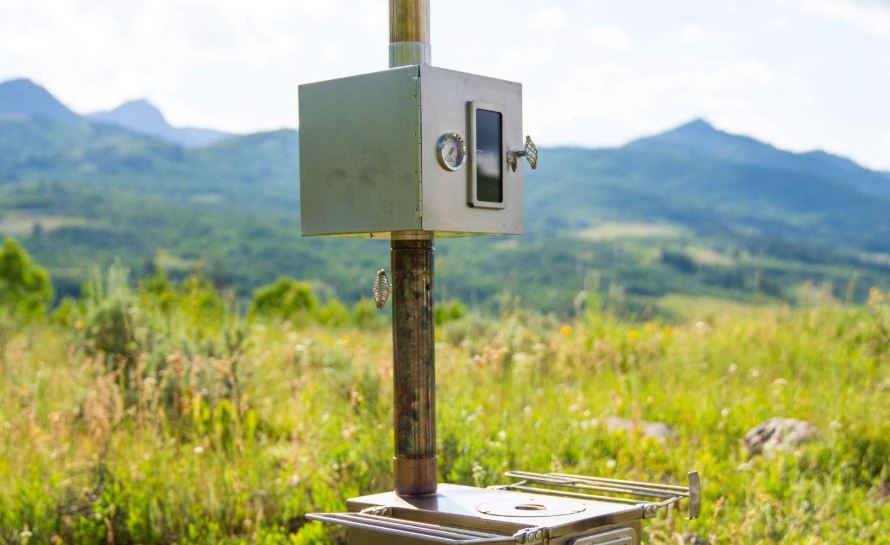 Here you can see a complete procedure of unpacking and using this stove for the first time in a real camp:
---
Winnerwell Nomad Medium Tent Stove vs Camp Chef Alpine Wood Stove CS14
I thought you might want to see how the Nomad Stove compares with yet another popular wood burning stove, the Camp Chef Alpine Stove. They are different in shape and in material, but the functionality is basically the same. Please follow the link to read more:
---
Final thoughts, rating, pros & cons
In the summary of this Winnerwell Nomad Medium Tent Stove review, I would say that it is hard to find a stove of this type that would match the quality and craftsmanship of this stove. The attention to detail is here at a high level.
An extra bonus is that this is a brand with many accessory elements that fit this as well as several other stoves of this brand. The price is high but this is a great product, I can fully recommend it. It is included in my list of the best tent stoves for wood burning.
See how I rate it for several parameters:
You might want to compare it with yet another model from this brand, the Winnerwell Woodlander Medium Tent Stove with a different oval bottom design and three folding legs. See also this Timberline Wood Stove which includes a water tank in the package. But if you need a backpack-portable wood burning tent stove, please check this Winnerwell Fastfold Titanium Tent Stove.
Note that this is not a sponsored text and I am not paid by the manufacturer or related to them in any way. I am only expressing my own unbiased views about this product.
Thank you for reading. If you are familiar with this stove or some other of this brand, please let us know, there is a comment box below.