---
This Wenzel Eldorado 8 Person tent review is about a freestanding 2-room summer camping tent with large doors, a convertible screen room design and great price. So keep reading.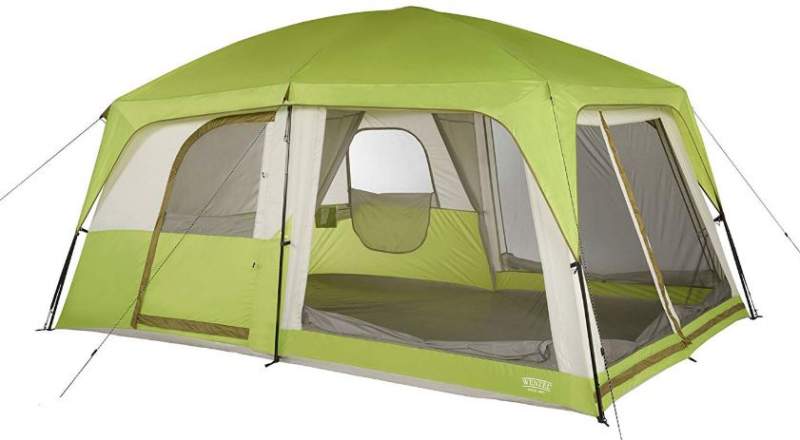 ---
Key features
Cabin style tent.
2 Rooms & 2 doors.
Many windows.
Convertible design.
Easy to use.
Very tall tent.
E-cable port.
Affordable.
---
Where to buy
This tent is available on Amazon, so check from your side about shipping conditions. They have a global service.
You can find it at Walmart as well.
---
What type is this Eldorado 8 Tent
So this is a cabin-style tent with straight and tall walls, a more cabin type is hard to imagine. With such a design usually goes an appropriate height, so this is indeed a very tall tent with a peak height of no less than 86 inches (218 cm).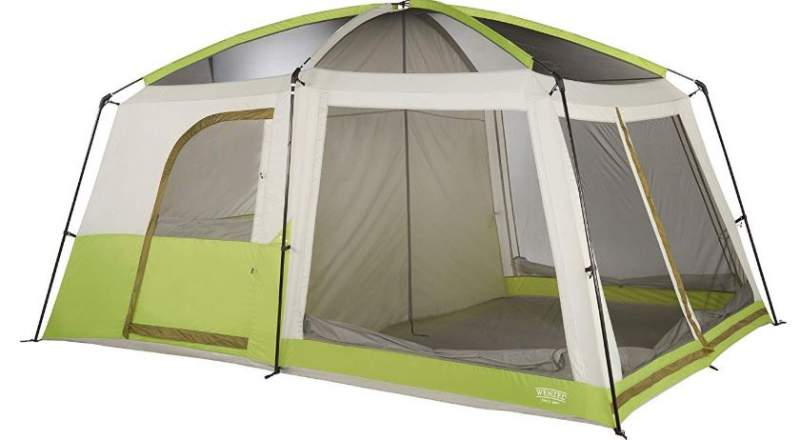 The tent is fully freestanding and this holds even when you attach the fly. So you can always move it a bit around and rotate. The fly attaches to the poles at the base, but I have seen also the version with attachment in the middle of the poles, not sure which one will be sent to you. The picture above shows it without fly so you can understand its frame structure.
The tent is a 2-room structure of a particular type. The word 'convertible' mentioned above implies that one of the rooms is with zippered panels and mesh on all three sides. So you can unzip them completely and have a great screen room while still be fully protected from insects. This is similar to yet another tent with screen room, the Ozark Trail 14 Person Spring Lodge Cabin Camping Tent.
This is a remarkable feature bearing in mind such a great price of this tent. Usually, such zippers are found in much more expensive tents, so I am pleasantly surprised to see this feature here. I have added it to my list of best screened tents; it deserves to be there more than any other tent because the screen here is fully protected from rain when needed.
Note also that the floor is fully sewn-in and this includes the screen room as well. The divider which creates two rooms is also sewn-in so you have real privacy, more you can hardly expect in a tent; you can see it in the picture above. The tent is with a partial coverage fly, this allows for great views around but this implies less protection of course.
---
Who is it for
Capacity: The declared capacity is 8 people and the picture below shows what the manufacturer suggests for using the floor. Now, the dimensions are 14 x 9 ft (427 x 274 cm) and it is indeed possible to put 8 sleeping pads on the ground the way they show.
So for a group of friends at some summer gathering and concerts, this can work. But the area is 126 ft² (11.7 m²) and this would give only 15.7 ft² (1.46 m²) per person. In the case of family camping, this would not be enough. So I would say this tent is suitable for parents with 2-3 kids.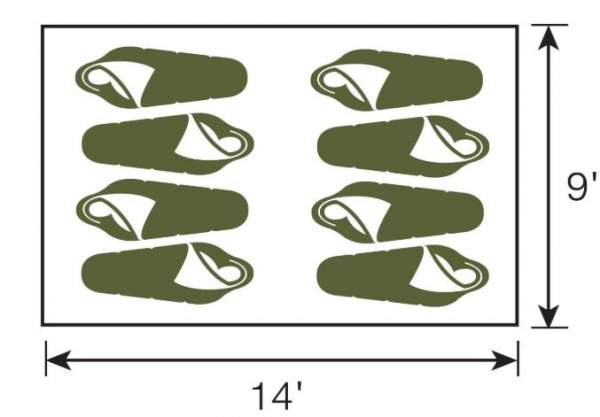 Seasons & Climate-wise: This is a summer camping tent and this is the only way I would use it. There is lots of mesh suitable for warm weather camping. The tent is tall and with a minimal fly, so it is best to avoid strong winds and lots of rain, they do not provide info about waterproof rating.
Weight-wise, with its 28 lb 12 oz (13 kg) this looks like a heavy tent, but the comparison table below will show you that it is lightweight for such a type, its competitors are heavier.
The packed size 27.5 x 10.5 x 10.5 inches (70 x 27 x 27 cm) is very reasonable for such a cabin tent. All in all, this is a tent for car camping but it should be possible to transport it even on a motorbike.

---
Materials
The poles & stakes
There are 6 legs poles and this is steel. The 3 roof poles are fiberglass and they are shock-corded, so this all is very typical and quite good for such an affordable tent. Steel stakes are included in the package.
The fabric
This is all polyester, and this holds for the fly, floor, and canopy. The rest is mesh. There are 2 doors here, one standard D-shaped door on the side (see the picture below), and one gigantic inverted-T shaped door on the front.
Note that they do not provide any statement about the waterproof rating, disappointing. This is the most important information which you need for a tool which is supposed to protect you from the rain. At least the fly seams are sealed.
Numerous windows are on three of its sides, 3 separate and 3 on the doors. All these openings are double layer with mesh and panels, only the ceiling is just a mesh but this is normal and this is why you have the fly above it. I dislike the fact that there are no floor vents, they are needed if you have to keep all the panels closed.
Other features
E-cable port is available, see the picture.
2 Small wall pockets; far from enough.
Pre-attached guy ropes for added stability.
This big tent can be pitched by one person in under 20 minutes.
Please see more in this video:
---
Specifications
Type: cabin style tent.
Declared capacity: 8 people.
Weight: 28 lb 12 oz (13 kg).
Dimensions: 14 x 9 ft (427 x 274 cm).
Area: 126 ft² (11.7 m²).
Area per person: 15.7 ft² (1.46 m²).
Packed size: 27.5 x 10.5 x 10.5 in (70 x 27 x 27 cm).
Peak height: 86 in (218 cm).
Poles: steel & fiberglass.
---
Wenzel Eldorado 8 Person Tent vs Competitors
I think it is useful to see how this tent stands when compared with some other tents built in the same style. So here are two of them well-known and from renown brands.
As you see their area is almost the same but Eldorado is taller than the other two. Its packed size is a bit better, and it is lighter. But note that Coleman Tenaya 8 tent has some extra features. Please follow the links to check for current prices.
27.5 x 10.5 x 10.5
(70 x 27 x 27)
28 x 10 x 10
(71 x 25 x 25)

34.5 x 13 x 11.5
(88 x 33 x 29)

---
Final thoughts, rating, pros & cons
So this Wenzel Eldorado 8 Person Tent has quite a number of features for such an affordable tent. This is a great option for occasional family camping adventures. Do not use it in harsh conditions and you will have a pleasant camping experience.
You might want to know that Wenzel brand has been around since 1887, and they started by building tents.
The price is such that this is a bargain for such a tent. Please see how I rate it, the criteria are the same for all the tents in this site so you can compare easily:
Wenzel Eldorado 8 Person Tent
$220.95
Pros
Very pleasant and tall structure.
Great windows.
2 Rooms.
2 Doors.
Freestanding tent.
Screen room features.
Cons
No floor vents.
Not for harsh weather conditions.
Too small for the declared capacity.
You might want to compare this tent with this GigaTent Mt Craylock 8-10 Sleeper Family Tent which has three rooms. Check also this Bushnell Sport Series 8 Person Tent that is designed as a 2-room structure.
Please note that this is not a sponsored text and I have no business relationship with this brand. Do use the comment box below in the case of questions or comments.

---