Coleman Tenaya Lake Fast Pitch 8 Person Tent is a pleasant cabin style 2-room freestanding tent for summer camping. It features a hinged door and a storage closet on the back.
---
Key features & benefits
Hinged door.
Closet behind the tent.
Fast pitch hubbed poles system.
2 rooms design.
5 windows.
E-port available.
---
What is in the name
The Tenaya lake 8 is a very typical cabin style tent and this implies a lot: many large windows, straightened and tall walls, a partial coverage fly, all-mesh ceiling, etc. You might want to know that this is the Official tent of the National Park Foundation. It comes with several specific features which I present below. This tent is very similar to their Jenny Lake 8 tent where you have auto-roll windows added as an extra feature.
The fast pitch – what is this
They use this design in several of their tents, you can see it also in their Tenaya Lake 6 (note this has cabinets instead of the closet), Coleman Carlsbad 6, and Coleman Steel Creek 6 tents.
The most important part of this system is that the roof poles are all shock-corded and permanently attached to the top hub element visible in the picture below where they all converge. There is nothing to guess and you cannot lose any of them. The remaining poles at the walls are each separate but their segments are also shock-corded. But don't mix this with instant tents, this is not an instant setup tent although such a design makes the setup easier and faster.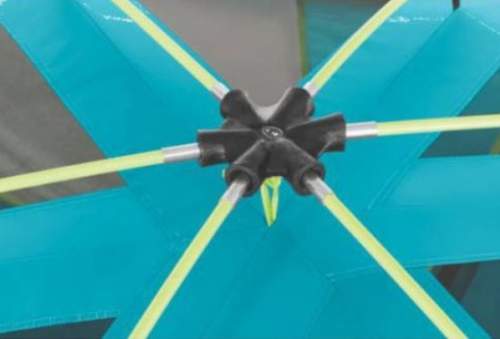 The closet
This is an addition to the tent's body, located on the back, opposite to the entrance door. Its area is not big, you have only 4 ft² (0.37 m²). It comes with its own poles that support its roof which you can see in the picture below. From inside, you have a curtain with a vertical zipper shown in the picture.
I have seen some people saying that they use this space for their portable toilet so this may be a good way of using such a space. But in any case, you have a bar inside to hand your stuff, plus a multiple-shelf structure to keep your stuff organized. Note that this closet is permanently attached to the tent, it is with its own roof/fly and you cannot remove it.
This is a very useful space but it is a pity they did not make it larger, you do not have vestibules or a porch to store the gear. I have added this tent to my list of camping tents with closets.
The hinged door
Coleman has used this feature in several of their tents as you can see in my list of hinged door tents where most of them are from this brand. So if you are not familiar with this, you have two extra fiberglass poles which you pass through the zippered sleeves and this makes the door a rigid D-shaped structure shown in the picture below.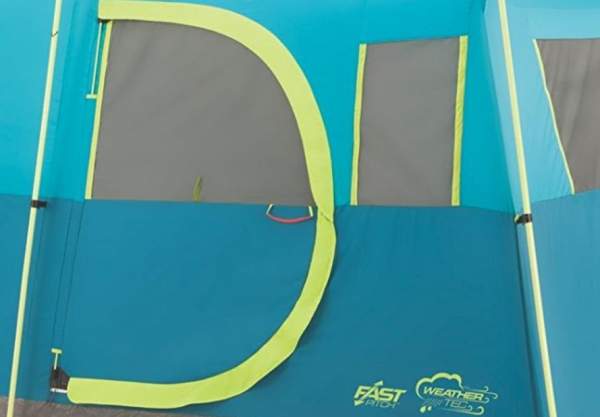 Velcro tabs keep the door closed during the day, but you also have a zipper that goes around the door to close it firmly during the night. The storm flap covers the zipper all the way around.
---
Who is it for
Space-wise, the declared capacity is 8 people. But when you calculate the area you realize this is far from enough. You have 117 + 4 ft² (10.85 + 0.37 m²) in the main area and the closet, and this gives 15 ft² (1.4 m²) per person. So they have used a backpacking principle to determine the capacity of a camping tent. This doesn't make much sense to me. For real camping this is a tent for parents and 2 kids maximum.
I have seen many people asking if you can fit two queen size beds. The answer is yes, but you will not have much space left to use the tent properly. Note that due to its steep and straightened walls, you can save lots of area by using bunk cots for adults and for kids. You can combine a queen size bed for parents (see this one from the same brand) and the mentioned bunk cot for two kids.
Seasons-wise, the design of this tent is such that it is best suited for summer camping and in quiet areas without much wind. Note that this is a very tall tent with 203 cm high vertical walls, such a structure is a huge obstacle and it would not survive long in strong side winds. The fly is a partial coverage type and the waterproof rating is not given. I would not expect much so better avoid the strong rain.
Climate-wise, the same applies, the tent is suited for a warmer climate. There is too much mesh on the ceiling if you would use it in a cold environment, such a structure does not keep the warmth. If you need a tent for a cooler environment, chose some of those tents with PVC windows and without mesh. Many of them are available in the category Tunnel Tents here in the site. If you want Coleman, check this Coleman Air Valdes 6 XL or Coleman Rocky Mountain 5, they are with a smaller declared capacity but they offer far more space.
Weight-wise, this is a heavy structure with 35.4 lb (16 kg) and its packed size is 34.5 x 13 x 11.5 inches (88 x 33 x 29 cm). So a car is needed for transportation. The carry bag is with wheels and you can move it around to short distances but the tent is for places with a car access.

---
Materials & construction
The tent is formally a 2-room structure, you have a removable divider which is just a toggled curtain. But you have only one door, so this is not so great if the tent is used by two couples. There are 5 windows plus one on the door, all are with mesh and with zippered panels for privacy and rain protection. This is a great design.
They do not provide much information about the fabric. Here you have what they call the WeatherTec system with patented welded floors and inverted seams. It is supposed to be waterproof. The best part is the floor which is a thick bathtub style polyethylene, a plastic stuff, and you are safe from this side. The fly and the panels are most likely polyester, no indication about the waterproof rating.
Many people have complained about leaking, and this is mostly on the seams which are supposed to be watertight. This is is why I do not think this is a tent for a rainy environment.
Other features include:
Illumiline reflective guy lines.
E-port for electrical power.
Wheeled carry bag.
Setup
I think it is best that you see this video, one person can set this tent up, but it is much easier for two people. Coleman claims 9 minutes setup, this is very unrealistic:
---
Specifications
Type: cabin tent, freestanding.
Weight: 35.4 lb (16 kg).
Dimensions: 13 x 9 ft (396 x 274 cm).
Closet: 2 x 2 ft (61 x 61 cm).
Area: 117 + 4 ft² (10.85 + 0.37 m²).
Area per person: 15 ft² (1.4 m²).
Peak height: 80 in (203 cm).
Packed size: 34.5 x 13 x 11.5 in (88 x 33 x 29 cm).
Official tent of the National Park Foundation.
---
Coleman Tenaya Lake Fast Pitch 8 Person Tent vs Competitors
Here is the Tenaya Lake 8 side by side with two other cabin style tents in a similar size range, so see how it compares. Clearly, it offers far less space than the Browning tent, and its setup is far inferior to the instant design in the Core's tent, but it is not without some great features.
34.5 x 13 x 11.5
(88 x 33 x 29)
Browning Camping
Big Horn 8
Core Instant
Cabin Tent 9
48 x 11 x 10.5
(122 x 28 x 27)
---
Final thoughts, rating, pros & cons
So I hope you will agree that this Coleman Tenaya Lake Fast Pitch 8 Person Tent is really nicely built, it has a few very specific features that set it apart. If you use it for summer camping in a warmer environment and without much rain, you will be doing fine with such a tent. But disregard its declared capacity, this is far too small for 8 people.
This is a very affordable tent and very popular. It has been around for a few years already and there are hundreds of reports by Amazon customers, and the average rating is very respectable. See how I rate it:
Coleman Tenaya Lake Fast Pitch 8 Person Tent With Closet
You might want to compare it with this Eureka Copper Canyon Tent LX 8 and with ALPHA CAMP 8 Person Instant Cabin Tent, both built in the same style. If you need an instant tent from the same brand, check this Coleman Instant Cabin 6 Tent with fly. For an area with lots of rain, you might consider this Eureka X-Loft 6 tent with a full-coverage fly and a totally different design.
Thank you for reading. Please use the comment box below in the case of questions or comments. Have a nice day.

---