In the description of some tents you will see the term hinged door, so what is tent hinged door really? Here I give a few words about this to use it as a reference within the site.
---
In short, a hinged tent door is a design with poles that run along the perimeter of the door. So typically you have one vertical pole which serves as an axis around which the door swings, and you have at least one curved pole that goes around the door and gives it the shape.
Such a door is usually a D-shaped structure, and if built with two poles then its profile is fully flat. This implies also that the wall of the tent is straightened so that the door closes properly.
From this, it is clear that the cabin-style tents are very suitable for such hinged doors because of their straightened walls, but this is not always so, there are dome-shaped tents with such a design as well. You can see such a door in the design of these tents presented in the site:
The poles are added into the sleeves that run along the perimeter, and here you have a zipper along the sleeves for this purpose. See the example from the Montana 8 tent, the door is with a handle as well: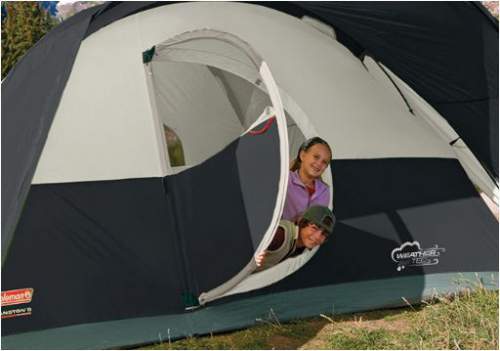 Such a door and the tent wall are usually equipped with Velcro tabs so that the door closes by itself to keep the insects out.
Normally, you also have a zipper that closes the door completely. In some cases (when the door is not protected by an awning or vestibule) you also have a storm flap for the protection. This flap is sometimes designed so that it changes from being on the wall on the upper section, to being on the door in the lower section. You can see this in the picture from the Coleman WeatherMaster tent: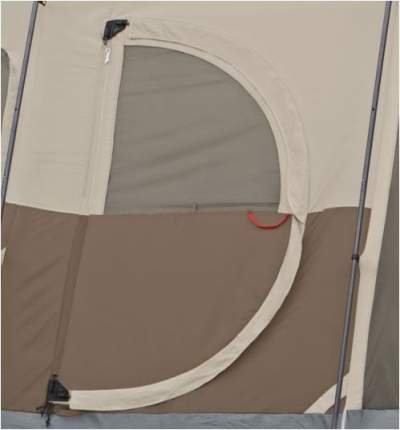 In such a way the zipper is always covered by a flap which comes from above, so that the rain doesn't get in. Though although it has a purpose, the flap is usually an annoying detail on such a door because you have to move it manually so that Velcro tabs get in contact, otherwise its upper part is pressed by the door. In the picture above you see that it switches its position at the handle.
Please see this long list of tents with hinged doors, in all possible shapes.
Thank you for reading, I hope this has been useful to you, and I wish you a nice day.
---