---
Coleman Montana 8 person tent with hinged door is a very popular family camping tent with a great packed size and the price which is hard to match. The tent has been on market for a number of years already, so see here what makes it so popular.
---
Key features & benefits
Great price.
1-room tent.
Hinged door for easy entry and exit.
E-Port for electrical power inside the tent.
Expandable carry bag for any easy packing.
Front awning.
---
What type of tent is this
Here you have a typical extended dome type tent. This implies a central section with the two main poles creating the usual X-shape structure, plus two poles on the sides where the tent is extended. This is visible in the picture below.
The tent is not freestanding, it must be staked to the ground to be fully functional. So bear this in mind when you choose your camping spot.
This is a single-room tent, no dividers here. They claim that three queen size airbeds can fit inside. So, in theory, this is possible, see the floor size in the specifications below, but this cannot work in practice. But with two beds of that type you will be doing fine, with lots of extra space in the central zone.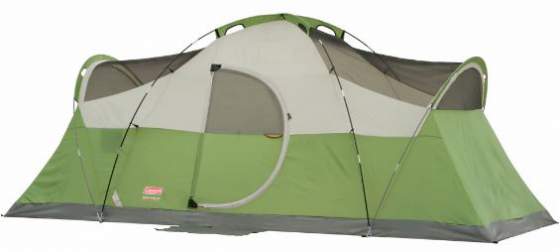 ---
Who is it for
The tent is officially for 8 people sleeping on the floor. The length is 488 cm (16 ft), so indeed you can put 8 sleeping pads on the floor side by side, each 60 cm wide, but this will leave no space for gear.
So, I would downgrade this number drastically, to 4 to 5 people if you want any comfort in the tent. Note that you have a small awning in front of the tent but it is not big enough to store anything outside, you can only keep your shoes and boots there. Note also that they have a 6-person version as well.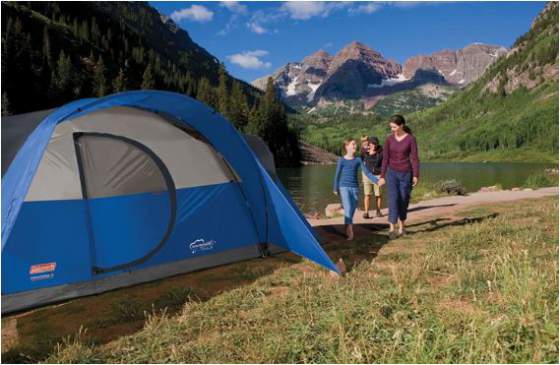 The packed size of this tent is really impressive, 27.5 x 9.25 x 9 inches (70 x 23.5 x 23 cm). So you can transport it even on a motorbike, and I see it as a nice tent for motorbike groups.
This is a 3-season camping tent but I would not use it for very harsh weather conditions. The fly is not a full-coverage type, see the picture below, but it protects the side windows, and you have the awning in the front which protects the door.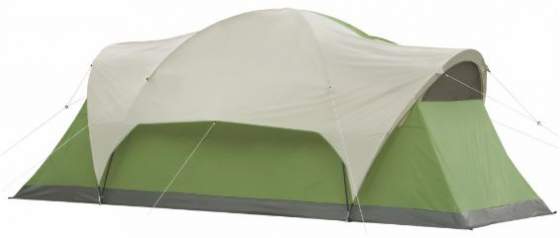 ---
The structure
The hinged door
No doubt this is the feature many will like. You have two extra poles which you put in the sleeves on the door and this is what makes it hinged, and it opens like your door at home. But this is a single door for such a big tent and this is not so great. If you are interested in hinged door tents, please check this list.
Materials & construction
The poles are 11 mm fiberglass, this material needs some care, so not the best choice for such a big tent. But the dome shape compensates for that, so the structure is quite strong and stable when staked to the ground. You have 4 poles for the tent plus one pole for the awning. Extra two poles are for the door, so this is 7 in total.

The fly material is 75D polyester taffeta, the inner tent is 68D polyester mesh, and the floor is 1000D polyethylene. So these are quite good and durable materials. They do not provide waterproofness rating for the fabric, my guess is it is not so high, 600 mm or so, similar to other tents of the same brand. I wish to stress that the floor is a bathtub type and this is certainly a good feature here; it goes some 4-5 inches above the ground on all sides.
Windows
There are 3 windows in total. The two on the sides are reverse angle windows, see the picture above, and they are covered by the fly so this is meant to keep them open all the time, but I do not think this can work in the case of rain. The ceiling is mesh so this all should help ventilation. The third window is on the door, visible in the picture above, this is the upper section where you have mesh and you can keep it open all the time because it is protected by the awning.
But note that there are no vents close to the floor and air cannot circulate in such a confinement, so ventilation is not the best feature of this tent.
Other features
You have a zippered port for an electric cable, useful to have if you are in a camp with such a luxury like electricity.
There are only two small and rather useless pockets on the wall, for small items, so I wonder what they were thinking with such a design in a tent for 8 people. To realize how different this can be in a great tent, please check this Big Agnes Flying Diamond 6 with no less than 16 huge storage pockets.
The tent is 74 inches (188 cm) tall in the central area, but this is a dome-shape and therefore it is rather low in all other sections.
Setup
The setup is well explained in the instruction and all is self-evident and it can be done in 20 minutes by one person. Adding the fly may be tricky for one person so better have help by somebody.
Please see a bit more in this short video:
---
Specifications
Weight: 24.5 lb (11.11 kg).
Dimensions: 16 x 7 ft (488 x 213 cm).
Floor area: 10.4 m².
Area per person: 1.3 m².
Peak height: 6 ft 2 in (74 in; 188 cm).
Packed size: 27.5 x 9.25 x 9 in (70 x 23.5 x 23 cm).
1-year limited warranty.
Colors: 3.
---
Coleman Montana 8 person camping tent vs competitors
Here you can see the Montana 8 tent side by side with two other tent from the same size range, see how it stands:
27.5 x 9.25 x 9
(70 x 23.5 x 23)
Browning Camping
Big Horn 8
---
Final thoughts, rating, pros & cons
In the conclusion of this Coleman Montana 8 person tent review, I wish to stress that I like the style of this tent, it has several nice features, plus the price which is hard to match. But bear in mind a few objections I gave above.
In any case, if you feel that this tent is not the best option for you, please look around, this site is only about big family camping tents and you will find something for you. You have seen the two tents in the comparison table above, but there are many other models in all sizes described in detail here.
This is a very popular tent, no surprise when you see its price. Also, it has been on the market for many years already and it has collected a huge number of reports everywhere. Only on Amazon you can see close to 3000 reports by customers and the average rating is very high. See how I rate it:
Coleman Tent for Camping | Montana Tent
Pros
Hinged door.
It looks great.
Great price.
E-Port.
The fly is relatively big although not full coverage.
Cons
Fiberglass poles.
No vents close to the floor.
Only 2 very small storage pockets.
You might want to check this Marmot Limestone 8 tent and also this new Coleman's tent, the Coleman Oasis 8-Person Dome Tent built in the same style. If you need a portable tent for 8 people check this dome-style Timber Ridge 8. Check also this NTK Savannah GT 8 to 9 Person Tent which is with a tarp instead of the classic fly.
Thank you for reading. Please use the comment box below if you have any comment or question. I wish you a nice day.