The Zempire EVO TM V2 Tent is a 3-room tall and pleasant structure nicely ventilated and with tinted solid windows, and supported with air beams.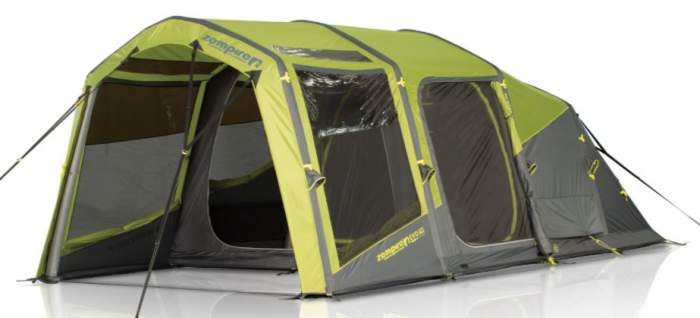 ---
Key features & benefits
Tunnel type tent.
3 Rooms plus porch.
Inflatable beams.
2 Double-layer doors.
Tinted & mesh windows.
Skylight windows.
Many storage pouches.
High waterproof rating.
Incredibly ventilated.
E-cable ports.
Great accessory options.
---
What this Zempire EVO TM V2 Tent is about
This EVO TM V2 is the smallest in their EVO series, they also have TL and TXL which are for 5 and 6-9 people, respectively. V2 in the name indicates a new model with a few added features.
This is a tunnel-shaped tent and its floor plan is given below with some details, I shall present them all farther in the text. On the left you have a very deep porch. The gray area in the middle is the living room, with a fully sewn-in and sealed floor.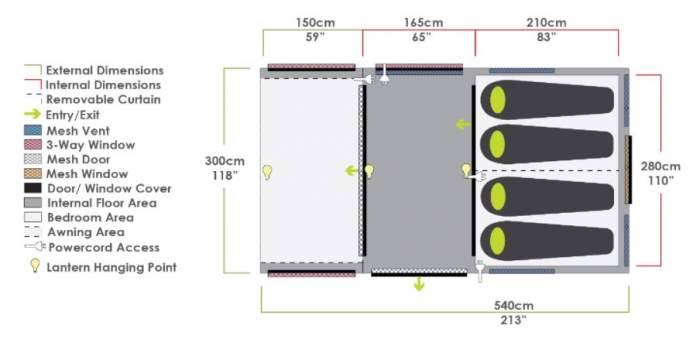 On the right you have an inner tent attached to the external shell. This is a sleeping area with two rooms (see them below) separated with a removable divider.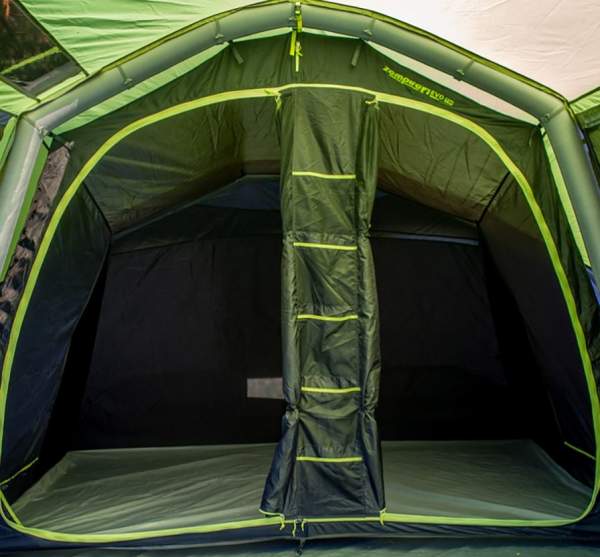 So the tent is a 3-room construction, very tall with its 82.68 inches (210 cm) peak height and pleasant. I have included it in my list of best 3 room family camping tents.
Note that it is not freestanding but you have plenty of guylines and storm straps to secure it and fix to the ground.
The doors & windows
There are two external doors. One is deep under the porch and it is fully protected, so this is a dry entry point, see how it looks when fully open. You can also see the inner doors.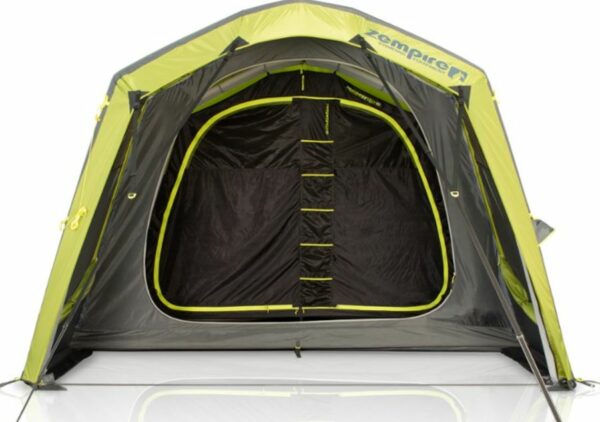 You can unzip the door, there is a 360 degrees zipper, and then store in a pocket next to, this is what the picture shows. The door is double-layer, with a mesh zippered layer and a zippered panel. Both of these layers can be zipped or open half width, so you can regulate how much air and privacy you want.
The other door is on the side, you can see it in the picture below. This is again a double layer structure with a mesh and with a panel.

On the other side you have windows, see below how they look. Note that all the windows are what they describe as a 3-way design. So you have a mesh part in the lower section of a window, and there is a tinted solid part in the upper section. You can see this clearly in the pictures.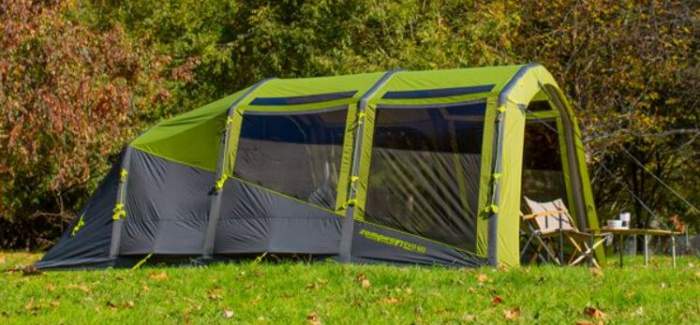 But there are inner zippered panels, and you can zip them up to cover only the mesh part, to prevent too much draft if you feel cold or for privacy. You can also zip them to the top and prevent any views from outside.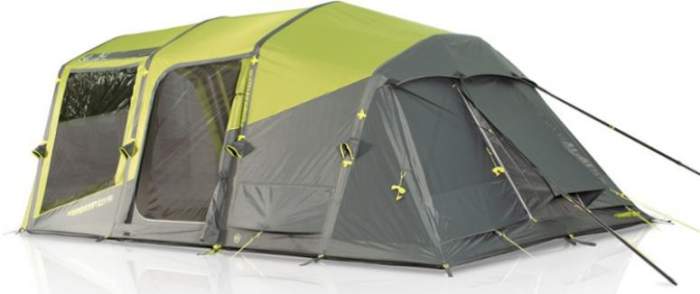 There are also three tinted solid skylight windows, you can see them all in the pictures, and below you have a close view of some of them.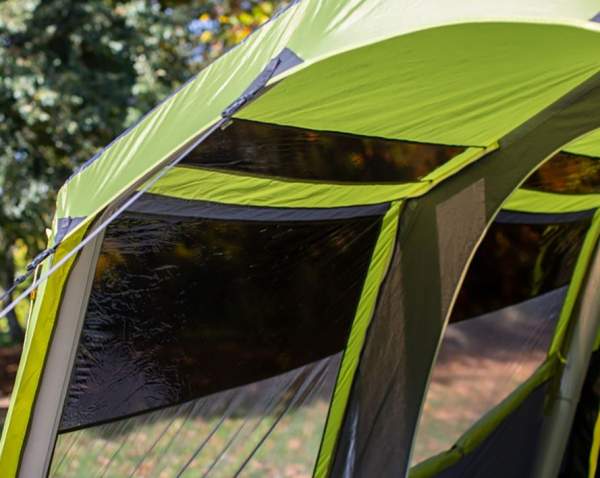 Materials
Support: This tent is without solid poles, you have an advanced air beam technology and four beams with some features unique to this brand. One of the beams is shown in the picture below.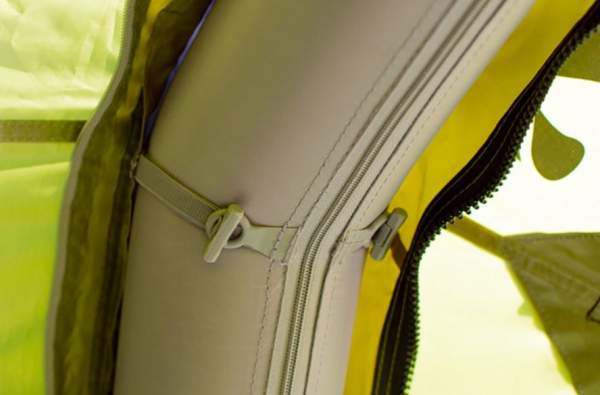 This is what they call the SeroLink frame system that connects the inflatable air frame directly to the fly. They claim this provides increased strength and flexibility while reducing weight and bulk. The beams are with a double-seal Boston valve and with external inflation point and guide straps.
You have their double-action Pro Series pump included, it is equipped with a pressure gauge and pressure release valve, and its own carry bag.
From the pictures you realize that the beams are straight on the sides so the walls are almost like in a cabin tent. Because of these features, I have included it in my list of best inflatable tents for camping.
The fabric: The shell is their 150D 135T polyester oxford, and as usual with Zempire brand, its waterproof rating is impressive 6000 mm. The UV rating of the shell is UPF 50.
The floor is a 12×12, 140 g/m² highly waterproof polyethylene. The inner tent is a 75D 270T breathable polyester, and it has its own additional floor.
All seams are TPU tape sealed, this is an adhesive film applied to the interior in order to prevent water ingress. The fabric is fire-retardant as well.
The carry bag is built from a 150D poly oxford. It is with compression straps, and there is a clear PVC window pocket inside with pitching and use instructions.
Other details
There are 37 pegs included, 6 mm diameter and 180 mm long.
Even the inner door is a 360° foldaway.
The vertical storage set is on the inner wall tent between the inner doors, with pockets on both sides.
There are several inner low pockets in the bedrooms.
Several (4 in total) E-cable ports are available.
The zippers are anti grit reversed, with the flat side of the zip turned outward to prevent dirt and contaminants from accumulating in the zipper teeth. There are no jingle cord pullers, and you have two-way zipper heads.
Light rigging systems in all spaces (porch, living room, bedrooms).
Ventilation
Excellent ventilation is very typical for Zempire tents. They are built for all climates and they assume you might be forced to spend lots of time inside if you camp in an area with rain. After all, this is a brand from New Zealand.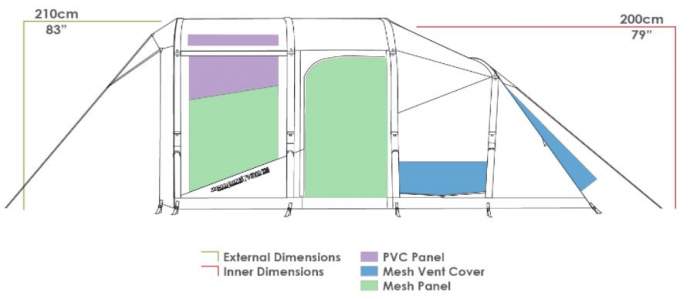 So there are multiple venting options, 12 in total if I am not wrong. You have already seen about its huge mesh doors. You can keep the porch door with mesh only all the time because it is deep under the porch.
But if you feel cold, you can keep it closed and rely on other venting options. So there are no less than 5 gusseted low vents on the shell, if you have a look at the pictures you will see them all.
On the rear side there are low and high vents, plus a large gusseted rear window which you can see in the picture below. This rear window is with a flap that can be unzipped.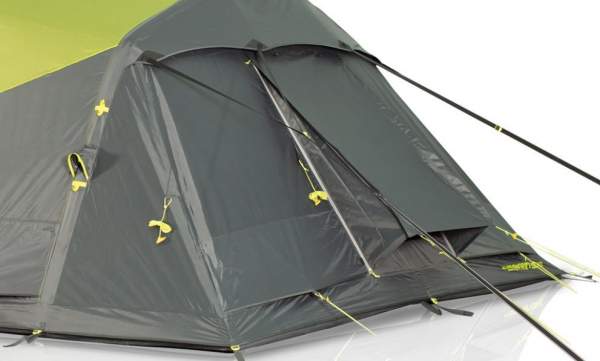 Note also that there are inner mesh openings in the bedrooms, they match the external vents. Please see more in this video, it shows how one person can pitch this tent with ease:
Here is a short walkthrough:
Warranty
Wit this tent you have manufacturer's 3-year guarantee.
---
Who is it for
Regarding the area, the total inner floored area is 121 ft² (11.25 m²), and the official capacity is 4 people. This means that you have 30.25 ft² (2.8 m²) per person.
But the living area is fully protected and there is enough place for 2 people more if needed. Note that the porch area is 48.4 ft² (4.5 m²), so this is lots of partially protected space for cooking and for your camping chairs and tables.
Regarding seasons & climate, they describe it as a 3-season tent, but I do not see why it cannot be used year round. Its waterproof rating is impressive, they claim it is torrential rain tested.
It is fully closable for cold weather camping, and you have seen about its ventilation. It is equipped with strong storm straps on the front and on the back, see them in the picture below.
There are many 3.5 mm polyester cords included in the package, with aluminum tri sliders. So you can secure this tent properly and it will perform great in almost any weather.
Regarding the weight, obviously this is a camping tent so the weight is not so important. Though it is heavy with its 53.4 lb (24.2 kg), and you would not want to carry it far from the car. But the effort is compensated by the fact that one person can pitch it with ease.
The packed size is substantial, it measures 27.6 x 16.1 x 16.1 inches (70 x 41 x 41 cm) in its carry bag. So it takes some space in the car.
Regarding the price, they do not compromise on features, comfort, and quality in this and in other of their series, and this is why you have very expensive tents from this brand. There are several links below so check from your side and compare the prices, they change all the time.
---
Specifications
Weight: 53.4 lb (24.2 kg).
Official capacity: 4 people.
Dimensions: 212.6 x 118 in (540 x 300 cm).
Inner area: 121 ft² (11.25 m²).
Inner area per person: 30.25 ft² (2.8 m²).
Porch area: 48.4 ft² (4.5 m²).
Peak height: 82.68 in (210 cm).
Packed size: 27.6 x 16.1 x 16.1 in (70 x 41 x 41 cm).
---
Accessories
1. On the front you have a full-length zipper. This allows you you to connect your tent to an Aero base Evo Link to extend your outdoor living space by adding the Zempire Aerobase 3 Pro Shelter with 1 Wall. The picture below shows how this may look: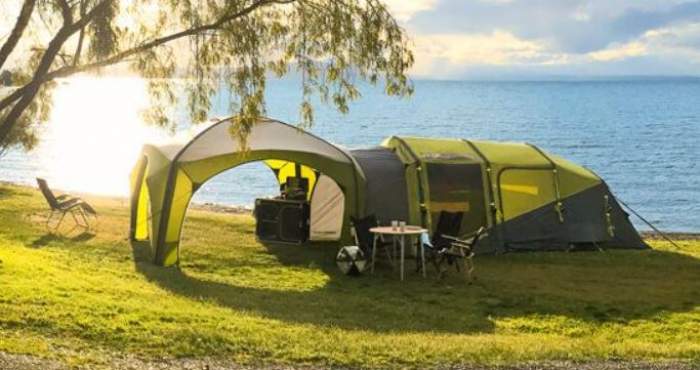 2. They offer an accessory Zempire EVO TM V2 Awning Wall Set shown in the picture. This transforms the porch into a fully enclosed room: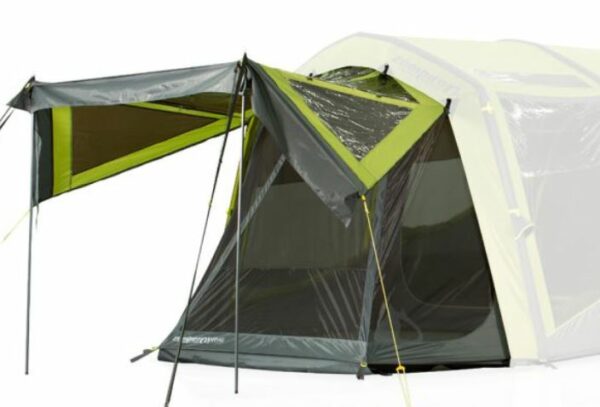 3. There is also an extra Zempire EVO TM Roof Cover. They claim it reduces heat in the tent by up to 6 degrees, and it protects the roof from UV damage, tree sap, pollen and unsightly bird droppings.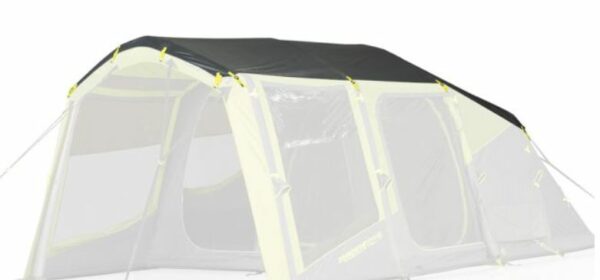 ---
Final thoughts, rating, pros & cons
In conclusion, this Zempire EVO TM V2 Tent is incredibly well-built and with plenty of useful features and attention to details. It offers full protection for a family or four, in any weather conditions and in all seasons. The tent is with excellent ventilation, with tinted side and roof windows, tall, and very pleasant.
This all comes at a price, but the tent is built to last and it is worth the money. Its 3-year warranty should also put your mind at ease. Fully recommended. I have included it in my list of best family camping tents for 4 people.
Below you can see how this tent stands against my standard rating criteria that I apply consistently to all the tents here in the site so that you can easily compare:
BEST PLACEs TO BUY:
For more tents of this shape please check in the category Tunnel Tents. Let me know if you have questions, there is a comment box below. Bookmark this site and come again, this will keep you informed, as you realize I add texts here on a regular basis. Thank you for reading.