The Beesky Tent 8 Person is a dome-shaped freestanding family camping tent for 2-season warm weather camping, easy to use and incredibly affordable.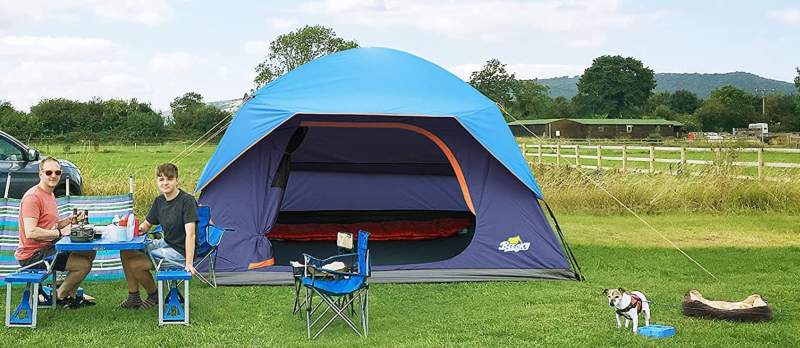 ---
Key features & benefits
Dome-shaped tent.
Freestanding.
Incredible price.
E-cable port.
---
Overview
This Beesky Tent 8 Person is from a new series that appeared on Amazon recently, and it is the largest out of three tents. They sell them at the same place there so you can choose any size.
The tent is a dome-shaped structure but some segments of the roof poles are pre-bent and this is why it looks almost like a cabin type tent. You can see this in picture below which shows its shape without the fly, and the most important numbers.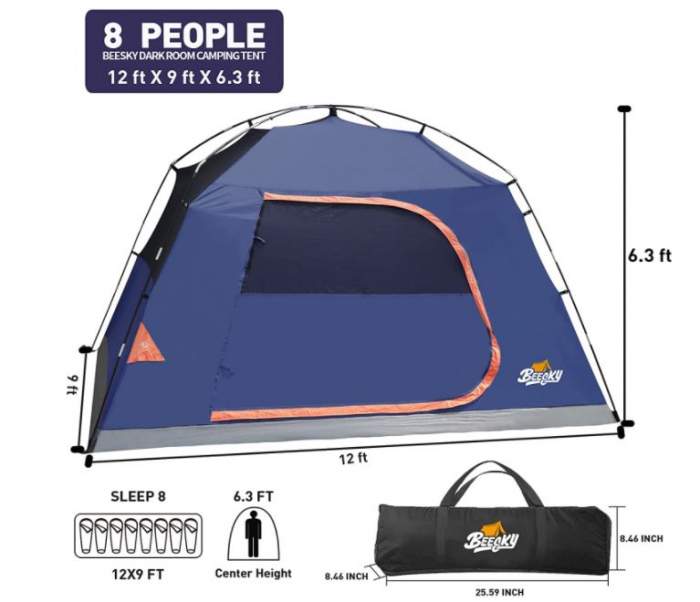 The tent is freestanding, and with a partial coverage fly shown below. There is only one door, this is not the best option for its size. You have a stand-up height in the central area. It is very similar to the Coleman 8 Person Skydome Camping Tent, it seems they came from the same factory.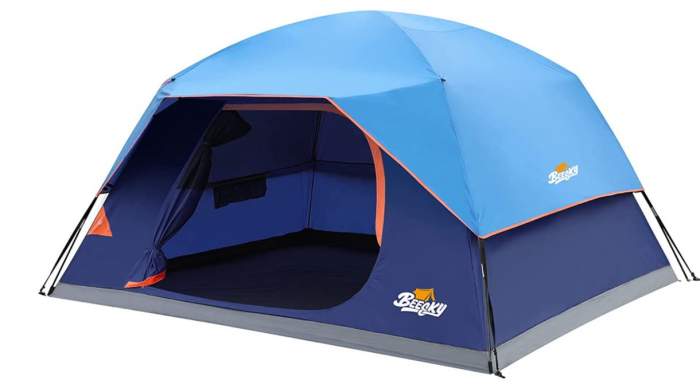 The picture below shows the view from inside the tent so you realize that a big part of the canopy is a mesh suitable for stargazing.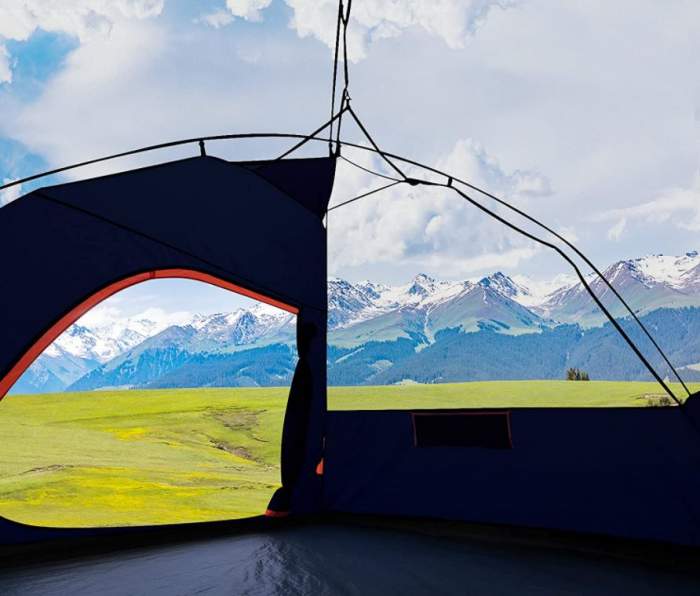 Materials
This is a budget tent so the materials are what you would expect, standardly used even in far more expensive tents.
The poles: There are two main poles that support the canopy, plus one short brim pole that creates a small cover above the door, so you have a dry entry here. This is a chock-corded fiberglass, and some ferules on the roof are pre-bent.
Note that it has what some other manufacturers describe as Quick Corner design. There are small narrow pockets in 2 of the corners (see the picture), and the ends of poles at these places are with small balls on the top to avoid damages.

This makes setup easier when one person does the job. You place the end in the pocket, and then you go and attach the pole in the grommet which is on the other side (visible in one of the pictures below). The end in the pocket will stay in place while you go to the other side. You have the same system in some tents of Coleman, but it was invented by Kelty.
On the canopy you have clips for attachment, some are visible above. So 1 person can set it up without any difficulty within 10 minutes.

The fabric: You have a 185T polyester used in the fly, and its waterproof rating is 1000 mm. The inner is a mesh and a breathable taffeta.
The floor is obviously a bathtub style polyethylene, though they did not mention it. You also have an E-cable port, a gear loft shown above, and a few wall pouches for small items. Steel stakes and guylines are included.
Ventilation
They describe it on Amazon as ventilated. So indeed it has lots of mesh on the inner canopy so that vapor can escape. But the fly looks like a helmet and there are no vents. The front brim should help so that vapor escapes, but it is a bit low for such a purpose.
On the other hand, the door is with mesh only in the upper part, and they have not added floor vents. So the ventilation is not its best feature.
---
Who is this Beesky Tent 8 Person for
Regarding the area, the tent is officially for 8 people, and it offers 108 ft² (10 m²). This means 13.5 ft² (1.25 m²) so this is far from enough although you may be able to squeeze 8 narrow sleeping pads on the floor.
I have seen people describing it as huge, so it is, but not enough for 8 people. So clearly the official capacity is not realistic and, as usual with such tents, it is best to downgrade it by half.
Regarding seasons & climate, I see it best suited for summer camping or for up to two seasons. The tent is with a 3/4 cover fly so I would not go to very windy places with it. Though they claim it can withstand winds of up to 35 mph. The same statement you have in Coleman's tents that are built in the same shape. Remember what I mentioned about the same factory?
Regarding the weight, in view of its overall size and the weight of 17.85 lb (8.1 kg), the tent can be described as lightweight. This is why I have included it in my list of best 8 person backpacking tents.
The packed size 25.59 x 8.46 x 8.46 inches (65 x 21 x 21 cm) is not bad at all. It can be carried attached to the pack and transported even on a motorbike.
Regarding the price, it is simply incredible. So it is not surprising that the tent became one of Amazon's bestsellers very quickly after it appeared on the market.

---
Specifications
Weight: 17.85 lb (8.1 kg).
Official capacity: 8 people.
Dimensions: 12 x 9 ft (366 x 274 cm).
Inner area: 108 ft² (10 m²).
Inner area per person: 13.5 ft² (1.25 m²).
Peak height: 6.3 ft (192 cm).
Packed size: 25.59 x 8.46 x 8.46 in (65 x 21 x 21 cm).
---
Final thoughts, rating, pros & cons
So this Beesky Tent 8 Person looks very good, I love its color, it is simple by structure but good enough for summer camping with your family or friends. The price is amazing for what you get.
Below you can see how I rate this tent against my usual set of criteria. It stands very good:
BEST PLACE TO BUY:
More tents of this shape you will find in the category Dome Tents here in the site, and for more options in this capacity range please check within Tents for 7/8 People. Check this Coleman 8-Person Carlsbad Dark Room Dome Camping Tent with Screen Room that blocks 90% of the sunlight.
Bookmark this site and come again, this will keep you informed, as you realize I add texts here on a regular basis. Thank you for reading.