---
This Coleman 8 Person Skydome Camping Tent is a very elegant and simple freestanding dome-style tall tent, easy to use, and with a great price tag. Keep reading.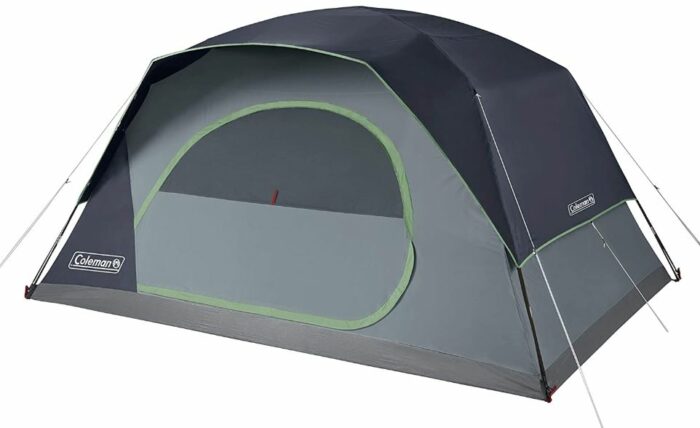 ---
Key features & benefits
Dome tent.
Freestanding.
One door.
Fiberglass poles.
Great price.
---
What this Skydome 8 tent is about
Here you have the largest of the Skydome tents that Coleman launched for the season 2020. The series includes also tents for 2, 4, and 6 people and they sell them all at the same place on Amazon. This tent should not be mixed with their Coleman 8-Person Dark Room Skydome Camping Tent that is built in the same style but with dark-rest design as its name suggests.
So here you have a very simple dome-style construction with 2 main poles that create the dome shown below. But note that these poles are pre-bent on the roof and they claim that such a design gives 20% more headroom as compared to standard dome tents.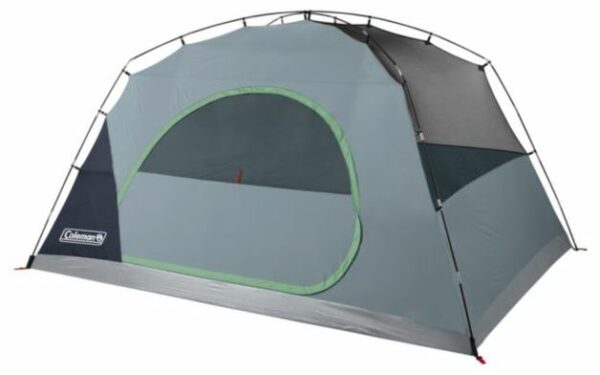 The tent comes with a half-size fly that attaches to its base, there are no vestibules here and this is what makes the tent fully freestanding. So you can move it around and rotate even with the fly on. The picture below shows how it looks from the back side, and you can realize what I mean by the term half-size in describing its fly.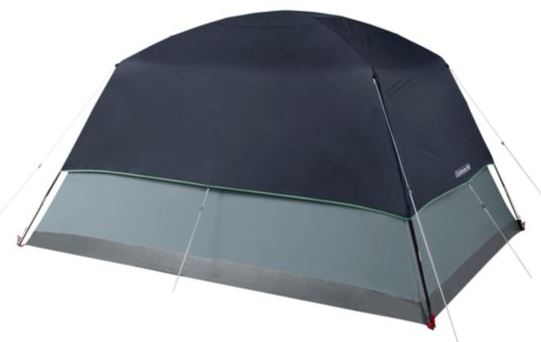 The tent is with one large door on the front and it has a window on it with mesh and a panel for protection and privacy. A small brim created with a short pole protects the window so you can keep it with mesh most of the time.
Ventilation
In the picture without the fly you can see that there is lots of mesh on the back and on the sides. The fly does not need any vent because of the front brim so the air can always escape. But the tent would be better with a floor vent, pity they did not add one on the back.

---
What is included
All the stuff is presented in the picture and as you see you have a full set of simple steel stakes, and guylines are also included. So although the tent is freestanding, never miss staking it down properly.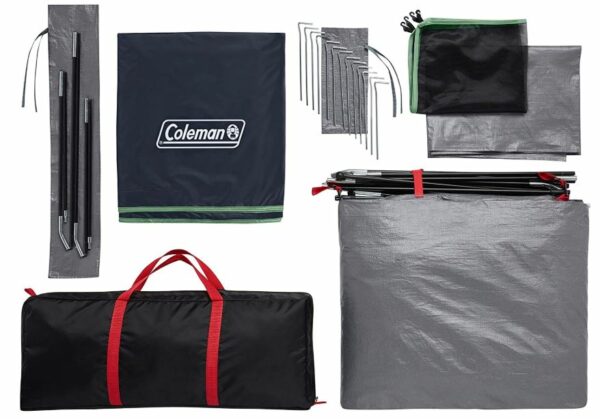 The poles are fiberglass, this material is commonly used in budget tents, and you can see it also in much more expensive tents. So here you have them two for the dome and one for the brim.
They use the term 'pre-attached poles' here, and this may be confusing, the meaning is simply that the poles are shock-corded. This has nothing to do with the pre-attached poles they have in some of their instant tents, or to the fast-setup design in some other tents with hub elements.
Note that they have introduced a unique detail here, see the picture below to realize what this is about. The pole ends with a ball, and you place it in a corner pocket. Such a corner pocket is an invention by Kelty, but Coleman has introduced this interesting pole-end design.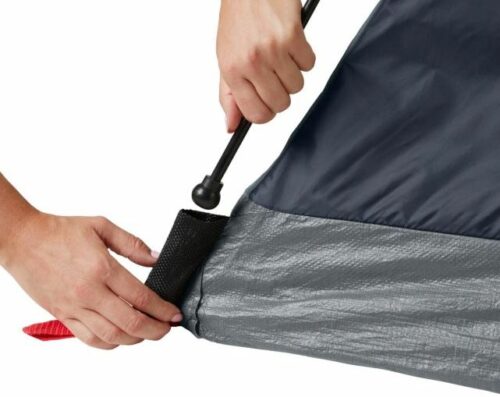 The fabric
They do not provide any info about the waterproof rating of this tent. All you have is their statement about the WeatherTec system used here as in many other of their tents. So you have welded corners on the floor, and inverted seams on the tent.
The floor is obviously polyethylene, see the picture above, and this is bath-tub design so you are safe from the ground. Note that the fly is dark, so although they do not describe it as a dark-rest tent, it reduces glare a lot.
Other features
The tent comes with a few small wall pockets.
There is also a gear loft included.
---
Who is it for
Size-wise, the declared capacity is 8 people. For this you have an area of 108 ft² (10 m²), which gives 13.5 ft² (1.25 m²) per person. The dimensions are such that it is possible to place 8 sleeping pads on the floor, but for real camping this can never work. So it is best to downgrade this number by half. I see this as a great tent for parents with one small kid, or a luxurious option for a couple.
Seasons-wise & climate-wise, this is a 2-season tent best suited for warm-weather camping. With so much mesh you would not feel pleasant in a cool environment.
They claim it has been tested to withstand up to 35 mph winds, I think I would not use this tent in such weather conditions. This is for calm weather.
Weight-wise, the tent is moderately light with its 22.4 lb (10.16 kg), but you would not want to carry it on the trail even if the weight is shared among 8 users. You might want to compare this with the Beesky Tent 8 Person which is the same size but lighter.
The packed size 25.5 x 10 x 10 inches (65 x 25 x 25 cm) is such that it is possible to transport it on a motorbike. So this is a camping tent for places where you would not carry the tent.
From the video below you will realize how tall this tent is, note that the peak height is 6 ft 4 in (193 cm), and this is remarkable for a dome tent, please have a look:
---
Specifications
Capacity: 8 people.
Weight: 22.4 lb (10.16 kg).
Dimensions: 12 x 9 ft (366 x 274 cm).
Area: 108 ft² (10 m²).
Area per person: 13.5 ft² (1.25 m²).
Center height: 6 ft 4 in (193 cm).
Packed size: 25.5 x 10 x 10 in (65 x 25 x 25 cm).
1-year limited warranty.
---
Final thoughts, rating, pros & cons
In the summary of this Coleman 8 Person Skydome Camping Tent review, I wish to stress that they have built a nice simple tent for occasional outdoor adventures. The price is simply amazing, so if you do not want to spend much and still have a tent from one of the best know outdoor brands, this is it.
Please see how I rate this tent against my standard set of criteria, it scores high in all of them:
BEST PLACE TO BUY:
For more options just look in various categories here in the site. See my list with best 8 person tents, and visit also the group of dome tents if you want something in the same style. Check this extended dome from the same brand, the Coleman Cimmaron 8-Person Modified Dome Tent. If you want something very different from the same brand, check this Coleman Octagon 98 8-Person Outdoor Tent with Half Fly.
We add texts here on a regular basis, so bookmark this site, come again and stay informed. Thank you for reading and have a nice day.