The Berghaus Air 4 Inflatable 4 Person Family Tent is with 3 rooms, solid windows, nicely ventilated, and with an impressive waterproof rating for full protection.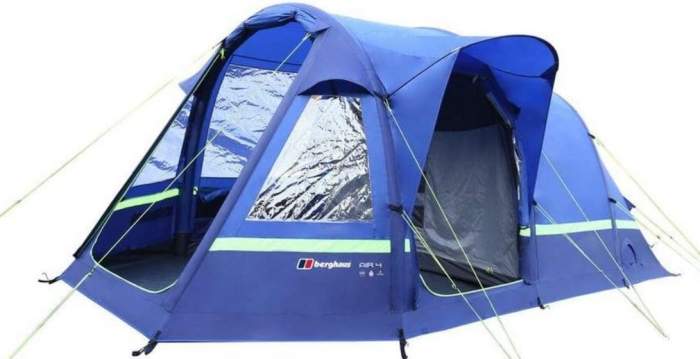 ---
Key features & benefits
---
Overview
This Berghaus Air 4 Inflatable 4 Person Family Tent is a tunnel-type tent, but it is supported by 3 inflatable beams instead of poles. It has been on the market for several years already, tried and tested by many people.
You have a full coverage fly and a fully sewn-in and sealed floor, and inside of it there is an inner tent that has a removable divider. The inner tent is the gray area in the picture below, the rest is a pleasant living room with a peak height of 200 cm.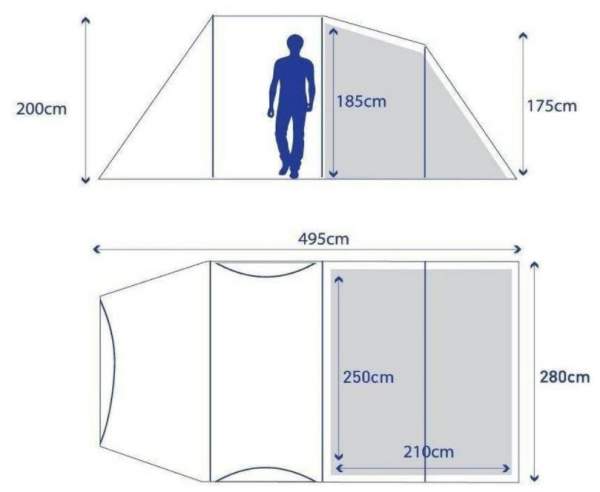 So the tent is a 3-room structure, but you can use it as a 2-room shelter, or you can remove the inner tent and use only the shell tent, you will still have full protection. The inner tent has its own extra sewn-in and sealed floor, so the bedrooms have two layers on the ground.
With such an inner tent, you have a dry setup, and this is convenient when you are forced to pitch the tent during the rain. The inner remains protected all the time.
The doors & windows
This tent has two external doors and they both have a full-size zippered mesh against insects and for ventilation, and a panel. The side door has an extra solid window as a third layer. This same door is with a dry-entry brim supported by a short fiberglass pole.
There are also two inner doors and they are with mesh and zippered panels in the upper sections. You also have 3 separate solid windows for views around, plus one solid window on the side door. So all of them are with inner shutters for privacy.
Storage elements & other details
There are numerous storage pouches around. You have them on the inner wall between the two inner doors, they are also in two levels under the living room window, and you have them also in the inner tent on both sides.
There is an E-cable port and inside you have loops to pass a cable and to fix it on the ceiling.
Materials
The fabric: You have a 70D shell with an impressive 6000 mm Hydrostatic Head, and with fully taped seams. The inner tent is a 185T polyester. These are all fire retardant materials tested to the BS EN 5912 standard.
Large windows are translucent for excellent visibility and light, and it is interesting that they are with polycotton shutter for privacy.
The beams are rapid inflating with separate valves and with a dual action stirrup pump equipped with a pressure gauge. The valves are quick release type so they deflate in seconds when you want to pack the tent.
You also have a full set of corner stake pegs and round wire pegs with adjustable pegging points for a secure hold, plus all guylines visible in the pictures.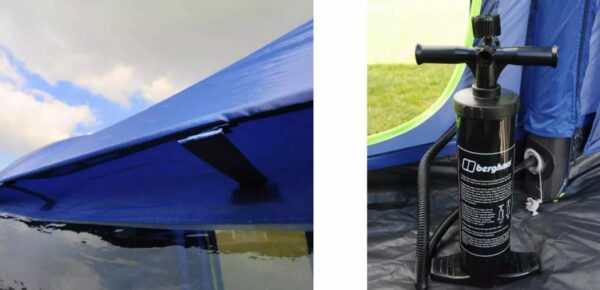 Ventilation
The tent is nicely ventilated. You have already seen about its huge mesh doors, but this is not all. They have added two high vents on the front and one large vent on the rear side behind the inner tent.
The only thing I miss seeing here is some floor vent, it would be necessary when it is raining and you are forced to keep the doors closed with their panels.
Please see more in this great video:
---
Who is it for
Regarding the area, they do not provide the numbers, so my estimate is that you have 5.25 m² in the inner tent and around 3.4 m² in the living room. This would mean 23.3 ft² (2.16 m²) per person and this is a lot.
If necessary, the living room can accommodate 3 people more, with a full protection. Note that the Eurohike Genus 400 Air Tent offers more floored space.
Regarding seasons & climate, I see it as a very good 3 season tent and even more than that. It will perform well in any climate, it is closable if you fill cold, and you can ventilate it as much as you want when the sky is clear and it is warm outside.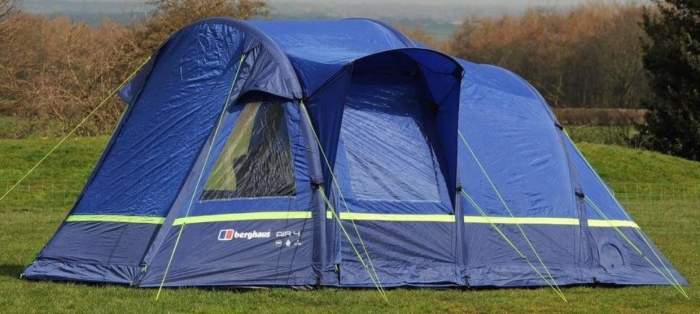 Regarding the weight, the tent is heavy with its 41.9 lb (19 kg). But the carry bag shown below is with wheels and with great handles.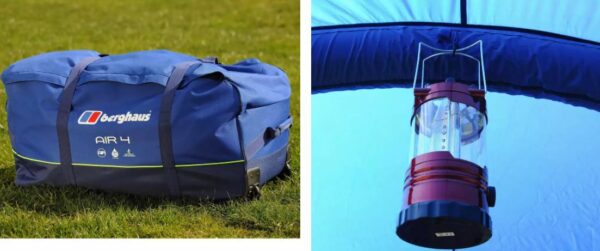 The packed size is 33.5 x 17.7 x 15.7 inches (85 x 45 x 40 cm), so this is a bulky item and you need a car for transportation.
---
Specifications
Weight: 41.9 lb (19 kg).
Official capacity: 4 people.
Dimensions: 191 x 114 in (485 x 290 cm).
Inner area: 93 ft² (8.65 m²).
Inner area per person: 23.3 ft² (2.16 m²).
Peak height: 78.74 in (200 cm).
Packed size: 33.5 x 17.7 x 15.7 in (85 x 45 x 40 cm).
---
Final thoughts, rating, pros & cons
Below you can see how this tent stands against my standard rating criteria that I apply consistently to all the tents here in the site so that you can easily compare:
BEST PLACE TO BUY:
For more tents of this shape please check in the category Inflatable Tents. You might want to see also this Kampa Hayling 4 Air TC Tent which is also with air beams but this is a polycotton tent.
Let me know if you have questions, there is a comment box below. Bookmark this site and come again, this will keep you informed, as you realize I add texts here on a regular basis. Thank you for reading.