The Eurohike Genus 400 Air Tent is a 2-room family camping shelter, with 2 windows and inflatable beams, nicely ventilated, and very affordable.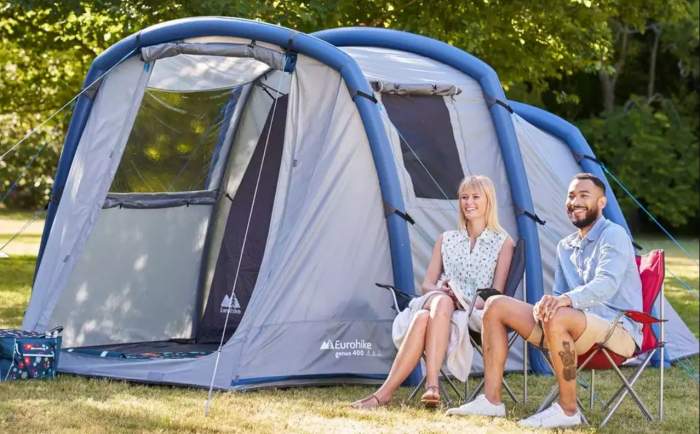 ---
Key features & benefits
Inflatable beams.
2 Rooms.
1 Door & 2 Windows.
Ventilated.
Great price.
---
What this is about
So this Eurohike Genus 400 Air Tent is a tunnel-shaped structure supported with air beams instead of classic poles. One peculiar detail is that its 3 air beams are positioned from outside and you can see them in the pictures. So this is equivalent to those classic tents with poles sleeves from the outside.
The picture below shows its floor plan and the most important dimensions. The yellow area on the right is its inner tent that makes a bedroom. On the left is the living room.
Note that the inner tent can always remain attached so it is easy when you pitch the tent, the inner is always ready. One good side of this is also that you have a dry setup, the inner remains fully protected if you are forced to pitch the tent when it is raining.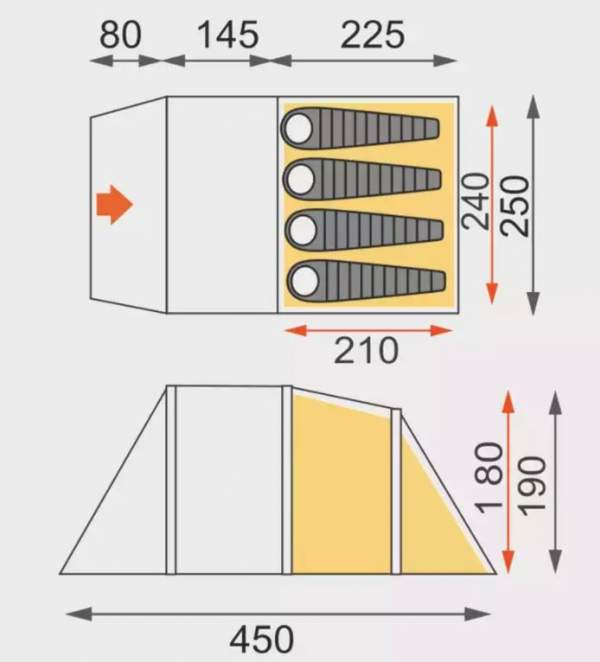 The tent is moderately tall for its overall size, but this is almost a stand-up height in the living area. You will see at sellers they write about porch and living area, but this is a single living space plus a bedroom.
The windows & the door
There are 2 completely different windows here. One is a solid window with an inner shutter for privacy, and the other is a mesh window protected with an external flap.
You have one door on the front, it is large and tall, completely enough for the tent if this size. Note that it is angled outwards so this is not the best design if it is raining because water can get in when you unzip the door. You can compare this with the Berghaus Air 4 Inflatable 4 Person Family Tent that has an extra side door.
Materials
The support: As mentioned, this is about beams with external valves visible in the picture below. There is a manual pump included in the package. The official pitching time is 15 minutes and one person can do this with ease.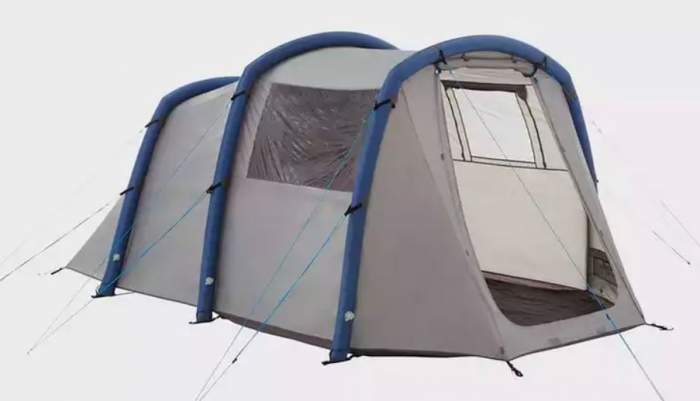 The fabric: The shell is a polyester with a 3000 mm hydrostatic head so this is more than enough for most of situations you may have in the camp. This is an EN-5912 flame retardant material. The floor is fully sewn-in and sealed.
Ventilation
The ventilation here is almost optimal. I mentioned its window with mesh (shown below), but they have added vents as well. So you have one floor vent, one high vent is above the door (the picture below), and one high vent is on the rear side behind the inner tent.
Please see a bit more in this video:
---
Who is it for
Regarding the area, the tent is officially for 4 people. For this you have the floored area of around 118.4 ft² (11 m²). In the case of 4 people this would give 29.6 ft² (2.75 m²), so this looks a lot.
But the bedroom is not really very wide. On the other hand, the living room has almost the same floor space as the bedroom, and it offers full protection. So if necessary, the tent can indeed accommodate more than 4 people.
Regarding seasons & climate, you have seen its great waterproof rating, the tent is quite enclosed but also ventilated, so this is a prefect shelter for a 3 season camping.
The beams are from outside so the roof is not really smooth. But they cannot break, they can bend but they restore the shape as soon as the wind pressure drops. So the tent should behave well even in windy spaces.
Regarding the weight, with 21.6 lb (9.8 kg) this is a lightweight tent. The packed size is less great, and all in all this is a tent for car camping.
Regarding the price, there is no doubt that the price is partly behind the popularity of this tent. There are several links below so you can compare various sellers.
---
Specifications
Weight: 21.6 lb (9.8 kg).
Official capacity: 4 people.
Dimensions: 14.76 x 8.2 ft (450 x 250 cm).
Inner area: 118.4 ft² (11 m²).
Inner area per person: 29.6 ft² (2.75 m²).
Peak height: 74.8 in (190 cm).
Packed size: 28.7 x 13.8 x 11 in (73 x 35 x 28 cm).
---
Final thoughts, rating, pros & cons
In summary, this Eurohike Genus 400 Air Tent is a simple but effective and easy to use construction for smaller families with one or two kids. It has plenty of venting options for warm weather, and it is closable so this is a great option for a 3 season camping without breaking the bank.
Below you can see how this tent stands against my standard rating criteria that I apply consistently to all the tents here in the site so that you can easily compare:
BEST PLACEs TO BUY:
For more tents of this shape please check in the category Tunnel Tents. But if you want something different, in a dome-shape, check this excellent Zempire Pronto 5 Tent.
Let me know if you have questions, there is a comment box below. Bookmark this site and come again, this will keep you informed, as you realize I add texts here on a regular basis. Thank you for reading.