The Berghaus Air 4XL Tunnel Design 4 Person Family Tent offers a huge floored area organized into 3 rooms, solid windows, high waterproof rating, air beams, and much more.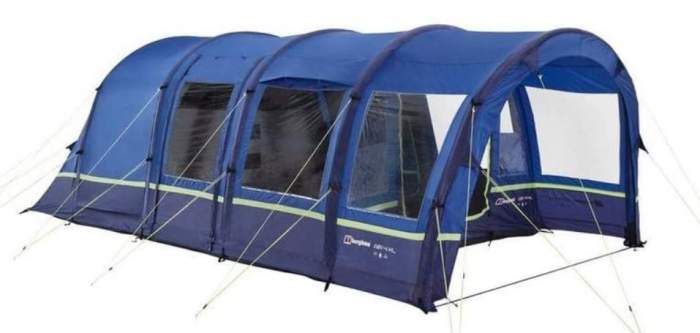 ---
Key features & benefits
---
What this is about
This Berghaus Air 4XL is a large, tall, and luxurious family camping tent with 5 + 1 inflatable beams instead of classic poles. This makes it very easy to use and one person can easily set it up with its included manual pump. The peak height is impressive 84.6 inches (215 cm).
The picture below shows its floor plan and some dimensions, so you can have some idea of what it offers. The blue area on the right is its inner tent with a removable divider. The divider is sewn-in to the roof and you have toggles to roll it up.
So you have two sleeping units, but you can use this space as one room as well. The gray area on the left is its gigantic living room and a front porch.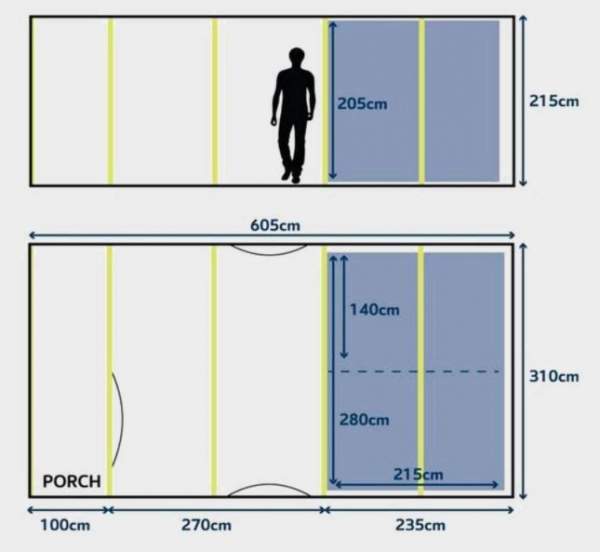 The picture below shows the inner tent. It is pre-attached, so this is a dry setup construction with the inner protected even if you have to pitch the tent when it is raining.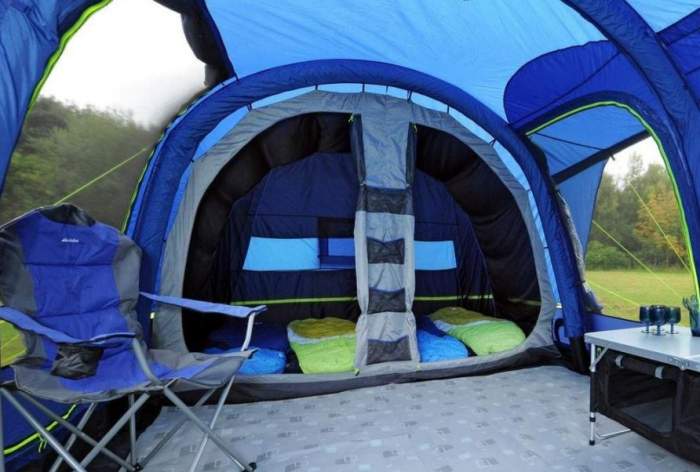 Note that you can also remove the inner tent and use the fully protected space under the shell as a single-room and single-layer tent. So the space is customizable, you can have 1, 2, or 3 rooms. Below you can see how the porch and the living room look.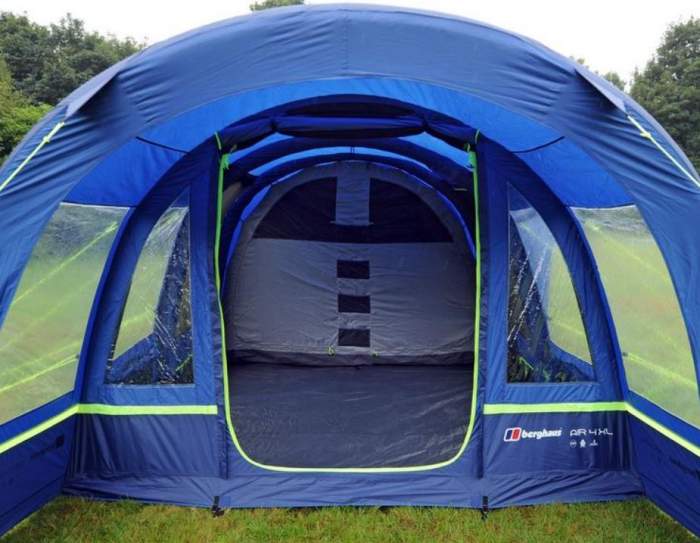 The doors & windows
There are 3 doors in the living room, two on the sides and one under the porch shown in the picture above. All three are double-layer type with a full size zippered mesh and a zippered panel.
One of the side doors is with a dry-entry design that includes a built-in rain-hood supported by an inflatable brow to prevent rain getting inside the entrance. This is quite a unique detail, see below how it looks.

There are also two doors on the inner tent, both with mesh sections in the upper part.
There are 4 separate solid windows in the living room, and they are all with inner shutters for privacy, plus the windows on the doors. Two solid windows are also on the side walls of the porch, you can see them in the pictures above.
Materials
The support: You have high-performance air beams and quick-release valves, the tent is without any solid pole. A two-way double efficiency pump with a pressure gauge is included.
The fabric: The shell is a polyester with an impressive waterproof rating of 6000 mm, and with fully taped seams. The inner tent is a breathable polyester. The material is dark to reduce light, but this is not a dark rest tent.
The shell floor is fully sewn-in bathtub style, with fully taped seams. The inner tent has yet another bathtub type floor, so two layers are in the sleeping area. They claim that the materials are fully fire-retardant and tested to the European EN 5912 safety standard.
Ventilation
The tent is nicely ventilated. There is a large vent on the rear side, one high vent is under the porch, and two high vents are above the side windows. There is one low vent on the side behind the sleeping area. All of them are visible in the pictures.
You have already seen that all its external doors are with full size mesh. So this will work great no matter where you use the tent.
Other features
This tent has an incredible number of storage pouches. You have them under windows, and they are two levels, see the picture below. An organizer is on the wall between the two doors of the inner tent. Storage pockets are also in each of the sleeping rooms.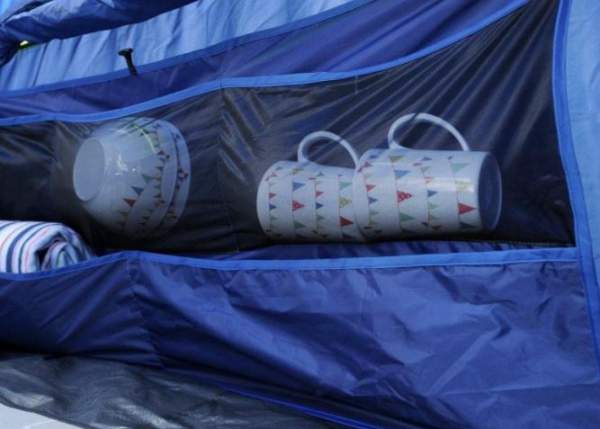 Lantern hooks in all rooms.
E-cable ports.
Velcro tabs to pass the cable inside the tent.
Electric hook up zipped access points on both sides.
Valve tightener and repair kit included.
Wheeled carry bag with adjustable buckles for easy transportation.
4 Corner stake pegs and steel round wire pegs for a secure pitch.
Add-ons: a carpet and a footprint.
---
Who is it for
Regarding the area, this tent is officially for 4 people, and it offers incredible 168 ft² (15.6 m²) of the floored area. This means 42 ft² (3.9 m²) per person. There is also a large porch with its 33 ft² (3.1 m²).
The living room is fully sealed and protected, so if necessary it can accommodate 4 people more. So this tent is a true camping castle.
Regarding seasons & climate, I have no doubt that this tent can be used in all seasons. It is enclosed with its solid windows and zippered doors panels, so this is great for a cooler environment. It is also nicely ventilated for a warm weather camping.
Its inflated beams can never break under the wind pressure, but it is true that they are not supposed to be pressed above, so avoid snow conditions.
Regarding the weight, the tent is heavy with its 62.4 lb (28.3 kg). They have added wheels to its carry bag, and clearly you will need them. The size of the carry bag is 33.5 x 22.8 x 19.3 inches (85 x 58 x 49 cm). So it is bulky, but see again its size.
---
Specifications
Weight: 62.4 lb (28.3 kg).
Official capacity: 4 people.
Dimensions: 19.85 x 10.17 ft (605 x 310 cm).
Inner area: 168 ft² (15.6 m²).
Inner area per person: 42 ft² (3.9 m²).
Porch area: 33 ft² (3.1 m²).
Peak height: 84.6 in (215 cm).
Packed size: 33.5 x 22.8 x 19.3 in (85 x 58 x 49 cm).
---
Final thoughts, rating, pros & cons
Below you can see how this tent stands against my standard rating criteria. I apply them consistently to all the tents here in the site so that you can easily compare:
BEST PLACEs TO BUY:
For more tents of this shape please check in the category Tunnel Tents. Note that they have yet another Berghaus Air 4 Inflatable 4 Person Family Tent with a similar name but of a very different size.
Let me know if you have questions, there is a comment box below. Bookmark this site and come again, this will keep you informed, as you realize I add texts here on a regular basis. Thank you for reading.