The Berghaus Air Shelter is freestanding, supported with air beams, with 4 doors and 2 solid windows, easy to use, fully closable and waterproof.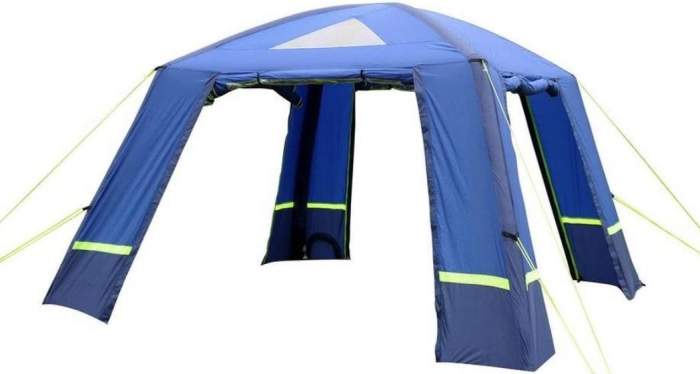 ---
Key features & benefits
Freestanding.
4 Doors.
2 Solid side windows.
2 Skylight windows.
Fully closable.
Inflatable beams.
Single point inflation.
Huge waterproof rating.
---
What this is about
This Berghaus Air Shelter can be described as a screen house, a camping shed, or simply as a floorless tent. They use the word shelter in the name and it makes sense because it is fully closable and versatile.
The structure is freestanding and is with a square base, tall, and with nice proportions. You can see the floor plan below and some dimensions.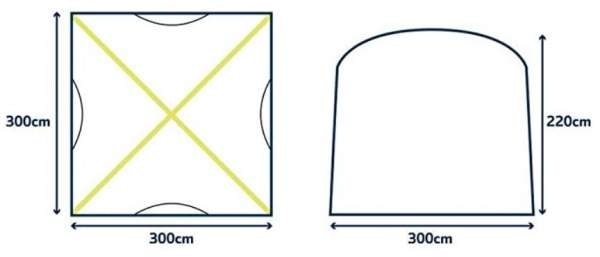 The walls are straight and steep, and the structure is cabin-type, pleasant and with plenty of head space.
In the picture above on the left you have the doors indicated, so there are four of them and they are with two different designs. Two of them have solid windows accompanied with panels for privacy. The other two are two-layer type with a full size zippered mesh for optimal ventilation plus zippered panels.
There are also two solid skylight windows and they are visible in the picture below. It shows view inside with some furniture so that you get some idea about the size.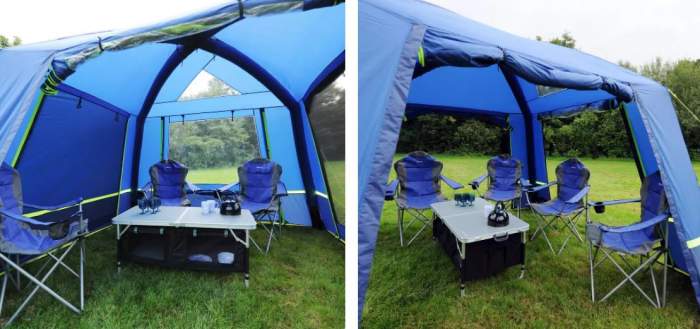 Materials
The support: The tent is supported with inflatable air TPU beams, and the design is truly clever because you have a single inflation point. It has a spring loaded, quick release air valve with easy deflation at the touch of a button. A two-way double efficiency stirrup pump with gauge is included.
The fabric: The shell is a polyester with an impressive 6000 mm waterproof rating. This is more that you have in most of the family camping tents on the market. The fabric is fully fire-retardant and tested to the European EN 5912 safety standard.
The solid windows and the two skylight roof panels are most likely a PVC, they do not provide information. Note that they build this shelter in two different colors, they are shown here in the pictures.
How do you pitch Berghaus Air Shelter?
With such an inflation design, one person can easily doo the job. Please see more in this video:
---
Who is it for
Can you sleep in Berghaus Air Shelter? This is a question I see asked by people. So this is related to its best use and area. You have 97 ft² (9 m²), so there is plenty of space for 4 people with camping chairs, and a small camping table.
I have placed it here in the site within screen houses and sheds, but this shelter is fully closable just like any tent, see the picture. Its waterproof rating is impressive. You have full protection from the elements and from flying insects, so you can use it even as a tent and you can sleep in it. But there is no floor here.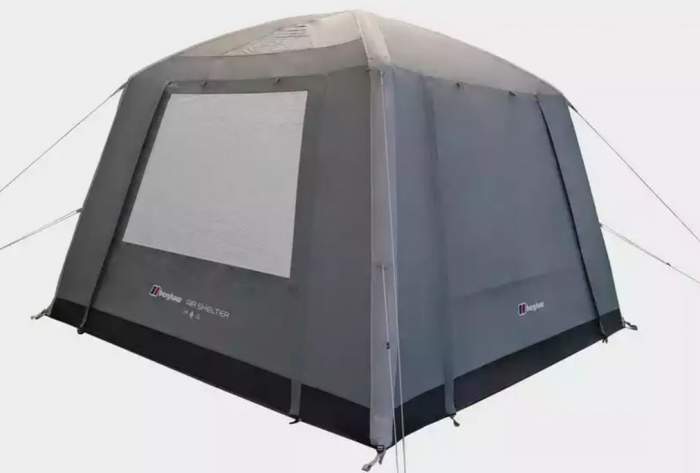 But I see it best suited as an annex next to your camping tent. This will give you a great dining room and/or a fully protected space for storage. With all four sides that can be open and closed, you have a variety of options of how to use it regarding privacy and protection from the sun, rain, and wind.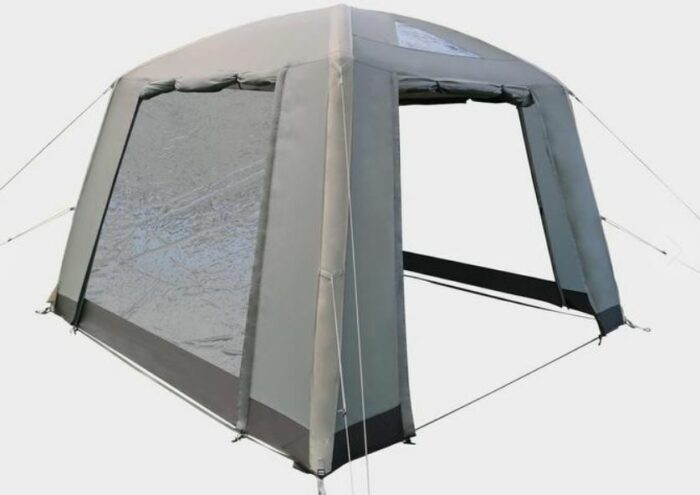 Regarding the weight, with 25.4 lb (11.5 kg) it is on the heavy side, but this is a camping item so the weight is not a big deal. The packed size is very good, it is such that you can transport it on a bicycle.
Regarding the price, it is a bit expensive, but there are several sellers, links below, so you can check from your side and compare.
---
Specifications
Weight: 25.4 lb (11.5 kg).
Dimensions: 118 x 118 in (300 x 300 cm).
Inner area: 97 ft² (9 m²).
Peak height: 86.6 in (220 cm).
Packed size: 28 x 16.5 x 14.2 in (70 x 18 x 12 cm).
---
Final thoughts, rating, pros & cons
In summary, this Berghaus Air Shelter is truly nicely built, very easy to use and reliable. With its single point inflation it pitches in minutes, and one person can do the job with ease.
It is versatile and it provides full protection from the elements. Fully recommended. I have included it in my list of best screen houses for camping, but it is more than just a screen house.
Below you can see how it stands against my standard rating criteria that I apply consistently to all the shelters of this type here in the site so that you can easily compare:
BEST PLACEs TO BUY:
For more items of this type please check in the category Screen Houses & Sheds. They also have one with classic steel poles, the Berghaus Dome Shelter. You might want to compare it with the Eureka Northern Breeze Aluminum Frame Screen House which is also fully closable, but with aluminum poles.
Let me know if you have questions, there is a comment box below. Bookmark this site and come again, this will keep you informed, as you realize I add texts here on a regular basis. Thank you for reading.