Eureka Northern Breeze Aluminum Frame Screen House is a large and very tall double-wall structure with quality poles, awning configuration, and two doors. Keep reading.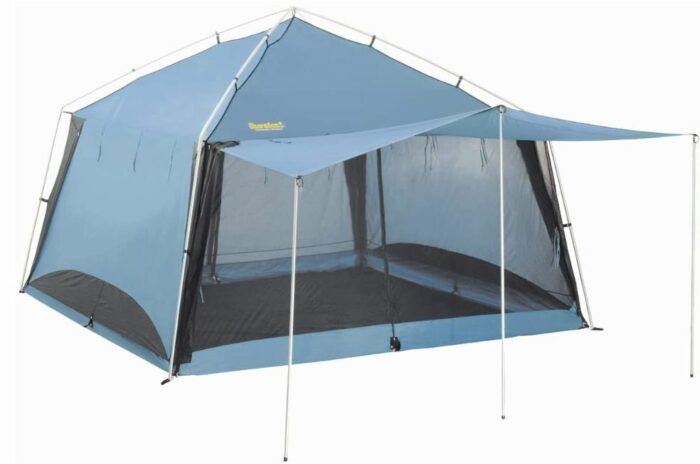 ---
Key features & benefits
2 Doors.
Aluminum poles.
Full protection from the rain.
Awning configuration.
Double-wall structure.
Freestanding.
---
What this Eureka Northern Breeze Screen House is about
This item has been on the market for at least a decade already, but it has been modified in the past and this here is its latest version. They describe it as a screen house but in fact it offers full protection from the rain. So it looks like a double-wall tent with its waterproof roof and walls, and the mesh behind. It would be more appropriate to describe it as a floorless tent rather than a screen house.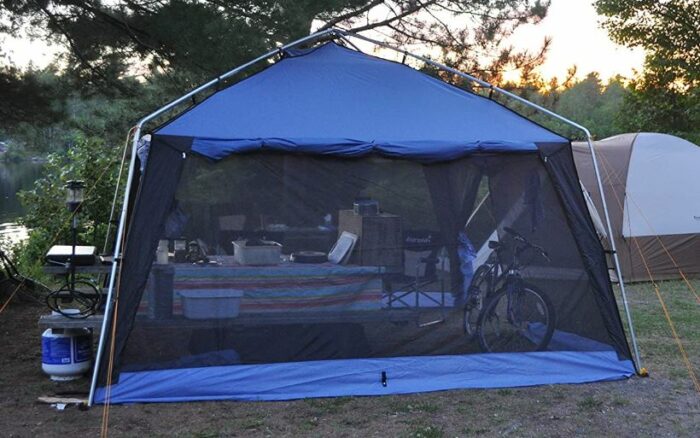 You have screens and panels on all sides so you can use it as it suits you, for protection from the elements and for privacy. There are two huge doors on the opposite sides with a central zipper.
This cabin-style structure is fully freestanding and this is achieved by its pre-bent poles, so it is self-supported by its four corner legs. So you first raise the frame and then attach the tent to it. You can see all the steps in this pdf file.
Note also that this is an incredibly tall structure with the 8 ft 5 inches (256 cm) interior peak height. The walls are very steep as you realize from the pictures, so this is a structure with lots of area and volume. You have stand-up height even in the corners of this screen house where the height is around 6 feet.
With the awning created on the front (three awning poles are included), this large space is extended outside so you have a covered area to sit in the shade, and you are also protected if it is raining.

---
Who is it for
Regarding the area, this is a large structure that offers 144 ft² (13.4 m²) of the floorless space. This is large enough to easily accommodate up to 6 people with chairs and a table. The main dimensions are shown below. Note that the awning adds an extra 64.5 ft² (6 m²) of the covered area.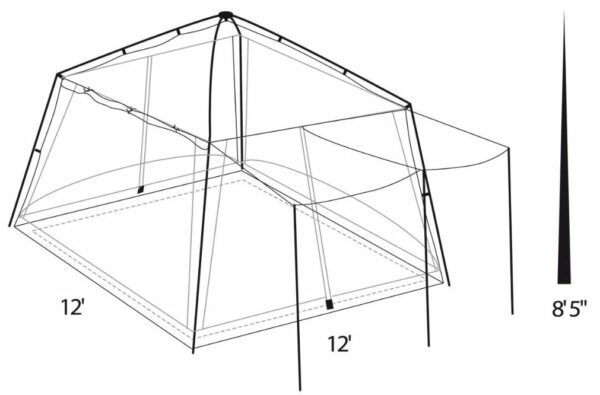 Regarding the purpose & functionality, with its two large doors and such a large area, you can use this protected space for cooking or as a living room next to your camping tent. You can use any freestanding folding hammock inside or some freestanding hammock chairs and be fully protected sitting inside.
Note that they have the Eureka Northern Breeze Snap-in Floor sold separately so you can add it and have a bot more protection from the ground and use this structure as a tent as well.
Regarding the packed size & weight, this is not the best side of this product. With its 25 lb (11.3 kg) of weight it is heavy, and the packed size (L x D) 42 x 12.5 inches (107 x 32 cm) is such that you need a car for transportation.
Regarding the climate & seasons, in view of what you have seen above, you realize that it is similar to what you have in some of the winter tents, i.e., a floorless design but also full protection from the elements. So this is a great product, suitable practically for all seasons.
But as mentioned above, you have an accessory heavy-duty polyester floor to create a more comfortable camping surface and to have more protection from the ground. It attaches to each of the four corners and also in the middle of each of its sides, there are elastic straps with snaps for this purpose, see the picture.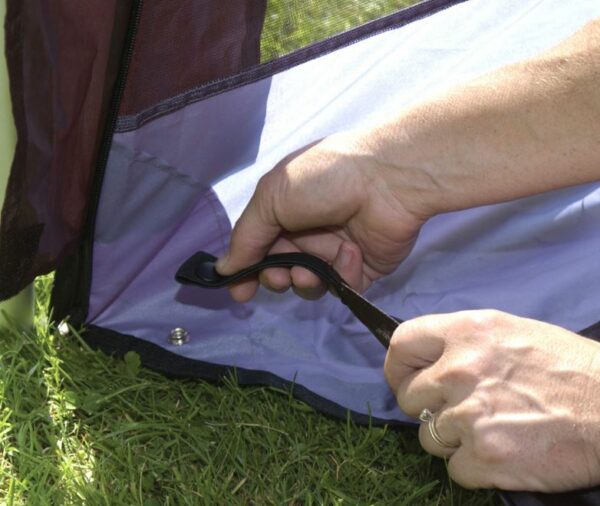 Note that this Alvantor Screen House Room which is an instant pop-up design also has the accessory floor and wall panels.
---
Materials
The poles
The aluminum poles are a great feature here, you have them with 2.22 cm and 1.9 cm diameter, all elements are shock-corded for easy setup. The frame is external-type and the connection to the tent is with clips, and on the base (in the corners) you have a pin and ring connection system.
The fabric
So here you have the fabric just like in a tent, with a 50D polyester no-see-um mesh walls, plus the roof and panels that are very durable UV resistant 150D StormShield polyester. The waterproof rating is 1000 mm.
---
Specifications
Weight: 25 lb (11.3 kg).
Dimensions: 12 x 12 ft (366 x 366 cm).
Area: 144 ft² (13.4 m²).
Awning area: 64.5 ft² (6 m²).
Interior peak height: 8 ft 5 in (256 cm).
Packed size (L x D): 42 x 12.5 in (107 x 32 cm).
Doors: 2.
Poles: aluminum.
Stakes: plastic.
---
Final thoughts, rating, pros & cons
In the summary of this Eureka Northern Breeze Aluminum Frame Screen House review, I wish to stress again that this structure is more a tent than just a screen house. In fact, this is a hybrid, a floorless construction but with full protection from the rain. You can use it as a screen house as an addition to your family camping tent, but it can also be used as a tent by hunters and explorers.
In the case you did not know, the Eureka brand was founded in 1895, this is a reliable company and you know what you are buying. I can fully recommend this screen house. I have added it to my list of best screen houses for camping.
Please see how I rate this product against my standard set of criteria used for all the items of this type here in the site:
For more options please check under the category Camping Screen Houses, in particular, check this Browning Camping Basecamp Screen House. But if you would rather have something with instant setup, see this Coleman 15 x 13 Instant Screen House. Check also my separate category of Screened Tents. Note that Eureka has yet another item of this type, the Eureka! NoBugZone Screened Canopy Shelter.
Thank you for reading. We add texts here regularly, so you might want to bookmark this site and visit occasionally. Have a nice day.