The Berghaus Kepler 6 Nightfall Air Tent is huge, tall, and pleasant with its skylight windows, and it includes 4 rooms plus a large porch.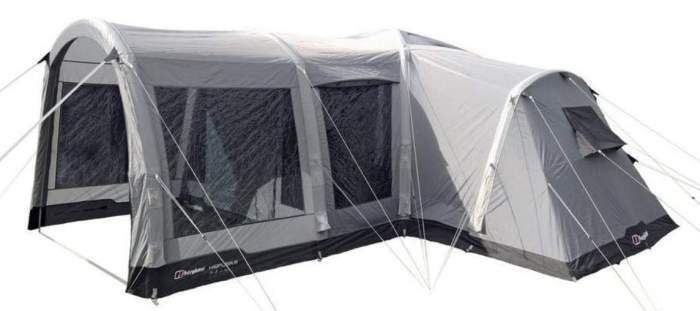 ---
Key features & benefits
4 Rooms + porch.
Dark rest.
Very tall.
Inflatable beams.
2 E-cable ports.
Ventilated.
Skylights.
Solid and mesh windows.
---
What this is about
This Berghaus Kepler 6 Nightfall 6 Person Air Tent is a smaller in the series of two tents, there is yet another Kepler 9 Tent available on the market with very similar features.
As of the moment of writing this text, there is no exact floor plan given anywhere and there is also some confusion with numbers. But below you can see the shape and the dimensions of its footprint that is available on the market.
As usual, a footprint is a few centimeters shorter than a tent because it is supposed to remain under the tent to avoid funneling rain water underneath a tent. So actual dimensions of the tent are a bit bigger. What you see is roughly the size of the floored area, but note that there is also a floorless porch, it is on the bottom of this cross-shaped configuration.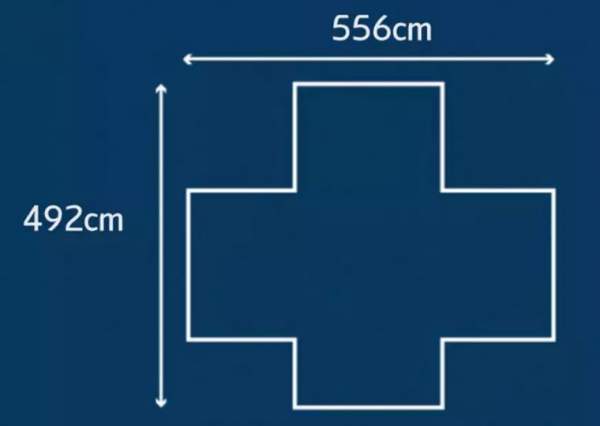 Here below you have the side view with the mentioned porch on the left, so you get some idea about the size and shape of this impressive structure.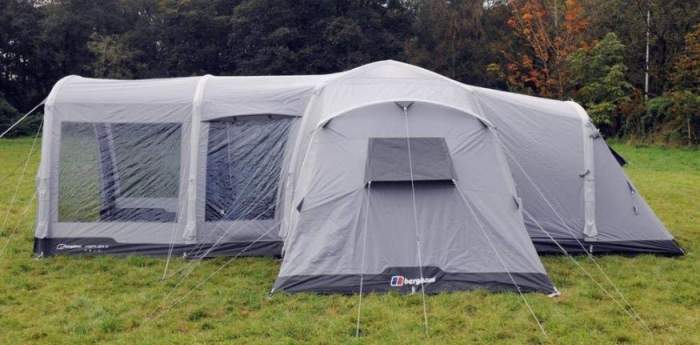 The rooms
The tent has three inner tents that represent bedrooms, see the picture below. You can always remove any of them to have extra living room. The central room visible in the picture below is the living area. So the total number of rooms is 4, but this is a modular design and you can change the number. This is why it is in my list of best 4-room tents.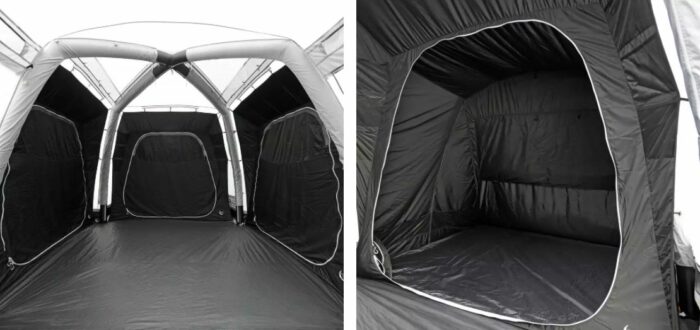 As you realize, the inner doors are huge. The peak height in the central dome-part of the tent is 83.86 inches (213 cm). The main door is under the porch, so this is a dry entry point, the picture below shows how it looks: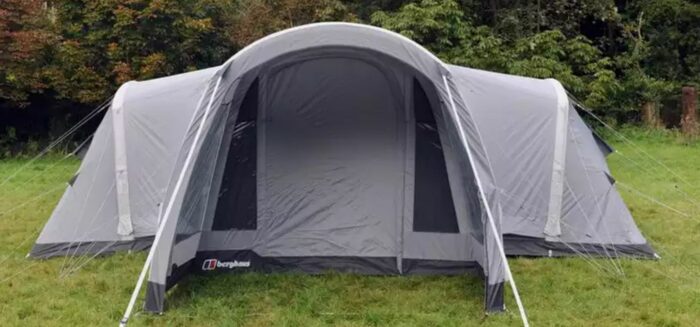 The inner tent in the middle in the picture below is an extension opposite to the main door. Now, behind this inner tent you have yet another external double-layer door with a zippered panel and with a mesh. You can see it from outside, the picture on the right below shows how it looks when the external panel is rolled up.

So you can use this back door as a window and as a door in situations when you remove that inner tent. But note that the inner tent also has an extra rear door, its zipper is visible in the picture above. So these rear doors can be used even when the inner tent is in place.
Ventilation
Both mentioned doors are dual-layer type, so they have mesh for ventilation. The inner doors have mesh sections in the upper parts. There is a wide gap between the inner tents and the shell, so air can circulate in all directions.
On the other hand, all 3 extensions with bedrooms also have rear vents. There are also a couple of high vents in the living room, one is shown below. So this tent has all venting options you can expect from a nicely ventilated family camping tent.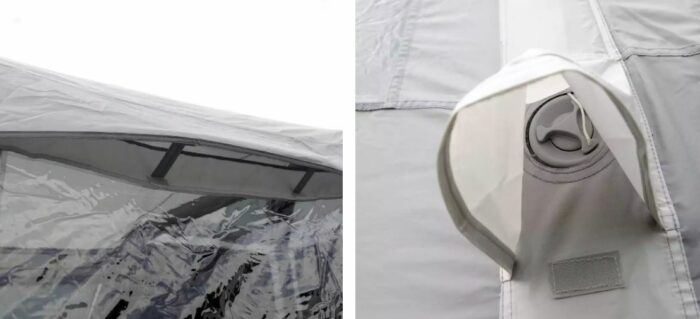 Materials
This is a tent without solid poles, you have 7 high performance air beams equipped with outside facing spring loaded quick release air valves, one is shown above. It is included in my list of best inflatable tents.
The shell fabric is a 150D polyester oxford with an impressive 6000 mm waterproof rating. You have fully taped seams. The inner tents are built from a 310T polyester and this is what they call the Nightfall design with a considerably reduced daylight.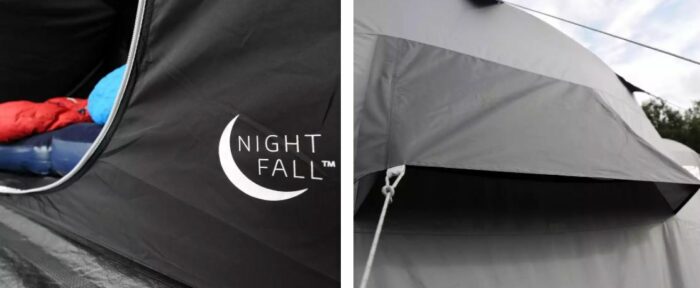 Other details
5 Windows – with skylights in the living area.
Drop step on the main door for easy pram and wheelchair access.
Includes roundwire pegs and stakes.

Reinforced webbing straps for stability in bad weather.
Reflective guylines, with mesh storage pockets when not in use.
Sewn-in groundsheet with fully taped seams.
Internal storage pockets in living area and bedrooms.
Lantern hanging points.
Repair kit included.
Dual point cable access.
Fully fire retardant fly sheet, inner tent and groundsheet.
Accessories
---
Who is it for
Regarding the area, they do not provide correct numbers, so here is my estimate. The three inner tents offer around 9.45 square meters in total, and the living room has around 9 square meters.
So this is lots of space for the official 6-people capacity. Note that the living room is fully protected and there is place here for up to 5 people or so. There is also the porch area to keep your boots and furniture.
Note that the bedrooms are physically separated in the three extensions of this cross-shaped structure. This means you have more privacy than in most of the tents on the market. This makes it suitable for families with kids, and also for three couples.
Regarding seasons & climate, the tent comes with a huge waterproof rating which is among the highest on the market. It can be fully enclosed when you feel cold, but it has plenty of venting options for any weather.
The structure is large and boxy and perhaps not best suited for very windy places, but these air beams can never break. They restore their shape instantly when the wind pressure drops.
Regarding the weight, this is a heavy tent with its 83.8 lb (38 kg). Though indeed it is very large and tall so there is some reason behind the weight.
The packed size is also not its best feature, the carry bag is shown below, you will see the numbers in the the specifications below.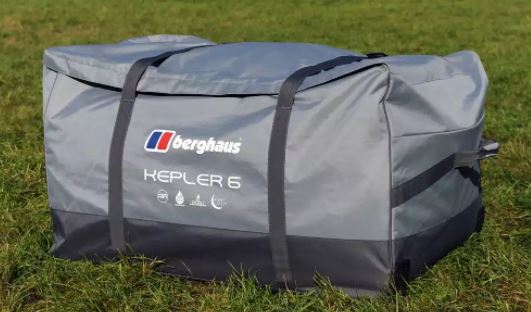 Regarding the price, there are many sellers that offer this tent, links are available below, so it makes sense to check and to compare, the price may be steep.
---
Specifications
Weight: 83.8 lb (38 kg).
Official capacity: 6 people.
Inner area: around 199 ft² (18.45 m²).
Inner area per person: 33.17 ft² (3.07 m²).
Porch area: around 34 ft² (3.2 m²).
Peak height: 83.85 in (213 cm).
Packed size: 35.4 x 26 x 20.5 in (90 x 66 x 52 cm).
---
Final thoughts, rating, pros & cons
In summary, this Berghaus Kepler 6 Nightfall Air Tent is impressive in many ways. It is large and its pre-bent beams offer lots of volume inside. The bedrooms are dark and you can take a nap even during the day. The central living area is with multiple windows, and this also includes a skylight window. With its physically separated bedrooms, you cannot have more privacy in a tent. Fully recommended.
Below you can see how this tent stands against my standard rating criteria that I apply consistently to all the tents here in the site so that you can easily compare:
BEST PLACEs TO BUY:
For more options of this brand please check among other Berghaus tents. Let me know if you have questions, there is a comment box below. Bookmark this site and come again, this will keep you informed, as you realize I add texts here on a regular basis. Thank you for reading.