The Berghaus Kepler 9 Nightfall Air Tent is an impressive, tall, and incredibly large 4-room structure with 3 dark-rest bedrooms and inflatable beams.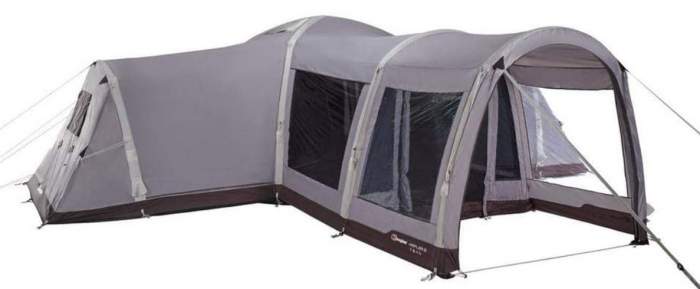 ---
Key features & benefits
---
Overview
This tent is with a remarkable cross-shaped base shown in the picture below. All the details will become clear from the text below, here just to stress that the yellow areas are inner tents with bedrooms.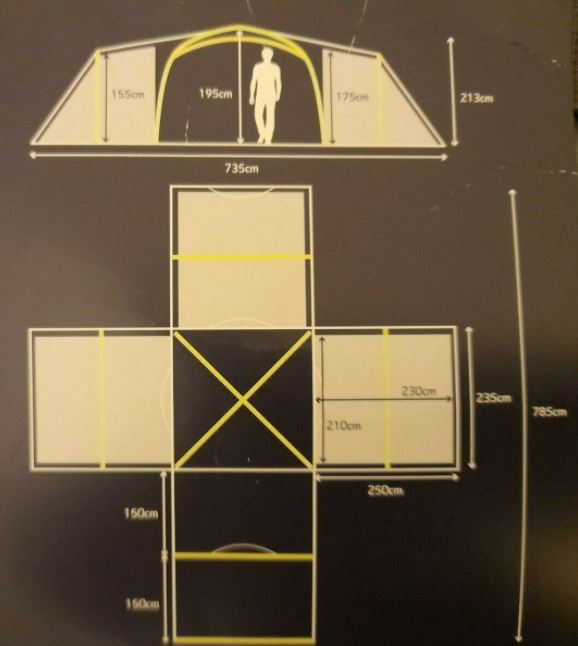 The tent is without solid poles, you have inflatable beams instead. One part of this support you can see in the picture below, this is the central area, a sort of a living room. On the sides you see the mentioned bedrooms. So this is a huge 4-room configuration, and I have included it in my list of best 4 room camping tents.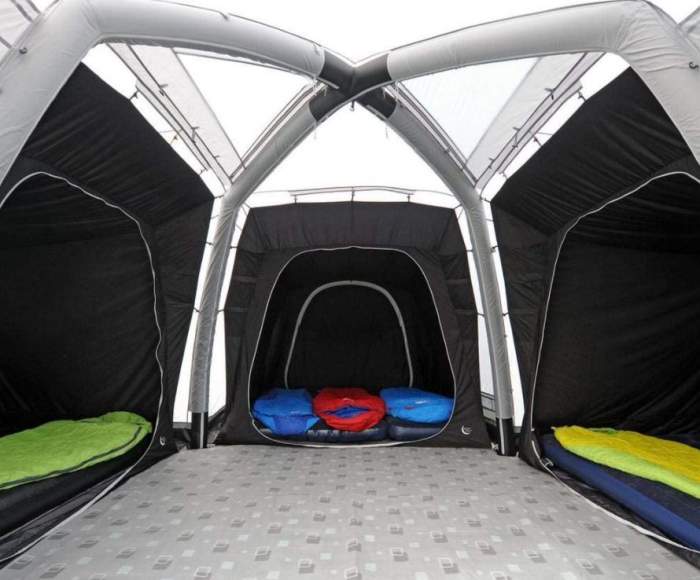 Note that the air beams are pre-bent so the lower parts are almost vertical and tall. This creates lots of head space and volume. The peak height is 83.85 inches (213 cm).
Below you can see the side view of the tent and you get a better idea about its overall proportions. On the left is its deep porch with windows. As for the general shape, all four extensions are supported with long air beams (loops) so the tent is like two tunnel-shaped structures that cross each other.
Below you can see more details of the porch. The front porch opening is more than 2 meters wide. Behind you can see the main door with two side windows. There is one extra door on the rear side, more below.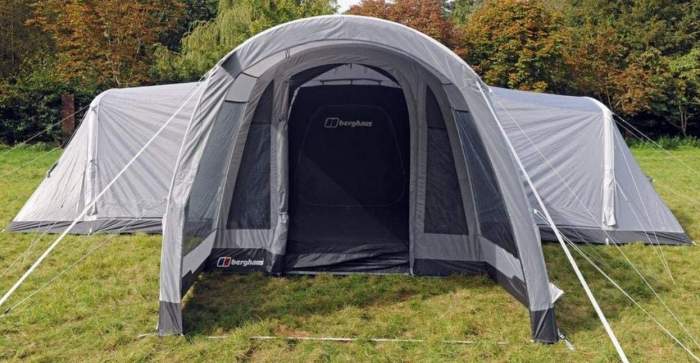 There are 4 windows in the living room, plus two in the porch. You can create one more on the rear side, you will see this later in the text.
Below you can see how it looks when one of the inner tents is removed, so you have two bedrooms on the side and a long living room that measures around 6.35 x 2.35 meters. Note that you have the second door on the rear side, it is visible in the picture.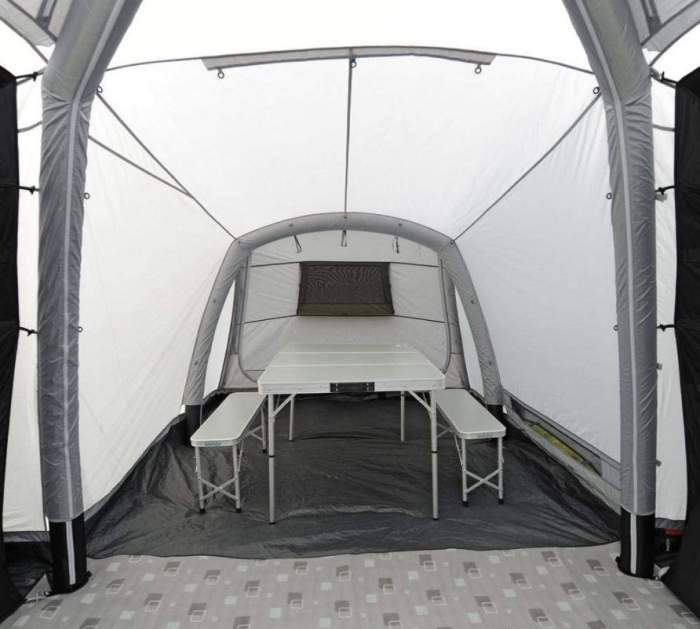 Below you can see from the outside this same room with the inner tent removed. The panel is rolled up and you have the mesh zippered window that offers views from the area used as a dining room. This zippered mesh can also be rolled up and fixed above the door.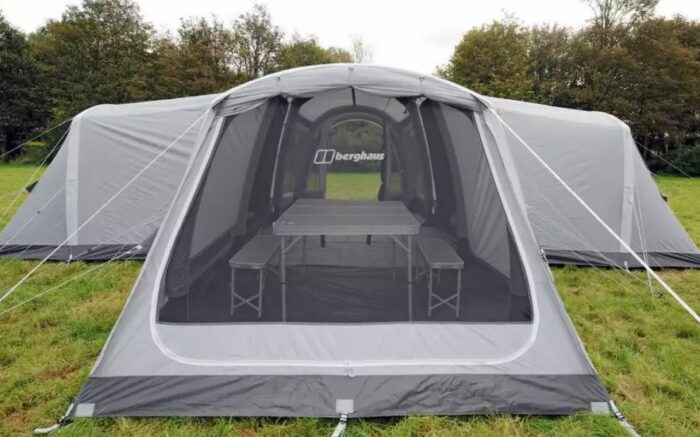 Note that this door can be used also when the inner tent is in place. There is a door on the inner tent that matches this external door, it is visible in one of the pictures shown previously.
Materials
The support & stakes: So you have seen this already, there are 7 long air beams. They are with outside facing, spring loaded, quick releases air valves for quick deflation, one shown below. An air pump is included.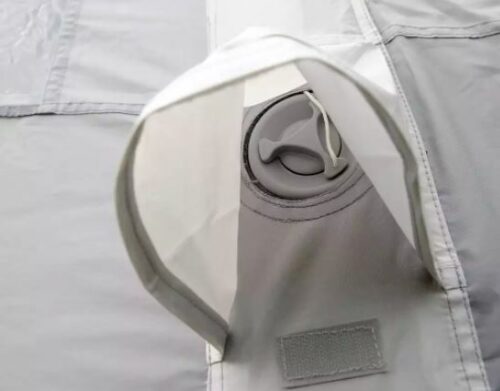 You also have a full set of steel round-wire pegs and stakes in the package.

The fabric: The shell material is a durable 150D polyester oxford with an impressive 6000 mm hydrostatic head. The inner tent material is a dark 310T breathable polyester, this is what they call the Nightfall Darkened Bedrooms. So I have included it in my list of dark rest tents. The floor is fully taped and sewn-in.
Other details
Adjustable pegging points.
Reinforced webbing straps for stability in bad weather.
Reflective guylines with mesh pockets to store when not in use.
Dual E-cable access.
Skylights in living area with curtains, the picture below.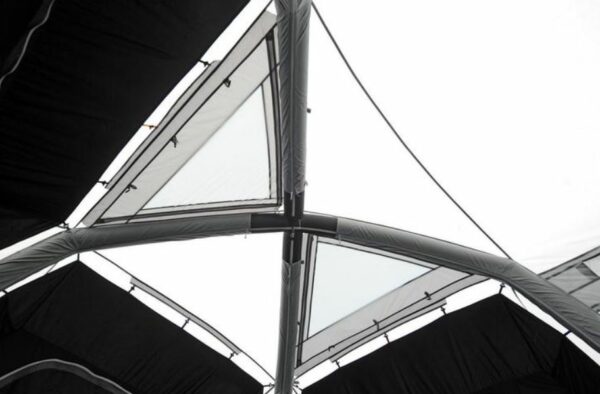 Drop step on main door for pram and wheelchair access.
Compatible tent carpet and groundsheet available separately.
A convenient carry bag is included.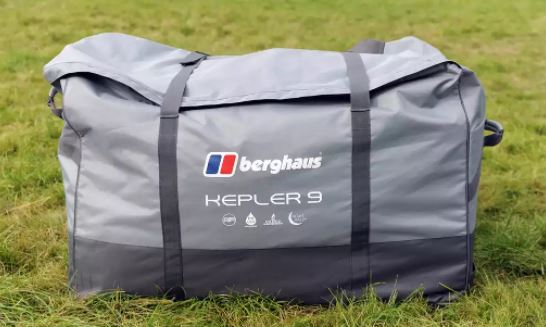 Ventilation
The tent has large mesh doors on the opposite sides so you can create as much draft as you want. The inner tents' doors have mesh sections in the upper parts. But they have added multiple low and high vents in each of the three rooms. So there is not much one could object here.
---
Who is it for
Regarding the area, the total floored area is not given but my estimate is that you have around 290 ft² (26.9 m²). The living room has 96.9 ft² (9 m²) and the rest is under the inner tents.
The official capacity is 9 people, so this means around 32.3 ft² (3 m²) per person. Each of the three bedrooms is officially for 3 people, but their dimensions are such that they can accommodate 4 people.
On the other hand, the living area is fully protected, so if necessary, it can easily accommodate 5 people more. All in all, this tent's capacity far exceeds what its official capacity suggests.
There is also the porch which adds 37.7 ft² (3.5 m²). So this is a truly generous space and I have included the tent in my list of extra large family camping tents.
Regarding seasons & climate, the tent is with an impressive waterproof rating and it offers full protection for a 3-season-plus family camping. You have enough venting options for warm weather, and you can close everything in a cold environment.
It is huge and not really aerodynamic but the beams will never break under wind pressure, so it should work well in almost any weather.
Regarding the weight, this is a heavy tent, but you have seen its area and height, and its 3 inner tents. Numerous beams add weight and bulk as well.
This all is reflected also in its substantial packed size. This is a car camping tent and you would not want to carry it anywhere.
---
Specifications
Weight: 92.6 lb (42 kg).
Official capacity: 9 people.
Dimensions: 25.75 x 24.22 ft (785 x 735 cm).
Inner area: 290 ft² (26.9 m²).
Inner area per person: 32.3 ft² (3 m²).
Porch area: 37.7 ft² (3.5 m²).
Peak height: 83.85 in (213 cm).
Packed size: 35.4 x 26 x 23.6 in (90 x 66 x 60 cm).
---
Final thoughts, rating, pros & cons
Below you can see how this tent stands against my standard rating criteria that I apply consistently to all the tents here in the site so that you can easily compare:
BEST PLACE TO BUY:
There are several other Berghaus tents here in the site, so follow the link to have a look. Note that they have a smaller version of the tent presented here, the Berghaus Kepler 6 Nightfall 6 Person Air Tent.
Let me know if you have questions, there is a comment box below. Bookmark this site and come again, this will keep you informed, I add texts here on a regular basis. Thank you for reading.