---
This CAMPROS Tent 12 Person is a tunnel-type tent with two large doors and six windows, fiberglass poles, and features that make it suitable for quiet-weather summer camping.

---
Key features & benefits
Tunnel-type tent.
2 Rooms.
2 Doors.
6 Windows.
Fiberglass poles.
Lightweight.
Compact.
E-cable port.
---
What this is about
If you think about tunnel-type tents, this is a very typical example, a long structure supported by 5 loops. With such a construction this is not a freestanding tent so make sure you find a place that will keep stakes in the ground. The picture below shows it without the fly so you can better understand how it is constructed.

This is a collapsible tent so it needs assembly and this may take some time. All the elements in the package are shown in the picture below. This all packs into the carry bag that is also shown.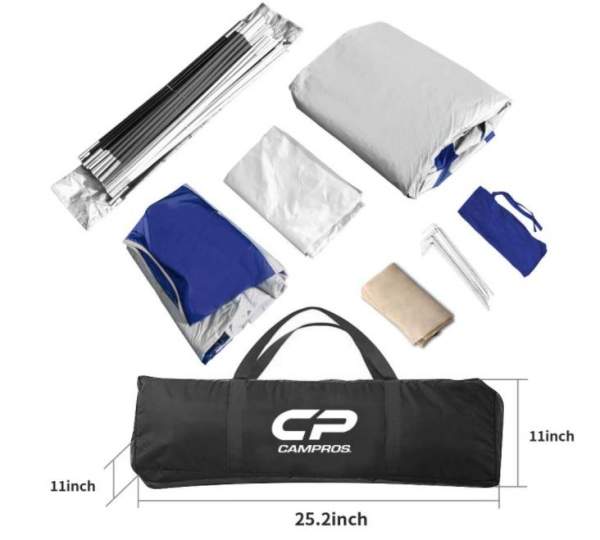 The tent is formally a 2-room structure, you have a removable divider in the middle shown below. So this is just a curtain and don't expect much privacy in such a tent. The good thing is that both rooms have their separate large doors.
The tent is long as you realize from the pictures and from the dimensions shown below, but it is not particularly tall for such a size, you have 72 inches (183 cm) peak height.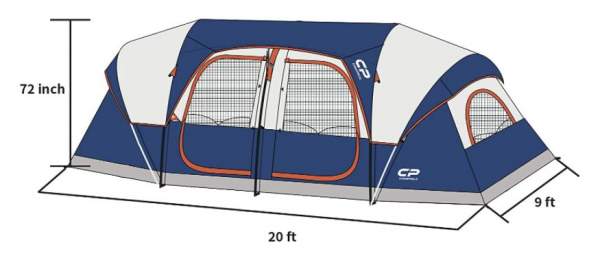 Ventilation
You have seen in the picture without the fly that the ceiling is all mesh. There are 4 separate windows, plus 2 windows on the doors, all of them are double-layer with mesh and with zippered panels. The fly is a partial coverage type and this all should give lots of fresh air inside.
However, when it is raining, you have to keep the windows and the doors closed. In such situations, you would want to have floor vents, but they are missing here.
Materials
The poles: You have fiberglass here, so this is expected from such a budget-friendly tent. This is not a very durable material but it is commonly used in family camping tents. They are also quite thin for a tent of this size, the diameter is 8.5 mm. 
The fabric: This is a 185T polyester with a modest 1000 mm polyurethane coating. It is best to test the tent in the garden before going camping.
Other features
A couple of small wall pockets.
E-cable port.
Lantern hanging hook.
All stakes and guylines are included.
---
Who is it for
Regarding capacity, they claim the tent is for 12 people. You have seen the dimensions, but the tent is not rectangular, the floor plan below shows how it looks. The area is around 169 ft² (15.7 m²) and this would mean around 14 ft² (1.3 m²) per person.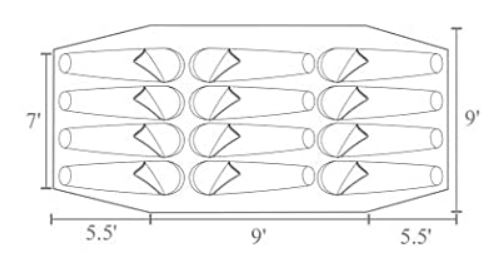 But the dimensions are such that it is very difficult if not impossible to place 12 sleeping pads side by side as they suggest. So the declared capacity makes no much sense as usual. You can easily put 3 queen-size mattresses inside. Note that this Bessport Camping Tent 10 Person is of almost the same floor area but it is officially for 10 people. 
Regarding best use, climate & seasons, their claim that the tent is for 4 seasons cannot possibly be taken seriously. This is a tent for summer camping and for calm weather conditions without much rain and wind. The waterproof rating is very low but this is not so bad if the seams are properly done. All in all, I would not put this tent to any harsh test.
Regarding the weight, in view of such a size, with 24.3 lb (11 kg) of weight, this is a lightweight tent. Note also that its packed size is very good, you have seen the carry bag's dimensions in the picture above. So you can transport this tent even on a motorbike.
Regarding the price, it is fair for what you get. 
---
Specifications
Weight: 24.3 lb (11 kg).
Dimensions: 20 x 9 ft (6 x 2.7 m).
Area: 169 ft² (15.7 m²).
Area per person: 14 ft² (1.3 m²).
Peak height: 72 in (183 cm).
Packed size: 25.2 x 11 x 11 in (64 x 28 x 28 cm).
---
Final thoughts, rating, pros & cons
To summarize this CAMPROS Tent 12 Person review, the tent looks great, it is large, nicely packable, and lightweight. But it is best to disregard its declared capacity and the statements about seasons, this is a summer camping tent or a tent for 2 seasons maximum. Note that they also have a 9-person version.
Please see how I rate this tent against my standard set of criteria, as you realize it stands very good:
If you would rather have a cabin-style tent, check this  KTT Extra Large Tent 12 Person which is also for 12 people but a bit smaller. Please check under the group Tents for 11 people plus if you need more options in this size range.
Bookmark this site and visit it occasionally, I add texts here regularly so this will keep you informed. Thank you for reading and have a nice day.