This Coleman Coastline Deluxe Tent 4 Person is with 3 rooms, solid windows, a huge waterproof rating, and some unique features, suitable for 3-season camping. Keep reading.
---
Key features & benefits
Tunnel-type tent.
Solid windows.
3 Rooms.
Huge waterproof rating.
Tall tent with a stand-up height.
Unique self-rolling window panels.
Awning configuration.
Reasonable price.
---
What this Coleman Coastline Deluxe Tent is about
This tent has been on the EU market for many years, but from what I know it has appeared on Amazon-US only recently. This is a very typical tunnel-type tent, and this also means non-freestanding. The word Deluxe describes the fact that it offers lots of space and some unique features.
It looks very simple from outside, but the tent is a 3-room structure and it is also a hybrid double wall and single wall. This means that you have a shell tent, and an inner tent that represents the sleeping area. So this sleeping area is the double-wall part while the large living room is under the shell.
Observe that the inner tent has its own floor, and the shell is also with a sewn-in and sealed floor. So you have two floors in the sleeping area. This should give complete protection from the ground. The picture below partly shows this inner structure, you can see the two large inner doors: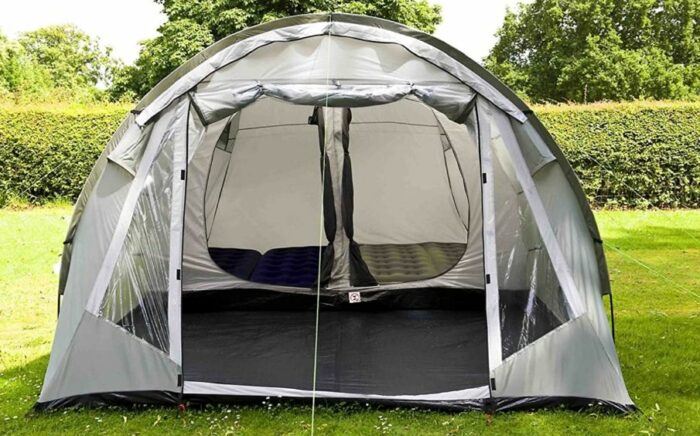 Unique windows
From the picture you see also its solid windows, you have them five in total. Note that some of them have a clever self-rolling design, this includes some sort of dual steel straps integrated into the zippered panels. They automatically roll together with the panels when you unzip them. One of the windows is shown in the picture, those self-rolling straps are partly visible on the sides of the panel: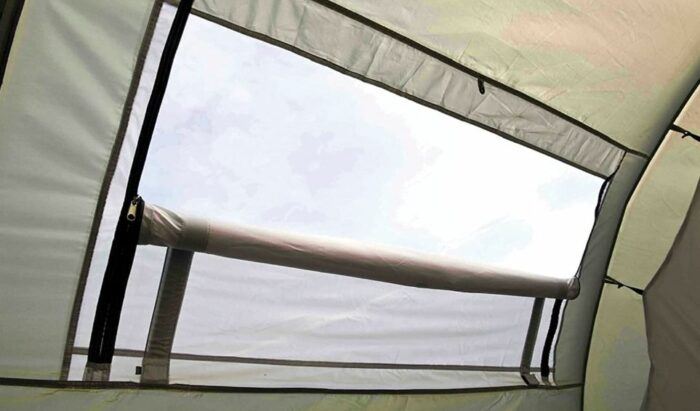 The picture below shows how this panel looks when you unzip it completely, as you realize it is completely rolled into a tube under the window. Now when you want to close the panel, you simply zip it on the sides, the integrated steel straps give very little resistance. Great design.

Observe also that this is a very tall tent, its peak height in the living room is 78.74 inches (200 cm). So you have a stand-up height in the bigger part of the tent.
Ventilation
The tent is quite enclosed and this you see from its many solid windows. So for ventilation, you have to rely on its four vents. They are on its narrow sides, on the front (shown below) and on the back.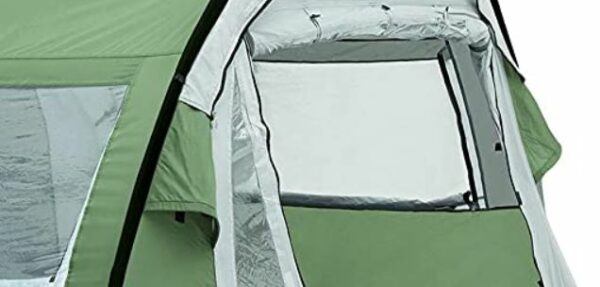 The inner tent is well separated from the shell, there is a wide gap for air circulation, you can realize this from the floor plan below.

---
Materials
The poles are fiberglass, three simple shock-corded loops that are easy to pass through the long roof sleeves. Note that the door is designed to create a large awning with a set of two included poles: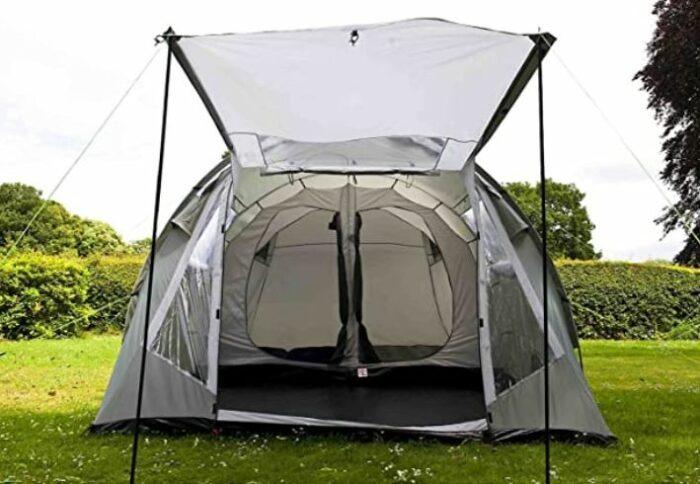 The shell fabric is a 185T polyester with 3000 mm PU coating and all seams are taped. The inner tent is a breathable polyester and no-see-um mesh. The groundsheet is polyethylene, welded and fully sealed, the same material in the shell and in the inner tent. These are fire retardant materials.
Other details
Optimally place guy-lines along the poles and around the tent.
Color-coded poles and pole sleeves.
Internal pockets.
Carry bag included.
---
Who is it for
Regarding capacity, the tent is officially for 4 people, but it offers a lot of space. The picture below shows its floor plan and the dimensions. The inner area is 127 ft² (11.8 m²), and in the case of 4 users this would give 31.75 ft² (2.95 m²) per person.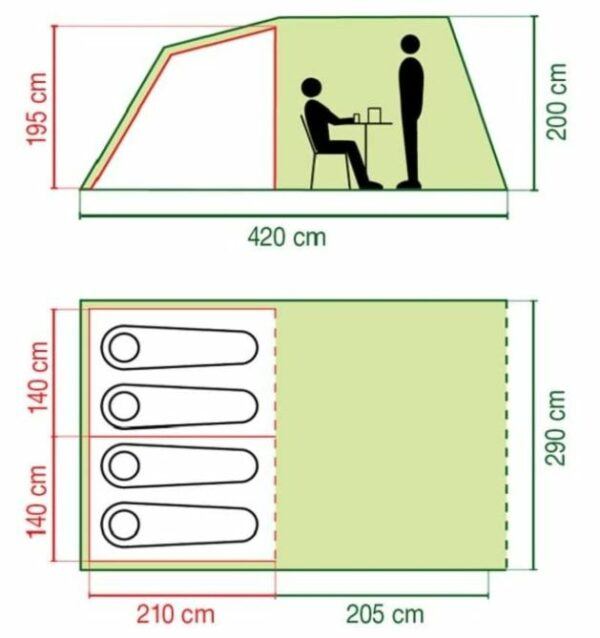 Note that the living room offers full protection so it can easily accommodate 4 more people. This is why the tent is included here in the site, it is in the group of 4-person tents but it can offer far more. Now you realize the full meaning of the word Deluxe in its name.
You can also remove the inner tent completely and use the shell only as a single room tent, this would give a huge room of 12.2 square meters. I have included it in my list of best 4-person family camping tents.
Regarding seasons & climate, this tent is originally built for the EU market, so it comes with a huge waterproof rating and it is quite enclosed with its solid windows. This is why I see it better suited for a cooler climate than for warm-weather camping.
Regarding the weight, in view of its 30 lb (13.5 kg), this is a heavy structure for a 4-person tent, but you have seen how much space and volume this tent offers. So the weight is justified, and you are not supposed to carry it long distances.
Regarding the packed size which is 27.56 x 10.63 x 10.63 in (70 x 27 x 27 cm), the tent is a bit bulky. But in any case, this is a car camping tent.
---
Specifications
Declared capacity: 4 people.
Weight: 30 lb (13.5 kg).
Dimensions: 13.78 x 9.51 ft (420 x 290 cm).
Inner area: 127 ft² (11.8 m²).
Inner area per person: 31.75 ft² (2.95 m²).
Peak height: 78.74 in (200 cm).
Packed size: 27.56 x 10.63 x 10.63 in (70 x 27 x 27 cm).
---
Final thoughts, rating, pros & cons
In the summary of this Coleman Coastline 4 Deluxe Tent review, I wish to stress that this tent has been around for many years, tried and tested by many users on the EU market. So everything is known about this tent and there should be no surprises. The price is appropriate for what you get.
Coleman is a globally established brand, and they provide spare parts for their equipment, this you may need in the case of problems with poles that are not particularly durable.
Please see how I rate this tent against my standard set of criteria, as you realize it scores well:
Please check around if you need more options. We have a separate category of 4-person tents and all of them can accommodate far more than 4 people. You might want to compare this tent also with the Coleman Da Gama Unisex Outdoor Tunnel Tent which is from the same brand and the same declared capacity. Check this Ferrino Meteora 4 Family Tent that is also a tunnel tent with 3 rooms.
Bookmark this site and visit again, stay informed. Thank you for reading and have a nice day.