This Coleman Da Gama Unisex Outdoor Tunnel Tent is an impressive 3-room 3-season structure with steel poles, solid windows, and with a huge waterproof rating.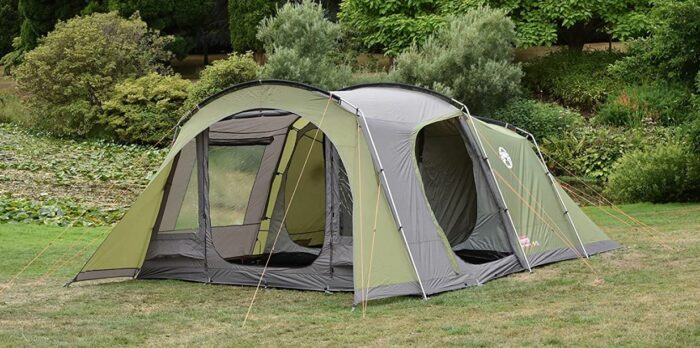 ---
Key features & benefits
Steel poles.
3 Rooms.
Fully sewn-in floor.
Huge waterproof rating.
Solid PVC windows.
2 Doors.
Floor vents.
E-cable port.
---
What is in the name
This Coleman Da Gama series has been around for years, and this tent here is the smallest of them, they have it also for 5 and for 6 people. I could not possibly find anywhere the meaning of the word 'unisex' in the name. Curious to know, so if anybody has some idea please let me know in the comment box below.
Anyhow, as outlined in my About page, in this site I present 4-person tents only if they are of an exceptional size so that they really can accommodate 4 people and preferably more. As you know, there are many larger tents from the group 5-6 person tents with a really small floor area and they can hardly accommodate the declared number of users; they are sometimes small even for 4 people.
But this Coleman Da Gama 4 person tent is of such size that it can accommodate far more people than what its formal capacity tells you. This is because of its large living room. This tent was originally built for the EU market, just like many other tents from this brand, and they all have large living rooms and the capacity that exceeds their declared capacity.
They describe it as a tunnel tent and this is more or less so, but observe that its legs poles are straight on the sides, see the picture below, so you have a feeling of a cabin tent. As such, it is not freestanding so you have to stake it down properly. It is added to my list of best tunnel tents for camping.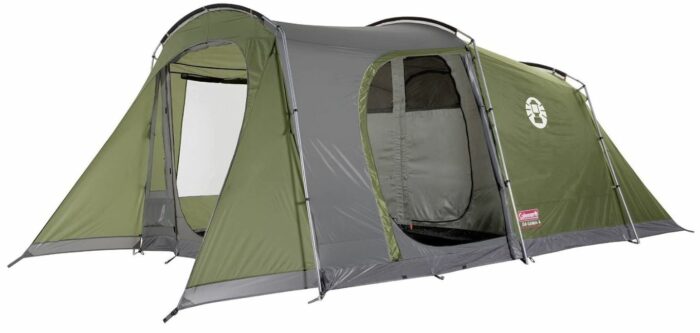 This is a 3-room structure, you have an inner tent within the tent with two sleeping units, plus a huge living room in front of this, the floor plan below will show you how this looks. Note that the divider between the two sleeping rooms is with zippers, so this provides as much privacy as you can have in a tent. It is removable and you can use the sleeping room as one large sleeping space.
So the tent is hybrid double-single wall, and the meaning is that the living room is under the shell while the sleeping area is a fully double-wall part. But note also that the sleeping area has two floors; the inner tent is removable and it has its own waterproof floor.
You have two huge entry points here and two inner doors as well. Note that the front door is partly protected with a small brim and two windbreakers on the sides, this looks like a porch and it may be good enough to keep shoes outside of the tent.
There are also 3 PVC windows on the living room, they are equipped with shutters to reduce glare. Note that the outer doors are without mesh, pity.
Ventilation
This tent has no mesh sections anywhere on the shell, so it relies on vents. You have 3 vents, two floor vents in the living room, they are under the front porch, and one roof vent behind the inner tent. The inner doors are also with mesh in the upper sections. This creates crossflow along the tent. The inner tent is separated from the shell to allow for air circulation.
So there is little one could object here, the tent has almost all the elements it needs, but you may experience issues with condensation, this will depend on the number of users and on the weather conditions. Pity they did not add one extra floor vent on the back.
Condensation cannot be avoided in synthetic tents. So if this is an issue for you, choose one of the canvas tents, they are good for all seasons and for all climates.
---
Materials
The poles
All that you see here is steel, so this is a very strong structure with 19 mm thick tubes that will not fail in adverse conditions.
The fabric
The shell is built from a polyester with 3000 mm PU coating, with all seams taped. The inner tent is mostly a breathable polyester with a few mesh sections. The floor of the inner tent and of the shell is a very durable bath-tub style polyethylene.
They claim this is all a fire-retardant material and with 50+ UV protection.
Other features
You have an E-cable port.
There are Velcro loops to pass a cord for the lantern.
A lantern hook is on the ceiling.
---
Who is it for
Capacity-wise, as already discussed above, this is formally a 4-person tent and for this you have an impressive area shown below. The total inner area is 121.6 ft² (11.3 m²), and this would give 30.4 ft² (2.8 m²) per person.
Note that some floor space is lost between the inner tent and the shell so the actual area is a bit smaller, but this is for ventilation. If you remove the inner tent, you have all the mentioned space as a single room. I have added it to my list of best 3-room tents.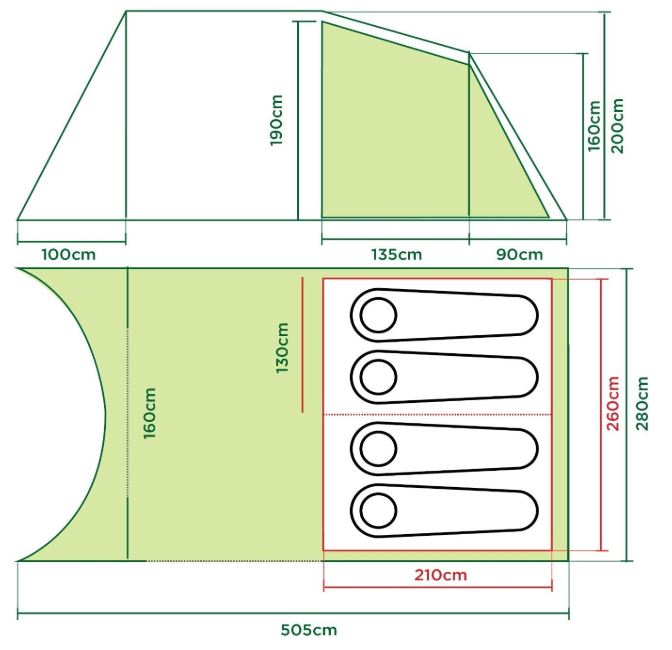 In any case, you have a huge fully protected space, the living room is fully sealed. If necessary, several more people can sleep in the living room. So this tent can easily accommodate at least 6 users. Now you realize what I was talking about the capacity in the introductory paragraphs above.
Seasons-wise & climate-wise, this is a true 3-season tent and it will protect you in any weather conditions. But it was originally built for the EU market and I see it better suited for a cooler climate than for a warm summer environment.
In fact, I have included it in my list of best tents for cold weather. You have solid windows, and all the openings can be closed to preserve the warmth. More you can hardly expect from an ordinary tent, unless you go for an insulated tent, or for a tent that is designed with pipe jack and to be used with a wood-burning stove.
Weight-wise, with its 37.7 lb (17.1 kg) of weight, this is a heavy structure, but when you find yourself in rough weather you will learn to appreciate its strong poles and its overall stable construction. This is a camping tent so the wight is not so important, it is the protection it offers that matters.
The packed size (L x D) 28.3 x 12.6 inches (72 x 32 cm) is also not so impressive, but the same holds here as well, you will be transported it by car so the packed size is of secondary importance.
Please see more in this video that shows Da Gama 5 tent but the features are the same in the 4-person tent:
---
Specifications
Declared capacity: 4 people.
Weight: 37.7 lb (17.1 kg).
Dimensions: 16.67 x 9.19 ft (505 x 280 cm).
Inner area: 121.6 ft² (11.3 m²).
Inner area per person: 30.4 ft² (2.8 m²).
Peak height: 78.74 in (200 cm).
Packed size (L x D): 28.3 x 12.6 in (72 x 32 cm).
Poles: steel.
---
Final thoughts, rating, pros & cons
In the summary of this Coleman Da Gama Unisex Outdoor Tunnel Tent 4 Person review, I would say that this is one of the most impressive tents of Coleman, so it is not surprising that it has been on the market for so many years. You have a huge waterproof rating, incredibly strong steel poles, solid windows, and a lot more. Fully recommended. This tent is included it in my list of best 4-person family camping tents.
Please see how I rate this tent against my standard set of criteria:
Please look around if you need more options, this site is all about tents so you will surely find something for you. Check this Ferrino Meteora 4 Family Tent that is also a tunnel tent with 3 rooms. But if you want something different from Coleman, see this Coleman Trailblazer 5 Plus Tenda Tent that offers more total space in its two rooms.
We add texts here regularly, so bookmark this site and visit occasionally. Thank you for reading and have a nice day.