This Ferrino Meteora 4 Family Tent review is about a great 3-room 3-season tunnel-type tent with an excellent waterproof rating, it is nicely packable and easy to use.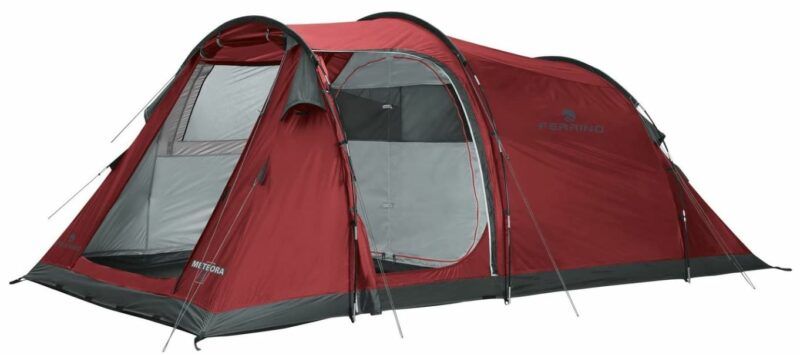 ---
Key features & benefits
Tunnel type tent.
3 Rooms.
2 Doors.
Fiberglass poles.
Lightweight.
Good packed size.
---
What this is about
So this Ferrino Meteora 4 is yet another tent in the group of those that can accommodate more people than what its official capacity tells you. When you inspect its dimensions and the floor plan shown below, you realize this immediately. This is the reason for adding this tent here in the site where I present only large family camping tents, you will realize that it deserves to be here.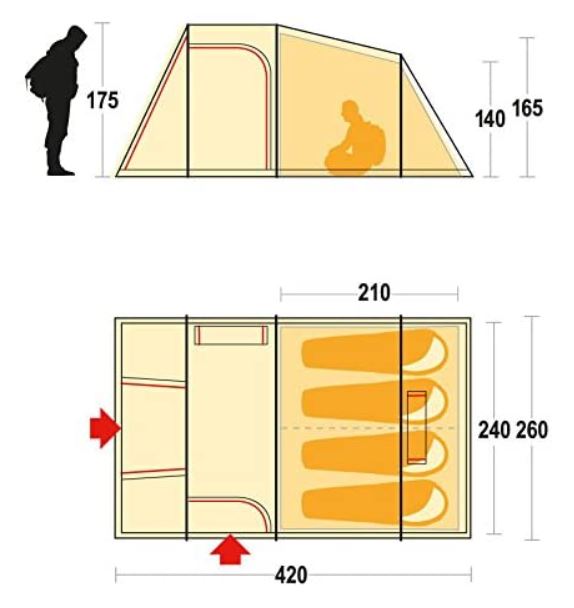 This tent is originally built for the EU market where this manufacturer is well known and respected, they started building tents in Italy in the 19 century, more precisely in 1870. But the tent is relatively new on the US market. So you have all the typical features of such EU tents and you will see them below.
How many rooms?
This is a 3-room tunnel type tent, and you have an inner tent which is a sleeping area with a removable divider in between the two sections, plus a large living room which is under the shell tent. So this is a hybrid double-single wall structure where the single wall is the living room. I have included it in my list of best 3-room camping tents.
As a tunnel tent, it is not freestanding you have to stake at least the front and the back. The picture below shows how it looks inside, what you see is the mentioned inner tent behind the living room: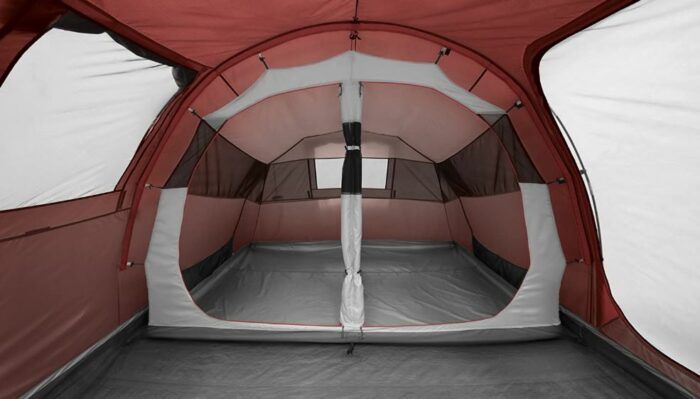 The inner tent attaches to the shell tent and you can leave it as it is when you pack the tent. But you can also use the shell tent without the inner tent. In other words, this is a structure that allows you to have 1, 2, or 3 rooms.
Observe also that the inner tent has its own floor, and this floor is sitting on the floor of the shell tent. So you have two floors in the sleeping area. The shell tent's floor is also fully sewn-in and sealed so you have full protection. This is why the tent can accommodate far more people.
The tent is large but from the dimensions shown above, you realize that this is not a full stand-up height, unless you are very short of course. There are two external doors and also two inner doors visible in the picture above. Note that only the side door is a double-layer structure with a zippered mesh and a zippered panel.
Ventilation
This tent is without any mesh on the shell, so you have to rely on its vents and the mesh windows and door. They have added 4 vents, 2 on the front, and 2 on the back. The side door is also with a full-size mesh. There is also a mesh window on the back and one on the side.
The inner tent is well separated from the shell so there is lots of space for air circulation. There are mesh sections on the inner tent on all of its sides, this includes the inner doors as well. But I still miss seeing some floor vents, they may be necessary when you have to keep the door and the mesh windows closed.

Please see how to assemble this tent:
---
Who is it for
Regarding the area, the declared capacity is 4 people. But for such a number of users this is a castle. If you use the inner tent, then the total inner area is 105 ft² (9.8 m²), almost half of it is in the living room. So this means you have 26.2 ft² (2.45 m²) per person. Without the inner tent, you have a bit more because of the space left for ventilation between the inner tent and the shell.
Note that the living room is 4.8 square meters so if necessary it can accommodate 3 people easily. Now you realize why this tent is included here in the site. It is formally in the group of 4-person tents, but it can accommodate 7 people.
Regarding seasons & climate, this tent is nicely built and with a great waterproof rating so you will have full protection no matter the weather conditions. This is a true 3-season tent.
Regarding the weight, obviously it is very heavy for a 4-person tent, it weighs 20.7 lb (9.4 kg). But you have seen its size, you have around 1.16 m²/kg, so in view of this, the tent can be described as lightweight.
The packed size is also very good, this large tent packs to 21.65 x 9.8 x 9.8 inches (55 x 25 x 25 cm). So you can easily transport it even on a bicycle.
---
Materials
The poles
The poles are fiberglass, and this is the only detail that is a bit disappointing in view of its price. But this material is commonly used even in some expensive tents that are on the EU market. The poles are shock-corded and color-coded, they attach to the tent's base through the pin and ring system, and higher you have long sleeves and 12 clips. All the elements are shown below: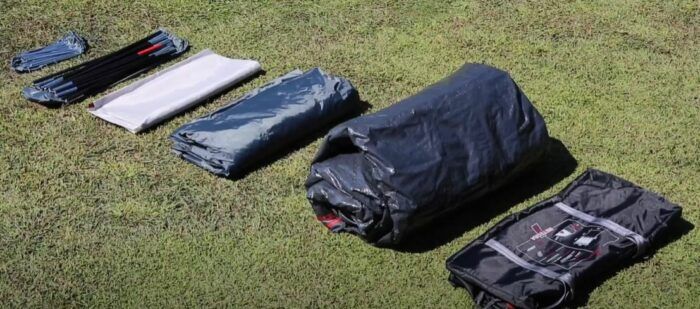 The fabric
The shell is a durable 70D polyester Diamond, 75 g/m², and it is coated with a thermally insulating aluminized polyurethane, so the waterproof rating is very respectable 2000 mm. All seams are taped. The inner tent is a breathable polyester.
The inner tent's floor is a 70D polyester 80 g/ m² with a waterproof rating of 2500 mm. The shell floor is a waterproof and welded polyethylene. They claim its waterproof rating is more than 10000 mm. So you are definitely safe from the ground.
Other features
Internal storage pockets.
Multipoint guyline system secures the tent in case of strong winds.
Internal lamp hook.
A large Supertex stuff sack and bag.
Repair kit is included.
11 Steel stakes.
---
Specifications
Declared capacity: 4 people.
True capacity: 7 people.
Weight: 20.7 lb (9.4 kg).
Dimensions: 13.78 x 8.53 (420 x 260 cm).
Useful inner area: 105 ft² (9.8 m²). This if you use it with the inner tent.
Inner area per person: 26.2 ft² (2.45 m²).
Packed size: 21.65 x 9.8 x 9.8 in (55 x 25 x 25 cm).
---
Final thoughts, rating, pros & cons
To summarize this Ferrino Meteora 4 Family Tent review by stressing again that this tent offers full protection in any weather conditions in a 3-season use. Its organization is excellent, and it can accommodate more than what its official capacity tells you. It may look a bit expensive but it is worth the money. Fully recommended.
Please see how I rate this tent against my standard set of criteria, it scores nicely in all of them so the average rating is high:
You might want to check also its bigger cousin the Meteora 5 Tent. For more options of this type just check under the category Tunnel Tents. See also this Coleman Da Gama Unisex Outdoor Tunnel Tent which is with the same declared 4-person capacity. Check also this Vaude Family Tent Badawi 4 Person which is a completely unique extended dome structure.
Thank you for reading. You might want to bookmark this site and visit again, this will keep you informed because we add texts here regularly. Have a nice day.