---
Coleman Octagon 98 8-Person Outdoor Tent with Half Fly is a reliable steel frame tent with 2 doors, tall and pleasant, suitable for 3 season family camping, and very affordable as well.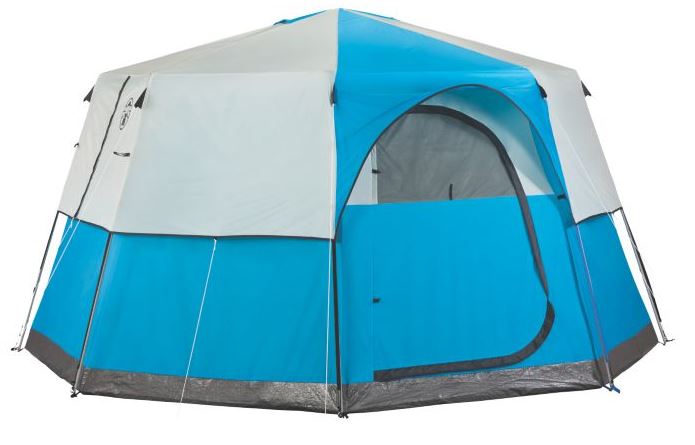 ---
Key features & benefits
Octagon base.
Steep & tall walls.
Steel poles.
2 Doors & 4 windows.
Freestanding.
Very tall.
Great price.
---
What this is about
Here you have a really pleasant and tall tent built as a cabin type structure with a peak height of 81.9 inches (208 cm). With so steep walls, you have plenty of volume inside.
There are two doors on the opposite sides and they are equipped with windows on the upper sections where you have dual mesh/panel construction. Note that those are standard doors with zippers, not hinged doors, I have seen people asking about this; the hinged door you will find in their another Octagon 98 tent with full fly.
There are also separate windows on the sides and the fly is with zippers to match these mesh areas, so you can have extra ventilation and views around, one of them is visible on the left in the picture below.
The tent is fully freestanding and stable with its octagon base and 8 legs, the picture below shows it without the fly so you can better understand its strong frame. But you will always want to stake the tent properly, all stakes needed for this purpose are included in the package.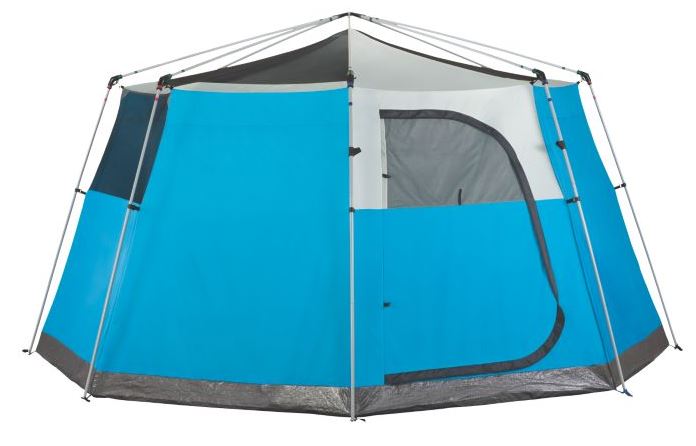 The tent should come with a divider so this would make it a 2-room structure, but I have seen many claiming that the divider was not in the package. With the divider in place, each of the two rooms has its own door and window. The picture below shows the inner view without the divider.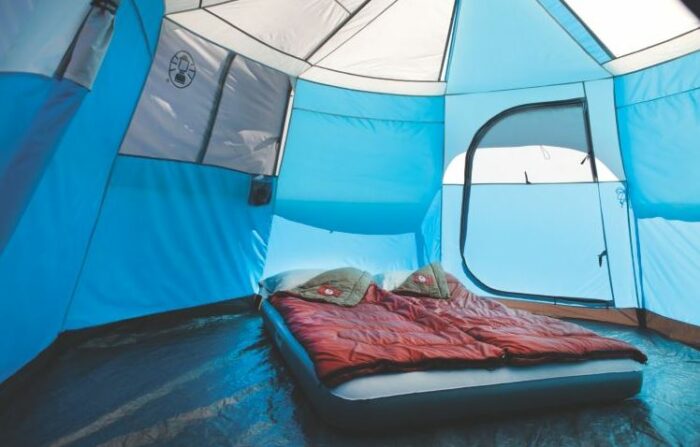 As you realize from the name, although the fly looks like a lid on a pot and it is massive, it goes only halfway on the sides. This makes it different from their another Coleman Octagon tent which is with a full fly.
Ventilation
There are both good and bad sides with respect to this. The inner tent is with several mesh sections on the ceiling, in fact, most of the ceiling is mesh. The windows are with mesh as well. There are also two roof vents on the fly.
But you will realize that there are no floor vents here. They are necessary when it is raining and you have to keep all the windows closed. So it is a pity they did not include any.
---
Materials
The poles
You have very strong frame and this is all shock-corded steel. All 8 roof poles converge to the top point, and you have some connectors attached to the tent that connect the legs with the roof poles. One is shown in the picture below. Everything is color-coded for easy setup.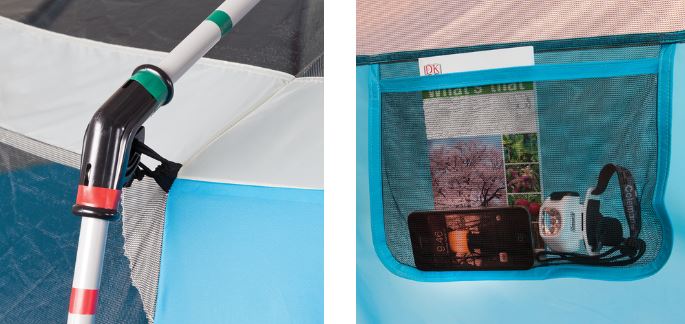 The poles attach to the tent's base through the usual pin and ring system. On the sides, you have clips, and nothing on the roof except for the top hub element. Everything looks so solid here, and it is surprising to see some people complaining about broken poles, I wonder if this is due to careless handling or it is something else. Breaking such a steel pole needs a lot of force.
There are also 2 additional thin fiberglass poles for the small awnings above the doors. These awnings are useful because they partly protect the mesh areas on the upper half of the doors, so you can keep them without panels to improve ventilation even when it is raining.
The fabric
Coleman rarely provides detailed information about the waterproof rating, and this is always disappointing with this brand. But this is their usual WeatherTec system with inverted seams and welded floors used in many of their tents, see the pictures.
My understanding is that this is a polyester taffeta 68D, and polyester mesh 68D. The floor is polyethylene and this is a fully waterproof material, it is also a bathtub type and fully sealed. You can see in the pictures that it goes around 6 inches up above the ground.
On the other hand, I have not seen anybody complaining about leaks, so no doubt this tent provides full protection from elements. Other features include two small pockets on the walls, this is quite symbolic for such a tall tent and such steep walls, far from enough, pity.

As for the setup, one person can do this in up to 15 minutes or so. You start by creating the roof structure first, and then continue adding legs poles one at a time. But the fly is such that it is best to attach it before raising the tent from the ground.
---
Who is it for
Regarding the area, you have around 122 ft² (11.3 m²) of the floored area here (they did not bother to provide the exact data). So in the case of 8 people this would mean 15.25 ft² (1.41 m²) per person. Clearly this is far from enough and it is best to downgrade the number of users.
Regarding the climate & seasons, this tent is well-built and it will protect you in a 3-season use. But note that the tent is boxy and tall, and the fly does not go to the ground, so I would avoid very windy places with such a tent. They claim the frame is tested to withstand 35+ MPH winds, I believe this is so for the frame but this is not an aerodynamic structure.
Regarding the weight, with its 39.9 lb (18.1 kg) of weight, this is a heavy item. You have a heavy-duty nylon canvas bag with two wheels, and also a handle, so this is good enough to move it short distances
The packed size 34 x 13.5 x 11.8 inches (86 x 34 x 30 cm) is such that you definitely need a car, you have already seen the weight.
---
Specifications
Official capacity: 8 people.
Weight: 39.9 lb (18.1 kg).
Dimensions: 13 x 13 ft (396 x 396 cm).
Area: 122 ft² (11.3 m²).
Area per person: 15.25 ft² (1.41 m²).
Packed size: 34 x 13.5 x 11.8 in (86 x 34 x 30 cm).
Peak height: 81.9 in (208 cm).
---
Final thoughts, rating, pros & cons
In the summary of this Coleman Octagon 98 8-Person Outdoor Tent with Half Fly review, I would stress that here you have a strong structure with 8 steel legs and 8 roof poles, freestanding, tall, and pleasant. The tent is heavy because of so much steel but this is a car camping tent so this is not so important. With such a price the tent is a true bargain.
Please see how I rate this tent against several of my criteria used for all the tents here. It scores very well indeed:
If you need more options check under the category Cabin Tents and also in the group Tents for 7/8 people. This World Famous Sports 8-Person 2-Room Cabin Camping Tent is also a cabin-style and tall tent. Check this Wenzel Bristlecone 8 Person Modified Dome Tent if you want something different but with a similar floor area. 
Bookmark this site and visit occasionally, this will keep you informed about the situation on the family camping tents market, we add texts here regularly. Thank you for reading and have a nice day.