---
Wenzel Bristlecone 8 Person Modified Dome Tent is a lightweight 2-room extended dome structure with 2 doors, great packed size, interesting fly configurations, and a great price.
---
Key features & benefits
Extended dome.
2-Room construction.
2 Doors.
Non-freestanding.
Fiberglass poles.
Several fly configurations.
E-cable port.
Numerous storage elements.
Great price.
---
What this is about
The word 'modified' in the name of this Wenzel Bristlecone 8 Person Modified Dome Tent means that this is an extended dome structure. So you have a central area supported by two poles creating the main dome part, plus two side extensions each supported with its own pole.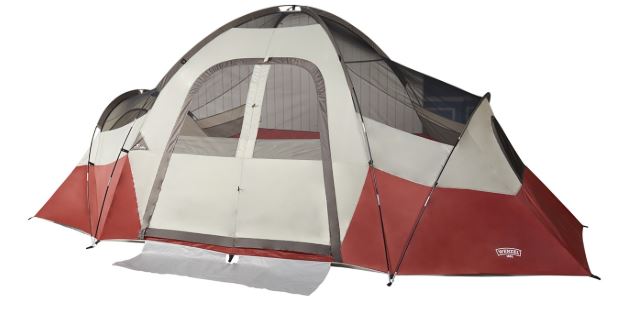 Because of such a design, the tent is not freestanding, the extensions must be staked to be functional. The pictures show dual doors on the front. So this is because you have a removable divider inside and the tent can be used as a 2-room structure. The picture from the top shown below reveals how one of the rooms looks, the divider is a bit visible in the center of the tent.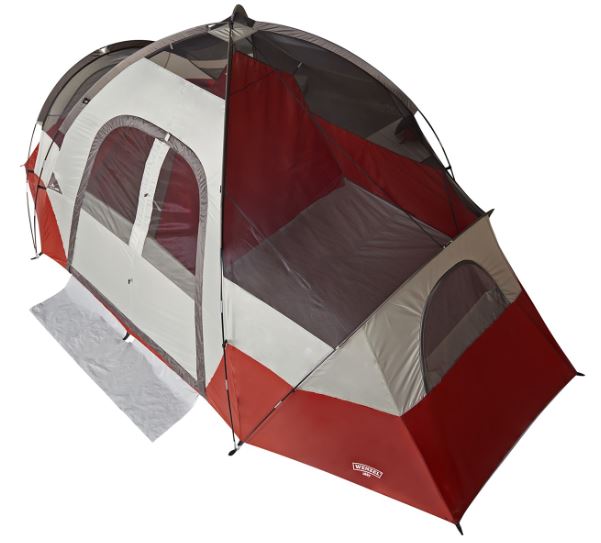 The central dome area is with a peak height of 74 inches (188 cm), so this is a stand-up height for many users. But the best part of this tent is its fly. It is a partial-coverage type and it allows for several configurations. So you can:
Roll it up above each of the extensions, and sleep under the stars.
It has a central zipper on the back so you can open it in the ways shown in the pictures:
The tent has two windows on the narrow sides, and with such fly configurations on the back you can have one extra window but with two possible sizes as the pictures above show.
This adds a lot to the livability of the tent. As you know, dome tents are usually without windows or with minimal windows, but this is quite different here. The same design is in their another new tent the Wenzel Pinyon 10 Person Modified Dome Tent built in the same style.
Ventilation
This Bristlecone 8 Tent has plenty of mesh on the canopy, and all the openings are double-layer structures with mesh and with panels. So this is all fine as long as the sky is clear.
But if it is raining, you have to close this all, and in such situations you would want to have some floor vents. Well, those are missing here, pity.

---
Materials
The poles
You have them 4 plus one short that creates a small brim above the door. This is fiberglass, not particularly durable material, but you have a budget tent here and such a material is normal to expect.
The tent is with a pin and ring attachment system at the base of the tent, see the picture, and on canopy you have clips and sleeves.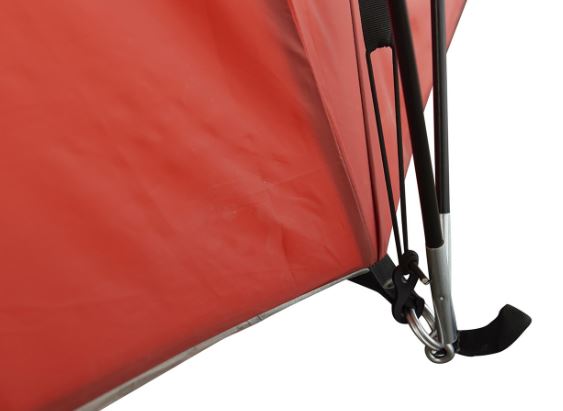 The fabric
The canopy and the walls are the same 68D polyester with a 600 mm waterproof rating. This is minimal value, just a bit better than an umbrella. But the truth is that you do not need more if all seams are properly sealed, this is done here. The floor is a durable and fully waterproof welded polyethylene.
Other details
Mud mat at the front door.
E-port for electrical cord access shown below.
Gear loft, see the picture.
Twelve pockets for storage of small items, now this is really remarkable.
---
Who is it for
Regarding the area, the tent is with the declared 8-person capacity. The dimensions are such that it may be difficult to put such a number of pads on the floor, but this is unrealistic for family camping.
So this is a tent for parents with two-three kids, and because of its two rooms and separate doors it is also very convenient for two couples.
Regarding the seasons & climates, this is a summer camping tent, most suitable for quiet weather conditions without much rain and wind. In such conditions, it will be a pleasant outdoor home and you can enjoy its versatile fly and sleep under the stars.
Regarding the weight and packed size, this is a car camping tent, but it is indeed lightweight for its size and it can be carried on the trail if you really want an 8-person backpacking tent.
---
Specifications
Declared capacity: 8 people.
Weight: 17.6 lb (8 kg).
Dimensions: 16 x 8 in (488 x 244 cm).
Area: 115 ft² (10.7 m²).
Area per person: 14.3 ft² (1.3 m²).
Peak height: 74 in (188 cm).
Poles: fiberglass.
---
Final thoughts, rating, pros & cons
So to summarize this Wenzel Bristlecone 8 Person Modified Dome Tent review, they have built an interesting and pleasant summer camping tent with so many storage pouches and several fly configurations and windows. This is a great value for the money, but do not put this tent to harsh tests.
Please see how I rate this tent against my standard set of criteria so you can easily compare with some other tents here in the site:
Check under the category Tents for 7/8 people if you need more options in this capacity range. If you want to see more dome tents please check under the category Dome tents. For example, check this Columbia Modified 8 Person Dome Tent built in a similar style.
See also this Wenzel Pinyon 10 Person Modified Dome Tent launched together with this Bristlecone 8 tent and built in the same style. For something smaller, see their Wenzel Tamarack 6 Person Dome Tent.
Here is what I suggest:
Bookmark this site, we add texts here on a regular basis, so visit it again and stay informed.
Subscribe to my weekly newsletter with the latest reviews and news, the subscription form is below.
Use the comment box below if you have any questions.
Thank you for reading and have a nice day.