Coleman Octagon 98 Full Fly Tent is a nicely built 3-season 2-room cabin tent with a hinged door and a full coverage fly for a complete protection.
---
Key features & benefits
Full coverage fly.
Hinged door.
Very livable tent.
2-room design.
2 doors.
Doormats included.
---
What type of tent is this
Here you have a typical cabin style tent, with very steep and flat walls, a tall structure with lost of headroom. This is also a tent with hinged door and I have included it in my list with such hinged door tents. With such a door you do not have to use the zipper all the time, and I mentioned the tent in this content in my separate text.
With all these features and with large mesh openings on all sides, this is an incredibly livable and pleasant tent for family camping.
This is a full double-layer design, with an inner tent (shown in the picture below) and the full coverage fly, and it is also freestanding.
You have a removable divider inside, so formally this is a 2-room tent. When used with the divider, each of the rooms has its own external door, so again, this is a very livable configuration.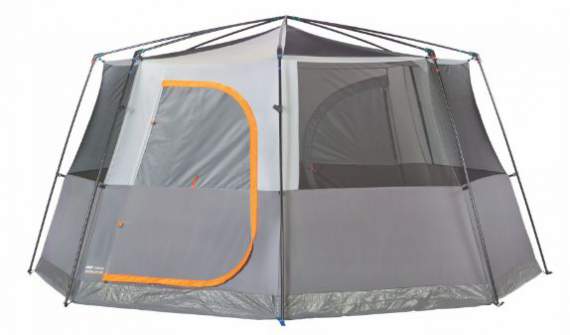 ---
Who is it for
Sizewise, assuming the declared capacity of 8 people, you have 15.25 ft² (1.41 m²) per person. Now, the tent is octagonal by structure, and this is not so great if you have to put sleeping pads on the ground. You would have to play Tetris game with the pads to fit them on the floor. They have used a backpacking principle for the tent capacity, but this makes no sense to me, this is a heavy camping tent. So this is a great tent for 4 – 5 people only, perfect also for two couples, or for parents with 2 kids.
Observe that you don't have any external storage area, so downgrade the number of users as I suggested above.
Seasons-wise, the full coverage fly should guarantee great weather protection in a normal 3-season use. But note that the tent is very boxy in style, and I would not expose it to very strong winds. Stake it down in any case.
The packed size of this tent is good, but it is heavy, and you will realize this from the comparison table below. This is a camping tent to be used at places with a motorized access.
The tent is big enough to accommodate two queen size Coleman cots with mattress. So you can combine them with this tent from the same brand.

---
Construction
Poles
All main poles here are thick steel tubes and you have them 16 in total, for the walls, and for the roof. They are connected by the top hub element and the joints elements on the top of the walls.
Though you have 2 additional thin fiberglass poles for awnings and 2 for the hinged door.
The inner tent
The upper part is all mesh and the bigger part of the ceiling is almost all mesh as well. The material is polyester taffeta 68D, and polyester mesh 68D. The floor is polyethylene 1000D, bathtub type and fully sealed. So you have some 6 inches of the floor material extending above the ground, this is a well-done job here.
There are 2 doors and one is the hinged type. The other is a normal D-shaped zippered door. They are with the panels of the same material as the rain fly.
To have the privacy you have to have the fly on, see the picture which shows the fly unzipped at two places creating nice windows: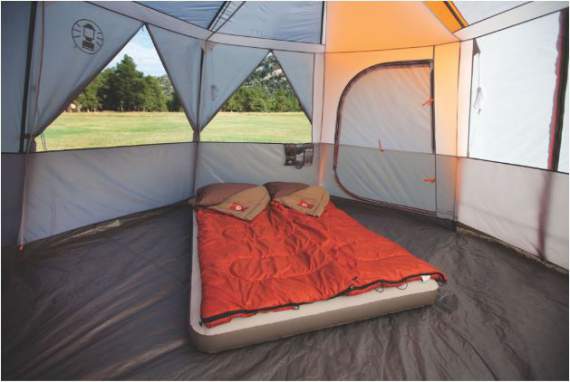 The fly
The fly goes all the way to the ground and it is equipped with six vertical zippers so that you can roll it to the sides. This creates the panoramic views around, and this is one of the best features of this tent. There are awnings above the doors, created by two extra fiberglass poles.
So the fly is really nicely done and it offers full protection. The material is polyester taffeta 68D. They did not provide any information about the waterproof rating.
Ventilation
You should not have issues with ventilation in this tent. There are vents on the fly for vertical air circulation, and the ceiling is almost all mesh. The gap between the fly and the inner tent is quite wide so the air will circulate even when the fly zips are closed. Note that you have some space between the ground and the fly, so the air can circulate from below.
But you cannot open and close the vents after you put the fly on the tent. They are too far and too high, without access from inside. On the other hand, the two awnings are such that you can keep the upper sections on the doors open (with mesh on only) even when it is raining. I sill think some floor vents would be useful.
The carry bag
The bag is nicely designed and with wheels. You will need them in view of its 49.3 lb (22.4 kg) of weight. Though I have seen some people complaining that fitting the tent back to the bag is not always so easy.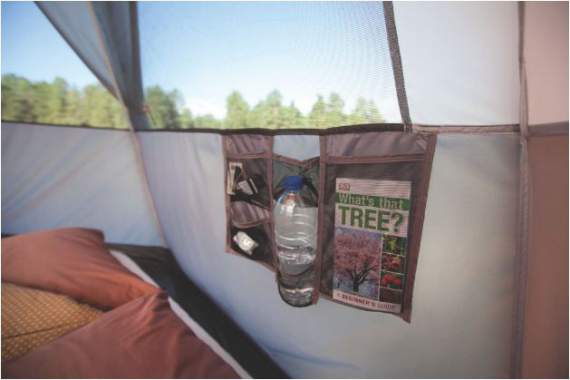 Other features
There are two sets of pockets, very small for such a tent. They could have added more. The divider clips to the wall and to the ceiling, but you can remove it if you do not need it. There is a lantern hook, but there is no electric cable port.
Please see more in this video:
---
Specifications
Capacity: 8 people.
Weight: 49.3 lb (22.4 kg).
Diameter: 13 ft (4 m).
Floor area: 122 ft² (11.3 m²).
Area per person: 15.25 ft² (1.41 m²).
Peak height: 82 in (208 cm).
Packed size: 34 x 13 x 12.25 in (86 x 33 x 31 cm).
Two doors for entry from either side of the tent.
Steel poles.
WeatherTec system with patented welded floors and inverted seams.
Full-length zip-on fly for better ventilation.
Color-coded pole attachments for easy set-up.
Storage pockets with cup holders.
---
Coleman Octagon 98 Full Fly vs Competitors
A tent's features can best be understood when you compare it with other tents. So here I give the Octagon 98 side by side with two other tents with the same declared capacity. As you realize, its floor area is considerably smaller, and it is much heavier.
Coleman Octagon
98 Full Fly
34 x 13 x 12.25
(86 x 33 x 31)
Browning Camping
Big Horn 8
---
Final thoughts, rating, pros & cons
In the summary of this Coleman Octagon 98 Full Fly Tent review, I would stress again that this is a nicely built tent. Its declared capacity is far from good, though you can fit 8 sleeping pads in such a space. But regardless of how many people you have there, you will have full protection from the elements.
In view of its mesh, it looks like a summer camping tent for a warmer environment, but the full coverage fly preserves the warmth and it might be performing well even in a cooler climate.
The tent has received very good reports from customers. See below how I rate it:
Coleman Waterproof Cotes Unisex Outdoor Octagon Tent
Comfort & features
9.2/10
Pros
Multiple zippers allow for great views.
2 Doors.
Full protection with the fly.
Reasonable price.
Cons
Not many pockets.
Complicated fly vents.
Too small for the declared capacity.
BEST PLACEs TO BUY:
If you need more options, check my separate list of Coleman 8 person cabin tents. You might want to know that they have a version with a half-length fly, the Coleman Octagon 98 8-Person Outdoor Tent with Half Fly.
If you prefer something simpler by structure, check this very lightweight Timber Ridge 8 Dome Tent with 2 rooms. You might want also to see this Ozark Trail 11 person instant hexagon tent.
Thank you for reading. In the case of questions or comments, please use the comment box below. Have a nice day.