---
Coleman Sunlodge 12-Person Camping Tent is a cabin-type freestanding 2-room tent with 2 doors and 8 windows, nicely ventilated, and easy to use.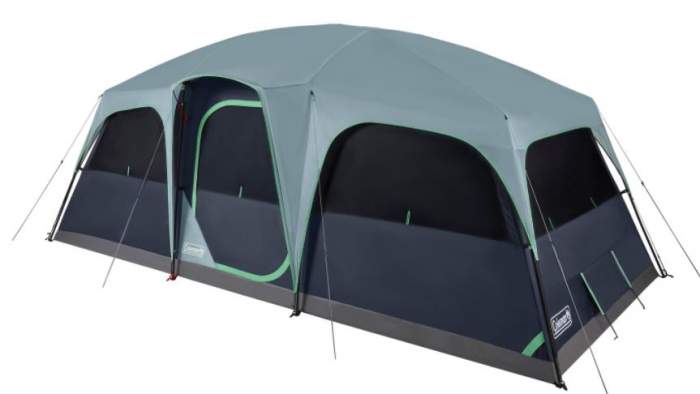 ---
Key features & benefits
2 Doors.
2 Rooms.
6+2 Windows.
Tall tent.
E-cable port.
Floor vents.
---
Overview
This Coleman Sunlodge 12-Person Camping Tent is the largest in the series they launched recently. This is a freestanding cabin style tent with a removable divider that can be attached at two different positions so that it creates two asymmetric rooms. See hoe it looks without the fly: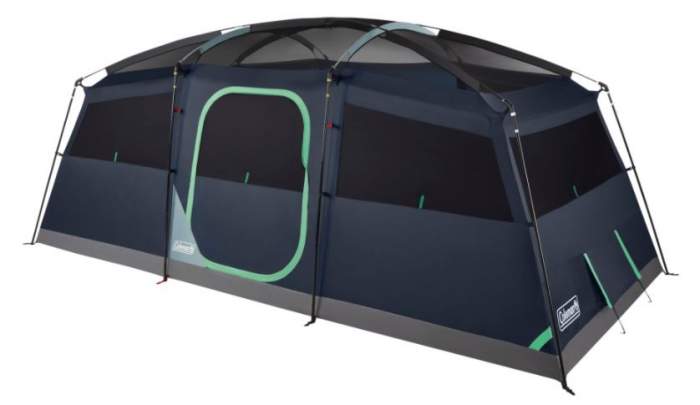 The tent is quite tall, you have an inner peak height of 6.6 ft (201 cm). There are two identical doors on its longer sides, one is visible in the picture above. They write about "large" awnings, but those are just small but useful brims supported by short poles that make a dry entry.
The walls are all in windows, so you have them 6 plus the 2 windows on the doors. All these openings are double-layer with mesh and with zippered inner shutters for privacy and protection. There are several storage pouches on the walls, and you also have an E-cable port available, see the pictures.
This is a collapsible structure and its all elements are shown in the picture below. There are many of them, but the setup is easy, you will see this in the video below.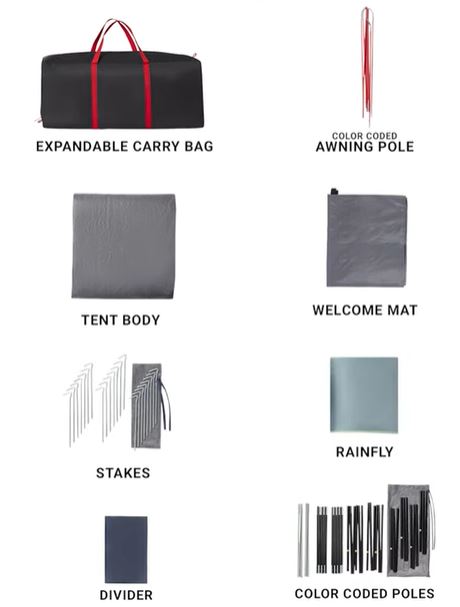 Materials
They do not provide much information and this is very disappointing. But they use their standard WeatherTec system with welded corners and inverted seams. The fabric is most likely polyester and the floor is the usual polyethylene and it is bathtub style.
Note that the fly attaches to the bases of the leg poles. This is why the tent is fully freestanding and you can rotate it and move a bit even when the fly is on.
The frame includes steel leg poles and fiberglass roof poles. This is all color-coded for easy setup. But plan at least 15-20 minutes for the job. There are 4 roof poles, two long and two shorter, and 8 leg poles. They attach to the tent's base with what they call fast-fit attachment system, you will see this in the video below, and on the roof you have long sleeves. Elbow plastic connectors are in place to attach roof poles to the legs, see the picture: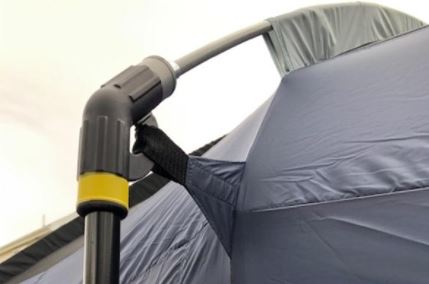 With such construction it is always best to start with the roof poles, and then add leg poles one by one. It is easier to do this with somebody, but one person can do the job.
Ventilation
With so much mesh on the windows and the ceiling that is all mesh, you have plenty of air circulation. The fly covers the ceiling only so vapor can easily escape. The mentioned brims play a role here because they lift the fly above the doors and they act like vents.
But they have added two large floor vents on the narrow sides of the tent. This is useful when it is raining and you have to keep the windows closed. So there is not much one could object to this design.
Please see how to set this tent up:
---
Who is this tent for
Capacity-wise, the tent is large, it offers an area of 166 ft² (15.4 m²). But the official capacity is 12 people, and this only means that you can place 12 sleeping pads on the floor. In the case of 12 users you would have only 1.28 m² per person.
So for real camping, I see it best suited for up to 6 people. It is large enough to place 3 queen size beds inside. 
Regarding seasons & climate, they write that it can withstand winds of up tp 35 mph, but I would not go to windy places with such a boxy and tall tent that has such a partial coverage fly.
This is a summer camping tent for quiet weather without much rain and wind. You have plenty of mesh on the ceiling and its numerous windows, plus the floor vents. So the tent is perfect for the warmer part of the year, for summer, late spring and early autumn.
This is a family camping tent, the weight and packed size are such that it is for places with car access.
---
Specifications
Official capacity: 12 people.
Dimensions: 19 x 8.75 ft (579 x 267 cm).
Area: 166 ft² (15.4 m²).
Peak height: 6.6 ft (201 cm).
Warranty: 1-year limited warranty.
Made in Bangladesh.
---
Final thoughts, rating, pros & cons
So this Coleman Sunlodge 12-Person Camping Tent is very tall, large, functional, and pleasant with its 8 windows. It is easy to use in spite of its size. The price is appropriate for what you get. I have added it to my list of best 12 person camping tents.
Please see how I rate this tent against my standard rating criteria:
BEST PLACE TO BUY:
If you need more options, check under the category Tents for 11 People Plus, you will find them many and in all shapes. You might want to see also their Coleman Camping Tent Skylodge 12 Person which is with an almost the same floor area.
Subscribe to my weekly newsletter, there is a subscription form below. Bookmark this site and stay informed, I am adding texts here on a regular basis. Thank you for reading and have a nice day.