---
Here you have my collection of the best 12 person camping tents that are available on the market in 2018. The list includes various types like instant tents, dark rest, cabin style, etc.

---
What you have here
All the tents included in the list are 12-person tents by the declared capacity. But as I wrote in my text about tent capacity, the declared capacity is usually not realistic. Some manufacturers determine it by the number of sleeping pads they can put on the floor.
But there are some great opposite examples, where the actual capacity may far exceed the declared one. This is typically the case with tunnel tents from some European brands. Those have a huge living room plus sleeping sections, and the capacity is only measured by the number of pads you can put on the floor in the sleeping rooms. So in some cases, you could have two times more people sleeping in such a tent than what the declared capacity tells you.
Unfortunately, I have not found such examples in this 12-person size group. These are 12-person camping tents but realistically you should plan just a half of this number if you are going to use such tents for real camping.
On the other hand, you should also consider all larger tents, they are in the group 11-people plus here in the site. So you have tents for 15 people, 16 people, and more.
Regarding the types and style, here in the list you have at least one representative of the following types:
Cabin style tents.
Extended dome type.
Dark rest type.
Instant setup tents.
Double-layer full coverage fly type.
---
My list – 12 person tents for camping
Here they are ordered by the area from smaller to larger:
---
1. Newdora 12 People Straight Wall Cabin Tent
This is a beautifully designed tent and there are reasons for having it in the list here. But its floor area is far too small for the declared capacity, it offers only 13.2 m². Though the tent is with 3 rooms, and one of them is a very pleasant sitting screened area with no less than 3 entry doors.
I was very critical about the description which they provide but the tent has some great features. It is very tall, 203 cm (80 in) peak height, and it is freestanding cabin style structure. It allows for an awning creation with one of its doors.
The packed size is impressive, only 20.4 x 7.8 inches (52 x 20 cm). The fly is a partial coverage type, so this is a summer camping tent for very mild weather conditions. Please check the link for more.

---
2. Eureka Copper Canyon 12 Tent
This is the largest tent from a famous series from Eureka. So as you realize from the picture, this is a very typical cabin style tent and it is freestanding. The area is organized into 2 rooms and you have 2 entry doors plus 6 large windows. It comes with 2 gear lofts and it is also with an electric cable port. This is a very tall tent with 7 ft (213 cm) height at the peak.
From all this, you realize that this is a very pleasant summer camping tent. The floor area is 168 ft² (15.6 m²), so this is rather tight for the declared 12 people capacity. The waterproof rating is 1200 mm, this is quite enough for summer camping. The vertical poles are steel and the roof poles are fiberglass. Setting this tent is easy in spite of its huge structure. Please see more in my review.

---
3. Core 12 Person Instant Cabin Tent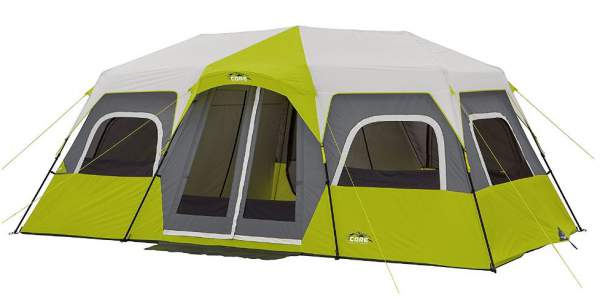 You see already from the name what this is about. This nicely designed cabin tent is with an instant setup, so you can have it ready in under 2 minutes. This is a 3 room structure for 12 people. You have 2 entry doors with windows plus 7 separate windows. So more pleasant it can hardly be.
The tent offers 180 square feet (16.7 m²), and they claim it is big enough for 3 queen size beds. It is well ventilated and you have 2 large vents plus lots of mesh on the ceiling. This is also a freestanding structure, but it is so big so stake it down properly, you have stakes included.
The waterproof rating is almost like an umbrella, 600 mm only, and in view of its minimal fly this tent is best suited for warm and mild summer camping areas without rain and strong winds.

---
4. Ozark Trail 20 x 10 Dark Rest Instant Cabin Tent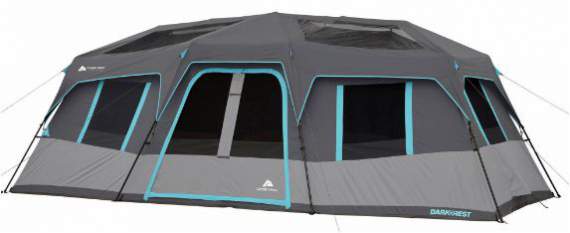 This is an exceptional design and a tent with many great features. First what you might want to know is its instant setup. Such a giant you can make ready in under two minutes.
This is also a tent with the dark rest technology so glare is strongly reduced. This is achieved through very dark materials used in the construction. The ceiling is with mesh and dark panels with zippers, so you can regulate the daylight as you wish.
You have 3 rooms here, the tent is a cabin style so it is very pleasant and livable. There is an electric cable port for power supply, and you have two double entry doors. The area is 200 ft² (18.6 m²) and the peak height is 80 inches (203 cm). Please read more in my full review.

---
5. NTK Super Arizona GT Tent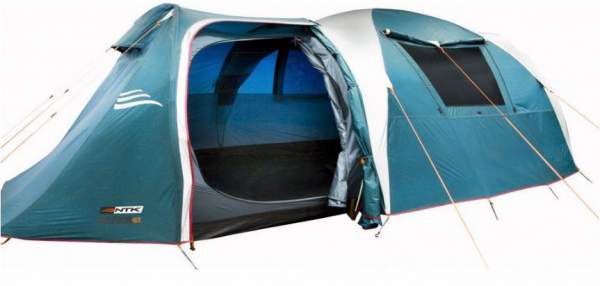 This is an unusual structure with 2 rooms. Ther tent offers 210 ft² (19.5 m²) of the floor area. This is a two-layer structure with the inner tent and a full coverage fly, so this makes it rather unique among the tents of this type. Note that you have 2500 mm waterproof rating for the fly, and the floor is a waterproof polyethylene, so you definitely have a full weather protection with such a tent. This is a 3-season camping tent.
The poles are fiberglass and this is not its best feature. There are two entry doors and they are with mesh for ventilation. The tent allows for an awning configuration. In view of all these features, it is no surprise that it is so highly rated on Amazon with the average rating 4.7/5. Please see more in my full review.

---
Final thoughts
Thank you for reading. Do you have some experience with these large tents? If so, please let us know, there is a comment box below. Have a nice day.
---