This Ozark Trail 12 Person Instant Cabin 16 x 16 3-Room Tent is an impressive 3-room structure with steel poles, 7 windows and 2 doors, suitable for warm weather family camping.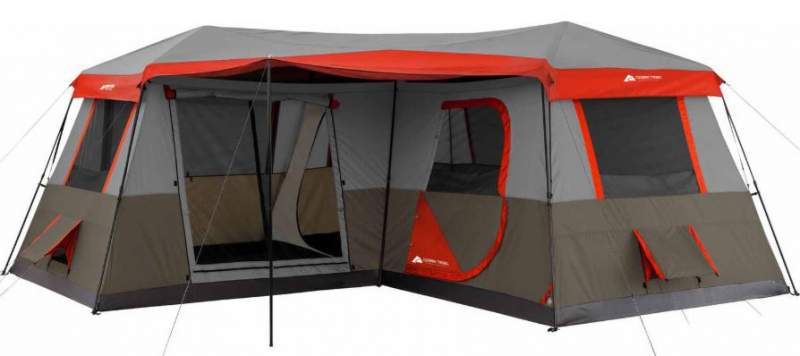 ---
Key features & benefits
Instant setup.
3 Rooms.
2 Doors.
7 Windows.
2 Vents.
Awning.
E-cable port.
Sewn-in dividers.
Wheeled carry bag.
---
Where to buy
This tent is available on Amazon. They operate globally so follow the link and check shipping conditions for your location.
You can find it also at Walmart.
---
What type of tent is this

Here you have a huge L-shaped structure which needs 16 x 16 feet ground area to set it up. This explains the numbers in its name. This is a cabin-style tent with steep and straight walls and with a partial coverage fly.
The structure is freestanding, but you should always stake it down properly and put your mind at rest. Stakes and guylines are included in the package.
Instant design: So this is an instant setup, and two people can raise this tent in 2 minutes only. Sounds incredible for such a large structure, but this is because the frame is preattached to the tent. I have included it in my list of best instant camping tents. The pictures below describe the most important steps. As you see, you unfold it and then extend its telescopic poles.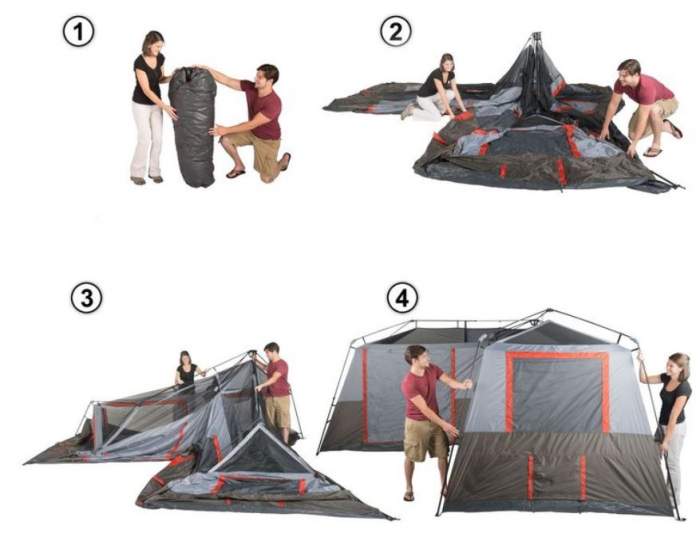 Rooms: The tent is with 3 real rooms here, and by this I mean that you have sewn-in dividers, see the picture below. There are two external doors 68 inches (173 cm) high, and two inner doors. One of the external doors is inverted-T shaped and all other doors are huge D-shaped constructions. So all the rooms are interconnected but you can close all the doors for privacy, you have panels everywhere. I have included this tent in my list of best 3-room tents.
There are 7 windows in total and they all are the double-layer type with mesh and panels. The picture below shows how it looks inside: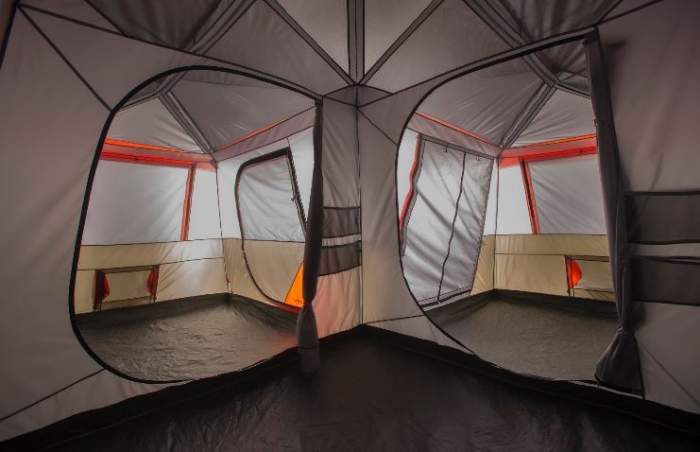 Awning/porch: Remember what I mentioned about its shape? So 3/4 of those 16 x 16 feet are the floored tent, but 1/4 is outside under the awning/porch shown below. This is a great addition, it extends the useful space and you have a place to sit in the shade. This area is also at least partly protected from the rain.
Note that this awning/porch is a natural part of the rain fly so you cannot detach it. The pole which you see used for the awning is included in the package. Because of all this, I have included it in my list of best cabin tents with a porch.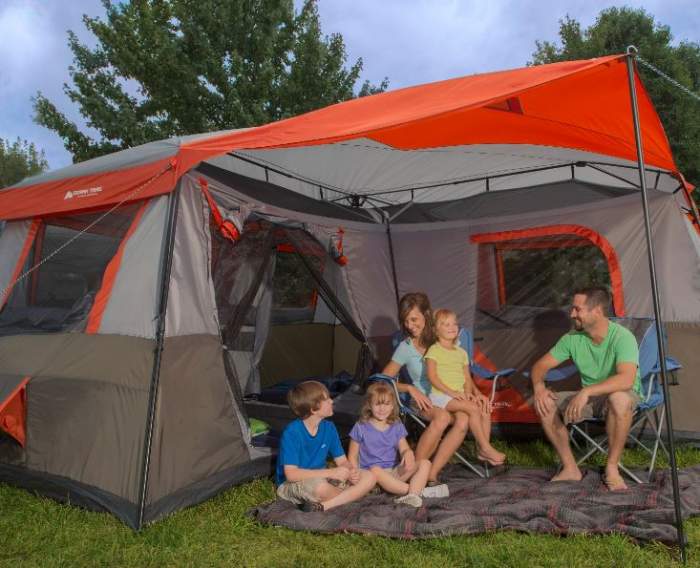 ---
Who is it for
Capacity-wise, the number 12 in the name describes the declared capacity, and the total floored area is 192 ft² (17.8 m²). The floor picture shown above suggests that the 3 rooms are big enough to accommodate 4 people each. Now, the rooms are 8 x 8 feet (244 x 244 cm) each, so indeed it is possible to put 4 sleeping pads on the floor. This makes the declared capacity justified.
This declared capacity cannot work for family camping, but this holds for practically all the tents of this type and size on the market. So I have included this tent in my list with best 12-person tents for camping.
Note also that each of the rooms is large enough to have a queen size bed inside. So the tent may be useful for 3 couples, but the corner room is without its own door. In any case, this tent can indeed accommodate many people. You can have a large family here with parents and 5-6 kids. The picture below shows that it offers the best possible privacy.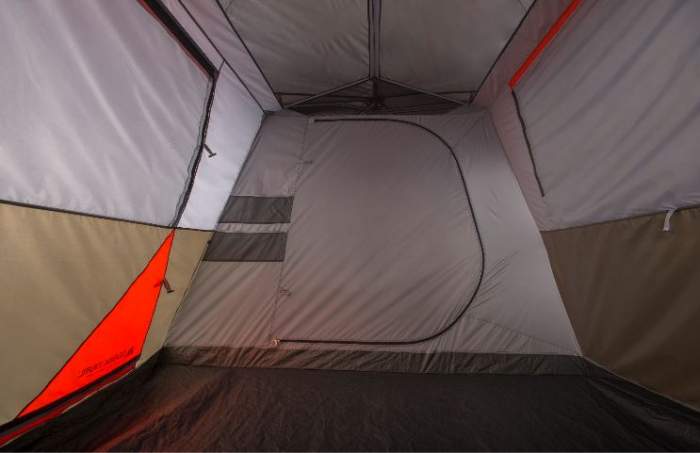 Seasons-wise & climate-wise, this is a tent for warm weather camping, say for 2 seasons maximum, summer, late spring, and early autumn. The ceiling is all mesh which is great for ventilation but not for a cooler environment.
Note also that it comes with two large floor vents, see the pictures below. The vents are with mesh, so you are fully protected from insects and snakes.
The picture above shows how you can attach a cooling system. But you will be cooling the Universe from your pocket, see the ceiling to realize why: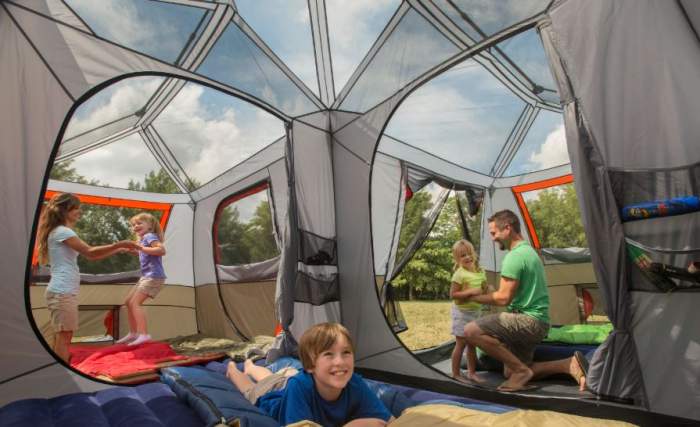 Weight-wise, this is a heavy construction with its 61 lb (28 kg). But no worry, the carry bag shown below is with wheels. Note that the packed size is not so great, it is long, see the picture below. So all in all, this is a tent for places with a car access.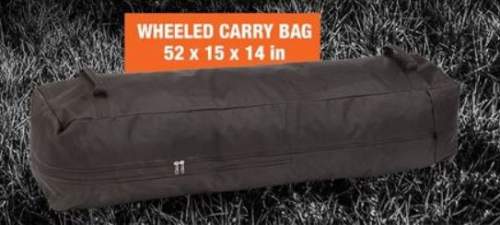 ---
Materials
The poles
All the poles here are steel, so this is partly behind the mentioned weight of the tent. This is a strong and reliable construction. The poles are telescopic. So when you extend them you will hear a click which will signal that the desired length of the pole is achieved.

The fabric
The floor is a 1000D thick polyethylene with a bathtub design and it goes 6 inches on the sides above the ground. This is a welded construction, so completely reliable and waterproof.
The fly is a durable 68D polyester with PU coating which gives it 600 mm waterproof rating. Note that the fly attaches to the main legs poles somewhere in the middle. My understanding is that the same material is used for the walls. All the seams are taped. The mesh areas are not rated as no-see-um type.
Note also that the fabric used here meets the flammability requirements of CPAI-84.
Ventilation
There is nothing one could object regarding the ventilation. I already mentioned numerous windows with mesh, plus the huge ceiling with mesh, plus two vents. So here just to add that those floor vents are 18 x 18 inches (46 x 46 cm) large, and they are 9 inches (23 cm) off the ground.
Other features
You have an electric cord port shown below.
There are several storage pouches on the walls, on each of the three inner dividers, see the picture below.
25 Steel stakes are included in the package.
I believe this video will be useful to get some idea about this large tent:
---
Specifications
Declared capacity: 12 people.
Weight: 61 lb (28 kg).
Dimensions: 16 x 16 ft (488 x 488 cm).
Area: 192 ft² (17.8 m²).
Area per person: 16 ft² (1.48 m²).
Peak height: 82 in (208 cm).
Packed size: 52 x 15 x 14 in (132 x 38 x 36 cm).
---
Ozark Trail 12 Person Instant Cabin 16×16 Tent vs Core Lighted 12 & Eureka Copper Canyon 12
I have decided to show you how this Ozark Trail tent stands when compared with two quite famous 12-person tents from some other brands. this may help in making an informed decision.
So as you see, the Eureka Copper Canyon 12 is lighter but it is smaller and it offers fewer features, and it is not an instant tent. On the other hand, the Core Lighted 12 tent is an instant type, but a bit smaller and lower. Both of them are considerably more expensive than the Ozark Trail tent.
Ozark Trail
12 Person 16x16
Core Lighted
Instant Cabin 12
---
Final thoughts, my rating, pros & cons
So you have seen it, and you realize why it is easy to get impressed with this Ozark Trail 12 Person Instant Cabin 16 x 16 3-Room Tent. It is very functional and this is probably the most important word which I can use to describe it. The three rooms, two doors, and the awning are the most important components of this functionality. Observe also its fully sewn-in dividers, not many tents offers such a great privacy.
Make sure you use this tent in a proper environment, avoid windy areas and a climate with lots of rain, and you will enjoy camping with this tent. With such limitations, I can fully recommend it.
Please see how I rate this tent against my standard set of criteria used consistently so you can easily compare various tents here in the site.
Ozark Trail 16x16-Feet 12-Person 3 Room Instant Cabin Tent with Pre-Attached Poles
You might want to check also their another tent with the same declared capacity, the Ozark Trail 12-Person Cabin Tent with Screen Porch.
Note that this is not a sponsored text, and I am not paid by the manufacturer. Please use the comment box below in the case of questions or comments. I wish you a nice day.
---