The Coleman Tent Meadowood Air 4 Person is a large 3-room and 3-season tent with dark rest design that block 99% of the sunlight, with inflatable beams, and a huge waterproof rating.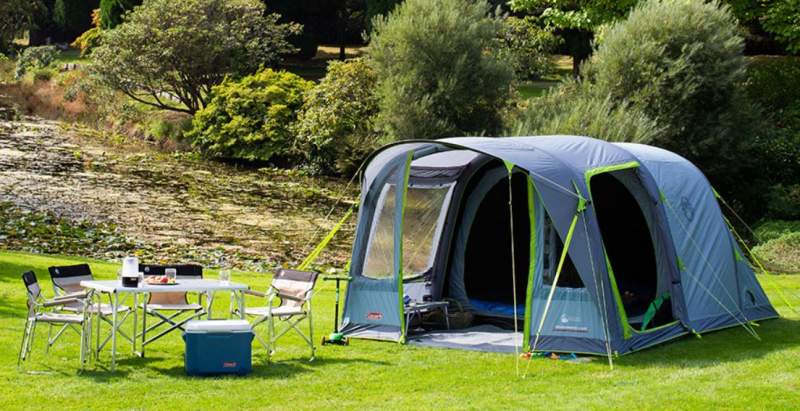 ---
Key features & benefits
Tunnel-type tent.
Air beam technology.
3 Rooms.
Blackout bedrooms.
2 Doors.
Solid windows.
Huge waterproof rating.
Tall tent.
E-cable ports.
---
Overview
This feature-rich Meadowood 4 Air tent is a tunnel-type construction supported by 3 inflatable beams instead of classic poles. So this is a sort of fast pitch system but different from the system of the same name that they use in some other tents with classic poles. The position of the air beams is shown in the picture below (the red tubes).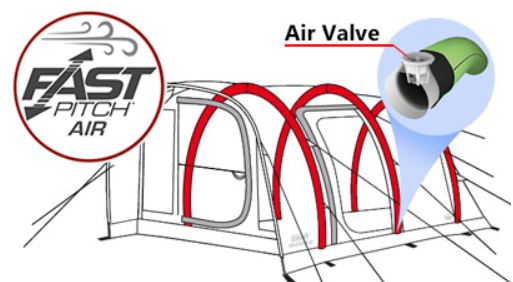 Note that they also have a version with classic poles on the EU market, so do not get confused. They share more or less the same features except for the support poles.
The tent is a 3-room structure. There is an inner tent within the shell tent, the schematic shape and the most important dimensions are given below. The inner tent is with a removable divider, so you can use it with or without it and have 3 or 2 rooms in total.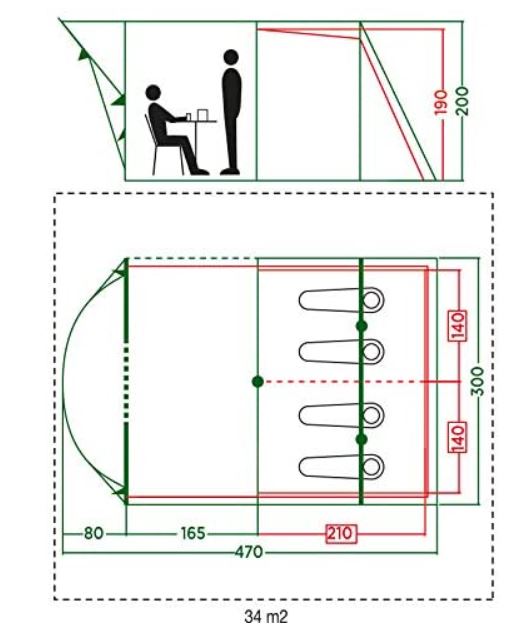 You can also remove the inner tent completely and have one large room under the shell. But this would be pity because the inner sleeping rooms are built of a dark material. This is what they call the BlackOut Bedroom technology that blocks up to 99% of daylight.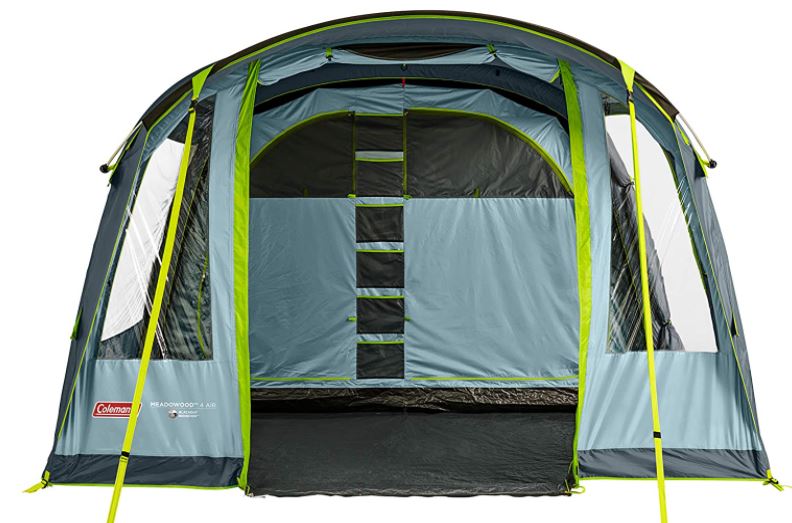 Coleman is well-known for its black rest design. With such dark inner, you and your family get a longer, more restful sleep no matter when you choose to go to bed or get up in the morning. This is why I have included this tent in my list of best dark rest tents.
There are 2 huge full-height doors, see the picture below, plus 3 separate solid windows. The windows are with shutters from inside for privacy and to reduce glare.
The tent is not freestanding, so it is necessary to stake it down first before inflating the beams. Note also that it is very tall, you have stand-up height almost everywhere, the peak height is 78.74 inches (200 cm).
Observe the drop-down floor design on the front door. This barrier free access ensures easy movement in and out of the tent and this is suitable for people with wheelchairs as well.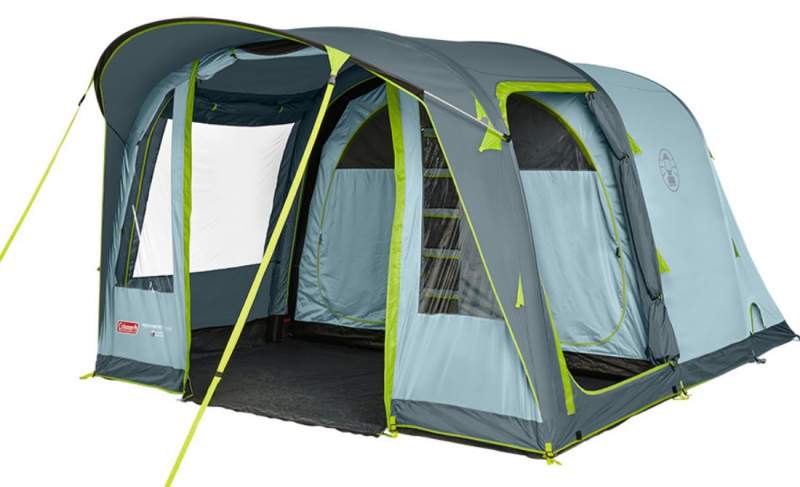 Materials
The poles: You have only one solid shock-corded fiberglass piece that creates a small brim above the front door.
The fabric: The shell is a durable 75D polyester with a huge hydrostatic head of 4000 mm due to is PU coating. All seams are taped. On the ground you have a tough and fully waterproof polyethylene that is bathtub style. Note that the inner tent has yet another sealed floor on top of the shell floor.
They write that the flysheet is treated with Coleman's UVGuard providing SPF 50 protection from the sun's rays, and that the fabric is fire-retardant. Other features include the following:
The tent has plenty of wall pouches to store your small items, they are in between the inner doors, see the picture below.
There are also a couple of e-cable ports.
You also have a lantern loop in the living room.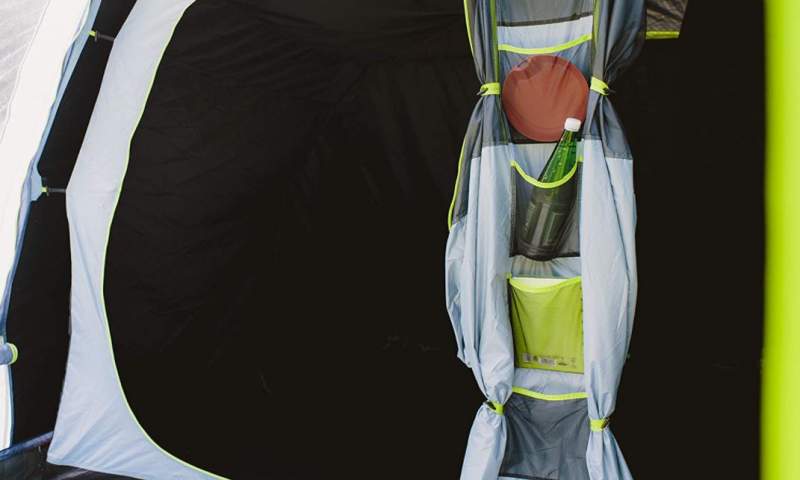 Ventilation
The inner tent is separated from the shell, so there is a wide gap for air flow to fight condensation. Its material is breathable, and the inner doors have mesh sections in the upper parts.
They have also added vents, you have one large above the window, and one rear went behind the sleeping area.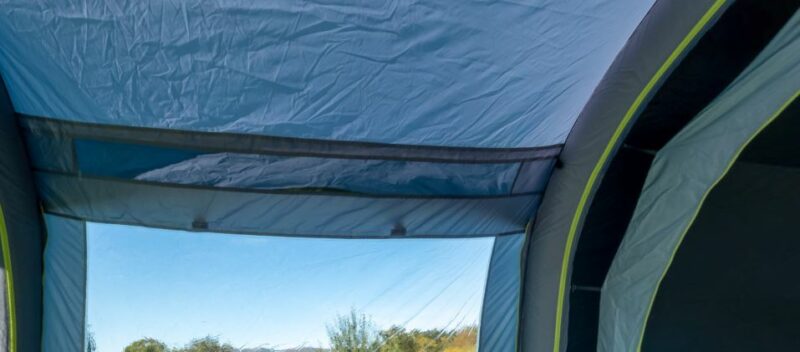 The video below shows how to pitch this tent, please have a look:
A few more details can be seen in this short video:
---
Who is this Coleman Aspen 6L Tent for
Regarding the area, the tent offers 118 ft² (11 m²) of the floored area. The inner sleeping rooms have 5.9 m² and the front living room 5.1 m². This is the same area as in their Coleman Spruce Falls 4 Person Family Tent that is also dark-rest type, but it is an extended dome. Also, this inner area is the same as in the Eurohike Genus 400 Air Tent.
So if necessary, the tent can accommodate at least two people more, and this is why I have included it here in the site. I see it best suited for parents with two kids, or for two couples.
Regarding seasons & climate, the tent has enough of ventilation options, but this is a rather enclosed design with solid windows. It is built for the EU market, and I see it best suited for a cooler climate. The waterproof rating is such that you will always be protected.
The inflatable beams can never break, so they will work well in windy places. They bend under wind pressure but they bounce back instantly.
Regarding the weight, the tent is heavy with its 43 lb (19.5 kg), bear the weight in mind. The packed size is 29.5 x 20.9 x 15 inches (78 x 53 x 38 cm), so the tent is for a car camping only.
Regarding the price, the tent is far more affordable on the EU market. The link below shows its daily updated Amazon-US price.
---
Specifications
Weight: 43 lb (19.5 kg).
Official capacity: 4 people.
Dimensions: 12.3 x 9.84 ft (375 x 300 cm).
Inner area: 118 ft² (11 m²).
Inner area per person: 29.5 ft² (2.75 m²).
Peak height: 78.74 in (200 cm).
Packed size: 29.5 x 20.9 x 15 in (78 x 53 x 38 cm).
---
Final thoughts, rating, pros & cons
So this Coleman Tent Meadowood Air 4 Person is indeed nicely built and with quite a number of useful features, to mention its dark rest design as one of them.
But you also have an advanced air beam technology, so if you do not want to deal with classic solid poles, you have a suitable tent here. The waterproof rating is impressive and in this tent you have full protection from the elements. I have included it in my list of best family camping tents for 4 people. Fully recommended.
Below you can see how this tent stands against my standard rating criteria. The same criteria are used for all the tents here in the site so that you can easily compare:
BEST PLACE TO BUY:
If you need more options from air beam tents, please check in the group Inflatable Tents. For such or similar blackout design see more in the group Dark Rest Tents. But if you want a classic tent and larger, check this Coleman Aspen 6L Tent from the same brand.
Bookmark this site and visit it again, this will keep you informed, I add texts here regularly. Thank you for reading.