Coleman Waterfall 5 Deluxe Tent is a beautiful 3-room extended dome structure for 3-season camping with darkened bedrooms, a huge waterproof rating, and a great price.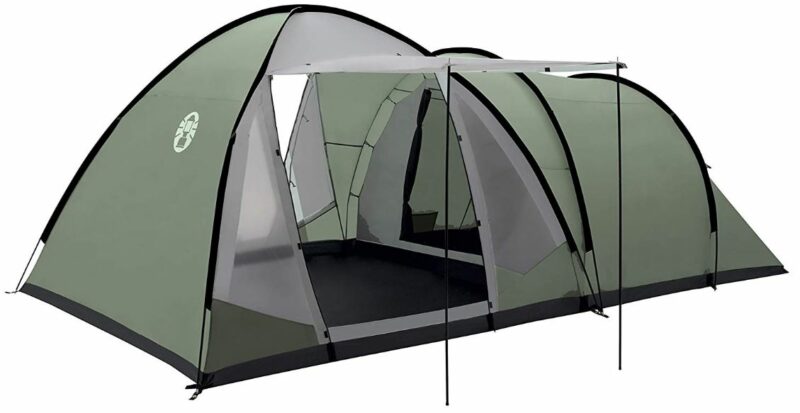 ---
Key features & benefits
Extended dome tent.
3 Rooms.
E-cable port.
Stand-up height.
Darkened bedrooms.
Huge waterproof rating.
Awning setup.
Solid windows.
Great price.
---
What is in the name
This tent has been on the EU market for a number of years already, at least a decade or so, under the name Coleman Waterfall 5 Deluxe Tent and this is what I use in the title above. So there are many sellers on the EU market, but it has only recently appeared on Amazon-US under the name Coleman dome tent Waterfall 5 Tent.
This is an unusual design with the main part built as a typical dome-style tent, but it also has an extension supported by two loops that give it its tunnel shape. But all in all, I would describe it just as an extended-dome type tent, and it is categorized here in the site in the group of dome tents.
Regarding the walls, this is also a hybrid single/double-wall construction, and this means the following. You have a shell tent with its sewn-in and sealed floor, plus an inner tent that creates the sleeping area. The picture below shows this inner tent part, as you see it is attached to the shell, and once you attach it you do not have to remove it. But you can indeed remove it and use the shell tent alone as a single room tent.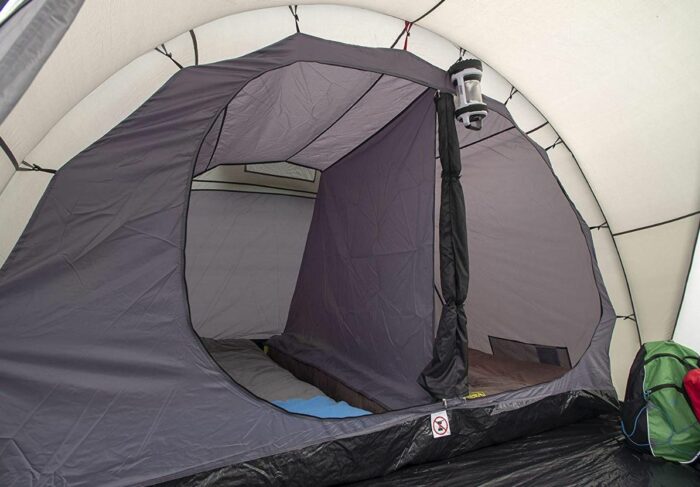 Observe that the inner tent has its own extra floor, so you have two floors in the sleeping rooms. This is the maximum protection you can expect from a tent.
So the tent is formally a 3-room by structure, and you have the living area that is a single-wall part, and the inner tent within the shell tent that has a removable divider so you have two sleeping rooms. The picture below shows the living area, view from the sleeping room, with both doors open: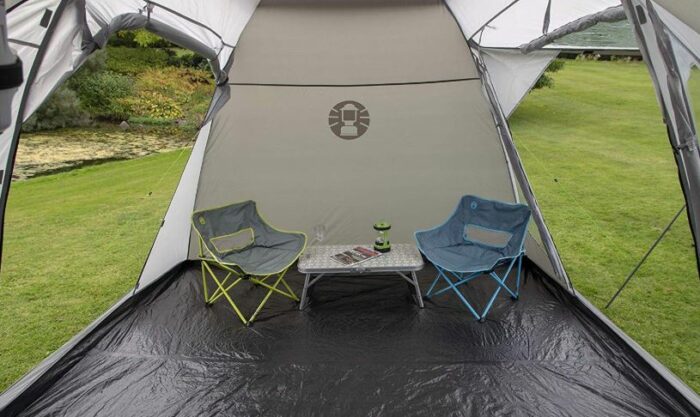 The floor plan shown below makes it clear what the tent offers. The living room is larger than the inner tent. As you realize, the peak height in the living area is impressive. In view of these features, I have included it in my list of best 3-room tents.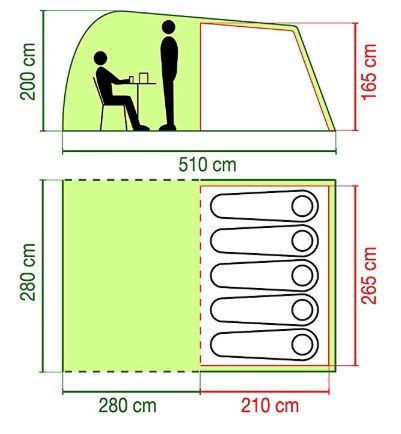 The tent has two huge doors with solid windows, plus several solid windows on the sides, see the picture below. Note that all these solid PVC windows have shutters for privacy and to reduce glare. There are also two huge inner doors, both full 2-layer structures with mesh for ventilation plus zippered panels for privacy.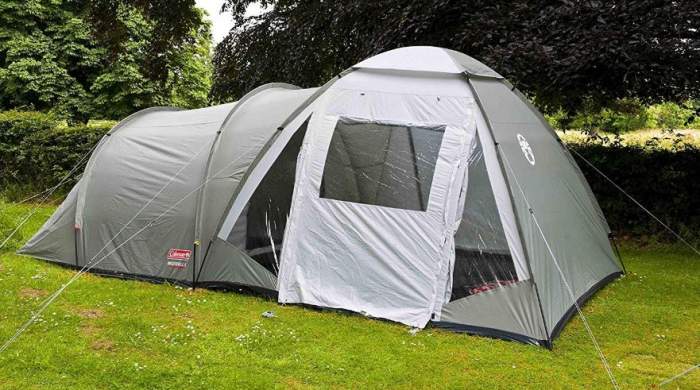 Ventilation
There is a roof vent on the back of the tent (see the picture below), and as mentioned above, the inner doors have full-height mesh. So this all looks great, but I miss seeing some floor vents in the living room. Pity they did not include them here.
Yet another thing missing here is the mesh on the outer doors for ventilation and for protection from insects. So make sure that you keep the inner tent with mesh on the door all the time to avoid insects inside. The picture above shows the inner area in one of its rooms.

---
Who is it for
Regarding the space, the tent is declared as a 5-person tent. For this you have around 144 ft² (13.4 m²), and this means 28.8 m² (2.67 m²). From the floor plan given above it is obvious that this tent can easily accommodate 3-5 more people if necessary. So what you have here is a very generous space for 5 users, I would say a true luxury. So the declared capacity is more than realistic and I have included it in my list of best 5 person tents.
Regarding seasons & climate, this tent is originally built for the European market and it has all the features that such tents have. This implies solid windows, huge waterproof rating, huge space, sealed floors.
So this is a true 3-season tent designed to protect you in any weather conditions. But note that the poles are fiberglass and the tent is very tall. On the other hand, the overall structure is such that I see it best suited for a cooler climate.
Regarding the weight & packed size, with 28.2 lb (12.8 kg) and the packed dimensions 28 x 10.2 x 10.2 inches (71 x 26 x 26 cm) this is a tent for places with a car access. It may look heavy and bulky, but you have seen what it offers, this is an impressive structure.
Please see more in this video:
---
Materials
The poles
You have 4 fiberglass loop poles with 11 mm diameter, so this is partly behind its incredibly great price, plus a set of two steel awning poles. The poles attach to the tent through long sleeves, and through grommets at the base.
The fabric
The shell is a polyester and the waterproof rating appears to be a bit unclear, at one place they write 1500-3000 mm, and on the other place you can see 3000 mm. I have found also 2000 mm on the Coleman-EU site, yet in the same place there is also the number 3000 mm. So this is quite a mess. The inner tent is a breathable polyester and a no-see-um mesh.
But the floor is a very durable polyethylene with welded seems and you have it in two layers in the sleeping rooms, so from this side you are surely protected.
The fabric is fire-retardant, and you have what they call WeatherTec technology which they use in practically all of their tents currently on the market.
Note that there are also wall pockets in the sleeping rooms to keep small items off the ground, one set is shown below.
A zippered E-cable port is also available, the picture below.
---
Specifications
Declared capacity: 5 people.
Weight: 28.2 lb (12.8 kg).
Dimensions: 200.8 x 110.2 in (510 x 280 cm).
Area: 144 ft² (13.4 m²).
Area per person: 28.8 ft² (2.67 m²).
Peak height: 78.7 in (200 cm).
Packed size: 28 x 10.2 x 10.2 in (71 x 26 x 26 cm).
Poles: fiberglass & steel.
---
Final thoughts, rating, pros & cons
So to summarize this Coleman Waterfall 5 Deluxe Tent review by stressing again that this is a tent that has been on the EU market for a decade or so, and everything is known about it. It has been tried and tested by many users.
The structure is quite impressive and the area per person is more than generous, it can definitely accommodate more than 5 people. In view of its all features, the price is a real bargain.
Please see how I rate this tent. The same criteria are used for all the tents here in the site for easy comparison:
For more options in this size range, please check under the category Tents for 5-6 people, or in the category Dome tents if you want something in the same style. Check also these nicely designed tents from the same brand, the Coleman Cabin Camping Tent with Screen Room and the Coleman Coastline Deluxe Tent 4 Person.
Note that we add new texts on a regular basis, so bookmark this site and check occasionally. There is a subscription form below for our weekly newsletter, so subscribe and stay informed. Have a nice day.