---
This Core 6 Person Dome Tent Review is about a nicely built 3-season freestanding family camping tent with two windows and enough space for 6 people, and with a very affordable price.
Key features & benefits
Great price.
Very easy setup.
Great packed size.
Reasonable weight.
Good floor size.
Freestanding.
2 windows.
---
What type is it
The Core 6 Dome tent is a freestanding tent and this implies that you can pitch it anywhere, so you will not depend on the type of the ground when you choose your camping spot. But as usual with such tents, to make it completely functional and safe, it is best to stake it down if possible. The stakes and guylines are included.
The tent is a 3-season type in principle, but I would not take this literally; this is a summer-time tent. It has mesh in the upper section, and the fly is not a full-coverage type, so the structure does not keep the warmth, and it is not for very heavy rains.
Physically, this is a dome-style tent, so this has both good and less good sides. So, such tents are typically lightweight and this is the case here, they pack nicely, and they are stable with respect to the winds, not surprising because a dome is close to a perfect shape. But the dome profile also implies less volume as compared to cabin style tents, in other words, you have less headspace and shoulder space. It is a bit similar to this NTK Cherokee GT 5/6 Person Tent.

---
Who is it for
Formally, the tent is for 6 people. Its dimensions are 132 x 108 inches (335 x 274 cm), so this gives more than 1.5 m² per person, and this should be good enough. But you do not have a vestibule here, so the gear must stay inside, therefore I would scale it down to 4 users maximum.
The packed size is really good, 26 x 8 x 7.6 inches (66 x 20 x 19 cm), but this is still typical and you will see it in the comparison table below. In any case, it can be transported even on a bicycle or on a motorbike, so this determines the users of course.
The weight is 16 lb (7.26 kg), so this is reasonable for such a size, but you realize this is not a tent to carry around; so think about it as a camping too, at places where you can bring it by using any kind of transportation.
---
Materials and construction
The poles
Here you have shock-corded fiberglass poles, this material is less durable than aluminum and it needs a bit of care when you handle them and transport. Their segments are interconnected and you cannot lose them.
When you pass them through the sleeves and attach to the tents' corners, the poles create the standard X-shape structure which becomes self-supporting and freestanding, see the picture. So there is no hub element here, but this is typical for such family camping tents, you can see many of this type on this site.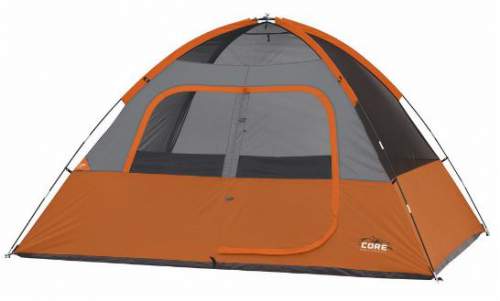 The fabric & waterproofness rating
The tent fly is double-coated 68 denier polyester. It is superior to nylon because it doesn't stretch and sag as much as nylon and it does not absorb water, but it is less abrasion resistant than nylon. The same material is in the lower section of the tent, except in the floor where you have polyethylene (PE) with 115 g/m. The upper section is completely a mesh. So all these materials are good and typical for such tents.
You have a 600 mm weather resistance rating here. This doesn't look much; just for comparison, an ordinary umbrella is 400 – 500 mm. But you might not need more, this is a summer tent, built for mild conditions and not for a very rainy environment. Seams are taped.
All materials meet the flammability requirements of CPAI-84.
Ventilation
The ventilation should be fine in this tent due to several reasons. There is a vent on the rear side, close to the floor, and it can be kept open at all times, even when it is raining. It is quite small, see the picture below, so it is a pity they did not make it bigger, and it is covered by a panel so to have it fully functional, it should be staked out.
On the other hand, the upper body of the tent is all mesh, so this combined with the vent will generate enough airflow. In addition, you have two windows on the front and they can be kept open at least partly even when it is raining, so all in all, you should not have issues with condensation.
Other features
The door is a D-shaped, double layer, with a mesh and waterproof panel, so you have a window on it. Next to it is yet another true window with the same structure, see the pictures.
Inside, you have a gear loft on the ceiling and a hook for a lantern, and a few mesh pockets. One more useful feature is the electricity port shown in the picture.
---
Specifications
Type: 3-season, freestanding.
Capacity: 6 people.
Weight: 16 lb (7.26 kg).
Dimensions: 11 x 9 ft (132 x 108 in; 335 x 274 cm).
Floor area: 99 ft² (9.18 m²).
Area per person: 16.5 ft² (1.53 m²).
Peak height: 72 in (183 cm).
Packed size: 26 x 8 x 7.6 in (66 x 20 x 19 cm).
Fits two queen air mattresses.
2 windows (one on the door).
1 door.
CORE H20 Block Technology.
Adjustable ground vent.
Gear loft with lantern hook and pockets.
Electrical cord access port.
Included: tent, poles, gear loft, rain fly, tent stakes, carry bag.
1-year limited warranty.
---
CORE 6 Person Dome Tent 11 x 9 vs competitors
In the table, I give the Core Dome 6 and two tents from other brands, all built in the same style. This may help in making an informed choice and to better understand the features of this tent. Please follow the links to see more.
---
Final thoughts, rating, pros & cons
I would summarize this Core 6 Person Dome Tent Review by stressing that I love the shape and the design of this tent. The two windows on the front give it a feeling of a home, and the fly is designed so that you can really enjoy the views and keep the windows open even when it is raining. The price is truly great, so if you do not want to spend much and need a summer type tent for occasional use, this is it.
The tent is with one door only, which is not the best feature for sure, and it is without vestibule, but this is its design so bear it in mind. In any case, you will have to keep all your stuff inside.
Note also the following:
This is the Amazon choice item (which means items suggested as highly-rated, well-priced, and with Prime shipping),
It is also the Amazon Prime item.
This tent has been on the market for years already and there are many reports and reviews by users, and ratings are very high. So all is known about this tent, and there may be no surprises. See below how I rate it:
CORE 6 Person Dome Tent 11' x9'
If you need something different in the same size range, or bigger, just look around, there are many family camping tents presented here on the site. In particular, check this incredible Big Agnes Flying Diamond 6 tent. Need a tent with integrated lighting? If so, please check this Big Agnes Titan 6 mtnGLO tent.
Thank you for reading. In the case of questions and comments, please use the comment box below. I wish you a nice day.