This Big Agnes Flying Diamond 6 Review is about the new version of the iconic tent, which is one of the best 6-person tents currently available on the market. This is a very reliable tent with many exceptional features.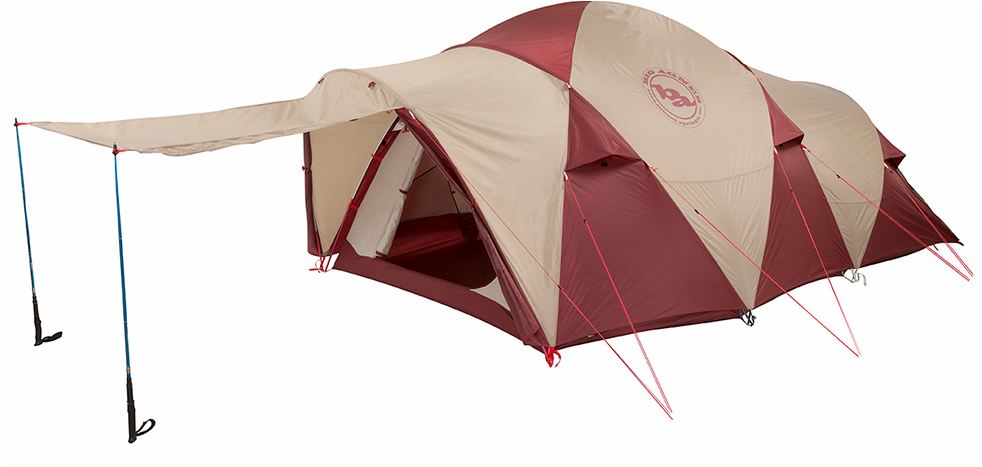 ---
Key features & benefits
Lots of space.
Unique design.
A totally reliable tent that offers full protection from elements.
Multiple configurations with the fly and with the front vestibule.
Strong and stable 3-season plus tent.
2 rooms.
Huge storage pockets, 16 in total. Can you believe it?
Very versatile tool.
---
What is new in the new model
So first to stress that this is a new version of the tent that has been around for a number of years already. I think the first version appeared at least 7 years ago. This is an improved tent, with many differences as compared with the previous model. Here to mention just a few:
The new version is with 2 vestibules.
The previous version was 202 inches (513 cm) long, while the new is 212 (538 cm).
The previous version was with a different width so the 4 users under the main dome were sleeping oriented along the main axis, and the other two perpendicular to it. In the new version, all users sleep parallel to each other, and this means perpendicular to the main axis, see the picture below.
The previous model was lighter, 19 lb 4 oz, as compared with 20 lb 6 oz in the new model.
---
What type of tent is this
Extended dome type
Well, this is a unique type, I would say the only of this kind. When you start setting it up, it looks like a dome tent with its two main long poles. But then when you add the two extra poles which cross those two main poles, it transforms into something that looks like a winter tent, see the picture.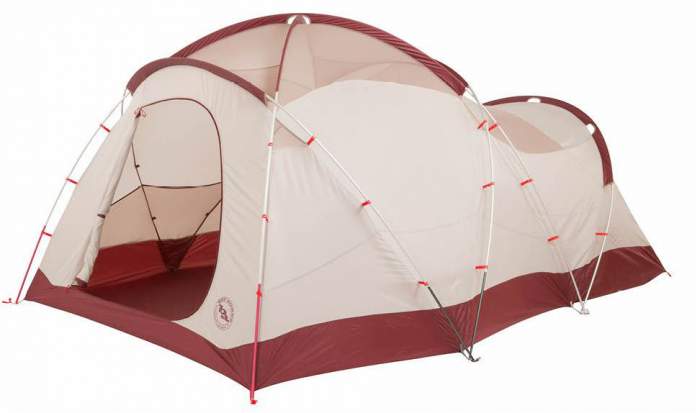 But then when you expand it on the front where you have a huge awning, and on the back which is quite different, and you add the two final poles, it looks like a tunnel tent.
All this aside, the Big Agnes Flying Diamond 6 is an extended dome-type tent, and it is not freestanding, you have to stake it down first to have it fully functional. In fact, the central dome is freestanding for itself, but this does not apply to the tent as a whole.
3-season plus type
The Big Agnes Flying Diamond 6 SP Tent is described as a 3-season plus tent, and there are several good reasons for that.
♦ First, as I mentioned above, the two main poles are crossed with another two poles so there are 4 intersection points. Such a structure is typical for winter tents – in principle the more intersections the better, and this is what makes it more stable against the wind.
But it is fair to say that this applies only to the central dome part, while the extended section with the small room is with a large span between the poles and you should not have any snow on such a structure.
♦ Second, the tent is a very long structure, no less than 212 inches (538 cm) yet it is relatively low, 67 inches (170 cm), so this makes it less an obstacle with respect to the wind. And by nature, its dome shape is also an ideal profile for the same reason.
♦ Third, you will realize from the pictures that it has less mesh on the ceiling as compared with the ordinary 3-season tents. Such a structure implies that warmth is better preserved, so it can be suitable for a cold environment.
♦ In addition to all this, it comes with a full-coverage fly which will keep the warmth in reasonably well. But no worry about ventilation, it is still very good here. The picture below shows how well the tent is covered and protected by its huge fly.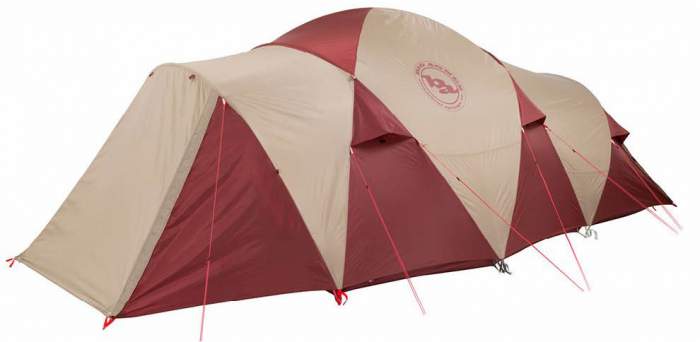 Camping tent
In the specifications, they give the packed weight which is 20 lb 6 oz (9.27 kg), and this is reasonable for such a construction, although clearly there are far lighter dome-type tents described here in the site, but this is a unique design.
Though they give also its trail weight which is 18 lb 11 oz (8.48 kg). But I do not see any purpose of this, such a tent is not designed to be carried in backpacks. So this is a camping tent and you will use it at any place where you have a car access.
Two-room tent
The tent comes with a removable divider that separates the main space under the dome and the smaller room behind. Note that each part has its own entrance.
---
Who is it for
With the floor area of 92 ft² (8.5 m²), this tent provides 1.42 m² per person. This may not look so much, but see this again from the following perspective: you also have 3 square meters of space under the two vestibules. This is an extra protected space for gear, and with this addition, you have 1.92 m² per person. So this is now very different and you have enough space for the declared 6 users.
So if this is about groups of friends, yes, this tent definitely provides enough space for 6 people, but downgrade it to 5. See the floor area below to realize how nicely designed this tent is.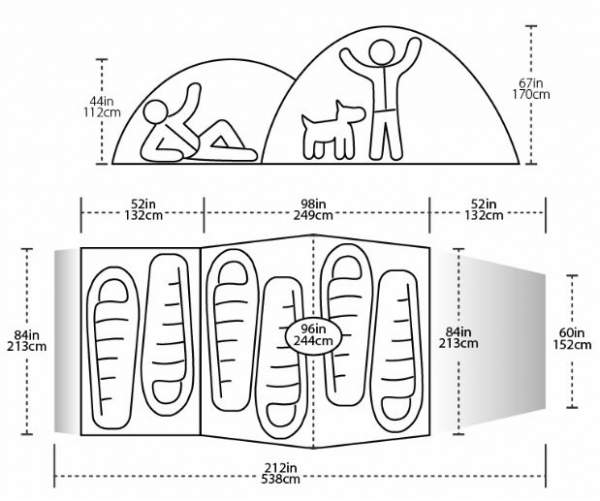 If used by families, downgrade it to parents with 2 kids and you will have a great camping tool. The small (and low room) on the back side, with its own entrance, is something your kids will love. From the picture above you can see that the peak height in the two areas is very different.
Versatile tent
This is a multipurpose tent in the true sense. I have seen the claims of it being used even in Everest basecamps. I do not know if this is true or not, but this is a camping tent and you can use it anywhere where it can be staked out.
---
Materials & construction
Poles
You have 6 DAC poles with press-fit connectors, note that DAC is the leading tent pole manufacturer, so these are quality products.
Fabric
The fly is polyester rip-stop and the floor is polyester. The tent body is breathable polyester and polyester mesh. So again you have a good material, but this is standard for such large tents.
Weather resistance
The rating for the fly and floor is 1500 mm, this is due to the waterproof polyurethane coating. So this does not look much, but you do not need more. Even the true winter tents are frequently with such a rating.
It's is equally important that all seams are taped with waterproof, solvent-free polyurethane tape (no PVC or VOC's).
You have numerous guylines on the fly and you will notice that they are attached very high, and this is a preferable design for strong winds.
So, I am completely confident that this full-coverage fly will protect you completely regardless of the weather conditions in a 3-season use, and a bit more than that.
Inner structure
The tent is a like a tunnel, see the picture below, so if this is about a group sleeping on the floor, organizing the space is easy; all users will sleep parallel to each other, nothing to guess. The doors on the opposite sides will make life easier if Nature calls during the night.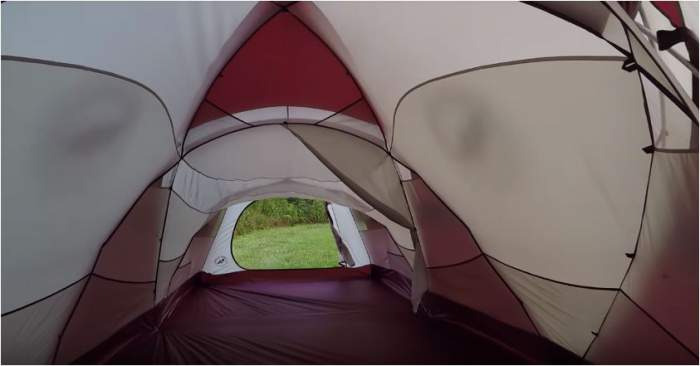 Huge pockets
I have never seen a tent with so many and so huge pockets. You have them 16 in total, all along the walls, simply unbelievable, you can see some in the pictures above and below.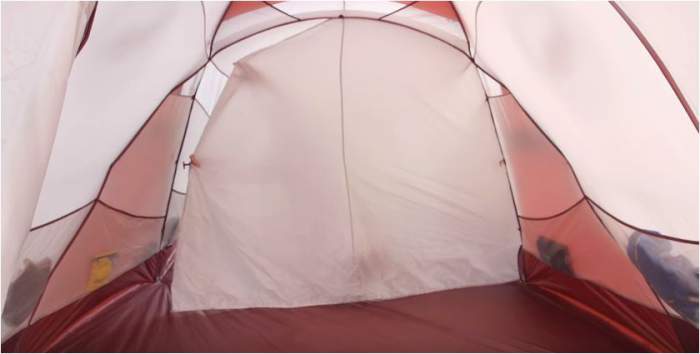 The carry bag
The carry bag is a piece of art for me. You have separate compartments for the tent body and for the fly, the poles are also in a separate pocket, and the stakes are in a separate mesh pocket. So you fold it and carry over the shoulder by using the two straps.
---
Ventilation & condensation
The tent has less mesh than you would expect from a camping tent. But this is all but ordinary camping tent; in fact, this is a tool you could use in any basecamp for mountaineers as well as a standard camping tent. But ventilation should never be an issue here because of the following:
It sounds incredible, but you have 6 vents on the fly. Yes, you are reading correctly, there are 3 on each side, you can see 3 of them in the pictures.
There are mesh sections on the ceiling.
The tent has a tunnel profile, so the air will flow from both sides.
The doors on both sides are with a double structure, with the mesh and waterproof panels. So you can keep them half-open.
The vestibules with various configurations allow for keeping the doors open even when it is raining.
The vestibules and the awning configuration allow for cooking outside, so with this, you reduce the possibilities for condensation.
---
Setup
There are 3 different colors on the poles and this matches the colors on the sleeves and on the webbing. So this makes the setup easier than you would expect.
You start by spreading the tent and staking it to the ground. Then you build the main dome, with the longest poles first and then with the other two cross poles. Finally, you add the 5th pole which supports the ceiling of the small room.
You have color-coding on the fly as well, so follow the colors. Stake it down and then add the 6th pole on the main vestibule.
Note that the main vestibule can be used in several ways. You have already seen the awning shown above. But you can roll it up and keep only the windbreaker walls on the side, see the picture.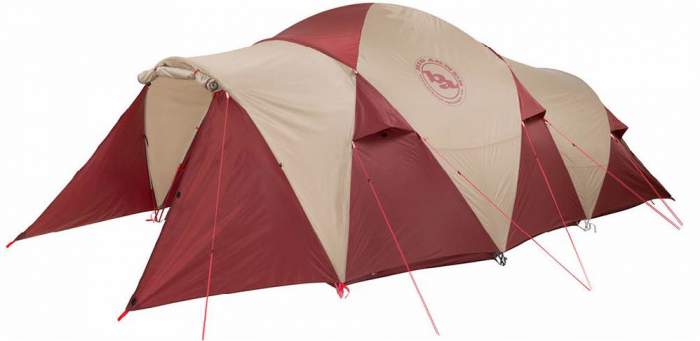 You can do something similar with the fly too, see below how it looks when you roll it up partly. With this, you will increase ventilation even further, and in the case of rain, it can quickly be set in the normal position.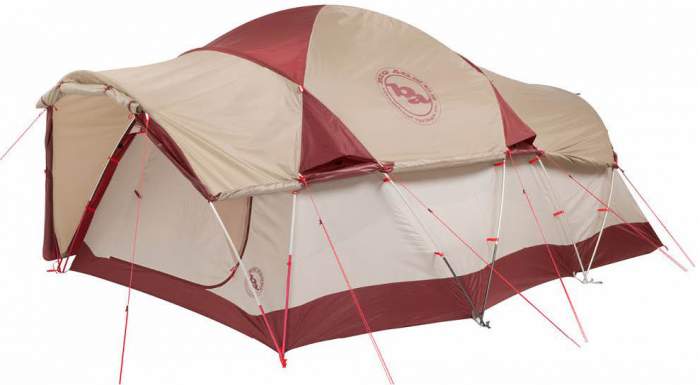 ---
Specifications
Packed weight: 20 lb 6 oz (9.27 kg).
Trail weight: 18 lb 11 oz (8.48 kg).
Length: 212 in (538 cm).
Max width middle: 96 (234 cm).
Width at both ends: 84 (213 cm).
Head height: 67 in (170 cm).
Floor area: 92 ft² (8.5 m²).
Vestibule area: 26 + 6 ft² (2.4 + 0.6 m²).
Area per person: 20.7 ft² (1.92 m²).
Packed size: 23 x 13 x 9.5 in (58 x 33 x 24 cm).
Footprint weight: 1 lb 8 oz (680 g) – sold separately here.
---
Big Agnes Flying Diamond 6 person tent vs competitors
See how this tent stands when compared with some other tents from the same size range. Please check the links for more:
Big Agnes Flying Diamond 6
23 x 13 x 9.5
(58 x 33 x 24)
---
Final thoughts, rating, pros & cons
In the conclusion of this Big Agnes Flying Diamond 6 Review, I must say I am impressed with this tent, much more than what you would conclude from my rating. The average rating is affected by the price. This is an incredibly nicely designed and weather-resilient tent and if you can afford it, I recommend it strongly. There are good reasons for its high price. I have added it to my list of the best dome camping tents.
Note again that the actual protected area is much bigger than you think, because of the versatile front vestibule, so the tent is much more comfortable than you would expect from its floor area. In any case, if you want a tent that will fully protect you and your kids, this is the tool you need, I am fully confident in saying this. I have included it on my list of best 6-person family camping tents.
There is not much one could object to this tent, though it is indeed low, only 67 inches (170 cm) in the main zone. But see the price. Here I give my rating based on the set of criteria used for all the tents in the site.
Big Agnes Flying Diamond Tent 6 Person
$498.95
Note that they have recently launched a tent that looks very similar but for all seasons, the Big Agnes Mad House Mountaineering Tent 6 Person.
You might want to check also this new redesigned Marmot Halo 6 tent built in the same style. Thank you for reading. In the case of questions and comments, please use the comment box below. I wish you a nice day.