---
This Coleman 6 person Sundome tent review is about a very popular 3-season family camping tent, freestanding and lightweight, and with an incredible price tag.
---
Key features & benefits
Incredibly affordable.
Very lightweight.
Freestanding.
Very easy setup.
Floor ventilation opening.
2 mesh pockets for storage.
2 windows.
Zippered port for the electric cable.
---
What type of tent is this
The Coleman Sundome 6 is a freestanding tent in the true sense. This implies that you will not depend on the terrain and you can pitch it anywhere, on sand, concrete, grass, rock. When you set it up, you can rotate it and move around. So this is one of its great features. But to have its vent fully functional, you will have to stake it out so that the air can flow freely. The same is with the fly, you might want to stake it out to secure it against the wind.
It is formally described as a 3-season tent and it will surely do the job but I would use this tent in very mild conditions and avoid strong rains. The reason for being a 3-season tool is that the ceiling is all mesh and the fly is not full-coverage type. This means that the tent will not keep warmth and if it is cold it will not be pleasant. But this is typical for any summer tent. The fly covers only the upper portion, so it sits far above the ground and as such, it may not perform great in strong winds.
You would do much better with a full-coverage fly if you need a tent for such a windy and rainy environment, something like this Kelty Trail Ridge 6 or Marmot Limestone 6. But check the prices, in particular the second one.
This is a nice example of dome-style tents with all the good and bad sides of this design. The good is that they are easy to set up, they pack nicely to a rather small size, they are stable, and they are usually lightweight. The downside is that such a dome profile implies less volume inside, you have fewer options for windows, you have one door in many of them, etc.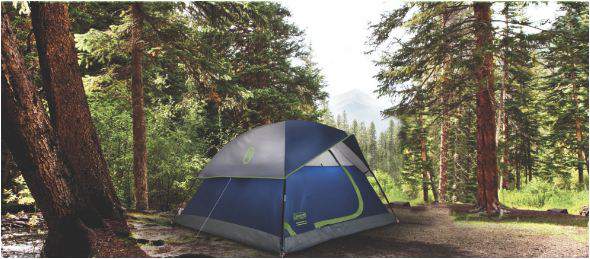 ---
Who is it for
The Sundome 6 is what its name says, a tent for 6 people. Its floor area 100 sq ft (9.3 m²) is such that you can indeed put 6 narrow pads on the floor, but in reality, this simply cannot work. All the gear must be inside, so you will have to scale it down to 3 – 4 people if you want at least some basic comfort.
The packed size is great, 27 x 8 inches (69 x 20 cm), so it can be transported even on a motorbike, bear this in mind if you are on a cross-country tour with your friends.
The weight is 16.3 lb (7.4 kg), so this is not something to carry in the backpacks, even if the pieces are shared among the users. So think about it as a standard camping tent.
The floor size and the height are such that you can put any size double bed inside. To save the floor area, you can even use bunk beds, there are models for adults and for kids, you can see them here.
All in all, I see this tent best suited for the following situations:
You need a summer tent for occasional use.
You do not want to spend much.
Look no further if you see yourself here.

---
Construction & materials
The poles
You have them 3, all shock-corded fiberglass poles. Note that fiberglass needs some care, it is less durable than aluminum. The two main poles create an X-shaped dome structure, and the third shorter pole is added to raise the two awnings and to allow unobstructed views through the windows.
The fabric & weather protection
The floor and the lower section of the tent body are waterproof and the upper body is mesh. So the fly is there only to protect the ceiling. They write that it is tested to withstand 35+ MPH winds.
The waterproofness rating for this tent is 600 mm only. For comparison, you should know that an ordinary umbrella is typically around 400 – 500 mm. So use this tent for mild summer situations without much rain and you will be fine.
They use what they call the WeatherTec patented system for the floor, which implies welded seams. If you are not familiar, this is the best system for seams in general. Such welded seams, if properly done can be stronger than the surrounding fabric.
The setup
You have seen it in the video above, and one more video is below, so you will get a clear idea. All can be done in less than 10 minutes.
There is no any hub element here; the tent is freestanding because the poles are kept standing by sleeves, see them below; this is typical for many family camping tents of this type.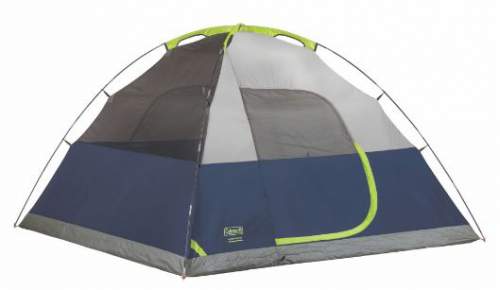 Ventilation
You should not have problems with ventilation. The ceiling is all mesh, and you have two windows with mesh as well. In addition, there is a ventilation opening above the floor, on the back side of the tent, see the picture below. So all these elements work together and the air can circulate freely.
The awnings on the front and on the back play an important role and this is why you can keep the windows without panels even when it is raining.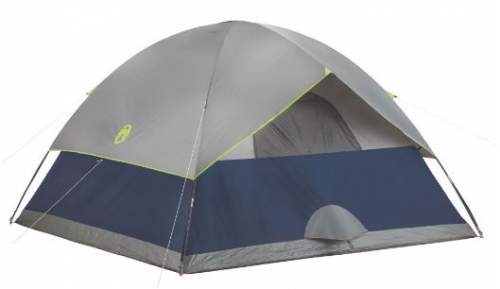 Inside of the tent
Only 2 small mesh pockets are available, one is shown below. I wonder why they did not add more.
There is a hook for a lantern on the ceiling.
A useful feature is a zippered port for an electrical cord.
The D-shaped door is with a window; so you have a mesh layer and a protective pane. On the opposite side, you have one window with the same structure.
Here is a promotion video by Coleman about their Sundome series, please have a look:
The tent is with two very small pockets, I would expect more for 6 people, so they have missed a chance to make it more livable.
One door for such a capacity is certainly not the best option. Without a true vestibule, all gear must stay inside, and you will have to prepare meals inside when it is raining. The good thing is that you can keep the windows and the vent open even when it is raining.
---
Specifications
Best use: camping.
Type: freestanding, 3-season.
Capacity: 6 people.
Weight: 16.3 lb (7.4 kg).
Dimensions (L x W x H): 10 x 10 ft (120 x 120 in; 305 x 305 cm).
Floor area: 100 ft² (9.3 m²).
Area per person: 16.7 ft² (1.55 m²).
Peak height: 6 ft (72 in; 183 cm).
Packed size (L x D): 27 x 8 in (69 x 20 cm).
Warranty: 1-year limited warranty.
Doors: 1.
Windows: 2.
WeatherTec system – patented welded floors and inverted seams.
Poles: fiberglass.
WeatherTec system.
Tub floor with patented corner welds and protected seams.
Patented pin-and-ring system helps keep corner pole connections from slipping.
Insta-Clip suspension secures the tent to poles.
Durable Polyguard fabric.
Expandable carry bag.
---
Coleman Sundome 6 person dome tent vs competitors
See how Sundome 6 stands when compared with the other two tents built in a similar style. To see more please follow the links, they are described in separate reviews:
---
Final thoughts, rating, pros & cons
In the conclusion of this Coleman 6 person Sundome tent review to stress that regarding its features, this tent stands well in comparison with its competitors. But no tent of this type can match its incredible price.
The ventilation which you have here is good, the packed size is also very great, and you have seen that it offers more space than the competitors. The absence of vestibule is a downside, but you will notice that the same holds for its competitors.
Note that the tent is an Amazon Prime item. After being on the market for several years already, all is known about this tent, and it has received many reviews and reports. On Amazon alone, you can see more than 8000 reports, and the average rate is impressive. See how I rate it:
Coleman Dome Tent for Camping | Sundome Tent with Easy Setup for Outdoors
$102.30
If you need a tent for more challenging weather conditions, you will have to pay much more. See this Marmot Limestone 6 to realize this. You might want to check this Core 6 Dome tent built in the same style.
Note that this site is only about family camping tents, so just look around if you need something different or bigger. I am sure you will find something for you.
Thank you for reading and please use the comment box below if you have any question or comment. I wish you a nice day.