---
NTK Cherokee GT 5 to 6 Person Tent is an easy to use freestanding and very reliable lightweight tent for 3 season use, and at a great price.
---
Key features & benefits
Freestanding.
Easy to use.
Great waterproof rating.
Lightweight.
1 Room, 1 door & 1 window.
Great price.
---
Where to buy
This tent is available on Amazon. They operate globally and I have seen it on a few of their global stores. So follow the link and check the price and shipping conditions at your location.
You will find it also at Walmart.
---
What type of tent is this
This NTK Cherokee GT 5 to 6 Person Tent is one from their Cherokee series that includes 3 tents in total. This is a fully freestanding simple dome structure supported with two main poles plus one ridge pole which creates a small awning above its single door. This also implies that you have no vestibules, but getting in and out of the tent is easy for the same reason.
The fly goes to the ground on its two sides, the front and the back are with awning. The fly attaches to the tent's base where you have the usual pin and ring system, so you can move it around and rotate as you wish. The tent is very similar to their NTK Hunter GT 5 to 6 Person Tent.
This is a single-room structure and reasonably tall with a peak height of 68.9 in (175 cm). The door is with panel and mesh so you have a window on the front.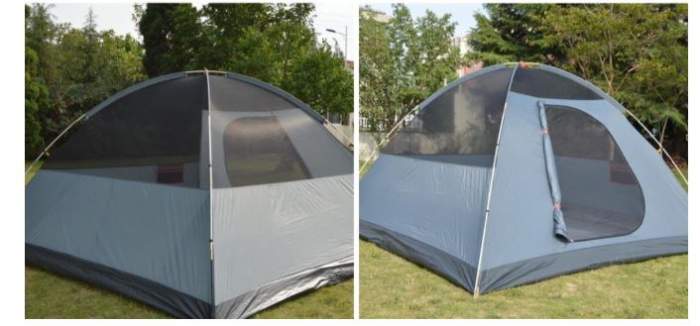 ---
Who is it for
Capacity-wise, they declare it as a 5/6 person tent, and the area is 97 ft² (9 m²). So in the case of 6 users, this gives 16 ft² (1.5 m²) per person. The dimensions are such that you can put 5 narrow pads on the floor parallel to each other (see the picture below), plus one pad perpendicular to these 5. So the tent can accommodate 6 friends at some summer festival or on a motorbike tour.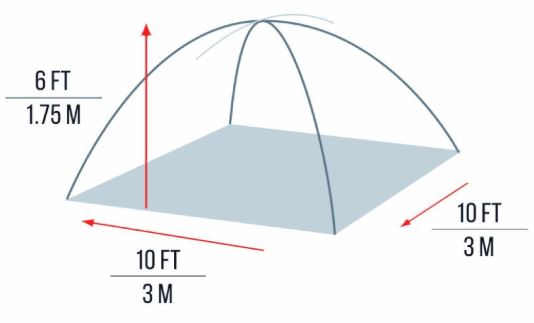 But in the case of family camping, this is a tent for parents with one kid. They write that you can put two queen size beds inside, so this is physically possible but not practical, you would not have any space left. This is a great option for couples, so put one queen size bed and enjoy.
Weight-wise, with a weight of 15.21 lb (6.9 kg), this is a lightweight tent. You will realize this also from the comparison table below. But this weight is above the limit which I used for the 6-person tents suitable for carrying on the trail, so for such a purpose check my separate list.
Seasons-wise & climate-wise, the manufacturer describes it as a 3-season tent and this is reasonable. You have a full protection here, the waterproof rating is very good and the fly covers most of the tent.
The tent is relatively low and aerodynamic enough so it will remain stable even in a bit windy conditions, see the picture below. But you would not want to use it above the tree line, go for full-coverage tents in such an environment. There is lots of mesh on the inner tent, great for warm weather camping, but I would not use it in a cold environment.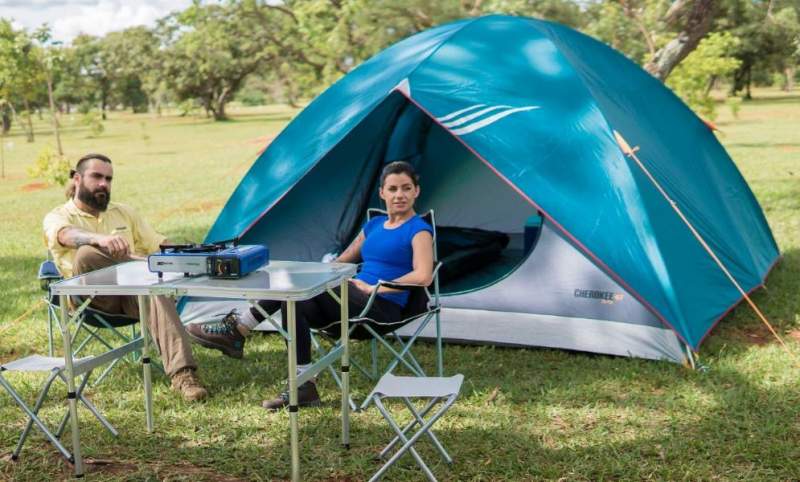 ---
Materials
The poles
You have them 3 and this is shock-corded fiberglass, not a particularly durable material but it is commonly used even in far more expensive tents. They use prime white fiberglass with double gold chromed metal hardware at the joint points.
The fabric
All exposed areas and fly are polyester with a polyurethane coating and a 2500 mm water column rating. So this is more than enough for any camping situation. The seams are heat taped. The inner tent has super-fine polyester mosquito net sections.
The floor is a seamless high-strength polyethylene, so you can be sure that you are safe from groundwater. This is an anti-fungus construction with an inner silver-coated layer, and this is a bathtub-style design.
They claim that these materials meet CPAI-84 fire-retardant standards. They also write that they use special threads in the seams, and the frequency of stitching is very high for long-lasting durability.
Inside you have storage pockets on the wall (not enough though) and a hook for the lantern on the ceiling.
Ventilation
Although the tent has lots of mesh and the door is a double layer design with mesh as one layer, I miss seeing floor vents. The fly is without vents but this is not a big deal because of its design with those awnings, vapor can easily escape on both sides and this will reduce condensation.
---
Specifications
Declared capacity: 6 people.
Weight: 15.21 lb (6.9 kg).
Dimensions: 9.84 x 9.84 ft (300 x 300 cm).
Area: 97 ft² (9 m²).
Area per person: 16 ft² (1.5 m²).
Height: 68.9 in (175 cm).
Packed size: 25 x 8 x 8 in (64 x 20 x 20 cm).
---
NTK Cherokee GT 5 to 6 Person Tent vs Core Dome 6 & Browning Camping Hawthorne 6
This Cherokee 6 tent is similar by structure to these two tents, but as you see from the table it is lighter yet slightly lower. The area they offer is practically the same and this holds also for their packed size.
The Core Dome 6 is the most affordable here and it has floor vent as well. But note that the Browning Camping Hawthorne 6 tent has 2 doors.
25 x 8 x 8
(64 x 20 x 20)
26 x 8 x 8
(66 x 20 x 20)

---
Final thoughts
So this NTK Cherokee GT 5 to 6 Person Tent is very simple, with no bells and whistles, but this is a reliable and good quality tent. The price is more than appropriate, so if you do not want to spend much and need something that is easy to use and reliable, this is the tent to consider.
NTK is a brand that has been around since 1975. This is a globally renown company so you know what you are buying when you decide to go for their tent.
There are many reports by customers on Amazon and the average rating is exceptionally high. Please see how I rate this tent against my standard set of criteria so you can easily compare it with similar tents here in the site:
Note that this Texsport 5 Person Headquarters Camo Square Dome is built in the same style but it is slightly smaller. You might want to check also their NTK Indy GT XL 5/6 Person Tent with a full-coverage fly and floored porch. See also this Coleman Longs Peak Fast Pitch Dome Tent 6 Person built in the same style.
Note that this is not a sponsored text, and I am not paid by the manufacturer. I love to hear from you so please use the comment box below.