CORE Two Room 12 Person Instant Cabin Tent with Side Entrance is a beautifully designed tall freestanding 2-room tent with steel frame, most suitable for summer camping.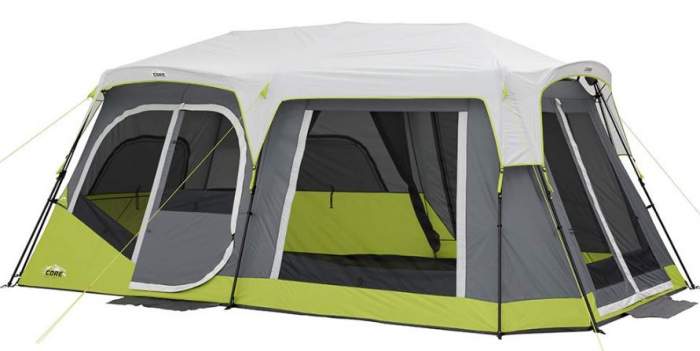 ---
Key features & benefits
Instant setup.
Freestanding cabin.
Steel frame.
Very tall tent.
2 rooms.
2 doors.
5 large windows.
---
What is in the name – what this is about
So this is a new 12 person tent from this brand, they have them several now. As the name suggests, the tent comes with one D-shaped door on one of the longer sides, but it has yet another much larger inverted-T-shaped door on one of the narrow sides, see the picture below. Observe the small mats at the entrances.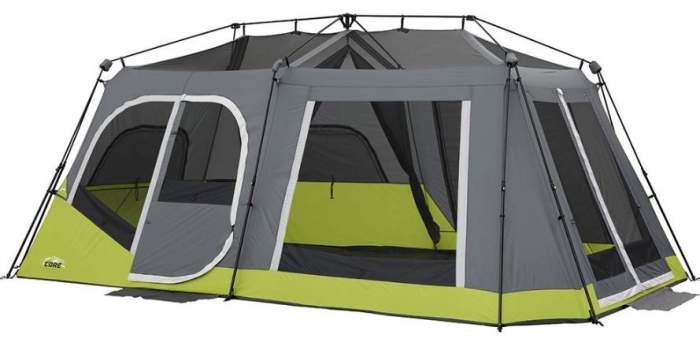 The tent is with one removable divider (visible in the picture above), so you have a 2-room structure where each of the rooms has its own door. There are 5 windows and they are gigantic so the tent looks like a screen-room type.
This is an instant setup tent from this brand and they have them many, they are all listed here. You can make ready in under 2 minutes as the picture below suggests.
The picture shows how the tent is raised from the ground after you unfold it and spread it. The rest is just the matter of extending its telescopic poles. But note that there is a fly that must be added and fixed in place. It is included in my list of 12 person instant camping tents.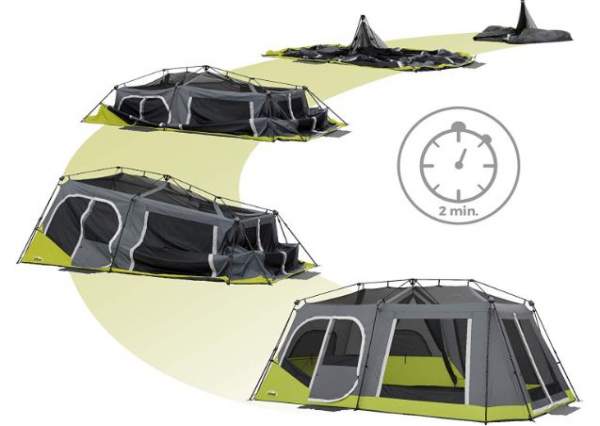 The structure is also fully freestanding so you can set it up on any surface. Numerous side legs keep it stable and make the tent self-supportive. But this is a very tall structure with a peak height of 80 inches (2.03 m), and it is also heavy. So do not miss to stake it down properly. You have all the necessary stakes included.
---
Who is it for
Capacity-wise, this tent is with a declared capacity of 12 people, but the floor area is "only" 180 ft² (16.7 m²). This makes 15 ft² (1.39 m²) per person, and this is far from enough for any sort of camping. Note that you do not have any storage space for the gear, though you can keep the stuff in the car.
So realistically this is a tent for up to 6 people or so, great for parents with up to 4 kids, and ideal for couples who want comfort in the camp. It is also suitable for two couples; the two rooms offer some privacy but this is just a curtain between the rooms so do not expect much of privacy.
Weight-wise, with its 40 lb (18.1 kg) of weight, you clearly need a car for transportation. Note also that the packed size is far from perfect, 47 x 14 x 13 inches (119 x 36 x 33 cm), but this is typical for instant setup tents.
Season-wise and climate-wise, this is a summer-camping tent and for places without much rain and wind. Such a tall structure with a minimal fly would not last long in harsh conditions. So use it for summer camping and you will have a great tent.
The tent is with lots of mesh everywhere around, plus the ceiling which is all mesh, plus floor vents. So you can hardly have anything better for warm-weather camping. But this also means do not even think of using it in a cool environment.

---
Materials
The poles
The poles are steel and the frame is pre-attached to the tent as you would expect from an instant setup tent. There are also two extra fiberglass poles which you use to create small brims above the doors. So there is nothing one could object to this part of the tent.
The fabric
The main body of the tent and its rainfly are polyester 68D with a 600 mm hydrostatic rating. So this is just slightly above the rating of a standard umbrella. This is what they call the H20 Block Technology and it combines a water-repellent fabric with active bead technology. But for a quiet summer camping, you would not need more protection, note that all seams are taped.
The fly is minimal and it only covers the mesh ceiling. It attaches to the frame and this is what makes the tent fully freestanding. With a bigger fly, you would not have such great views everywhere around.
All the doors and the windows are double-layer structures with mesh and panels for privacy and protection, so this all is properly done for a tent of this type.
The floor is a durable 125 g/m² polyethylene so you are surely safe from this side.
Ventilation
There is nothing to worry about when it comes to ventilation in this tent. With so much mesh and a large floor vent (see the picture below) this should be as good as you could expect from a well-ventilated tent.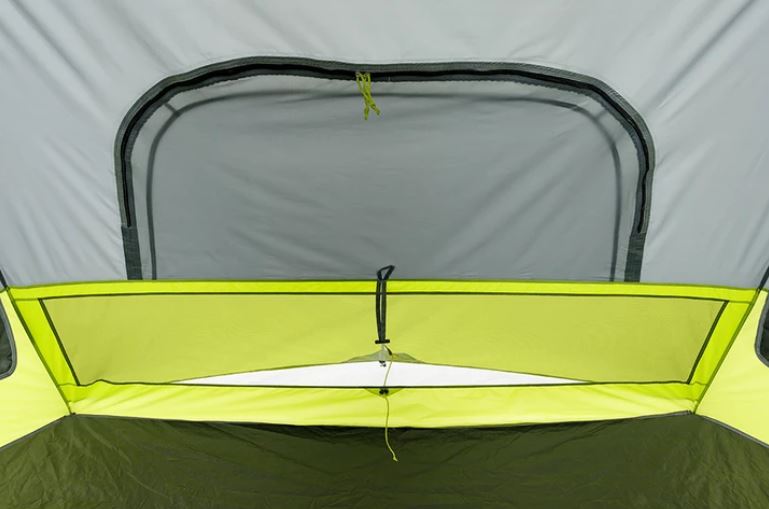 ---
Specifications
The weight: 40 lb (18.1 kg).
Dimensions: 18 x 10 ft ((216 x 120 in; 549 x 305 cm).
Area: 180 ft² (16.7 m²).
Area per person: 15 ft² (1.39 m²).
The peak height: 80 in (203 cm).
Packed size: 47 x 14 x 13 in (119 x 36 x 33 cm)
Frame: steel.
Warranty: 1-year limited warranty.
---
CORE Two Room 12 Person Instant Cabin Tent vs Competitors
I have decided to show you this Core 12 tent side by side with two other 12-person tents from different brands. The Eureka Copper Canyon 12 tent is built in the same cabin style, but it is not an instant tent. The NTK Super Arizona 12 tent is quite a different structure and with a full fly, and I add it here on purpose, this is meant to show you what to expect if you would consider a different tent type.
You realize that the packed size of the Core 12 tent is far inferior to the other two tents. This is because of its instant-setup design, namely, the telescopic poles usually remain large when the tent is packed. But the other parameters are quite comparable. However, do not forget that this is a true instant tent. Please follow the links for more.
47 x 14 x 13
(119 x 36 x 33)
28 x 16 x 14
(71 x 41 x 36)

28 x 10 x 10
(71 x 25 x 25)

---
Final thoughts, rating, pros & cons
In the summary of this CORE Two Room 12 Person Instant Cabin Tent with Side Entrance review, I would stress that it looks cool, and it is very functional and pleasant. This is a great tent for summer camping, and the brand behind this product is renown and reliable. I have included it in my list of the best instant camping tents.
Please see how I rate this tent using the same criteria applied to all the tents here in the site. This makes it easy to compare various models.
CORE Two Room 12 Person Instant Cabin Tent with Side Entrance
If you need something different, check in my list of 12-person camping tents where this tent is also included, or just look around this site is all about large family camping tents. You might want to compare this tent with this Coleman 12 Person Skydome XL Tent which is an extended dome tent.
Note that this is not a sponsored text and I am not paid by the manufacturer. Thank you for reading. Please use the comment box below in the case of questions or comments. Have a nice day.