---
This EchoSmile Camping Instant Tent 10 Person is a family outdoor shelter suitable for summer camping and for quiet weather conditions. It is nicely packable, lightweight, and very affordable.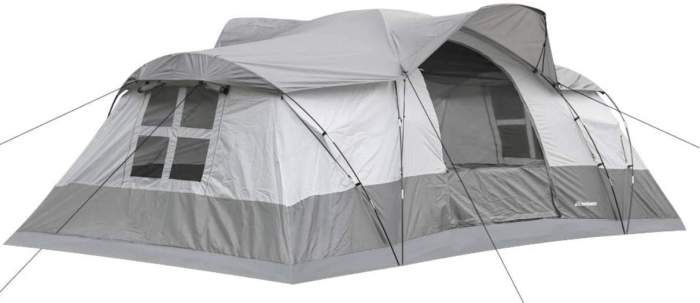 ---
Key features & benefits
Extended dome type.
Very light tent.
Excellent packed size.
E-cable port.
Great price.
---
What this is about
I guess it is best to start with the name as given by the manufacturer and used in the title above. This is everything but instant tent, so the word Instant in the name is very misleading. But they sell several different tents in the same place on Amazon and under the same name. So indeed, some of them are pop-up tents, but this 10-person tent is not of this type.
What you have here is a collapsible extended dome tent and you can see all its elements in the picture below. From left to right you have a carry bag, bags for pegs and poles, three different sets of poles, guylines, and finally 16 steel pegs. The tent needs assembly just like any other tent of this type.

The tent's structure is better understood when you see it without the fly as shown below. As you see, the central section is under the two X-crossed main poles, and this is the highest part of the tent with a peak height of 82.68 in (210 cm). This is quite high for a dome tent, so you have lots of headspace here, and the structure is pleasant and with views around. This is because of its minimal fly that attaches to its base and it covers the upper portion of the tent only.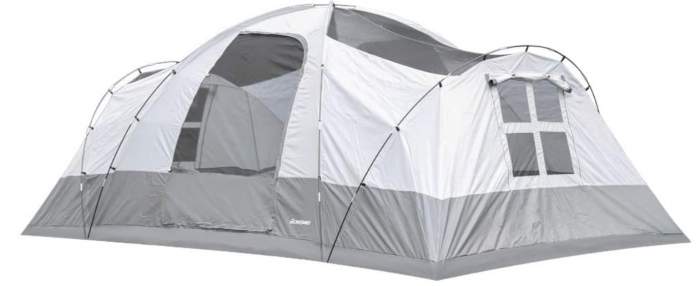 There are two symmetrical and large doors on the opposite sides of the tent, and the fly creates small brims above the doors with the help of short poles included for this purpose, they are visible as the two short poles in the elements shown above. With such a brim/awning you have a dry entry, see the picture below. Note that the doors have huge mesh sections in the upper part and there is also a panel that provides protection and privacy.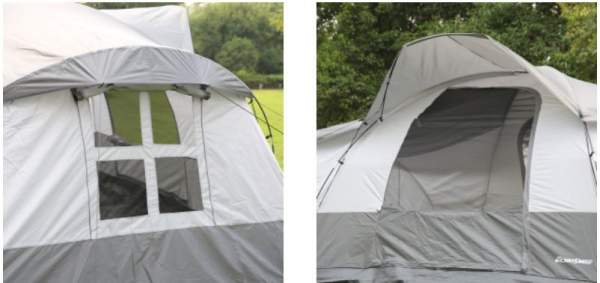 The two side windows are also very interesting, one is visible in the picture above. They have an inner sewn-in mesh and a panel from outside, you can roll it up and fix it with toggles above the window when the sky is clear. The tent is not freestanding, just to know, the base must be staked, and the guylines must be tightened so that the side extensions are fully expanded and functional.
Ventilation
The picture below shows how the tent looks from inside when the fly is not on. So you realize there is lots of mesh on the canopy and on the doors that are visible on the sides. See also the beautiful window with the mesh and rolled panel above.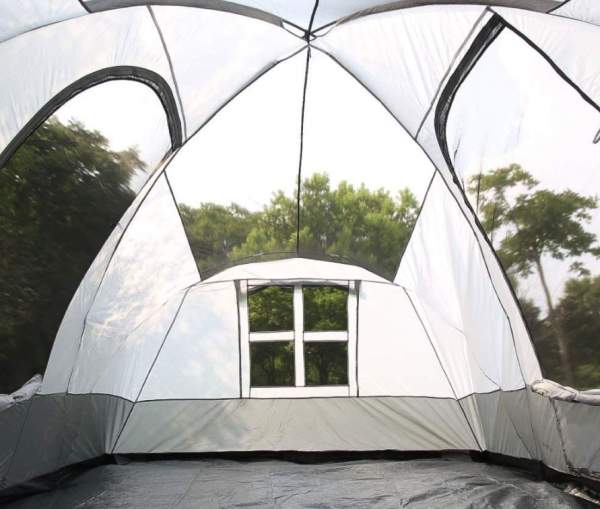 This all looks great, but the doors and windows must be closed when it is raining. You still have the ceiling with mesh. Nevertheless, it is a pity they did not make floor vents for such hours with rain.

Materials & other features
The poles are fiberglass, you have them 6 in total. The picture below shows how they attach to the tent's base, this is the usual pin-and-ring attachment system, and on the canopy you have clips, one is shown below.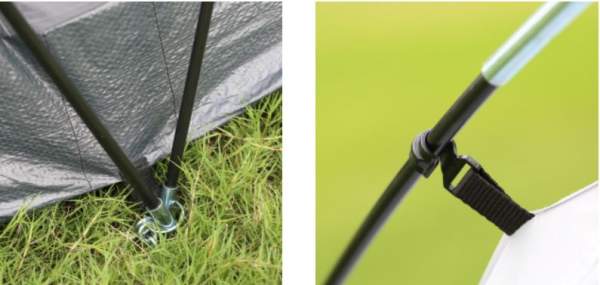 The fabric is terylene, this is a sort of polyester. They do not provide any information about its waterproof rating, so this is a bit disappointing. The floor is a bathtub style, and this seems to be polyethylene, so at least this part should be very reliable and highly waterproof. There is also an E-cable port and lantern hanging loops.
---
Who is this tent for
Capacity-wise, officially this is a tent for 10 people. For this you have an area of 192 ft² (17.9 m²), and this means 19.2 ft² (1.79 m²) per person. This looks like a lot of space, but note that you might need some storage space, so it is best to downgrade this number a bit.
Seasons-wise & climate-wise, I see this tent best suited for quiet summer camping without much rain or wind. The fly is minimal, the tent is very tall, and those small awnings would not last long in strong winds. Because they do not provide a waterproof rating, it is best to test it in controlled conditions at home, so pitch it in the garden and see how it works.
Weight-wise, this is a very light tent with its 24.25 lb (11 kg). This may look like a lot of weight, but see the area, so the area/weight ratio is more than 1.63 m²/kg, and this is quite impressive. 
Note also that the packed size is equally excellent, the carry bag with the tent in measures around 26.78 x 10.24 x 10.24 inches (68 x 26 x 26 cm).
---
Specifications
Official capacity: 10 people.
Weight: 24.25 lb (11 kg).
Dimensions: 18.04 x 10.66 ft (550 x 325 cm).
Area: 192 ft² (17.9 m²).
Area per person: 19.2 ft² (1.79 m²).
Peak height: 82.68 in (210 cm).
Packed size: 26.78 x 10.24 x 10.24 in (68 x 26 x 26 cm).
---
Final thoughts, rating, pros & cons
To summarize this EchoSmile Camping Instant Tent 10 Person review, what you have here is a budget-friendly tent for occasional outdoor adventures with your family members or with your group of friends. I would not use it in harsh weather situations. It is not an instant tent as its name suggests, but it is easy to use, two people can pitch it easily in 10 minutes or so.
Please see how I rate this tent, the overall rating is high because of its weight and packed size.
EchoSmile Camping Instant Tent 10 Person
Check in the category Tents for 9/10 people if you need more options in this size range. See this Ozark Trail 10 Person Tent 3 Rooms 20 x 10 with the inner area organized into 3 rooms.
For more dome tents and extended-dome tents check in the category Dome tents. In particular, see this UNP Camping Tent 10-Person built in the same style. Thank you for reading, let me know if you have any comment or question, there is a comment box below.