This Ozark Trail 10 Person Tent 3 Rooms 20 x 10 is a large, tall, pleasant, and affordable summer camping tent with great windows and 3 doors.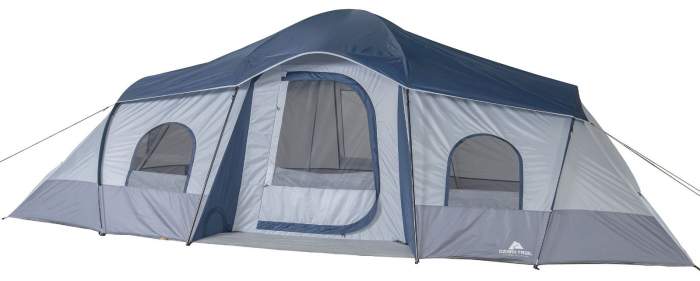 ---
Key features & benefits
Lightweight tent.
Compact when packed.
3 Rooms.
3 Doors.
3 + 3 Windows.
E-cable port.
Excellent price.
---
Overview
This tent has been on the market for a number of years. Note that this brand is known for many large tents so you should not mix this tent with their other 10-person tent with screen porch and several other 10-person tents described here in the site.
It could be described as a complete hybrid construction that has features of a tunnel, cabin, and dome tents. So you have a central area under a dome, but the poles supporting this part are straight, steep, and tall, just like in any cabin tent.
But the tent has two symmetric extensions on the sides and they are supported by two loops typical for a tunnel tent. The picture below shows it without the fly so you can better understand what I am describing here.

You can understand the structure even more from the picture below that shows the tent from the air, so you realize how elongated it is. Observe that the base is not rectangular.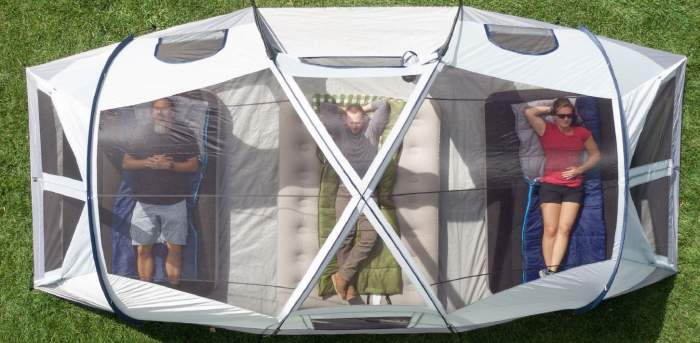 This is a huge structure and the tent is a collapsible type and it needs assembly, but this is easily done. See all the elements that you get in the package (more in the text below):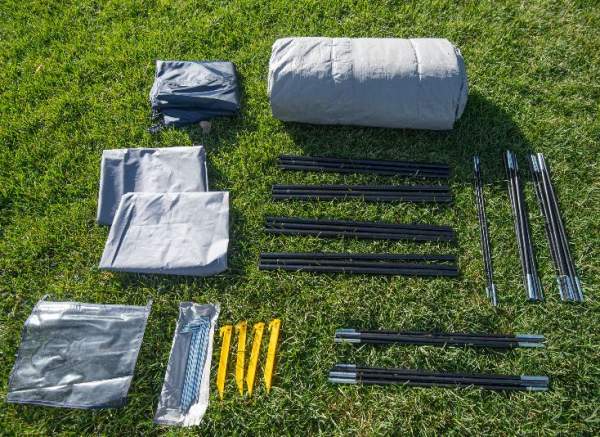 This all packs nicely in its carry bag that measures only 27 x 10.5 x 10.5 inches (69 x 27 x 27 cm), see how it looks: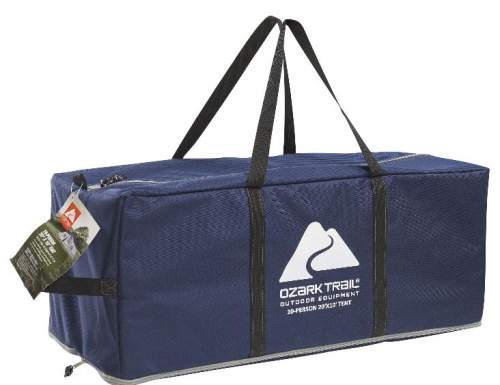 With such a construction, the tent is not freestanding, so you have to stake it down properly. You have realized from the name that this is a 3-room structure, there are two removable dividers inside, one is visible in the picture below.
It comes equipped with an e-cable port shown in the picture above. One unique detail is also the integrated small doormat area with a boots port or gear pocket as they call it, it is shown in the picture above on the right. So this you can use to get to your boots which you can keep on the mat. But this entry point can be used for your pet if you have it with you in the camp, or as yet another cable port.
The tent has three large doors. So each of the mentioned rooms has its own door. Two of them are on the sides, and the picture below shows the view through the tent when one of the doors is unzipped.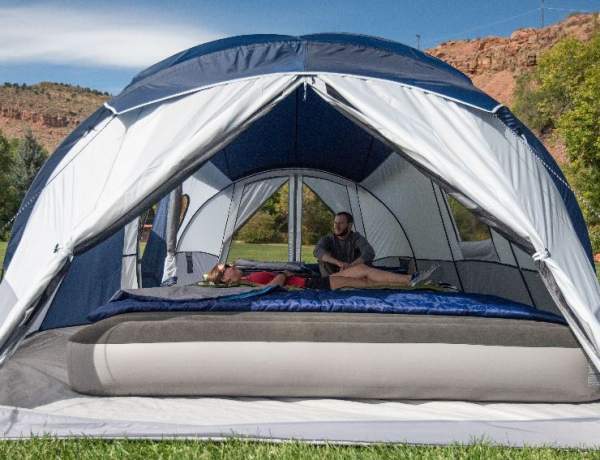 There is also the front door that you can see in the pictures. This door is partly covered by a small awning so this is a dry entry point to use when it is raining. It is included in my list of best camping tents with 3 doors.
There are 3 separate windows plus 3 mesh openings on the doors. One window is on the back (see the picture below). Also visible is one of the side doors with its inverted-T-shaped zippers, as you see it is with mesh and with flaps that you can roll to the sides. In fact, all the openings are the double-layer type with mesh and with panels or flaps.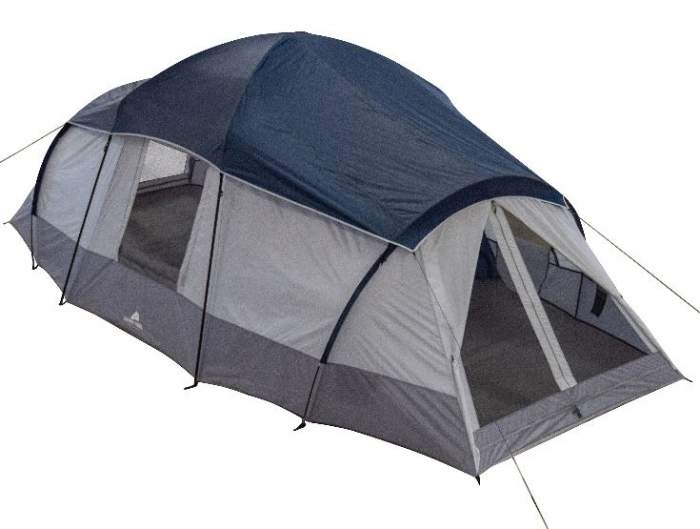 In the picture above you can see that the fly is minimal, it covers only the ceiling. Note that the tent is high in the central area where you have a peak height of 78 inches (198 cm).
Other features
With this tent you also get the following:
One media pocket, see the picture below.
Two wall pockets, one shown below.
Two bottle holder pockets.
One lantern loop, you can see it below.
Note that the official set-up time for 2 people is 18 minutes.
Warranty: they give a 1-year limited warranty for this tent.
Materials
You have already seen the elements in one of the pictures above, so here is what this includes.
The poles: There are 9 of them, and this is a combination of 4 thick straight steel leg poles used for supporting the central dome, and fiberglass used for the rest. The fiberglass poles are those with silver-colored ends. The picture below shows the poles configuration: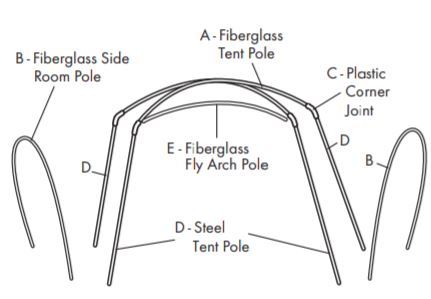 The fabric: The fly and the body are poly taffeta 185T with a 1200 mm waterproof rating. The seams are factory taped. The floor is polyethylene. The numerous mesh sections are a durable poly mesh 68D. The carry bag is a poly Oxford 600D.
You also have:
4 Guy ropes.
16 Steel stakes.
4 Plastic stakes.
Instructions are conveniently sewn into the carry bag.
Molded fast feet connectors at the base instead of the usual pin & ring system, see the picture.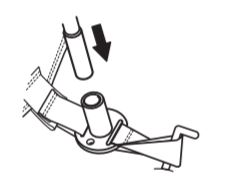 Ventilation
You have seen the aerial picture above and you realize that the ceiling is all mesh, so this is a huge opening for ventilation. The fly is not massive so vapor can easily escape. There are also 6 windows/doors with mesh to help air circulation.
But when it is raining, you have to keep those mesh areas zipped with panels, and in such situations, some floor vents would be useful. Pity they did not add them here.
---
Who is this Ozark Trail 10 Person Tent for
Regarding the capacity, you have seen from the name that the tent is officially for 10 people. For this you have 175.5 ft² (16.3 m²), so per person, this gives 17.55 ft² (1.63 m²). This is far from bad, but it is best to downgrade the number to up to 6 or 7. Each of the three rooms can easily accommodate a queen-size bed.
Regarding the seasons & climate, the manufacturer describes it as a 3-season tent. But in my view, this is a summer camping tent for a maximum of two seasons, and for quiet weather and without much rain.
Regarding the weight, in view of its huge size, the weight of 27.6 lb (12.5 kg) is very good. You have already seen its excellent packed size. But this is a tent for a car camping.

Specifications
Official capacity: 10 people.
Weight: 27.6 lb (12.5 kg).
Dimensions: 20 x 10 ft (610 x 305 cm).
Area: 175.5 ft² (16.3 m²).
Area per person: 17.55 ft² (1.63 m²).
Center height: 78 in (198 cm).
Packed size: 27 x 10.5 x 10.5 in (69 x 27 x 27 cm).
Poles: steel & fiberglass.
---
Final thoughts, rating, pros & cons
So you have seen it, this Ozark Trail 10 Person Tent 3 Rooms 20 x 10 is indeed full of features, with a nice organization in three rooms and each of them with separate doors and separate windows. The price is simply great. I have included it in my list of best 3-room tents.
The table below summarizes my ratings and some pros and cons. As you realize, it stands well.
For more options in this capacity group, please check under the category Tents for 9/10 people. You might want to check also their Ozark Trail 10-Person Family Camping Tent with 3 Rooms and Screen Porch. If you would rather have a tunnel-shaped tent, check this Bessport Camping Tent 10 Person. Have a look also in the category Tents with 3 rooms.
Thank you for reading. There is a comment box below so let me know if you have questions or comments. Have a nice day.