This UNP Camping Tent 10-Person is an extended dome type 2-room tent for summer camping, a tall structure with 2 doors and 5 windows, and with a great price tag.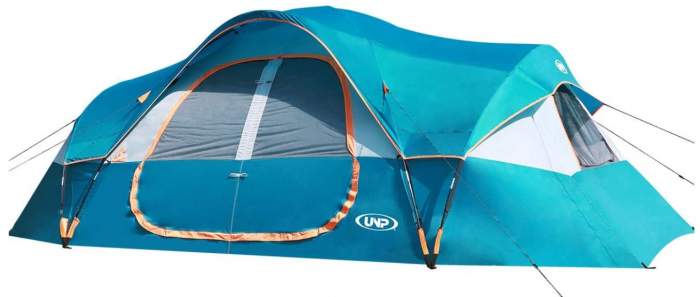 ---
Key features & benefits
Extended dome tent.
2 Rooms.
2 Doors.
5 Windows.
Fiberglass poles.
E-cable port.
Very good price.
---
What this is about
Here you have a tent that can be described as an extended dome, with a central dome section plus two extensions on the sides supported by extra loops. With such structure, it reminds me a bit of the Wenzel Pinyon 10 Person Modified Dome Tent.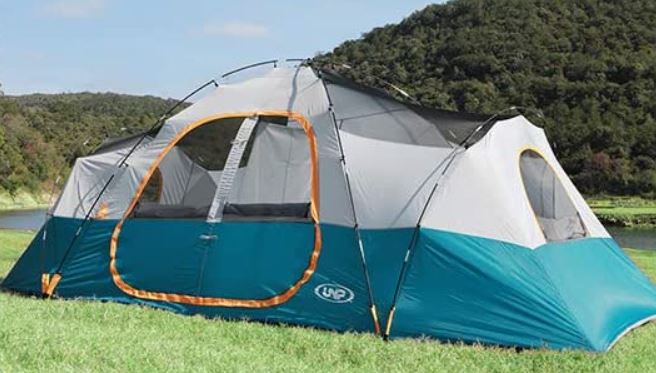 Such a structure is never freestanding so it is essential that you are able to stake it down properly. You have all stakes and guylines included in the package. They describe it as a 2-layer tent but strictly speaking this is not so, the fly is minimal and it covers only the ceiling, the rest is a single-layer shell except for the doors and windows.
The tent is formally a 2-room structure with a removable divider in the middle, and both sections have its own door, you can see the doors in the picture above. Note that the doors are under a small brim supported by a pole, so you have a more or less dry entry.
There are 5 windows in total, all are the double-layer type with mesh and with panels for protection and privacy, see some below. The peak height in the central dome section is 78 inches (198 cm), so the tent is roomy and pleasant.

Ventilation
There is plenty of mesh here, you have seen its ceiling in the picture without the fly. The mesh is also on the windows. This looks fine as long as the sky is clear, but in the hours with rain, you have to keep this all closed. For such circumstances, you would need floor vents and they are not available here, pity.
Materials
The poles are fiberglass, this is normal for such a budget-friendly tent, but this is not a very durable material and it needs some care in handling. The poles are of various diameters, so you have 2 main dome poles with 11 mm diameter, 2 side poles with 9.5 mm, and one brim pole with 6 mm diameter.
They write about a patented design with sleeves for poles, you can see how this looks in the picture below. But the same design you can see in some recent tents by Kelty (which also claims it is a patented design; see this Kelty Discovery 6 Tent) and also in some tents from Coleman, see this Coleman Skydome 8 tent as an example.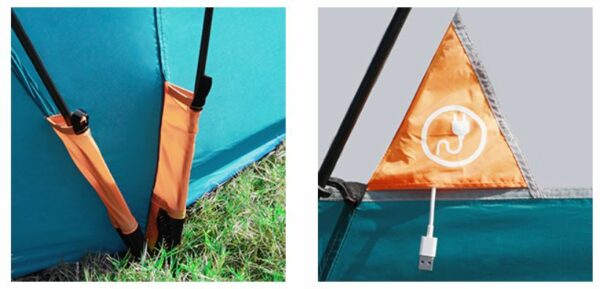 The fabric is a polyester 185T and they claim it is with a 1000 mm waterproof rating, and all seams are taped. Mesh areas are a fine mosquito repellent mesh.
Other features
Eight guy lines are available to secure the tent.
One-year quality guarantee for a risk-free purchase.
An E-cable port is available.
A gear loft is under the dome.
A couple of small wall pockets are included, far from enough.
---
Who is this UNP Camping Tent 10-Person for
Capacity-wise, the tent is officially for 10 people. They write that the area is 162 square feet but they have obtained this by multiplying its dimensions, see the picture below. In fact, the tent is not rectangular as you realize so the area is smaller.
My very rough estimate is that the area is around 142 ft² (13.2 m²), and this would give around 14.2 ft² (1.3 m²) per person. I doubt that it could accommodate 10 people, and the official capacity makes no much sense. It is best to downgrade it by half.

You might want to compare this with the Ozark Trail 10 Person Tent 3 Rooms 20 x 10 that is also for 10 people and has a similar shape but it offers much more space.
Seasons-wise & climate-wise, they describe it as a 4-season tent, but this cannot possibly be taken seriously. In my view, this is a summer camping tent, or say maximum for two seasons, i.e., late spring, summer, and early autumn.
The tent is tall, with a partial coverage fly and with those brims that would not last long in a windy place. So use this tent for calm weather without wind and without lots of rain.
Regarding the weight, the tent is quite light with its 23.1 lb (10.5 kg), this is around 1.26 m²/kg. The packed size is also quite good, it measures 25.85 x 10.8 x 10.5 inches (66 x 27 x 27 cm). All in all, this is a tent for places with motorized access and for occasional adventures in calm and warm weather.
Regarding the price, it is more than fair, the tent is indeed very affordable.

---
Specifications
Official capacity: 10 people.
Weight: 23.1 lb (10.5 kg).
Dimensions: 18 x 9 ft (549 x 274 cm).
Area: around 142 ft² (13.2 m²).
Area per person: 14.2 ft² (1.32 m²).
Peak height: 78 in (198 cm).
Packed size: 25.85 x 10.8 x 10.5 in (66 x 27 x 27 cm).
---
Final thoughts, rating, pros & cons
So this UNP Camping Tent 10-Person is not without some useful features, but indeed the price is its main selling point, and it is not surprising it is so popular. It is lightweight, compact, and easy to use, but do not use it in harsh weather conditions, this is a summer camping tent for calm weather. Note that they also have a smaller tent built in a bit different style, the UNP 6 person tent.
I use the same rating criteria for all the tents here so that you can easily compare. Not all of the criteria may be of importance to you, so focus on those that matter. In any case, see how it stands:
For more options in this capacity group, check among tents for 9/10 people. Note that this Bessport Camping Tent 10 Person offers a bit more space. You might want to check also this Ozark Trail 10-Person Family Camping Tent with 3 Rooms and Screen Porch.
Let me know if you have questions, there is a comment box below. Thank you for reading and have a nice day.