The Zempire Pronto 5 Tent is a dome type supported by single-point inflation air beams, with storage space, a large vestibule, patented features, and excellent ventilation.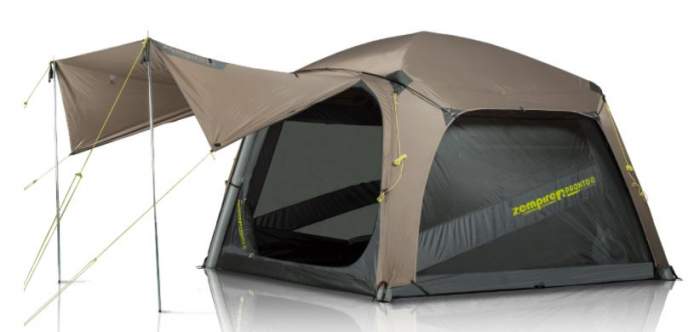 ---
Key features & benefits
Inflatable beams.
Single point inflation.
Multiple deflation valves.
Storage vestibule.
Front vestibule.
Great ventilation.
Very tall tent.
E-cable port.
Patented features.
---
What this is about
This Zempire Pronto 5 Tent is one out of several tents in their Pronto Series that includes also Pronto 4, and Pronto 10. But they also have the Jetset Series which is very similar to these Pronto tents.
The floor plan below shows lots of its details and features. So this is a single-room design but you have two vestibules. The floor area is in the middle.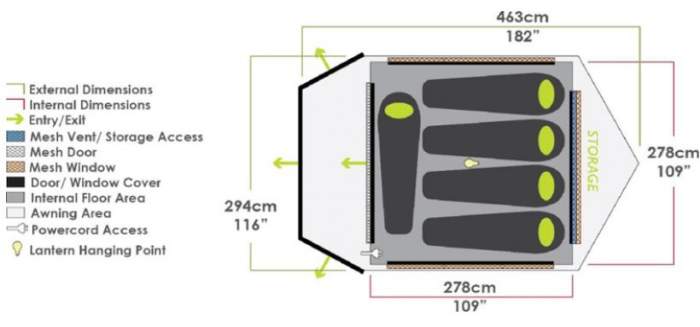 The vestibule, storage space & doors
The vestibule on the right is closed from outside, so this is a storage space with a zippered access from the tent. See how this access looks from inside. Note also the large side windows.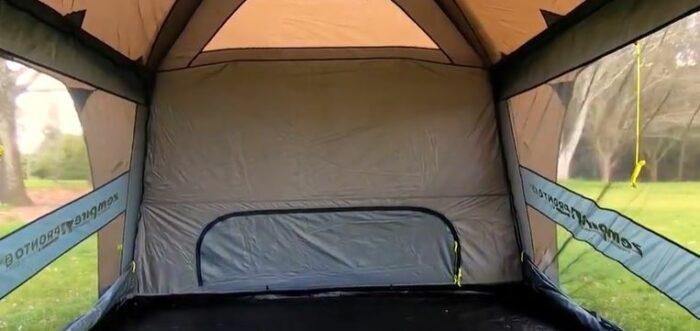 Below you can see the rear side of the tent. Note that the fly is partly rolled up for ventilation, normally it goes to the ground.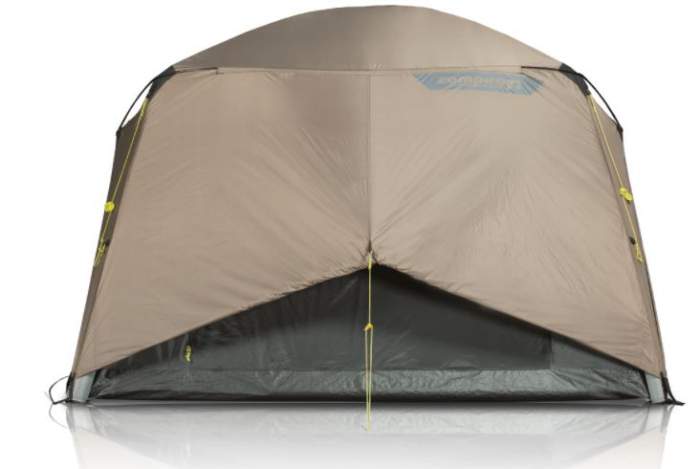 In the picture below you can see how the tent looks from the side when the vestibules are fully closed, the storage vestibule is again on the right: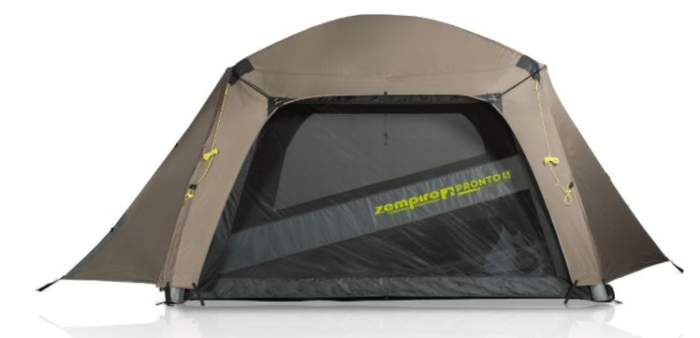 See now the main entry vestibule, this is a large space, and in the floor plan above you have seen 3 arrows for its doors, so to explain what this means. Namely, you can keep the central flap staked to the ground and unzip any (or both) narrow side sections. In this way you can have two narrow doors and those are the arrows on the left front-side in the floor plan above.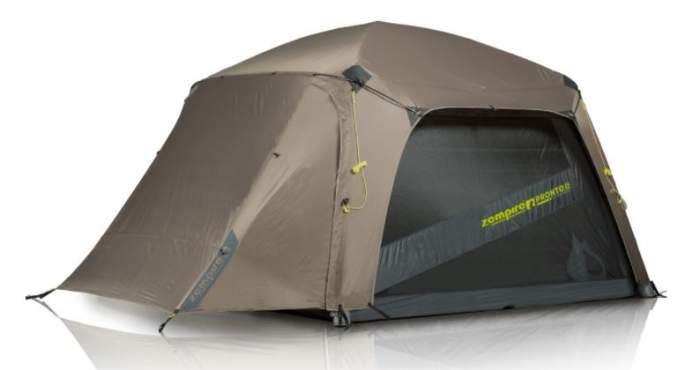 But you can also roll the vestibule flaps up and keep it out of the way as shown in the picture below. Now you can see the gigantic inner door. The inner door is 2-layer and it is unzipped here and stored in a pocket on the left side in the picture.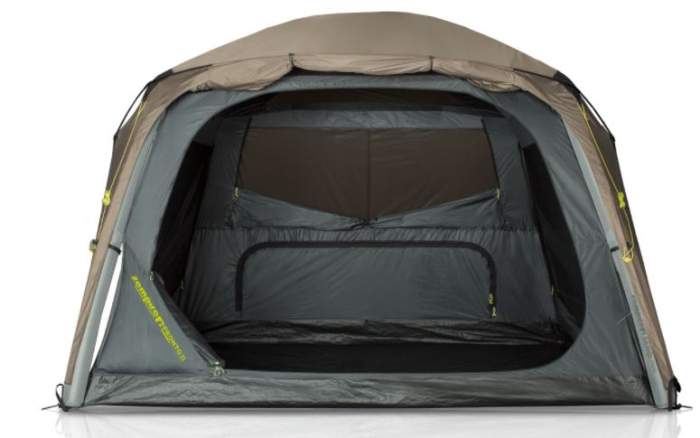 However, you can also create an awning with the huge vestibule flap as shown in the picture below. This creates a large space for sitting in the shade and for cooking. The poles for the awning are included.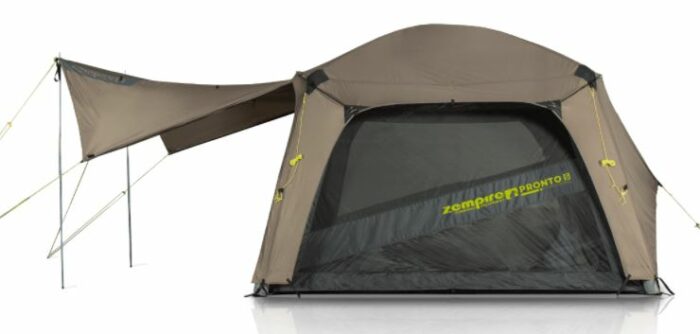 The windows
In the pictures above, you have seen 2 huge screens on the sides. In fact, these are double-layer side walls with full size mesh and inner zippered panels.
So although the fly is partial-coverage type (it does not cover the sides), you still have two layers everywhere.
Unique air beams
This is an inflatable tent with air beams instead of poles, you can see them in the picture below that shows the tent without the fly. So the structure is a dome with two crossed beams. They describe it as freestanding but strictly speaking this hold only for the inner tent. The fly must be staked properly.
You have a single inflation point with a double-seal Boston valve, with welded cross tubes, and their unique and patented SeroLink frame system. However, it has multiple deflation points for faster deflation, also preventing air from getting trapped in any of the beams. Because of all these features it is included in my list of best inflatable tents for camping.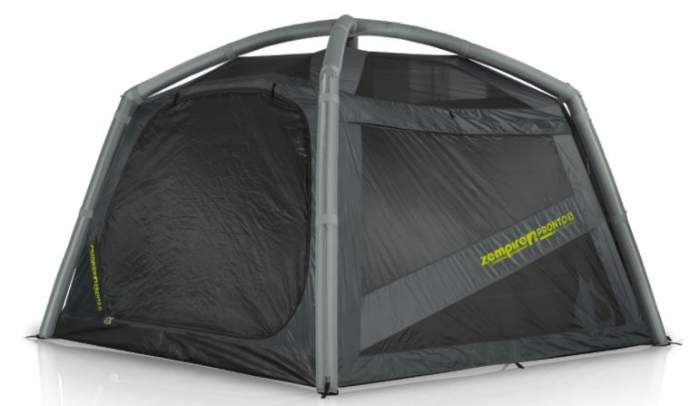 A manual pump is included with an aluminum shaft. It is a double-action type, so it inflates in both up and down strokes. It is equipped with a pressure gauge and a pressure release valve, and it has its own carry bag included.
Ventilation
I mentioned the full-size mesh on the sides, so this is several square meters of mesh for ventilation. There are several square meters of mesh on the ceiling as well.
But indeed when it is raining, the side panels must be closed. In this case you can rely on the inner door which is huge, here you have mesh and it is fully protected under the vestibule.
There is enough clearance between the fly and the ground on the front and on the back so you will have plenty of air circulation.
There are no vents on the fly but this should not be a big deal, the fly is not deep on the sides so vapor can escape.
Materials
The support: I mentioned air beams, but there are also two support brow poles that keep the fly separated from the inner tent. They are on the front and on the back, and these are 9.5 diameter fiberglass poles.
The fabric: The fabric is high quality, you have a 75D 190T polyester fly with a 5000 mm waterproof rating and UPF 50 UV protection.
A warning here, there are two versions of this tent on the market and you will see 3000 mm for one of them. In any case you will never need more.
They claim it has been torrential rain tested in wet and windy environments of New Zealand and the UK. The seams are with a polyurethane tape, and the fabric is fire retardant.
I think that at REI they seem to have mixed both tent's versions. The videos show the Zempire Pronto 5 V2 Tent, while the pictures are about Zempire Pronto 5 Tent. Some numbers are also incorrect.
The canopy is the same materials plus mesh, and the floor is a 14 x 14/180 g/m² polyethylene bathtub style.
Other details
Zippered access E-port on the front.
Fly sheet features clip-on attachment and tension webbing.
Webbing peg points and adjustable peg loops.
Reflective guylines made from low-stretch 3.5 mm polyester cord and with aluminum tri sliders.
Zippers are anti-grit reversed with 2-way zipper heads and glow zip pullers.
Drawstring stuff sack and an extra-large haul bag made from durable poly oxford material. The haul bag includes an instruction window sleeve.
Bedroom area features the Zempire LRS (light rigging system).
Please see more in this video:
Here you can see how to inflate the tent:
Warranty
Their Pronto Series comes with a 2-year warranty. They claim that they will repair or replace this tent if it fails due to faulty materials or manufacture.
Who are Zempire?
Zempire is a brand from New Zealand built by husband and wife team Richard and Sophie Knauf. They are specialized in high quality camping tents with smart designs and impressive features.
Where are Zempire tents made?
The usual story, Zempire tents are made in China and they work with trusted manufacturing partners. Quality checking and control is at a high level.
---
Who is this Zempire Pronto 5 Tent for
Regarding the area, you have 84 ft² (7.6 m²) of the inner floored space. In the case of 5 users this gives 16.8 ft² (1.5 m²) which is not bad.
But there is also the area under the vestibules. The numbers that you can see at REI are clearly wrong, they give 70 ft² (6.5 m²). In fact, you have around 41 ft² (3.8 m²) which is still a lot. So the total covered area is 125 ft² (11.4 m²).
Regarding seasons & climate, the tent is nicely ventilated and its waterproof rating is impressive. It is tested in very harsh conditions so you will be fully protected.
With so much mesh on the ceiling it may not be the best option for a cold weather, so I see it best suited for 2-seasons, late spring, summer, and early autumn.
Regarding the weight, this tent is very heavy and my rating for this feature is low, you will see this below. The same is with its packed size, it is very bulky. So this is a car camping tent.
Regarding the price, it is steep as usual with this brand, but this is a high quality product, I would say again as usual with Zempire. There is a link below so you can check.
---
Specifications
Weight: 36 lb 9.6 oz (16.6 kg).
Official capacity: 5 people.
Dimensions: 109 x 109 in (277 x 277 cm).
Inner area: 84 ft² (7.6 m²).
Inner area per person: 16.8 ft² (1.5 m²).
Porch area: 41 ft² (3.8 m²).
Total covered area: 125 ft² (11.4 m²).
Peak height: 78.7 in (200 cm).
Inner height: 74.8 in (190 cm).
Packed size (L x D): 28 x 16 in (71 x 41 cm).
---
Final thoughts, rating, pros & cons
In summary, this Zempire Pronto 5 Tent is an excellent and top quality product. This brand is best known for its large family camping tents, so this Pronto 5 is among just a few smaller tents they have built.
It is officially for up to 5 people, but they suggest it is comfortable for 4, and I think this is true. You have lots of useful space under the two vestibules, the tent is nicely ventilated and pleasant. Fully recommended. It is included in my list of best 5 person camping tents.
Below you can see how this tent stands against my standard rating criteria that I apply consistently to all the tents here in the site so that you can easily compare:
BEST PLACE TO BUY:
Note that there are more products from the Zempire brand here in the site, you can see them here. Note that this Zempire EVO TM V2 Tent is for 4 people but it offers more space.
Let me know if you have questions, there is a comment box below. Bookmark this site and come again, this will keep you informed, as you realize I add texts here on a regular basis. Thank you for reading.