Airbeam tents or inflatable tents are becoming increasingly popular because of their ease of use, comfort, and overall features. Here you have answers on some of the most frequently asked questions about this type of tents.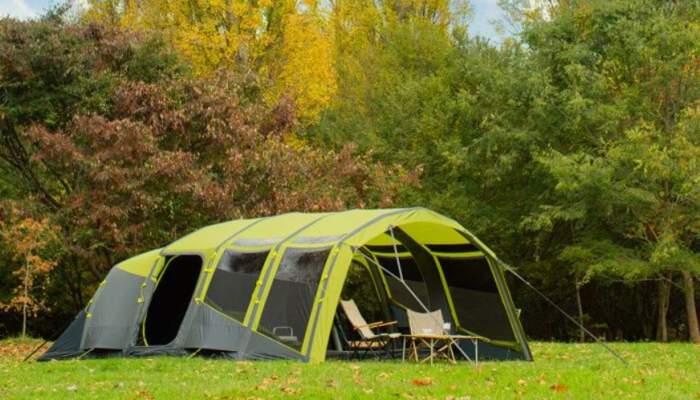 About terminology first
You will see both terms airbeam tents (or air beam tents) and inflatable tents used. I would say the first is more correct because this is only about the supporting system, i.e., beams. The tent itself is just a standard tent and it cannot be inflating. But both terms are used so I shall do the same here in the text.
What is an air frame tent?
So this is yet another phrase used for inflatable tents or airbeam tents. This simply means that instead of solid poles for support you have air beams.
In most cases the beams are from inside, but there are rare examples of inflatable beams that are from outside. The same is with classic poled tents, some have sleeves from outside and you pass the poles through them.
How good are inflatable tents?
There are many aspects to consider. If you look around in this site or on the market in general, you will realize that inflatable tents are far more popular on the EU and New Zealand market. There are some truly outstanding brands that build tents for these areas.
This geographical location is related to their waterproof rating and overall organization. So these are highly waterproof tents as expected for the weather in the UK as an example.
When you camp in an area with lots of rain, you expect to be forced to spend lots of time inside. This means that such tents incorporate a variety of features that make them very comfortable. This means they are large, with multiple rooms, solid tinted windows, multiple doors, etc.
All this makes them good and reliable outdoor shelters. So yes, inflatable tents can indeed be extraordinary good.
What is better an air tent or pole tent?
There is no simple answer, it all depends on the purpose of the tent. If you know you will be camping in an environment where snow is expected, you will not take an air beam tent. Why? The reason is simple, it would collapse under the pressure of the snow accumulated on the roof.
But classic poles can break under wind pressure, and you will be in trouble. This is not so with an air beam tent, beams may give way and bend, but they restore their shape instantly, as soon as the wind pressure drops.
With poles, there are limits related to the tent size. If the tent is too big, it must have strong poles, so technology must be developed for this. However, with airbeam tents there are no limits, the same technology applies for small and for big structures. Some of the largest tents on the market are inflatable tents.
On the other hand, if this is about carrying the tent on a long tour, a lightweight pole tent is the only option. Tents with inflatable beams are usually heavier, and there are just a few that are for solo use or for two people.
Who invented the AirBeam tents?
From what I have found around, it seems that many believe it was Vango company who started with inflatable tents first in 2011. There are many Vango tents here in the site, and some are with inflatable beams. I know that Kelty started around the same time, but as of the moment of writing this text, they do not have any inflatable tent on the market.
However, these brands were definitely not the first. To the best of my knowledge, it was probably the Karsten Tent (the picture below) as the first one, this was in 1981, and this is a Dutch company. So this is decades before anybody else. You can read more in their brochure, but it is in Dutch.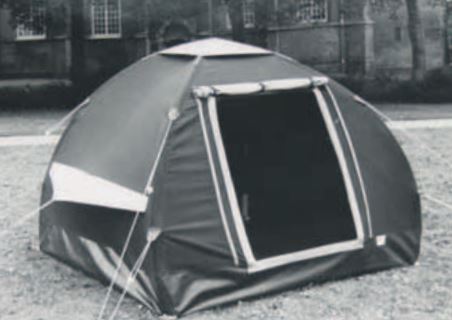 Are inflatable tents heavy?
Everything is relative Albert. But the short answer is yes, they are usually heavy. On the other hand, it depends. I mentioned that airbeam tents are among the largest on the market. This means a large area and tall structures. Now, add to this picture 5-7 thick supporting air beams and you will realize it is normal to have a heavy item.
But see this Eurohike Genus 400 Air Tent with its area of 118.4 ft² (11 m²). It weighs only 21.6 lb (9.8 kg). So its area/weight ratio is 1.12 m²/kg and this can be described as a lightweight tent.
Is this a big deal? I do not think so. Inflatable tents are camping shelters, so you are not supposed to carry them long distances. I would say that their packed size is more important than their weight.
Do air tents deflate? Do inflatable tents puncture?
Air beams have valves as one possible place where they can deflate. Most of them have separate valves for separate beams, this is normal to have in tunnel-shaped inflatable tents. But there are clever designs, usually with dome style tents, with a single inflatable point. This means that chances for accidental leak and deflation is considerably reduced.
On the other hand, those beams are under pressure and these are synthetic tubes, so indeed they can be punctured.
However, both aspects are extremely rare. This technology is very developed so I would not even think about it. In good inflatable tents, those air tubes are inside of protective sleeves, and they are removable and replaceable. So even if the leak happens, it is field-repairable.
What PSI should my tent be?
This depends on the brand, there are small differences but you will always have clear instructions. In the case of the Outwell Woodburg 6A Air Tent, the tubes allow for a maximum pressure of 9 PSI/0.6 bar. This PSI means pounds per square inch.
In the case of Robens Aero Yurt 8 Man Airventure Air Tent the required pressure is 9 PSI.
You can expect that the pressure within the tubes increase in warm weather but no worry, the tubes are built to adjust to such variations and this will always be within their limits and tolerance.
How do you get air out of an AirBeam tent?
This is very easy, simply open the valves and the tent will collapse in no time. Some of those that have a single inflating point, may have multiple deflating valves. So this all is easily done.
Which AirBeam tent is best?
There is no way to give a simple answer. The best in which sense? The tent is good for you if it protects you, if it provides enough space, if it is reliable, if it is easy to use, if …
There are many features that come together with air beams. Those can be related to the bedrooms fabric (dark-rest or not), to the shell fabric (synthetic, cotton, poly-cotton), the floor fabric, the rooms organization, storage features, and many more.
But there are indeed stand-out brands that build inflatable tents. I would mention just a few here like Zempire, Outwell, Robens, Vango, Coleman, Berghaus, but there are many more.

What is the quickest tent to erect?
When this is about inflatable tents, it depends on the type of the tent. Tunnel shaped inflatable tents normally come with several separate air beams, each with its own valve. So each of the beams must be inflated separately. You can see this in the Berghaus Air 8 Inflatable Family Tent and in many more.
In some dome-shaped inflatable tents there are options with one valve only. This means that the beams converge to the top spot where they are connected so that air can go from one to another. These tents are definitely the quickest to inflate.
If you want to see examples of this type, you have it in the Zempire Pronto 5 Tent and also in the Robens Aero Yurt 8 Man Airventure Air Tent.
But some inflatable tents can also have one or more solid poles. This is usually about a brim above the door. Such poles must be added separately so this is a bit of extra work but this is all easy to do.
How do you erect an air tent? Which tents are easiest to put up?
Before you start it is advisable to stake the tent at least partly, to avoid potential problems in the case of a sudden wind.
You begin by attaching the pump hose to the valve and start pumping. At some point it mat be necessary to do a gentle push so that the beam gets into its standard shape.
The pumps are usually with a pressure gauge so keep pumping until the prescribed value is achieved. After that do the usual staking and attaching guylines, all the steps that you do with any classic poled tent.
Are air beam tents worth it?
Air tents are usually expensive, see more below, and there are good reasons for this. Are they worth it? This depends on your budget and on your lifestyle. If you plan to go outdoor with your family on a regular basis, then definitely yes, air beam tents are worth investment.
Why are inflatable tents so expensive?
Perhaps this is a misleading question. The fact is that most of the inflatable tents on the market are very large. Why? I already mentioned this above, it is far easier to make large tents with air beams than with solid poles.
On the other hand, being so large, most of inflatable tents come with really cool features. They are built so that you feel at home. They are tall, with solid windows, with dark rest bedrooms, etc.
Now, the right approach would be to check the price per square meter, and then compare with the corresponding solid pole tents. But bear in mind overall features as well. So if you do this, you will realize that they may not be so expensive.
How good are Zempire tents?
Zempire is a brand from New Zealand. I am totally impressed with their tents. You can see them quite a few here in the site.
It is hard to find air beam tents from other brands that could match the overall features and quality of Zempire tents. If you follow the link you will realize this.
Zempire tents are with huge waterprof rating, with excellent ventilation, tall and pleasant, usually with storage features, solid tinted windows, and much more. But this all comes at a price, they are among the most expensive on the market.
What is the best 8 man air tent?
I think I would put forward the Berghaus Telstar 8 Nightfall Air Tent.
This Berghaus tent is one of the largest on the market. Here too you have 5 rooms in its inner floored area which is enormous 273.4 ft² (25.4 m²). But there is also a fully enclosed porch with the area of 101.2 ft² (9.4 m²).
So these are very different tents but both are tunnel-type and with excellent features, with solid windows and with impressive waterproof ratings.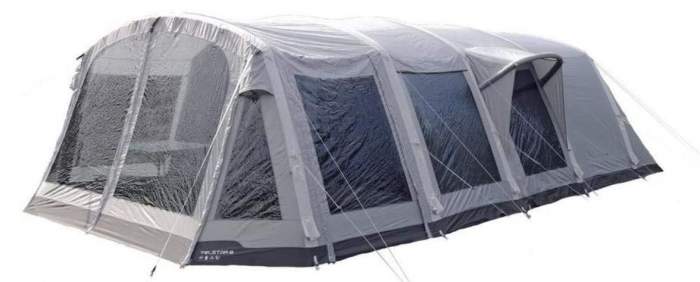 Do Vango AirBeam tents come with a pump?
The answer is yes, you can see one in the text about their Vango Airbeam Odyssey Air 500 Villa Tent and also in the text about the Vango Airbeam Portland Tent 500. They provide their Vango Double Action AirPump with multiple nozzle options included and with a built-in PSI pressure gauge.
The term double action pump means that the pump acts on both the down stroke and the up stroke. This saves energy and time. They build the pump in two sizes 1400 cc and a 2000 cc pump and you get the one that is most suitable for the tent regarding the volume of its beams.
How do you peg an air tent?
There is no essential difference between air tents and poled tents when this is about pegging and securing. Air tents come with all the usual elements to secure them and fix to the ground, so do this before you raise the tent.
If you follow the link you can see the pegs and staked that come with the Berghaus Kepler 9 Nightfall Air Tent. So after inflating the beams and having them in place, go around and do all the usual adjustments with the pegs and guylines.
---
So this was my selection of frequently asked questions about airbeam tents or inflatable tents. I might add more in the future and this is why you should bookmark this text and come again. Share it with your friends through the social media. Check also my another long text about family camping tents FAQs.
Thank you for reading. Let me know if you wish to have some questions answered here, there is a comment box below.