Ferrino Chanty 5 Deluxe Family Tent is a really well-designed 3-room 3-season tunnel-type tent with lots of space and a great organization. You have three large doors and all are with mesh and panels.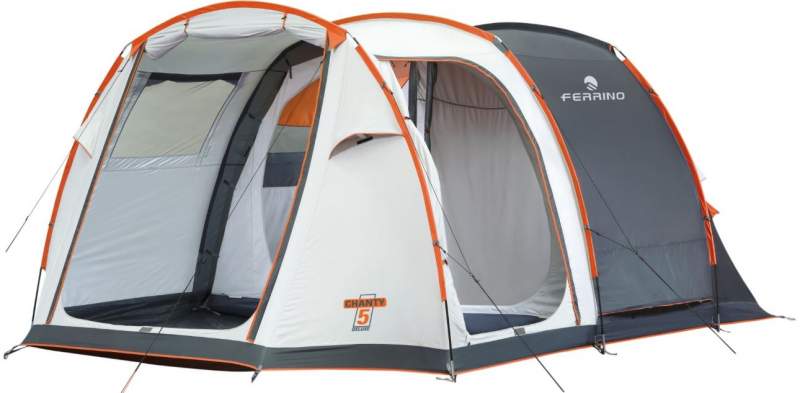 ---
Key features
Tunnel-type construction.
3 Rooms.
3 Doors; front, side, and rear entrance.
2 Windows.
Fiberglass poles.
High waterproof rating.
Great ventilation.
---
Where to buy
This tent is available on Amazon, so check the link and you might find it in your regional Amazon store and save on shipping.
---
So what this is about
This Ferrino Chanty 5 is indeed what it name says, a deluxe camping tent for families and for groups. This is a tunnel-type structure and it is not freestanding, this is typical for tunnel tents (but there are exceptions as always).
The tent is a hybrid double and single layer. The meaning of this is that you have two separate tents within the shell tent, so the sleeping area with those two inner tents are 2-layer zones, the living room is a single-layer structure. The tent is fully floored and the inner tents are also with their own floors, so you two layers on the floor in the sleeping area.
The picture below shows you how luxurious the inner area looks. Note that you have 84.6 inches (215 cm) maximum height. I have added it to my list of extra tall tents.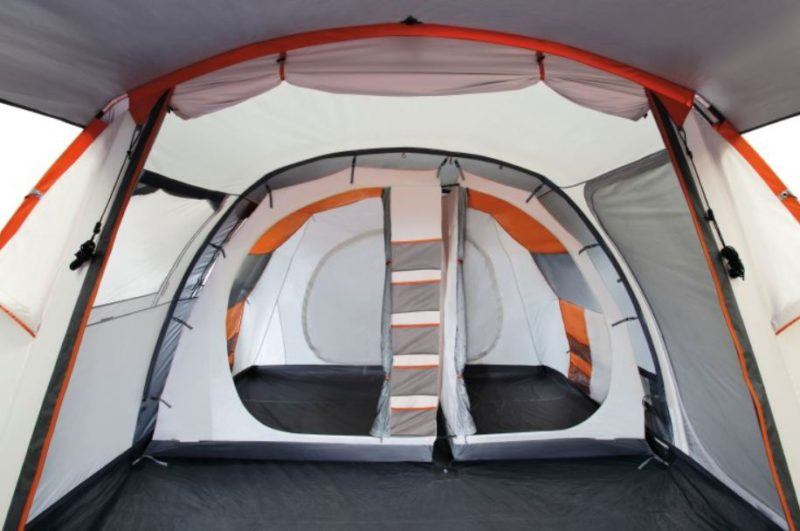 What is Ferrino
This brand seems to be new on the US market in general but it is well-established in the EU where many online sellers have their tents available.
But you might want to know that this is a company with an incredibly long tradition. On their site they write that it started in 1870 in a small paint shop in Turin, Italy where Cesare Ferrino came to a revolutionary idea of making fabrics waterproof.
In 1890 they built their first tents for explorers and climbers and they have collaborated with Fiat as well. So this was the beginning and the company is still there, now you get some idea what you have here.
---
Who is it for
Space-wise, the declared capacity is 5 people, but see what it offers. They do not give official area but from the dimensions given below you will see that it offers around 161 ft² (15 m²), roughly speaking 6.5 m² in the living area plus 8.5 m² in the sleeping zone.
So for 5 users this means 32.2 ft² (3 m²) per person, and this is indeed a deluxe space and I have added it to my list of best 5-person tents. If used by a group of friends at some summer festival, this tent can easily accommodate 2 – 3 people more.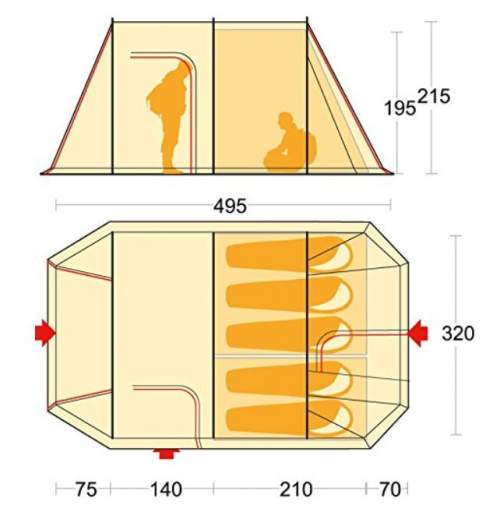 The picture above shows the sizes of the three rooms. Note that you do not have to use the inner tents, or you can use only one and this would create two rooms. This is a very versatile design and you can use it also for some family events in the garden at home, without the inner tents and with all three doors open.
Climate-wise & seasons-wise, you have a high waterproof rating and the tent can be fully closed. On the other hand, you have plenty of vents around, plus mesh on all the doors and windows. There are 10 guylines and most of them are with dual attachment to the tent, plus 11 stake points for the tent's base, so you can secure the tent completely against side winds.
So this is indeed a 3-season tent designed to protect you from the elements and from insects in all types of climates. Note that all vents are also with stiffeners and Velcro tabs and you can regulate the airflow or close them completely if you feel cold.
Weight-wise, this tent is rather heavy. You will realize this also from the comparison table given below. This is partly due to its fiberglass poles but also due to the durable fabric. Note also that you have two floors in the sleeping area, double zippers on all three doors, and zippers on the windows. So such a weight is not necessarily a bad thing, it is partly due to its great features.
The packed size is not bad at all, the tent reduces to 23.6 x 13.8 x 13.8 inches (60 x 35 x 35 cm) which is quite reasonable. So you can transport it even on a bicycle.
---
Materials & construction
You have already seen quite a lot about the construction. I would like to stress again that the tent is with 3 large doors and all of them are with mesh and panels, so this is the feature which you only have on really deluxe and expensive models. You also have a couple of windows that are with the same double-layer structure.
The poles
There are 3 shock-corded poles and they are fiberglass, and this is the only thing one may dislike here. This material is used in many tents, in particular in tunnel type tents, so this is nothing exceptional. But fiberglass is less durable and heavier than aluminum.
Note that some sections of the poles (on the ceiling) are pre-bent for extra volume. This is why the walls of this tent look like in a cabin tent, the legs poles are almost straight. The poles attach to the base of the tent through a standard pin and ring system.
The fabric
The external shell is 70D diamond polyester with micro diamond-knit structure (hence the name), 75 g/m² coated with thermal-insulated, aluminized polyurethane, and with a waterproof rating of 2000 mm. Such aluminized fabrics are materials designed to reflect thermal radiation. The inner tents are water-repellent breathable diamond polyester.
The floor of the inner tents is 70D, 80 g/m² polyester with a waterproof rating up to 2500 mm. But there is also the main floor which is fully sewn-in and it is a fully waterproof polyethylene. Seams are taped in the fly-sheet and the inner tents floors.
Ventilation
This tent has numerous low and high vents on all sides. This alone is enough when you have to keep the doors and windows closed. When the sky is clear, you can roll up the panels on some of the openings and have extra ventilation.
You also have an adjustable fly sheet distance from the inner tents, for an excellent tensioning and also to provide a larger or smaller air passage dependent on the climate where you use the tent and on weather conditions. So there is really nothing one could object to this design, it is excellent.
But you probably know, to some extent condensation always exists in any synthetic tent. This also depends on weather conditions, tent orientation against winds, the vicinity of water around the tent, etc. So think about canvas camping tents if you wish to reduce it to an absolute minimum.
Other features
Multi-point guy-line system to secure the tent.
Inner tent hung from exterior poles with buckles.
Internal lamp hook.
Supertex stuff sack included.
Repair kit included.
23 Steel pegs.
Organizer with several storage pockets.
The package also includes 10 guylines. See all the elements in the picture: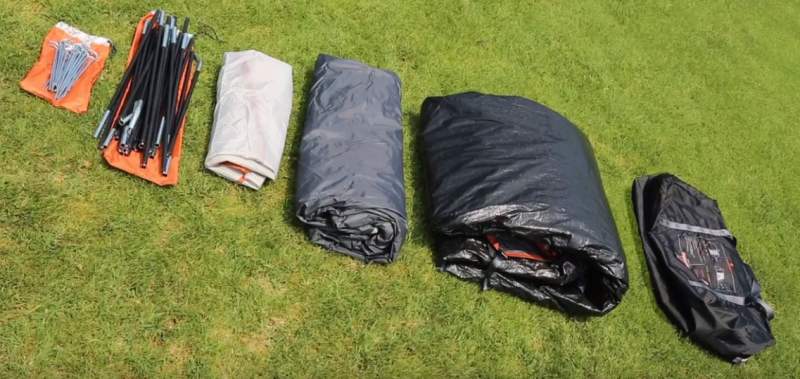 Setting the tent up
It is best that you check this video. As you will see the procedure is what you would expect from a tunnel tent. When you place the loop poles into place and stake the back of the tent with two pegs, you expand it like an accordion. After that just stake the front ceiling part so that the tent stays up, and then finish staking and adjusting the guylines. One person can do it easily.
Note that the inner tents can remain attached to the shell when you pack the tent, so you have far less work to do next time.
---
Specifications
Weight: 36.8 lb (16.7 kg).
Dimensions: 195 x 126 in (495 x 320 cm).
Area: 161 ft² (15 m²).
Area per person: 32.2 ft² (3 m²).
Height: 84.6 in (215 cm).
Packed size: 23.6 x 13.8 x 13.8 in (60 x 35 x 35 cm).
---
Ferrino Chanty 5 Person Deluxe Tent vs Competitors
Here you have the Chanty 5 Deluxe side by side with two other 5-person tents, all built in the same tunnel-style. As you realize, it offers far more space, it is much taller, and it has three doors. So this is a true deluxe option, but it also costs far more.
Coleman Rocky
Mountain 5 Plus
---
Summary, rating, pros & cons
So this Ferrino Chanty 5 Deluxe Family Tent is exceptionally nicely built, a reliable and pleasant structure with lots of space and with a stand-up design. But this all comes at a price. If this tent is above your budget, check the alternative options given in the table above. Please see below how I rate it using my standard set of rating criteria for easy comparison with the other tents here in the site.
Ferrino Chanty 5 Deluxe Family Tent
You might want to see their other tent, the Ferrino Proxes 6 Family Tent which is for 6 people and also with 3 rooms. Check also this Ferrino Proxes 5 Advanced Family Tent from the same brand, with three rooms.
Note that this is not a sponsored text and I am not paid by the brand. Please use the comment box below in the case of questions or comments. Have a nice day.