---
This MOON LENCE Instant Pop Up Tent 4-5 Person is incredibly easy to use, pleasant with its 5 windows, fully freestanding, and with an incredible price tag. Keep reading.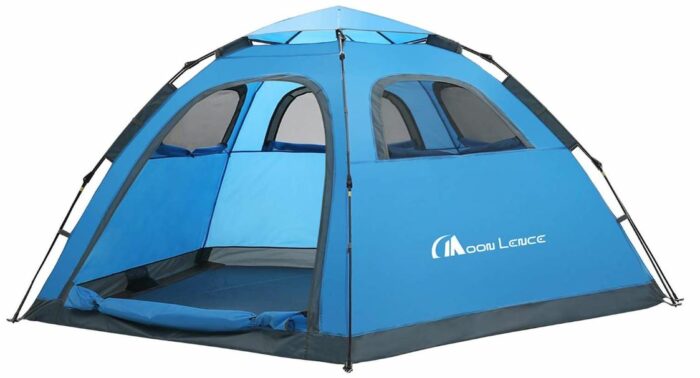 ---
Key features & benefits
Instant setup tent.
4+1 Windows.
1 Door.
Fiberglass poles.
Pentagon base.
Freestanding.
Incredible price.
---
What this is about
This MOON LENCE Instant Pop Up Tent is a very elegant and easy to use single-room dome construction. The base is pentagon-shape and this determines its frame structure which is just like an umbrella. The tent is completely freestanding and you can set it up anywhere and move around as you wish.
In fact, it opens almost like an umbrella, this is a great example of an instant setup tent which you can make ready in seconds. This means that the frame is preattached to the tent, see the top of the structure below. This is why I have added it to my list of instant tents for camping.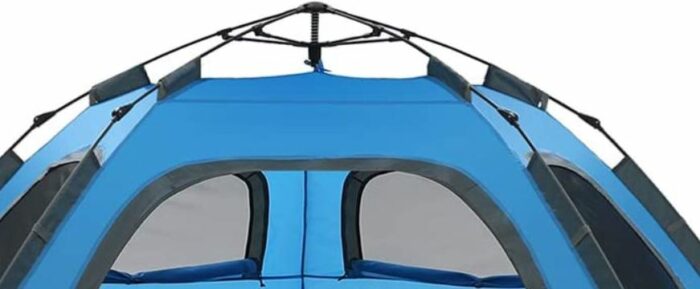 The tent is pleasant with the windows on all 5 sides, so one of them is on the single door. All the openings are double-layer structures with zippers for protection from elements and for privacy, and with mesh against insects. Note that the door rolls to the ground and you can fix it with toggles.
The tent is a single-wall construction except for the openings mentioned above and the minimal cap that covers the top, it is shown in the picture below.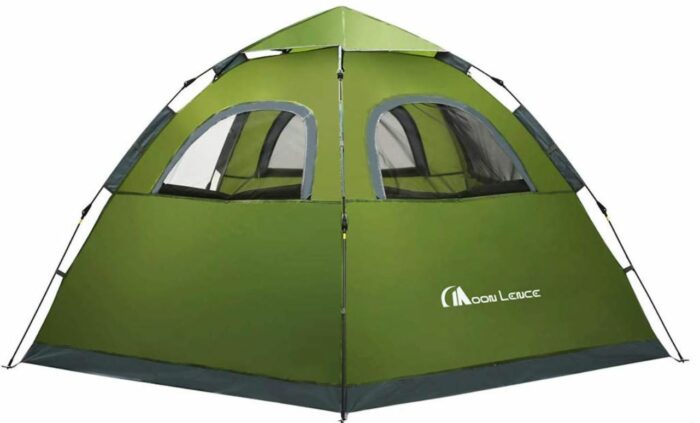 Ventilation
With so many large windows equipped with mesh, ventilation should normally not be a problem. But there may be long intervals with rain, and in such situations, all the windows must be zippered with panels on. This may be unpleasant because there are no floor vents around. Pity they did not add any.

The tent is not particularly tall, the pictures below show how it looks with respect to the people, the peak height is 52.4 inches (133 cm).

---
Who is it for
Space-wise, they do not give the exact area but from the dimensions it follows that the tent offers around 75 ft² (7 m²). In the case of 5 occupants this would give 15 ft² (1.4 m²) per person. This is not much, but it is probably doable. Though there are no vestibules for storage, and it is best to downgrade this tent to up to 3 people maximum.
Seasons-wise & climate-wise, the waterproof rating is good and the tent is low profile and aerodynamic. They describe it as a 3-season tent, but with such a single-wall construction and without vents, this is not a tent for cold weather.
Also, you have seen that small cap on the top, this would not last long in a strong wind. So this is a tent for calm weather and for up to 2 season camping, and this means summer, late spring, and early autumn.
Weight-wise, with its 10.25 lb (4.65 kg) this is a lightweight tent. This is surprising for an instant setup tent and for such poles. The packed size is 32.7 x 7.1 x 7.1 inches (83 x 18 x 18 cm). So as you realize it is a bit long when packed. The picture below shows the steps when you want to take it down.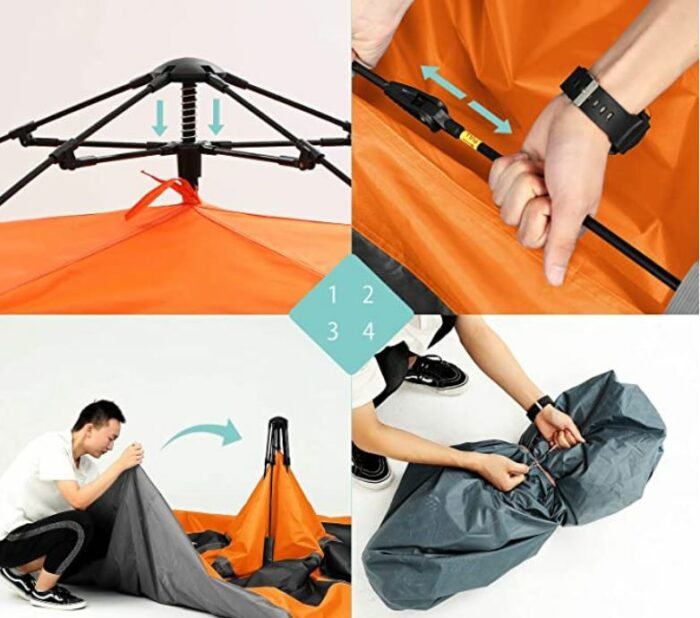 ---
Materials
The frame & stakes
The poles are fiberglass so such material needs a bit careful handling. You get 10 simple steel pegs in the package to secure the tent to the ground. It is self-supporting, but don't ever miss staking it properly. You have 5 guylines included also for this purpose. There are plastic joints and a top hub element, this is probably nylon or something similar, no info is provided about it.
The fabric
The fabric is a very good and durable 190T PU + 210D Oxford cloth with a 2000 mm waterproof rating. Note that they build it in several different colors shown in the pictures.
Other features include SBS zippers, a couple of small wall pockets, and a lantern hook on the ceiling. The carry bag is nicely designed with two straps.
Please see more in this short video:
---
Specifications
Declared capacity: up to 5 people.
Weight: 10.25 lb (4.65 kg).
Dimensions: 121.3 x 114.2 in (308 x 290 cm).
Area: 75 ft² (7 m²).
Area per person: 15 ft² (1.4 m²).
Peak height: 52.4 in (133 cm).
Packed size: 32.7 x 7.1 x 7.1 in (83 x 18 x 18 cm).
---
Final thoughts, rating, pros & cons
This MOON LENCE Instant Pop Up Tent is becoming very popular, no doubt its instant setup and such a price are the main reasons for this. If you do not want to spend much and want a tent that is easy to handle, look no further. It is perfect for people who move around and change the camping spot frequently. It is very light but long when packed, so this is not to carry around.
Please see how I rate this tent, the same criteria are applied consistently for all of them here in the site:
If you want more options in this size range, please check under the category Tents for 5/6 people. You might want to check also this MOON LENCE Camping Tent 6 Person from the same brand. For more instant setup tents check in the group of Instant tents, and in particular this easy to use Pacific Pass Camping Tent 6 Person Instant Cabin.
Thank you for reading. Please bookmark this site and visit occasionally, we add texts regularly. Stay informed and subscribe to our weekly newsletter, there is a subscription form below.