The Guide Gear Deluxe 18′ x 18′ Teepee Tent is a modern tipi with a fully sealed floor, nicely ventilated, with a large vestibule, and with solid windows.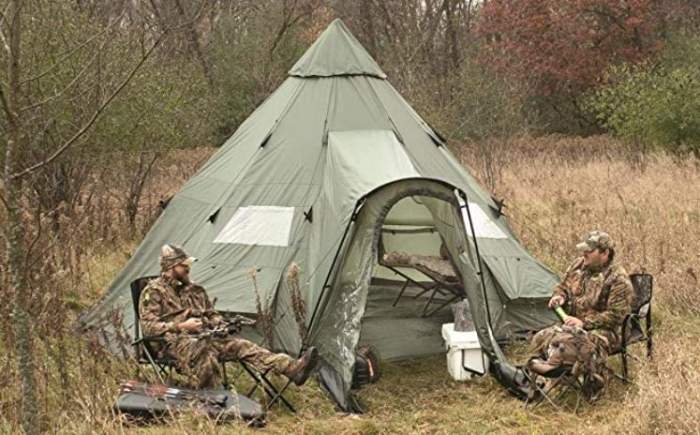 ---
Key features & benefits
Huge teepee style tent.
Fully floored.
Large vestibule.
6 Solid windows.
4 Low vents.
Roof vent.
---
Overview
This Guide Gear Deluxe 18′ x 18′ Teepee Tent is a modern variant of a classic tipi, and this means a fully sealed floor plus a central pole for support. This also means it is not freestanding so you have to stake it properly before setting the central pole in place. The tent is very tall with its peak height of 90.55 inches (230 cm).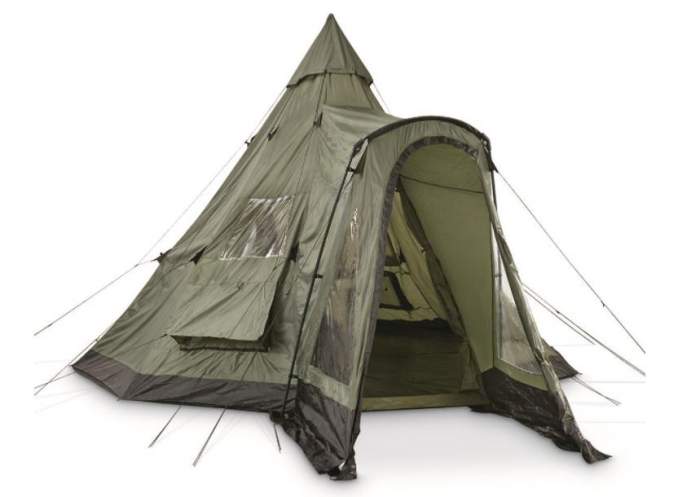 The vestibule
The word Deluxe in the name is probably partly because of its large vestibule which you see in the picture above. It is fully protected from the rain but it is floorless. It can be described also like a floorless room, so this is a space where you can cook and store gear, and you can also sit there on a chair and enjoy views.
Below you can see some details of it, they include 2 solid windows and its additional poles for support.
The doors & windows
The tent has one external door and one inner door between the vestibule and the inner tent. You can roll them to the side to keep out of the way. But when necessary, they can be closed as in the picture below that shows the external door: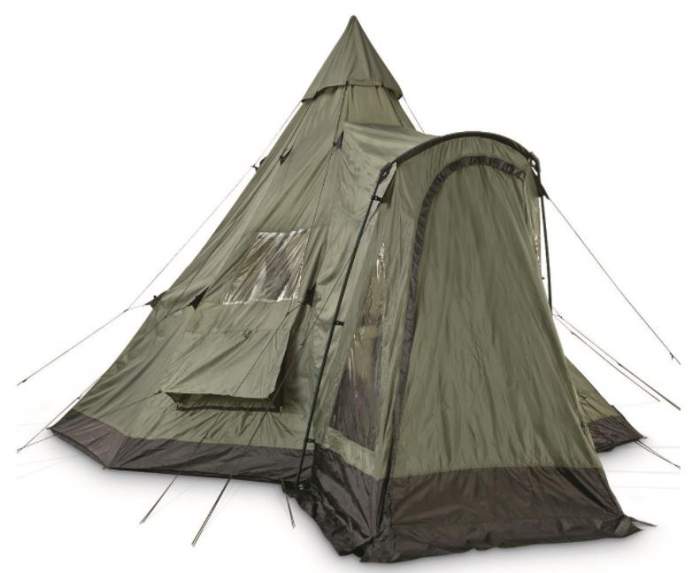 There are 4 solid windows on the tent plus those 2 mentioned on the vestibule. The former are with inner shutters for privacy. The pictures below show one of them. As you see, you can roll the panel and fix it above the window.
They have added also 4 lower zip windows 17 x 36 inches (43 x 91 cm). I would describe them as low vents because this is their main purpose. One of them is also visible in the picture above.
Materials
The poles & stakes: You have a thick central pole plus the pole set for the door, this is all steel. All stakes and guylines are included.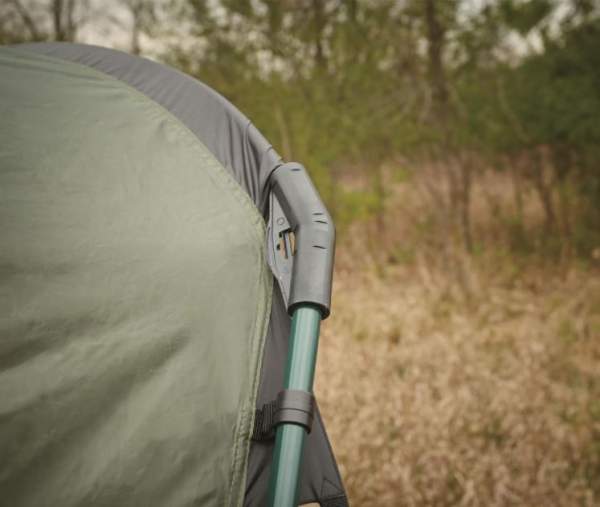 The fabric: The tent is built from a 190D polyester shell with a 1200 mm polyurethane coating. All seams are taped. The floor is a durable sewn-in polyethylene, so you do not an extra tarp.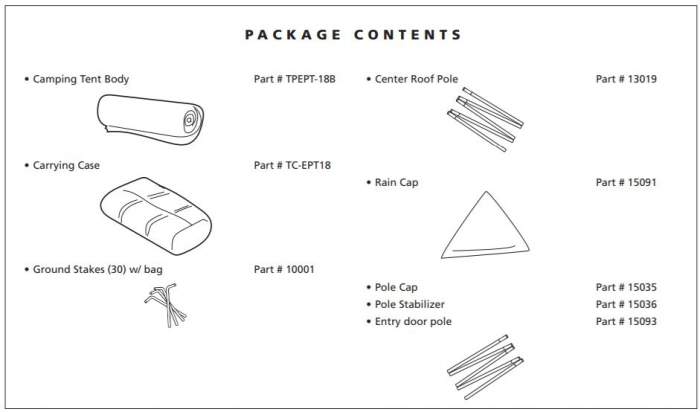 Ventilation
The tent has all ventilation details that are needed. The most important is its top vent shown below. In combination with the 4 low vents (one shown below), this creates lots of vertical air circulation to remove vapor and to reduce condensation. In this single-layer tent this is very important.
---
Who is it for
Regarding the area, they do not provide the exact numbers, but the base is close to an octagon, and its floored area is around 229 ft² (21.3 m²). There is also the vestibule/porch that has around 23.7 ft² (2.2 m²). As you realize, this is a huge space.
They write about 8-person capacity, so this sounds more than realistic. You would have 28.6 ft² (2.66 m²) per person, plus the storage space under the vestibule. So I have all the good reasons to include it in my list of very large family camping tents.
Regarding seasons & climate, I did not see any statement by the brand about seasons. In my view it can be used year-round without problems. It is ventilated and also closable so it should work well in both warm and cool climate. Though it is tall and not really aerodynamic, so I would avoid very windy places.
Regarding the weight, the tent weighs 30 lb (13.6 kg). If you think this is a lot, see again its size. The total protected area/weight ratio here is 1.72 m²/kg. So I would describe it as an ultralight tent, and you will see below how I rate it.
One reason behind this is the fact that it is a single-layer tent. The same reason is behind its packed size which is only 34 x 11 x 11 inches (86 x 28 x 28 cm). But all in all, this is a very large car camping tent so you are not supposed to carry it anywhere.
Regarding the price, I would say it is more than fair for such a great tent and from such a brand.

---
Specifications
Weight: 30 lb (13.6 kg).
Official capacity: 8 people.
Dimensions: 18 x 18 ft (549 x 549 cm).
Inner area: around 229 ft² (21.3 m²).
Inner area per person: 28.6 ft² (2.66 m²).
Porch area: around 23.7 ft² (2.2 m²).
Peak height: 90.55 in (230 cm).
Packed size: 34 x 11 x 11 in (86 x 28 x 28 cm).
---
Final thoughts, rating, pros & cons
In summary, this Guide Gear Deluxe 18′ x 18′ Teepee Tent looks great, and it offers lots of space for 8 users. The large and fully covered vestibule looks like an extra room and here you can store lots of gear and use it for cooking.
The tent can be used year-round and in any weather conditions. Fully recommended. I have included it in my list of best teepee tents for camping.
Below you can see how this tent stands against my standard rating criteria that I apply consistently to all the tents here in the site so that you can easily compare:
BEST PLACE TO BUY:
For more tents of this shape please check in the category Teepee and Bell Tents. Note that they have yet another similar version but without the vestibule.
Let me know if you have questions, there is a comment box below. Bookmark this site and come again, this will keep you informed, as you realize I add texts here on a regular basis. Thank you for reading.