---
Here you have a list with best teepee tents for camping that are currently on the market, very interesting and pleasant constructions with an easy setup, great packed size, and very affordable.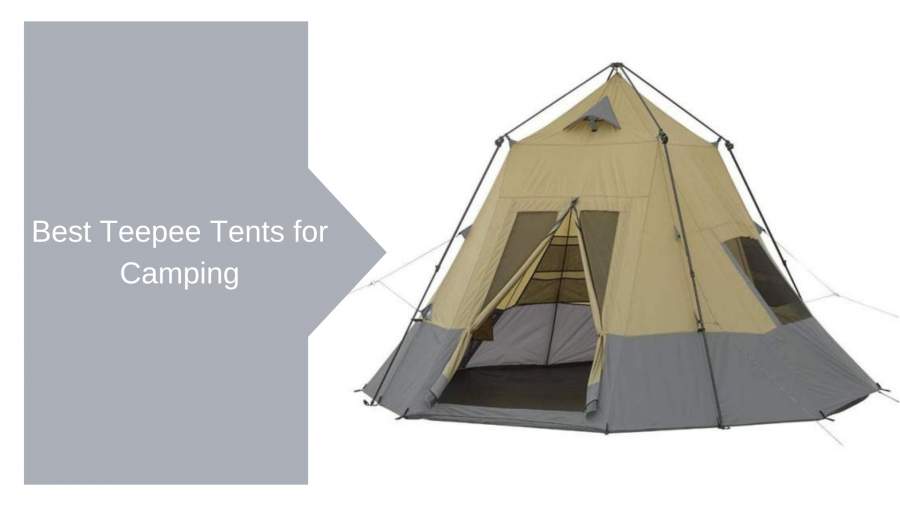 ---
Are these really teepee tents
The short answer is no they are not. This term (as well as the term tipi tents) is now widely used for modern versions of the traditional teepees. These modern teepees include the following important features:
Most of them are single-pole structures and this type is not freestanding. But there are exceptions and you will some below, with two and three poles.
There are instant-setup examples with an external frame and this type is freestanding.
They are all floored tents. This adds lots of comfort and protection from the groundwater and from crawling insects as well.
Most of these modern teepees on the market are single-layer designs, but you will see also some nice examples of teepees with two layers.
They are very affordable.
They are also nicely packable.
These tents should not be mixed with bell-shape tents which are also single pole constructions but they have at least one small part of the wall that is vertical.
Note that these are real camping tents and not just something for kids in the garden. But you can certainly pitch such a teepee in the garden.
---
My list of the best tipi tents
I give the list of the teepees ordered alphabetically so the numbers are just for navigation and this is not ranking:
Most of them are presented in detail in my separate reviews so please follow the links for more details. Here I give only some basic features.
---
1. Guide Gear Teepee Tent 18 x 18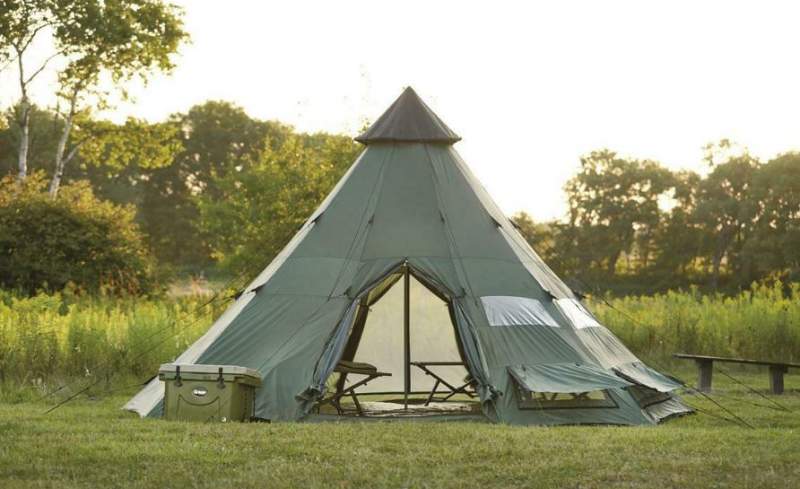 As you see in the name of this tent, the dimension is 18 ft so it offers around 230 – 237 ft² (21 – 22 m²) which according to the manufacturer is enough for up to 12 people. As a single pole tipi, it is very tall with the peak height of 118 inches (300 cm).
The floor is fully sealed, the tent is a single-layer structure and you have 4 solid windows, 2 doors, and 5 vents in total. The central pole is steel 28 mm in the diameter, and the canopy is 190D polyester with 1500 mm waterproof rating.
For such a size this is a lightweight tent with 23.15 lb (10.5 kg) of weight, and the packed size 32.3 x 10.2 x 9.8 inches (82 x 26 x 25 cm) is excellent. It is very affordable so please follow the link for updates.

Note that this teepee is a representative of a series which includes 5 teepees. So you have two smaller teepees 10 x 10 and 14 x 14 feet and they all have the same basic features. But in addition to this, they also have the Luxury variants for the two larger teepees which include an extension with entry vestibule. Those are Guide Gear Deluxe Teepee Tent 14 x 14 and Guide Gear Deluxe Teepee Tent 18 x 18.
---
2. Ozark Trail Teepee Tent
This Ozark Trail Teepee has something very specific – it is without the central pole. I know that many people dislike the central pole so if you are one of them, this is the teepee to consider. It has two poles, and I really wonder why they did not add one more to make it a freestanding tripod. So I stress, it is not freestanding.
This tent offers 105 square feet (9.8 m²) of the area and the peak height is 92 inches (234 cm). The declared capacity is 7 people. The floor is a durable and sewn-in polyethylene. They do not provide much information about the canopy and its waterproof rating. You have two windows and several vents.
The weight is 13.6 lb (6.2 kg) and the packed size is excellent 27.5 x 8.8 x 7 inches (70 x 22 x 18 cm). This is the most affordable of all the teepees here in the list.

---
3. Ozark Trail 12 x 12 Instant Tepee Tent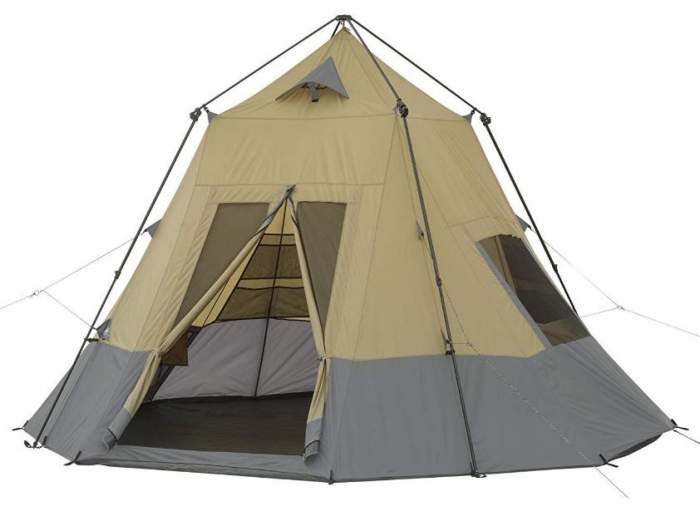 If you want something completely unique, then this is the teepee for you. As you realize from the name, this is an instant tent and therefore fully freestanding. So this makes it different from the other models in the list, but this industry is developing fast and do not be surprised if you find some new similar models soon on the market.
The official set up time for this structure is two-minutes. The poles are pre-attached to the tent as usual for instant tents, so just unfold and extend. The capacity is up to 7 people and you get also a pair of pockets, a pair of hanging organizers, and an electric cable port. Top and ground vents allow for air circulation.

---
4. Tahoe Gear Bighorn XL 12-Person Teepee Tent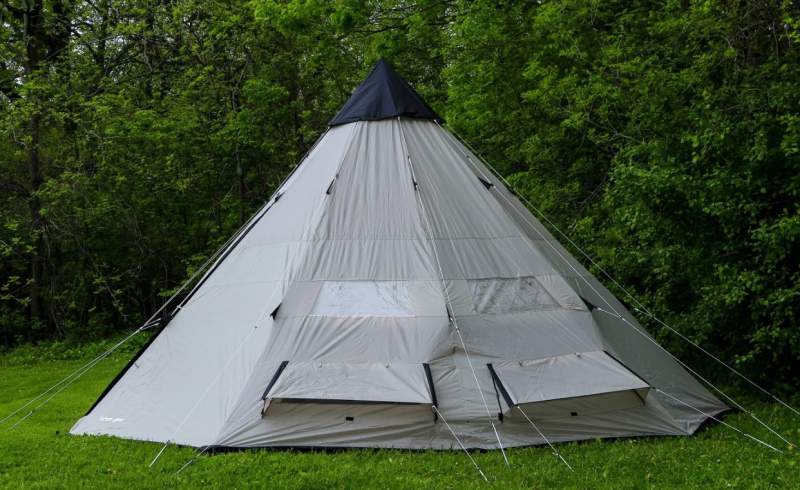 This Tahoe Gear Bighorn XL is with 12-people declared capacity, and it offers the area of more than 21 square meters. This is a single steel pole and single-layer type. The floor is fully sealed, just to know because its previous version did not have such a feature.
The waterproof rating for the tent is 1000 mm and the canopy is polyester. The floor is a fully waterproof polyethylene. Similar to some other tents here in the list, it has 4 floor vents and one top vent. It comes with 2 doors and with 4 PVC windows that also have inner shutters.
The weight is 27 lb (12.2 kg) and the packed size is 33.2 x 10.9 x 9.3 inches (84 x 28 x 24 cm). As of the moment of writing this text its price is around $160, but follow the link to check for updates.

---
5. Wenzel 11.5 x 10 Foot Shenanigan 5 Person Teepee Camping Tent
Wenzel Shenanigan has a declared capacity of 5 people. So you have 86 ft² (8 m²) of the floor area in this is a single layer construction. The floor is sealed and you have one steel pole. This is a summer camping item with 3 windows and two large low vents with guy-out points, plus three vents on the top.
The canopy is polyester and the floor is a welded polyethylene. No doubt the floor is fully waterproof but they do not provide any info about the canopy rating. This is one of the most affordable items here. Please follow the link for more details.

---
6. Winterial 6-7 Person Teepee Tent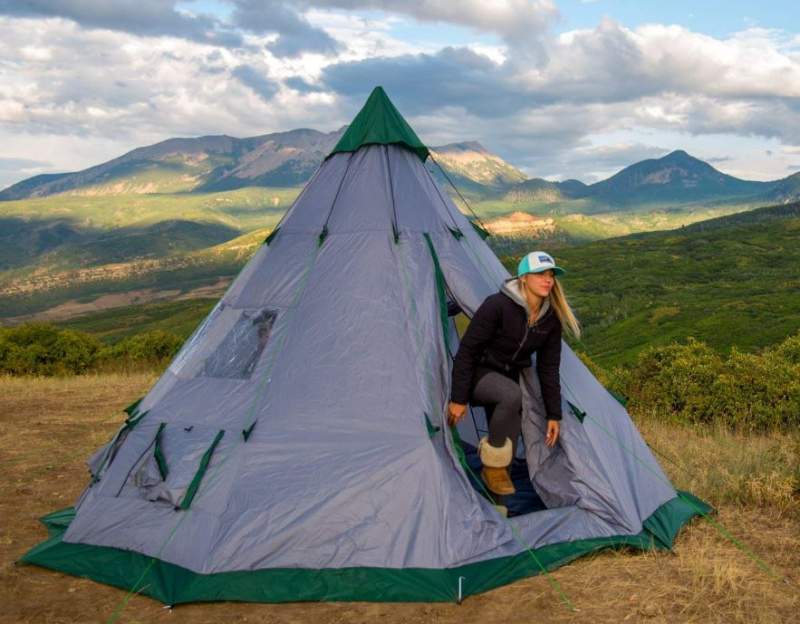 This Winterial Teepee is with the declared capacity of up to 7 people and it comes with a fully sealed floor and an aluminum pole. You also have 4 solid windows that are with blinds from inside to reduce glare and for privacy.
It has 4 low zippered vents with panels and mesh and one top vent. The tent is single-layer type and the fabric is with 1500 mm waterproof rating.
The tent offers 119 ft² (11 m²) of the floor area, and it is really lightweight, it weighs only 5 lb (6.8 kg). It is very easy to use and the packed size is also great. You might also want to know that this is a very affordable item.

---
7. Zimo 5-6 Person Teepee Tent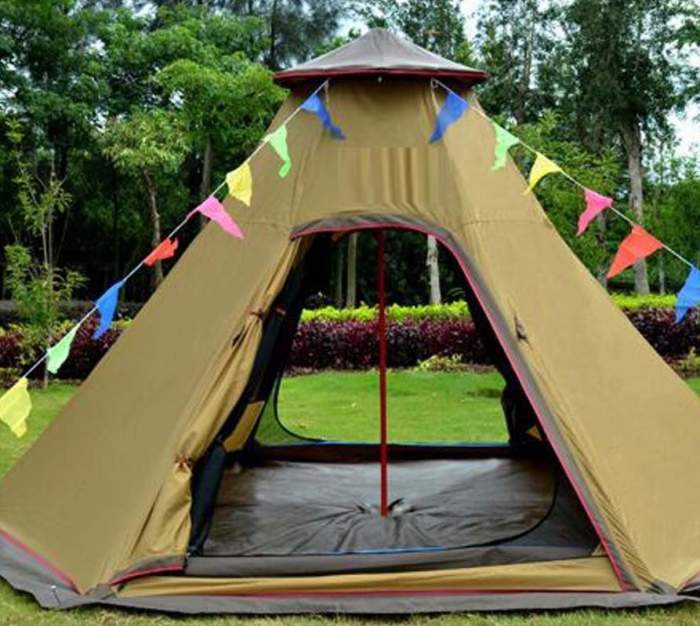 This Zimo teepee is with the declared capacity of up to 5 people, with standard single-pole construction, but it has some distinctive features. The most important is that this is a double-layer structure. This means that it has the inner tent which is all mesh and with a fully waterproof sewn-in floor. It also has a separate rain fly which you can use alone with the central pole in a pergola configuration.
As you see from the picture above, this tent has two doors. It weighs 13.7 lb (6.2 kg) and the packed size is really great 21.6 x 8.3 x 8.3 in (55 x 21 x 21 cm). The fly is with 2500 mm waterproof rating and the floor has even more, no less than 3000 mm. So this is a really impressive construction.

---
Final thoughts & Editor's Choice teepee tent
So this was my list with best teepee tents for camping that are currently available on the market. I am following this industry and new models will be added to the list as soon as I find something with distinctive features, so bookmark this text and check it from time to time.
As you realize from the list above, these are all nicely packable structures, and all of them are with an easy setup. Of course, the easiest to use are always instant-setup tents and this holds here as well. But in general, one person can easily pitch any of these teepees.
Editor's Choice
Thank you for reading. Please check around in the site if you need some other tent type for camping, you have all possible types presented here in the site. I wish you a nice day and happy camping.
---