There may be many situations when you are forced to prepare your meals inside the tent, so if you want to know how to cook in a tent safely, just keep reading.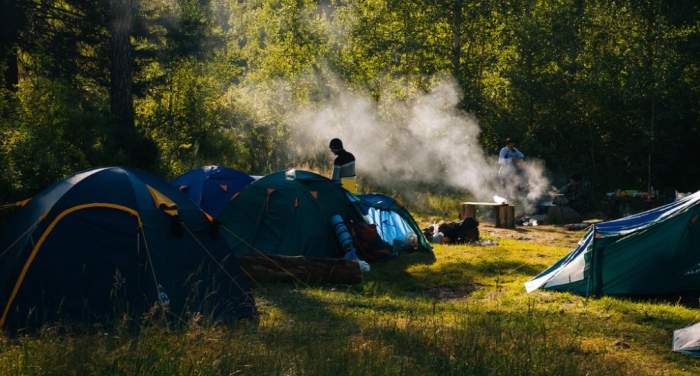 Should you really cook in a tent?
I have seen some people suggesting you shouldn't because it is so hazardous, but the reality is you will have to do this occasionally. Flame and tent's fabric is indeed not the best combination, but if you have no choice you will have to cook inside the tent. Imagine you have a long period with rain, or it is too windy or too cold outside.
I have been in such a situation many times, and I have cooked both in the car and in the tent. There is no way you can prepare your meal outside of the tent at 3000 meters in the Alps when it is windy (and it is usually so). Even if it is not windy, it is cold so you will have to stay inside no matter what. Regarding the weather conditions, there are two situations of cooking in the tent:
Cooking inside when the weather is bad. In this case you have no much choice. So cook inside but make sure you know what you are doing, do it in a safe way and you will be fine.
Cooking inside when the weather is great. There are only two possible reasons that come to my mind: i) This is because of the type of stove you have, more below. ii) You are irresponsible (no offense please).
---
Cooking in a tent: stove options
There are generally two main options regarding the stoves used in a tent:
Cooking on a wood-burning tent stove or a stove that operates with solid fuel in general.
Cooking by using alcohol, or a gas canister, and a corresponding burner.
A wood-burning tent stove is a great option for larger tents only. The reason for having a larger tent is that the stove should be well separated from the walls and this can be only if the tent is big enough.
There are some really beautifully designed stoves of this type on the market, my favorite is this Winnerwell Nomad View Large stove. But this must be a tent with a pipe jack either on the roof or on the side wall, and it should correspond to the design of the stove.
There are some great tents on the market that come with such an integrated pipe jack. With such a stove you can heat the tent as well, so this is the best option for cold-weather camping, see more in my text about tent heating. There are a few things to bear in mind when you use such a wood-burning stove:
Protect the floor around the stove with a flame retardant mat. There may be hot embers escaping and they will make holes on the floor. It is best to roll back the tent's groundsheet if this is possible and keep the stove directly on the ground.
This must be a stove with a chimney (pipe).
There should be a spark arrester on the top of the pipe. This will prevent hot sparks from landing on the tent and making holes on the roof.
Keep the stove in the center of the tent, or far from the walls in general.
A gas burner is a must for smaller tents but you can use it in any larger tent as well. This is what you will have to use on a backpacking or hiking tour.
Such burners can be very small and they fit in a pocket, though a gas canister needs a bit more space, but they can be small too. Recently, I have been using my MSR Pocket Rocket 2 burner and I can recommend it to anybody, there is a picture of it below in the text.
---
Cooking inside a tent – what is the meaning of this term
If you look around, you will realize that the phrase cooking in a tent is usually used to describe the situation when you cook inside the main tent area. But there are many types of tents on the market, so this should be generalized to any of the situations where you are at least partly protected from elements. This depends on the design of the tent, and you can have the following:
Cooking in the inner floored tent area. In this case, you have to take care of the tent floor, walls, and roof. There are tents with a simple structure without any extra space so this is all you have to cook and to stay protected.
Cooking in the screen room. There are screened tents described in detail here in the site, so those are constructions with an inner area plus a screen room. This screen room can be with panels and it is with a roof so you are fully protected from elements. In addition, it can be i) with a fixed floor, ii) with a removable floor, and iii) without the floor. So in the first case, this is similar to cooking in the inner tent's area and you have to take care of the tent fabric on all the sides. If the floor is removable, it is best to roll it to the side in the part of the screen room where you cook.
Cooking under the vestibule. Tents with a full-coverage fly usually have one or more vestibules, though you can have them also in tunnel tents. So the vestibule is an area protected from the rain and winds, but there is no floor to worry about, or the floor is removable. One example with a removable floor is this Vango Skye 500 5 Person Tent which is a tunnel tent. But vestibules in a tent can be very narrow spaces and with a low roof, so if you have to keep the area closed this can be more dangerous than cooking in the inner tent area where you have much more headspace.
Cooking under a porch. Some of the tents here in the site have deep and covered porch areas without a floor. This Coleman Air Valdes is a great example of such a design, but see also this Coleman Montana 6 Person Tent where the porch is smaller yet it still offers a bit of protection. Such a porch is usually high and open from one side, and in most cases, there is no floor; or if it is there then it is movable or removable. But you are exposed to the cold and wind, so this is not the most comfortable option.
---
What are the hazards of cooking in a tent?
Here are the most important ones, or at least these are usually mentioned by those who think they know this stuff:
Setting the tent on fire. But is this really so?
Many tents come with some statements regarding flammability, and some are built of materials that satisfy safety regulations. This means the fabric will not support continued combustion, it will melt if exposed to fire rather than burn.
But can you rely on this? See yourself, this man is trying everything to burn his synthetic tent, without success. He was even making an open fire directly on the tent's floor. Have a look:
Now, see some statements from the book Basic Tent Camping by Frazier M. Douglass IV about "highly combustible" tent fabrics: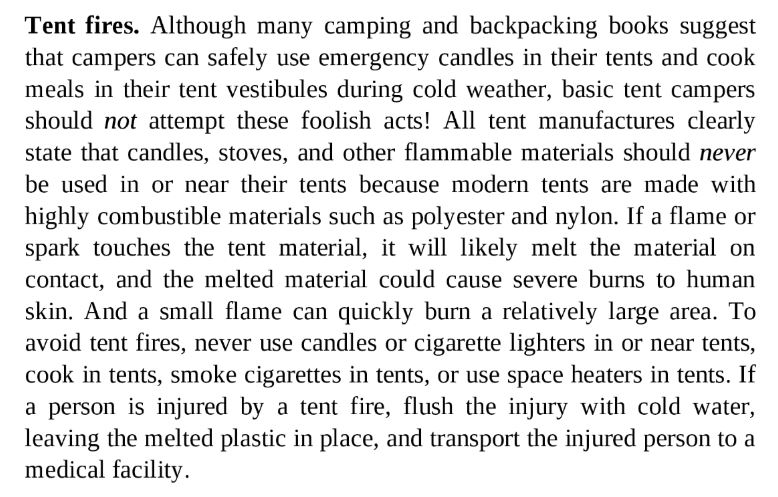 So it is up to you. You have seen in the video above about the melted material which the author of the book mentions, it is next to none. I am convinced that the author should see the video and perhaps rephrase his statements. About fire-retardant tents and chemicals used in their construction, you can read in my separate text.
But cooking in a tent is not without any danger. To realize this, please see also one old fashioned canvas tent, it was destroyed by fire very quickly:
Danger of burns
This can happen in the case of spilled white gas, or in the case of a sudden huge fireball when you start the cooking equipment. So try to prepare the cooking tool outside and then install it in the tent for cooking. This is all about basic care and common sense.
Carbon monoxide poisoning
There is carbon monoxide when you use canisters for cooking. This is an odorless and invisible gas generated as a by-product of burning carbon-based fuels. You have it in white gas, alcohol, in solid fuel cubes and also a bit in wood. So it is important to keep the tent ventilated. The problem with this is that you cook inside because it is cold outside and you might want to keep everything closed, and this is not a great idea.
Carbon monoxide spreads and diffuses through the air and it can lead to poisoning. So keep some vents open when you are cooking, and make sure there is a crossflow of the air through the tent.
What are carbon monoxide poisoning symptoms?
As they claim, when you breathe it, it binds with the hemoglobin in your blood, preventing your red blood cells from carrying oxygen through the body. The resulting symptoms are the following:
Headache is the first and most common symptom.
Short of breath.
Dizziness or nausea.
Feeling tired.
Disorientation.
Stomach pains.
Note that most of these symptoms can be early signs of altitude sickness which is quite normal to expect at higher elevations. You can be very short of breath already at 3000 meters (10000 ft) because the oxygen level drops to 14.3% as compared to 20.9% at sea level, and the total air pressure is only 70% of what you have at sea level, see more here.
I always have some dizziness at higher altitudes, this is all unpredictable and differs from person to person. So do not mix things and do not panic without reasons if you are cooking in a tent at such altitude and feel some of these effects.
I read somewhere that if this happens "seek medical help" and "ring an ambulance" and I must say I was laughing when I was reading this. Such advice sounds absurd if you are somewhere in the wilderness, at high elevations, or in the middle of nowhere in general. So if you feel strange, get out of the tent, and open the vents and windows to ventilate the tent.
In any case, do not sleep in a tent where you can have any chance of carbon monoxide developing from the fuel source. Note that people get killed by it in their homes as well, so this is all about common sense and basic care.
Stability of the canister and burner
Actually, this is my biggest problem with cooking in a tent. Small canisters which I use are only some 12 cm diameter or so, and when the burner is attached and I put a pot with water in it, this is then a tall and unstable structure.
The picture below is from a refuge above 3000 meters in the Italian Alps, so this is not a tent and I show it on purpose because this is again an enclosed area just like a tent. But I had a very stable surface to keep my stuff, and the same is when I cook in the car. This is what makes it very different from some of the tents which we are forced to use.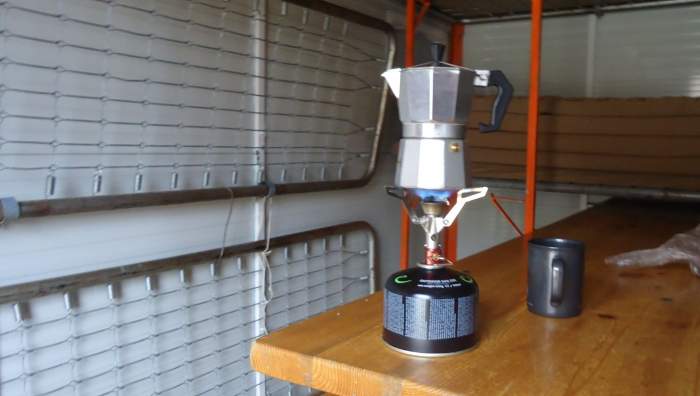 So it works fine when you have such a stable and flat surface, but it is very different when you have to use it on the tent's floor. I have made a mess a number of times due to this. This is particularly difficult when the ground is soft. So when you move around, the floor of the tent moves as well, and the structure can turn over.
This is why I use to stabilize the canister with a few larger stones if I have them around, normally three of them is enough. When you use a gas heater for the tent, they have safety mechanisms to switch off the flame if it falls to the ground, but this is not available in these simple burners.
To summarize, cooking in a tent should not be a matter of preference and choice, but it may be a matter of necessity. There is a whole industry of stoves for cooking in tents, and there are reasonably safe ways to prepare your meals in such a space.
You might want to read also about moisture in a tent. Thank you for reading. Please share your thoughts, there is a comment box below.